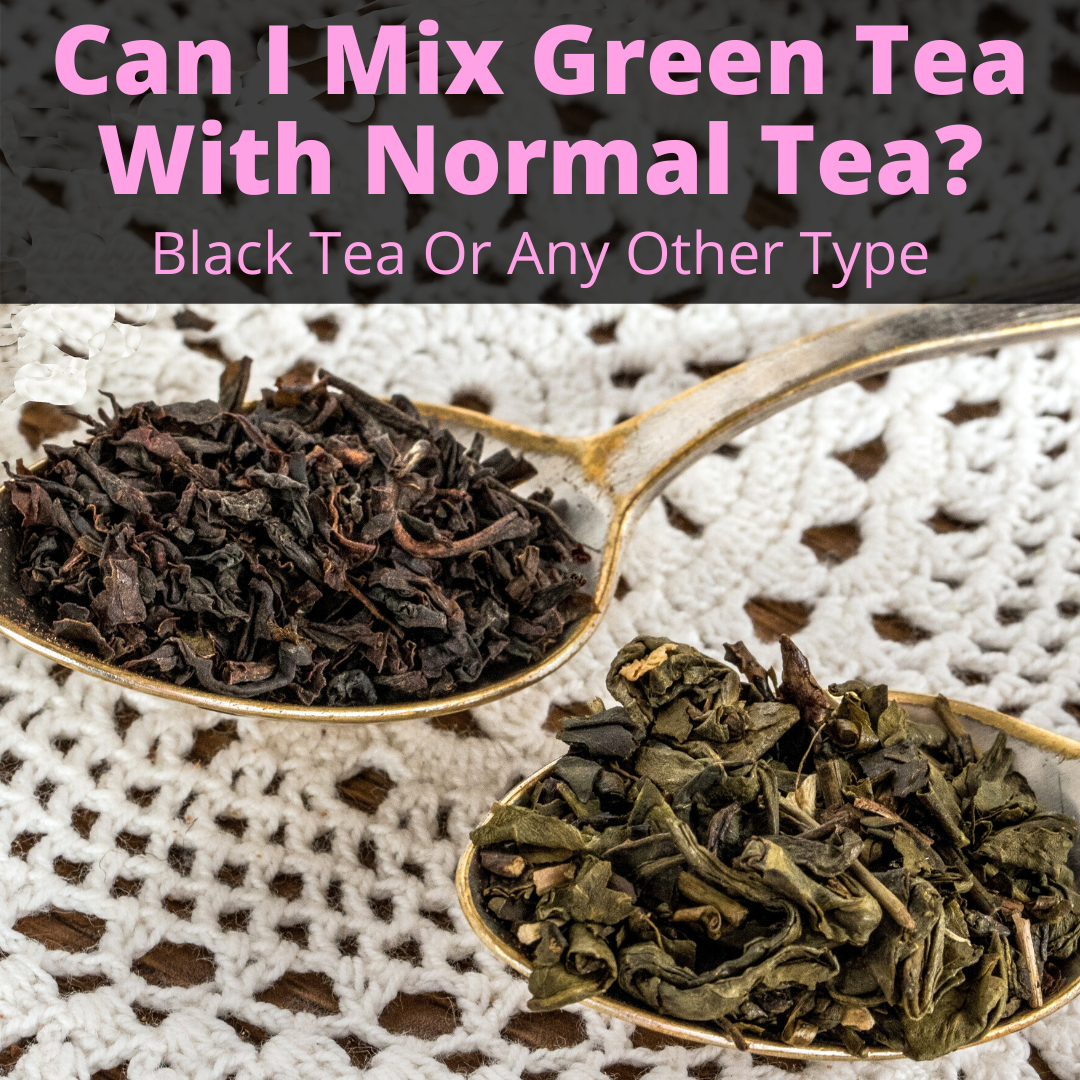 I love the taste of green tea.
But not everyone agrees.
Many people want to drink green tea, but don't really like the flavor. So they need ways to make it taste better.
One of those ways is to mix it with other drinks.
And if you already like black tea (what we think of as normal tea in the west), it only makes sense to ask "Can I mix green tea with normal tea?"
That's what we're going to find out today. We'll also cover many other types of tea, as well as other popular additions to green tea, like fruits or herbs.
Can I Mix Green Tea With Normal Tea?
Yes, you can mix green tea with normal tea. Of course, this begs the question: "What exactly is normal tea?"
Generally, when people say normal tea, they mean black tea. That is traditionally the most commonly consumed type of tea in the west.
For the sake of this article, we will begin by discussing the mixing of green and black tea. Then we will cover mixing green tea with other types of tea and also other types of drinks or flavors.
Mixing Black And Green Tea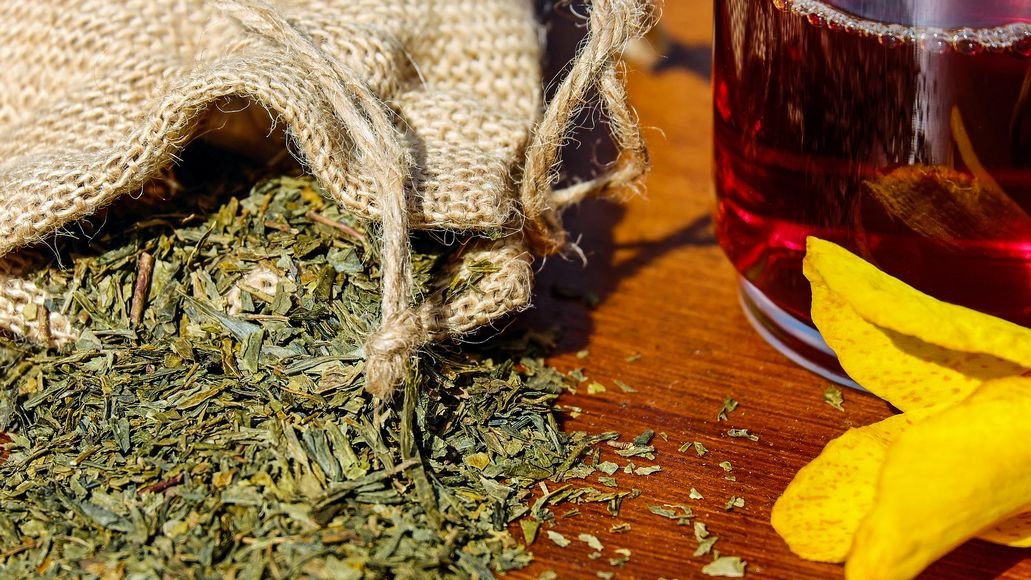 Green tea and black tea leaves both come from the leaves (or buds) of a shrub called Camellia sinensis. Although they are taken from the same plant, the two types of tea are processed differently.
Green tea is heated (generally steamed or roasted) right after harvesting, to stop the fermentation or oxidation process before it even begins. Black tea is left to oxidize fully.
For this reason, some purists believe that green tea and black tea should never be mixed. They say that green tea is more delicate, with grassy, nutty flavors, while black tea is bolder, darker, more acidic, and more robust in taste.
In short, green tea is not acidic, while black tea is, so they believe that green tea and black tea's flavors do not complement each other well. And there is some truth to this. But only to a point.
There are many different types of green tea and black tea, with vastly different flavor profiles. While some of them definitely do not mix well, others complement each other much better.
Which Green And Black Teas To Mix
Personally, I prefer not to mix my teas, so I do not have any recommendations for which specific types go well together.
I would guess that stronger green teas and weaker black teas might mix well, since they would be more balanced. If it were the other way around, the black tea would just overwhelm the green tea.
You'll have to experiment for yourself, but a roasted green tea like houjicha might stand up well to a milder black tea like Darjeeling. These two teas also have the same recommended brewing temperature (just below boiling), which makes brewing them together easy.
How To Mix Black And Green Teas
Most green teas should be brewed at a lower temperature than black teas, so you'd either want to brew the two teas separately and combine them afterward.
Or brew the black tea leaves first with boiling water, then switch out the leaves in the infuser and brew the green tea leaves in the already brewed black tea, once the temperature has cooled down.
I have actually tried a black tea and green tea blend before. They had it at a hostel I stayed at once. It's wasn't bad, but it was in tea bag form.
There really isn't that much difference in black and green teas, when they come in tea bags anyway, so the blend really just tasted like any other tea bag to me.
Out of curiosity, I decided to conduct my own tea experiment yesterday, solely as research for this article. Unfortunately, the only green tea I currently have is bancha and the only black tea is a fairly strong Ceylon black.
I did as I suggested above to brew them. I prepared the Ceylon first with boiling water. Then I let the water cool down a bit more (I do not have a thermometer, so I just guessed) and dropped in some bancha leaves. It mostly just tasted like the Ceylon tea. Basically, it was a waste of a few bancha leaves.
If you're considering mixing the two to reduce black tea's propensity to stain your teeth, read "Does Green Tea Stain Your Teeth?" You'll see mixing them won't change much.
Mixing Other Types Of Tea With Green Tea
Mixing different tea types is not a new concept. People found long ago that mixing teas can create a lot of new aromas and flavors. But not all teas go well together.
Experimentation is key. Personal preferences in flavors mean you might like a blend I do not. It is always best to try out new mixes for yourself, especially since it is incredibly easy to just mix two or more types of tea.
Even better, it does not have any adverse effects. Even a blend that doesn't work won't taste horrible. It's just tea, after all. And in terms of health, mixing teas might actually increase the benefits in some cases, but it won't have any negative effects.
Here are various tea blends you can try.
Mixing Green Tea And White Tea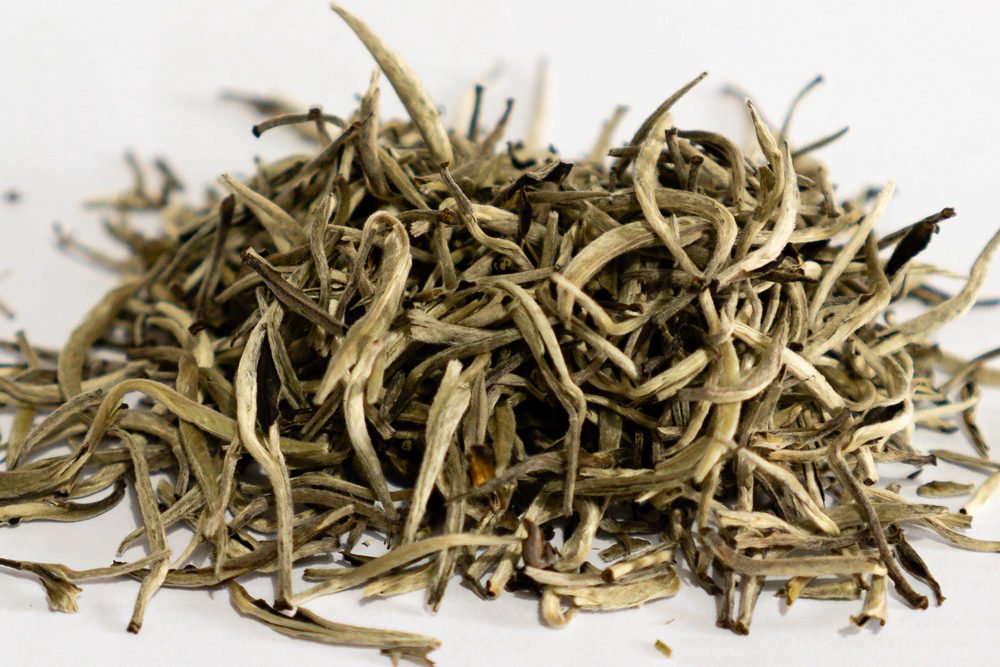 The differences between green tea and white tea are not huge, so they can mix well together. Their recommended brewing temperatures (most green tea is 170° to 180° Fahrenheit; most white tea is 150° to 170° Fahrenheit) are close enough that you can even brew them together.
As with black tea, some types will go well together, while others won't. I would try a more flavorful white, like a white peony, with a milder green , like a dragonwell.
Mixing Oolong And Green Tea
Oolong tea and green tea is probably the best blend of two true teas (i.e. both coming from the Camellia sinensis plant) in terms of similarity in flavor. The ideal brewing temperatures are close enough too, with 170° to 180° Fahrenheit recommended for most green teas and 194° to 205° F for most oolong tea. That means you can brew them together.
However, the flavor of oolong tea varies significantly from one type to the other, since it encompasses such a wide variety of oxidation levels and is made using vastly different processing techniques. You'll definitely have to try different varieties of greens and oolongs to find the best mix for your taste.
Green Tea And Chamomile Tea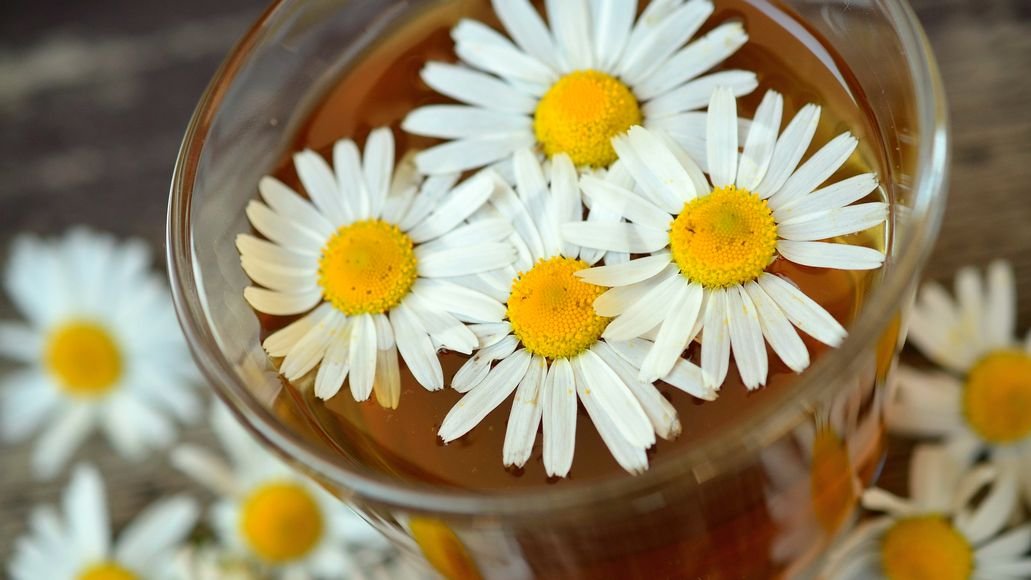 When you move away from only teas made from the actual tea plant, blending them begins to make more sense. Green tea and chamomile tea work well together to create a unique blend.
The chamomile tea adds a full-bodied taste and a very distinct herbal flavor to the vegetal and nutty green tea profile. Mixing these two tea types also combines the health benefits of the herbal tea, with those of the green tea.
Both are potent flu fighters, so combining them is great for prevention during cold or flu season or to relieve symptoms after you have already gotten sick.
Green Tea And Mint Tea
Green tea and mint tea blends have been hugely popular for a long time. There is definitely a lot of variation possible, depending on the type of green tea and the type of mint. I prefer spearmint because it is milder and complements the tea better. Stronger mints, like peppermint, can overpower the taste of green tea.
In fact, the most famous mint tea, Moroccan mint tea, uses spearmint. They sometimes add a small amount of peppermint or pennyroyal, but mostly it is only spearmint. Teas with only spearmint also taste the best, by far.
As for the green tea, they generally use gunpowder. I'm guessing they use it, because that is what they've always used, not because it is best. Most likely, they began using gunpowder, because it was cheap and readily available. But it is a popular tea, which is why I have an entire article on the health benefits of gunpowder green tea.
When I was in Morocco, I noticed the tea they used was always low quality, so it needed the mint to taste good. They always added sugar, too. I bet it would be a lot better with a higher quality tea. I would also prefer not to have sugar in mine.
Other Flavors That Go Well With Green Tea
Green tea has a base flavor that lends itself well to combination with a variety of fruits, herbs, spices, and other elements. Each infuses an additional taste profile into your drink. Whenever you add something to green tea, it is still considered green tea, but with an addition. Green tea is never an herbal tea.
Adding some of these flavors is also a great way to save tea that has expired. It never spoils and tea leaves last a long time, but eventually, their flavor deteriorates. Here are some great flavors to mix with green tea.
Fruits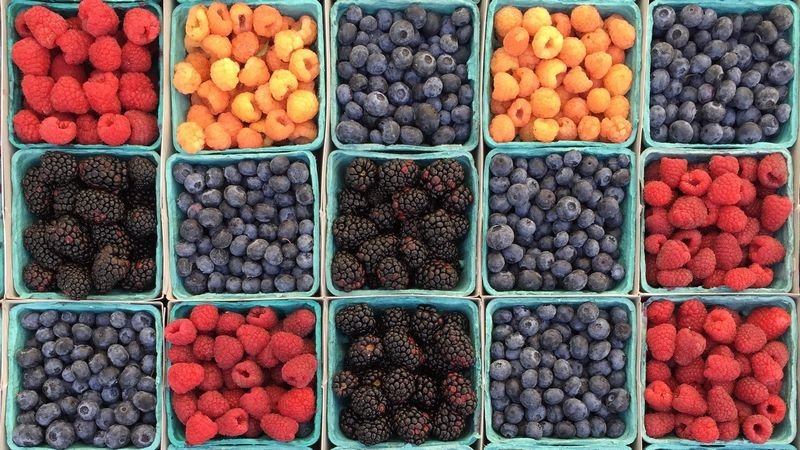 One of the best ways to add sweetness to a green tea drink is to infuse it with fresh fruit flavor. Whether you want a fruit-flavored iced green tea or a warm green tea with the sweetness of fruits, the key is to put actual fresh fruit into it.
To make a fruit-infused green tea, slightly chopped, crushed, or mashed berries (blackberries, blueberries, strawberries, or raspberries) are the perfect mix. But to create a more citrus flavor, you can squeeze an orange or lemon into the tea, or put a wedge right into the glass of brewed green tea.
Apple wedges or cantaloupe, peach, mango, nectarine, or watermelon cubes can also lend a sweet, fruity flavor to your drink. Steep it with hot water and serve immediately, or cool it down and serve it chilled with ice, for a great summer tea drink.
Milk
This mix is not for everyone (I hate adding milk to my tea, especially to green tea), but many consider is a wonderful match. Just look at how prevalent green tea lattes have become at coffee shops. You can add milk to any kind of green tea, but matcha green tea makes for the best pairing.
The smooth, frothy texture and creaminess of milk blends well with the similarly froth texture of matcha and its vegetal green tea flavor. And it does so delicately enough that your taste buds won't miss any of the subtle flavors each ingredient offers.
Roasted Rice
Have you been to Japan? If so, you may have heard of Genmaicha. Genmaicha tea, also called 'popcorn tea', combines green tea with roasted brown rice.
This results in a brownish green tea. The flavor isn't for everyone, but some people really love it. I'm pretty indifferent on it myself. I don't hate it, but won't buy it again either.
Sweeteners
For those who don't really like the grassy flavor of most green teas, sweeteners are the most common way to make green tea taste better. Using natural sweeteners is always best. Honey complements green tea's rich and raw herbal taste best, in my opinion. There are also additional health benefits of honey in tea.
Green Tea Benefits
Green tea may be less popular than black tea in the west, but it has a reputation for being healthier. Researchers and health professionals have scientifically proven many health benefits of green tea, and there are many more potential benefits still being studied. Here are a few of the primary benefits.
Can Help Lower Cholesterol
A study published by Harvard Medical Publishing at Harvard Medical School suggested that green tea can lower the risk of cardiovascular disease.
Researchers believe that green tea may decrease bad cholesterol levels in the blood (low-density lipoprotein and triglycerides), thus reducing the risk of certain conditions like heart disease and stroke. Read "What Does Green Tea Do To Prevent Strokes?" for more information.
Contains Antioxidants
Green tea contains natural antioxidants like Catechins that can prevent the accumulation of free radicals in the body, thus protecting the cells from damage.
May Improve Blood Circulation
A 2013 literature review found that green tea can help prevent a wide range of heart-related issues, from high blood pressure to congestive heart failure. Researchers say that this beneficial effect of green tea may be due to its impact on improving blood flow by lowering bad cholesterol.
May Help Prevent Type 2 Diabetes
According to a study published in the Annals of Internal Medicine, researchers found that drinking green tea may help reduce the risk of type-2 diabetes.
Mixing Green Tea With Normal Tea: Final Thoughts
Green tea can be mixed with any other type of tea, whether it comes from the same plant, or is made from various herbs. Some of these blends taste great, while others fall flat. I encourage you to simply try mixing a few yourself to see how you like them.
You can start with a tried and true classic like mint tea, or start with mixing black tea and green tea. If you have access to different types of green tea or other teas, try multiple combinations. You may not like one, but might love another!