Gunpowder Tea is a Chinese green tea. Its Chinese name actually means "Pearl Tea" and the English name most likely comes from the Chinese word for "freshly brewed" (gang pao de) and the fact that each leaf is rolled into a small, round pellet that resembles a black powder grain.
High grade pellets are shiny and tightly rolled, while lower quality teas have larger pellets. Gunpowder green tea has a thick, strong and slightly smokey flavor, with a coppery aftertaste.
Where To Buy Gunpowder Tea
This popular variety of tea can be found in just about every tea shop or online vendor. If you are unsure where to begin, you can check out some of my recommendations below.
How To Prepare Gunpowder Tea
Chinese green teas are generally much easier to brew than Japanese varieties and Pearl Tea is no exception. Like most other green teas, it should be steeped in cooler water than black or oolong teas.
A temperature of 80°C (176°F) is a good starting point. To get this temperature, you can just use a simple stove-top kettle to bring the water to a boil and then let it cool down for about two minutes.
For Chinese teas, the temperature is not as important as it is for Japanese teas. As long as it is a bit below boiling, it should be fine. If you would like to be more accurate in judging the water temperature, you can simply use a thermometer.
If you plan on trying a lot of varieties of tea and/or coffee it might be worth it to invest in a water boiler/warmer or an electric kettle with a variable temperature setting.
Personally, I recommend this Cuisinart kettle, because it has presets for every type of tea, so you always get the perfect temperature: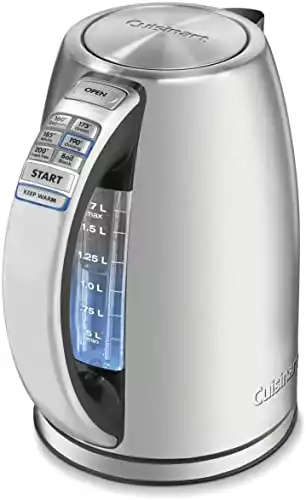 If you need a more portable kettle, I've compiled this list of small electric tea kettles.
In the West, many people will brew Gunpowder tea in a teapot, while many Chinese will brew it in a plain 8oz glass. In tea shops, however, you will usually be served Gunpowder Tea in a traditional lidded cup called a gaiwan.
All three will work just fine—most important is to use a vessel made from glass or porcelain. For these instructions, I will use a gaiwan.
Brewing Instructions
Fill your gaiwan (or glass) about halfway with hot water to pre-heat it. Tilt the cup a bit so that the water creeps up the side and then rotate it so the inside gets wet all the way around. Then pour the water out.
Place slightly less than 1 teaspoon of gunpowder pellets in the gaiwan. Use twice this amount if you are brewing your tea in an 8oz glass. If you are using a teapot, use about one teaspoon for every cup of tea (or for every 4oz of water).
Fill the gaiwan with hot water. It should be about 80-90% full and the temperature should be below boiling; around 80°C (176°F) is ideal.
Place the lid on the gaiwan and let the tea steep for 1 minute. And that's it. Enjoy your tea!
When you get down to about one quarter of the tea remaining, refill the gaiwan with hot water of the same temperature as before and let it steep for 30 seconds to one minute.
You can get 3-5 infusions out of most pearl teas. Increase the steeping time 30 seconds to one minute for each infusion. How many infusions you do depends entirely on your taste. Experiment.
Use the amounts given in these instructions as a rough guide. If you find the resulting tea too weak, add more tea leaves; if it is too strong, reduce the amount of leaves used. Similarly, try increasing or decreasing the steeping times.
If the tea is too bitter, reduce the temperature of the water. Basically, you'll want to keep experimenting until you come up with the perfect brew for your particular taste.
Best Gunpowder Teas
Most Convenient
Many people already have an account with Amazon.com so it is probably the easiest place to buy tea online and they have a large selection of Pearl Tea.
Among their options is the Temple of Heaven Special Gunpowder, which you may have seen in Asian stores across Europe. It not a great tea, but it is dirt cheap.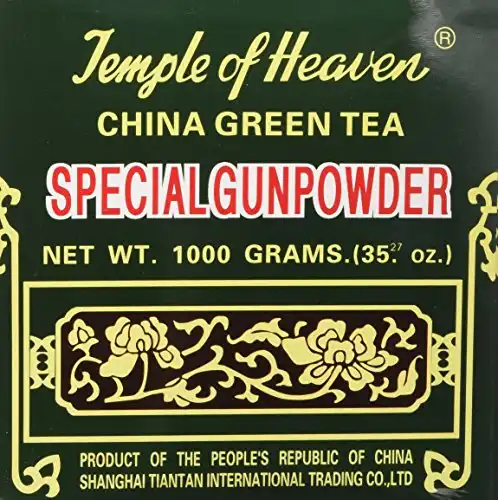 If you're looking for something higher quality, this Organic Gunpowder from Numi Tea is very good and one of the best-selling teas on Amazon.
Best Deal
I prefer to buy my teas from specialty shops and with a popular tea like this one, the choices are endless. My personal favorite is this Gunpowder Tea from Art of Tea.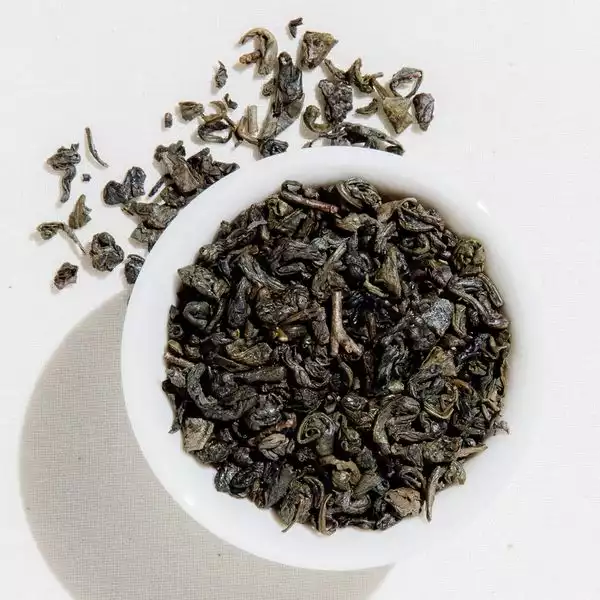 I feel it offers the best balance of quality and price. The quality is very high, while the price is reasonable.
Low Price
That said, I'm not really a huge fan of gunpowder tea and would generally only buy it if it's very cheap. As a result, I would probably ignore the higher quality of Art of Tea's and go with a cheaper offering, like this one from Teavivre:
More Information About Gunpowder Tea
Gunpowder tea was first produced during the Tang Dynasty (618 – 907 AD). Production began in Zhejiang province, but these days it is grown in Guangdong, Anhui, Hunan and Fujian provinces in China and also in Taiwan.
With most high quality teas, the younger and more delicate buds and leaves are used, but for gunpowder, larger and older leaves are picked. This is similar to Lapsang Souchong, a black tea made from the larger and older leaves.
After the leaves are picked, they are withered to remove moisture and then steamed to stop the oxidation process. After that, they are rolled into small pellets. They must be rolled carefully to avoid breaking the leaves.
In the past, this entire process was done by hand, but today only the highest quality varieties are still hand-processed. For most teas, machines do the picking and rolling.
The purpose behind the unique rolling process is that it keeps the leaves fresher longer. Rolling them up tightly protects them from damage and helps them retain their flavor and aroma longer. This type of rolling is also seen in Tie Guan Yin, a famous oolong tea.
The look of the pellets gives clues as to the quality of the tea. Shiny pellets tell you that the tea is fresher. Larger pellets indicate a lower quality variety. The highest quality gunpowder tea is tightly rolled into small pellets. The highest grade is designated 3505AAA.
Because older leaves are used and due to the processing methods, gunpowder has a unique flavor among green teas. It has a soft taste with hints of honey and a distinct smokiness. The gunpowder tea benefits and side effects are the same as other green tea varieties.
Common Varieties of Gunpowder Tea
There are 3 common varieties of pearl tea.
Pingshui Gunpowder: named after Pingshui town where gunpowder tea originated; the most common type; strong aroma and larger pellets; also known as Temple of Heaven Gunpowder or Pinhead Gunpowder
Formosa Gunpowder: grown in Taiwan and processed differently, very similar processing to Taiwanese oolong teas; taste and smell is closer to oolong teas that to other green teas
Ceylon Gunpowder: grown in Sri Lanka at altitudes around 1.800m above sea level