Genmaicha is a mixture of green tea and roasted brown rice. As some of the rice kernels pop during roasting to resemble popcorn, this tea is also referred to as "popcorn tea."
It combines the aroma of roasted rice with the fresh grassy flavor of Japanese green tea, resulting in a mild tasting tea that has a light yellow hue.
Where To Buy Genmaicha
You can buy genmaicha in any specialty tea shop or through a number of online vendors. If you are unsure where to begin, you can check out some of my recommendations below.
How To Prepare Genmaicha
The preparation instructions given here are for loose leaf teas. For tea bags, you can generally just follow the instructions given on the box.
Genmaicha, like most green teas, should be steeped in cooler water than black or oolong teas. A temperature of 80–85°C (176–185°F) is a good starting point. For these instructions, I'm going to give the traditional Japanese preparation method which assumes you are using a simple stove-top kettle.
Heating water to the desired temperature becomes much simpler if you use a water boiler/warmer or an electric kettle with a variable temperature setting.
Personally, I recommend this Cuisinart kettle, because it has presets for every type of tea, so you always get the perfect temperature: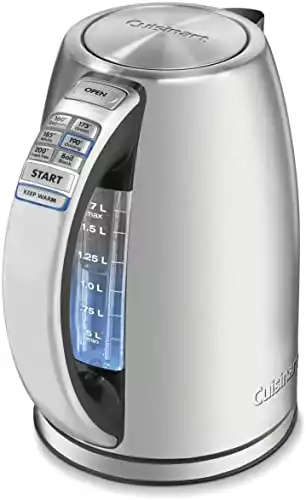 I like brewing Japanese teas in a traditional kyusu: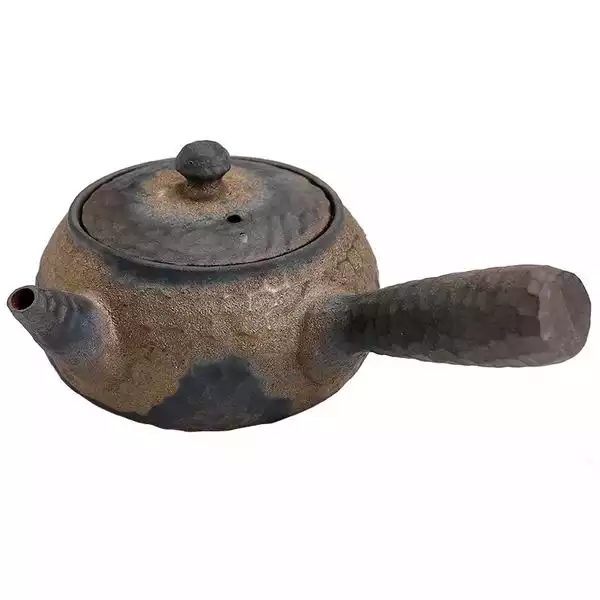 or a cast iron tetsubin: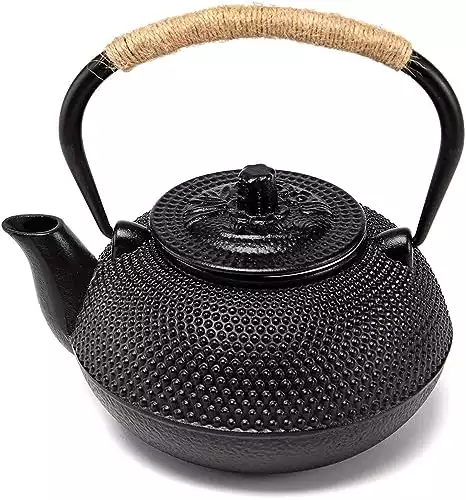 But any teapot will work fine, to be honest.
Brewing Instructions
Pour enough boiling water into the empty teapot to fill everyone's cup. The teapot should NOT contain any teas leaves at this point.
Fill each cup with the water from the teapot. This will cool the water from boiling to the desired temperature of 80–85°C (176–185°F).
Put about one large teaspoon of tea leaves into the empty teapot for each cup of tea. The teapot I am using comes with an infuser, but if yours doesn't, you can put the leaves directly in the pot.
Pour the water in the teacups back into the teapot.
Let the tea steep for two minutes.
Pour a small amount of tea into the first cup, then pour the same amount into every other cup. Continue filling the cups a little at a time, making sure that each cup contains the same amount of the weaker first pours and the stronger last drops. DO NOT fill one cup completely and then move on to the next cup.
Continue pouring until the teapot is completely empty. You want the leaves to be as dry as possible to ensure a quality second infusion
Depending on the quality of your tea, genmaicha is usually good for 2 or 3 infusions. If you are going for three, you will want to use a short steeping time for the second one. Pour boiling water from your kettle into the cups and wait about 30 seconds. This will ensure a higher water temperature than you used for the first infusion.
Pour the water from the cups into the teapot and steep for one minute. Pour the tea into the cups, alternating as before.
For the third infusion, you can pour the water directly into the teapot and steep for three minutes.
If you decide to only do two infusions instead of three, increase the steeping time of the second to three minutes.
Use the amounts given in these instructions as a rough guide. If you find the resulting tea too weak, add more tea leaves; if it is too strong, reduce the amount of leaves used. Similarly, try increasing or decreasing the steeping times.
This is a fairly forgiving tea compared to other Japanese green teas, so you'll generally get a pretty good brew even if you don't do everything perfectly.
Best Genmaicha Teas
Most convenient
Many people already have an account with Amazon.com, so it is probably the easiest place to buy tea online. The best purchase on Amazon is the matcha genmaicha from Sugimoto Tea:
For a great deal, try this value pack from Hime:
Highest Quality
The Kyoto Matcha Iri Genmaicha from Art of Tea is an interesting take on the classic genmaicha, with matcha added in to the mix: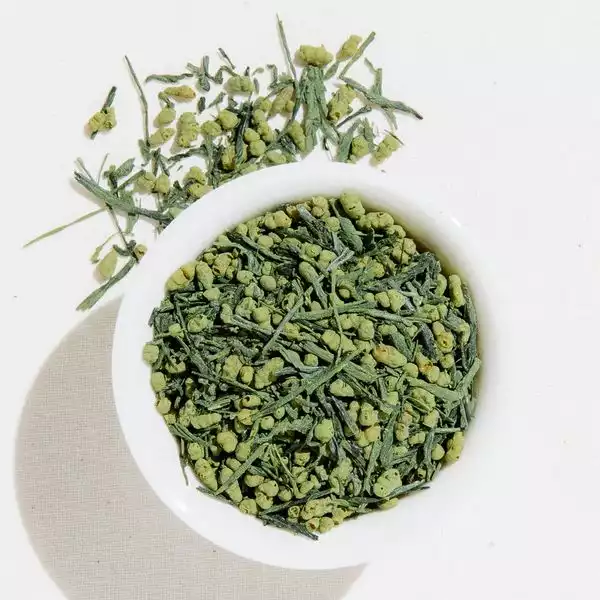 It blends high-quality gyokuro green tea, ceremonial matcha and roasty puffed rice, for an incredibly high quality tea that goes far beyond any standard genmaicha. Naturally, it costs a lot more, too.
Best Value
For a more traditional version, try this Organic Imperial Gyokuro Genmaicha from California Tea House: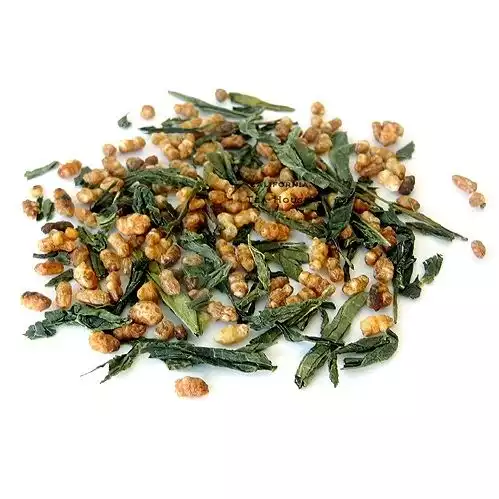 It also uses imperial gyokuro, instead of lower quality bancha or sencha, but does not include any matcha. Despite using gyokuro, it sells for a very reasonable price, making it the best value I've seen by far.
More Information About Genmaicha
The combination of green tea and roasted rice gives you a great balance in your cup between the bitterness of Japanese green tea and the nutty taste of roasted rice.
Originally, the rice was added as a cheaper filler to reduce the cost of the tea. It was meant for poor people and the cheapest type of green tea, bancha, was used to further keep costs down.
These days all levels of society enjoy genmaicha and it is no longer only made with bancha. Just as often, sencha is used and there are quite a few variants using very high-quality gyokuro. Some variants even add matcha green tea powder into the mix.
The words "genmai" mean "brown rice" (and "cha" means tea), but confusingly, white rice is used. Brown rice is too dark when roasted and white rice has a better flavor and odor. It is traditionally made with mochi rice, not common rice. Today, the higher-quality varieties are still made with mochi rice.
The brew has a light yellow color (unless made with matcha; then it is greener) and a mild flavor that counteracts the bitterness of the tea with the nuttiness of the rice. The milder flavor makes it good to help settle an upset stomach. The starches and sugars in the rice add a fullness, so people will drink it when fasting to feel fuller.
Making the Roasted Rice For Genmaicha
Making the roasted rice is actually fairly simple and something you could do at home. Some people like to make their own genmaicha.
First you need to soak the rice in warm water for a few hours. This makes it easier to steam.
Next, steam the rice, like you would when cooking it for consumption.
After steaming, you need to dry the rice. The best way to do this is to just use hot air. You can also let it sit in the sun until it is dry.
Once it is dry, the roasting begins. You can use any pan, though a wok is probably the best.
After roasting, you just need to let the toasted rice cool down and then you're done!
In the past, the rice for genmaicha was made by hand, which resulted in some of the rice kernels popping, due to inconsistent temperatures between different kernels. This is what led to the alternate name of "popcorn tea."
These days, it is mostly made in a machine, which achieves consistent temperatures, so the rice does not pop. Nevertheless, many brands will add in some popped rice, because people like the appearance. When making the rice yourself, you may and up with some popped kernels.