Lu'an Melon Seed is a Chinese green tea. Pronounced "Liu An Gua Pian" and also known as Liuan Leaf, it holds the "China Famous Tea" designation.
The leaves smell sweet and fresh; when wet, they resemble melon seeds, hence the name. The brew has a smooth, sweet, nut-like flavor that is slightly reminiscent of toasted pumpkin seeds.
Where To Buy Liu An Gua Pian Tea
Lu'an Leaf Tea can be difficult to get outside of China. You may find it in a specialty tea shop or through some online vendors. If you are unsure where to begin, you can check out some of my recommendations below.
How To Prepare Lu'An Melon Seed Tea
The preparation instructions given here are for loose leaf teas. For tea bags, you can just follow the instructions given on the box.
Chinese green teas are generally much easier to brew than Japanese varieties and this one is no exception. Like most other green teas, Liuan Leaf tea should be steeped in cooler water than black or oolong teas.
A temperature of 80°C (176°F) is a good starting point. To get this temperature, you can just use a simple stove-top kettle to bring the water to a boil and then let it cool down for about two minutes.
For Chinese teas, the temperature is not as important as it is for Japanese teas. As long as it is a bit below boiling, it should be fine. If you would like to be more accurate in judging the water temperature, you can simply use a thermometer.
If you plan on trying a lot of varieties of tea and/or coffee it might be worth it to invest in a water boiler/warmer or an electric kettle with a variable temperature setting.
Personally, I recommend this Cuisinart kettle, because it has presets for every type of tea, so you always get the perfect temperature: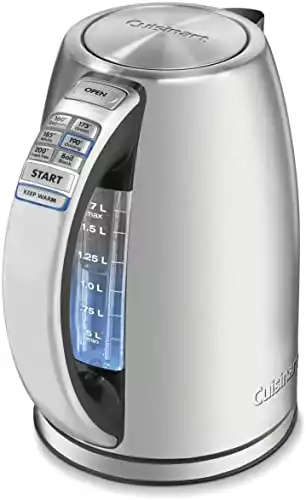 Many Chinese will brew Liu An Gua Pian in a plain 8oz glass. Many restaurants in China do this as well.
In tea shops, however, you will usually be served Lu'An Melon Seed in a traditional lidded cup called a gaiwan, which is what I will use for these instructions.
Brewing Instructions
Fill your gaiwan (or glass) about halfway with hot water to pre-heat it. Tilt the cup a bit so that the water creeps up the side and then rotate it so the inside gets wet all the way around. Then pour the water out.
Cover the bottom of the gaiwan with a shallow layer of dry leaves. You will need approximately 1 teaspoon. Use twice this amount if you are brewing your tea in an 8oz glass.
Fill the gaiwan about one third of the way with hot water. The temperature should be below boiling; around 80°C (176°F) is ideal.
Tilt the cup a bit and rotate, so that the leaves get wet all over. Then add more hot water until the gaiwan is 80-90% full.
Place the lid on the gaiwan and let the tea steep for 1-2 minutes. It is ready to drink when most of the leaves have sunk to the bottom of the cup.
When you get down to about one quarter of the tea remaining, refill the gaiwan with hot water of the same temperature as before and let it steep for 30 seconds to one minute.
You can get 3-5 infusions out of most varieties. Increase the steeping time 30 seconds to one minute for each infusion. How many infusions you do depends entirely on your taste. Experiment.
Use the amounts given in these instructions as a rough guide. If you find the resulting tea too weak, add more tea leaves; if it is too strong, reduce the amount of leaves used. Similarly, try increasing or decreasing the steeping times.
If the tea is too bitter, reduce the temperature of the water. Basically, you'll want to keep experimenting until you come up with the perfect brew for your particular taste.

Best Liu An Melon Seed Teas
Most Convenient
Many people already have an account with Amazon.com so it is probably the easiest place to buy tea online. They have a bunch of options that look like they come directly from Chinese store shelves. That's not necessarily a bad thing, but the quality can vary a lot.
Luckily, they have recently added some new teas and among them is this Premium Lu An Gua Pian from Best Leaf Teas:
It is an excellent tea, though it definitely costs more than all the generic varieties found on Amazon.
Best Buy
I prefer buying from online shops and my favorite option is this great Melon Seed from Teavivre: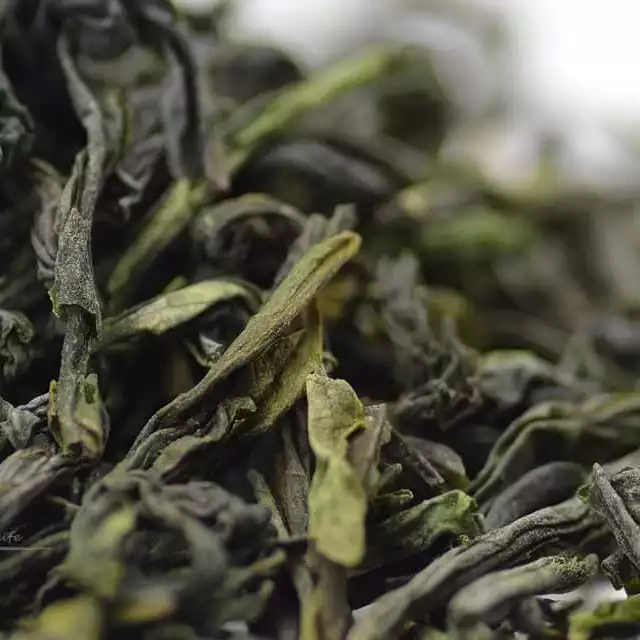 There really aren't many options when buying this variety of tea online and the one from Teavivre is the only one that is great and still reasonably priced.
More Information About Melon Seed Tea
Lu'an Guapian tea comes form the Qiyun Mountain area of the Lu'an region in Anhui province, China. The bushes grow above 500 meters above sea level on steep mountain slopes. The climate is mild with a lot of rain, making it perfect for the camelia sinensis plant.
The species of camelia sinensis used is a small-leaf tea bush that is native to the area. Due to the climate conditions, the leaves end up with a higher nutritional content than most teas, making them similar to Longjing or Lu Mountain Cloud Mist tea.
Processing
Melon Seed tea is on the list of China's 10 most famous teas. A big reason for that is that it is entirely unique. Unlike most green teas, which are made from the youngest leaves and the fresh buds, this one is made only from larger and more mature leaves.
Specifically, the second leaf on the branch is used, and only the leaf. No buds or any other parts are included. The leaves must be picked at a specific time of the year called "grain rain", which usually falls around April 20th. The central vein of each leaf is removed, so that only the leaf material remains.
Processing the leaves for Liuan Guapian is involved and difficult. It starts easy enough: spreading the leaves out for a bit. Then it gets more difficult. In order to stop the oxidation process, the leaves need to be stir-fried. But unlike younger leaves and buds, the more mature leaves require higher temperatures, which makes the process uncomfortable for the workers.
Despite the intense heat, they have to control the temperature as best they can and they need to adjust the frying time based on the temperature fluctuations, which invariably happen with an open fire. Getting this exactly right, while being so close to an intensely hot fire, is exceedingly difficult.
The leaves must be roasted three times to get the flavor just right. The second roast is lighter, but the third is the most difficult of all. Every roast must be performed inside a completely sealed room.
The leaves are also shaped during the process, which is what gives them their distinctive plump shape. It is this shape that resulted in the name "melon seeds", because the leaves resemble the shape of a melon seed.
All of the roasting and the use of older leaves results in a different flavor from other green teas. It is sweeter with a spicy, smokey overtone. It only has a very slight hint of the grassy flavor that is so distinct in other green teas.
History
Supposedly, Lu'an Guapian was first produced back in 1905. A local tea master bought a bunch of the larger leaves (probably because they were cheaper) and decided to try something different. He removed the central vein and all of the stems and stalks, leaving only the cut-down leaf material.
His newly invented tea was a huge hit and other farmers in the area began producing it as well. Extra production steps were added, like the pan-drying and the rolling into the distinctive shape.
This same process is still in use today. This tea is popular in restaurants in China, but you don't commonly find it in Chinese restaurants outside China.