Ceylon tea is grown at a high altitude in Sri Lanka's central highlands, which are characterized by high humidity, low temperatures and abundant rainfall.
These conditions give Ceylon black tea a citrusy aroma and a lively and refreshing texture with sweet juicy notes reminiscent of a mandarin peel or grapefruit.
Where to Buy Ceylon Black Tea
High quality Ceylon tea is not always easy to find. Specialty tea shops or online vendors will generally be your best bet. If you are unsure where to begin, you can check out some of my recommendations below.
How to Prepare Ceylon Black
The preparation instructions given here are for loose leaf teas. For tea bags, you can just follow the instructions given on the box.
The best temperature for brewing this tea is 90-95ºC (194-205ºF), which is just below the boiling point. You can just boil the water using a simple stove-top kettle and then let it cool for 20 seconds.
If you plan on trying a lot of varieties of tea and/or coffee it might be worth it to invest in a water boiler/warmer or an electric kettle with a variable temperature setting.
Personally, I recommend this Cuisinart kettle, because it has presets for every type of tea, so you always get the perfect temperature: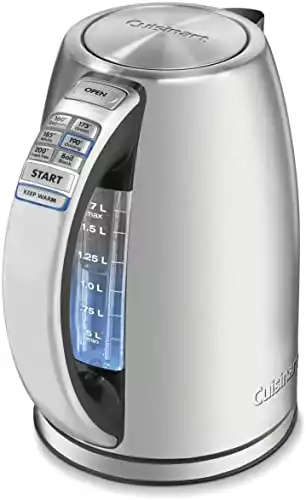 Black teas from Ceylon can be brewed in a variety of vessels, but ideally you would use a ceramic teapot: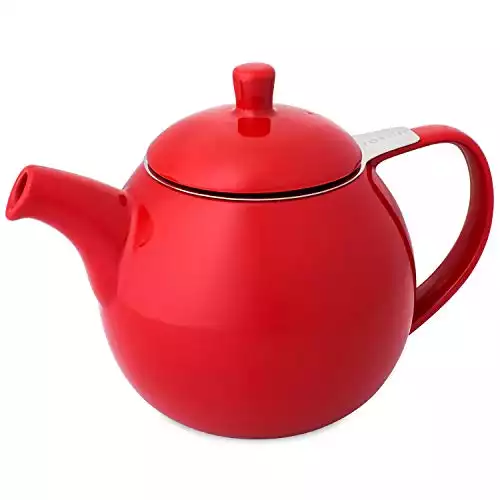 Brewing Instructions
Fill both the teapot and the cups about halfway with hot water to pre-heat them. Tilt them a bit so that the water creeps up the side and then rotate them so the insides get wet all the way around. Then pour the water out.
Put 1 teaspoon of tea leaves into the teapot for every 8 oz. (236 ml) of water.
Fill the teapot with 90-95ºC (194-205ºF) water.
Place the lid on the teapot and let the tea steep for 3 minutes.
Pour the tea into the teacups and enjoy your tea!
The amounts and times given in the instructions are somewhat conservative; use them as a rough guide. If you find the resulting tea too weak, add more tea leaves or try increasing the steeping time.
Best Ceylon Teas
Most Convenient
Many people already have an account with Amazon.com so it is probably the easiest place to buy tea online. They don't have the greatest selection of Ceylon black teas, but a few decent options are available. This 1 lb. bag of orange pekoe tea from Davidson's Tea provides the best value on Amazon, in my opinion:
Best Value
My favorite option and the best value overall is the St. Coombs Dimbula Ceylon Tea from Culinary Teas. It's a high-grown variety selling at a very affordable price.
More Information About Ceylon Black Tea
You probably noticed I had fewer recommendations for this tea than I do for most others. That is because it is difficult to find good varieties of this tea available online. It is hard to find in local tea stores, as well.
That said, you've probably had some in your life: Ceylon black tea is used, along with other varieties, in black tea blends from some of the most famous tea brands. Usually this tea will come in tea bags. If you have had black tea in a tea bag, there is a good chance some of what was in that bag came from Sri Lanka.
Of course, what's included in those blends is just low-quality scraps. To truly enjoy the unique flavor of this tea, you need to get a loose leaf variety.
Different Types
There are actually several different types of Ceylon black tea. All have the same twisted leaves and result in a copper colored brew with a fruity flavor. They are differentiated by the area in which they are grown, which lends each type its unique characteristics.
High-Grown Teas
High-grow varieties are ones that grow at an altitude above 1200 m. They are characterized by dark brown leaves that brew to a delicate and light tea with floral notes. These are the most aromatic and sweet of the Ceylon teas and also the most highly prized. Naturally, this means they have a higher price tag.
Middle-Grown Teas
Middle-grown teas are produced at tea estates with an altitude between 600 and 1200 m. These varieties sit right in the middle between the high-grown and low-grown teas, both in altitude and characteristics. They are milder than the low-grown, but stronger than the high-grown.
Low-Grown Teas
Low-grown teas are produced at altitudes below 600 meters. They are darker and stronger and brew to a dark copper. The flavor is stronger as well and is best described as hearty and rich.
It is the lowest quality Ceylon variety and is used as a filler in blends for that reason. This is the variety you have probably had in a tea bag somewhere.
If you really want to give Ceylon tea a try, I highly recommend you pay a bit more and get a high-grown variety. Even though it costs more than the other varieties, the price is still very low overall, when compared to many other teas. Both of the teas I recommended above are high-grown varieties.
History of Sri Lankan Black Tea
Tea cultivation in Sri Lanka actually dates back only to the middle of the 19th century. I say only, because it dates back thousands of years in China.
Speaking of China, the variety used in Sri Lanka is the same as in China and was brought over from there. It did not catch on at first, but when the main crop, coffee, was destroyed by disease the Sri Lankans switched to tea.
Even today, they still employ traditional methods which makes their tea some of the best black tea you can get.
If you compare it to its more famous Indian neighbors, it falls in between Darjeeling and Assam. It is darker and stronger than most Darjeeling teas but lighter and milder than Assam teas.
Sri Lankan Tea Today
Tea is grown on the island all year round. The main plantations are located on the central massif and in the surrounding lowlands.
Sri Lanka is now one of the largest tea producers in the world, but they consume very little of their production themselves.
Most of it is exported. It usually sells under the name of the estate where it was grown (like the Kenilworth tea I recommended above) or it is used in a blend, usually under the generic "Ceylon Tea" name.
Speaking of that label, the reason that it is still called "Ceylon Tea" even though the country was renamed to Sri Lanka is name recognition. The "Ceylon" brand is world famous, so they decided to keep it intact, rather than switching to Sri Lankan Tea.