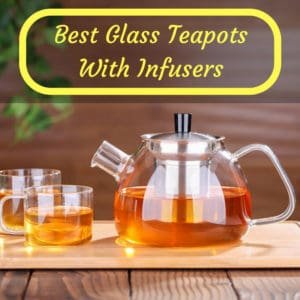 Do you drink loose leaf tea?
Then you need a glass teapot with infuser.
They are the best way to brew loose tea leaves.
I love watching the color of the tea slowly seep out from the infuser and spread throughout the pot. It also makes it easy to brew the tea to your desired strength.
And if you like flowering teas, a glass teapot lets you watch the flower unfurl. It's beautiful.
The only problem?
There are hundreds of glass teapots with metal or mesh filters on the market. And most of them are not very good.
Figuring out which ones are worth buying takes time.
That's why I did the research and reviewed and compared the best teapots on the market. Hopefully this post will help you find the perfect teapot for you.
Best Glass Teapots With Strainer Compared
09/24/2023 05:37 pm GMT
Note: if you're just brewing tea for yourself, you might want a tea infuser mug, though I prefer a small personal teapot (600 to 750 ml capacity). I actually use the 600 ml version of my choice for "best overall teapot" below.
Glass Teapot With Infuser: Reviews Of The 8 Best
Heat-Resistant Glass Teapot and Kettle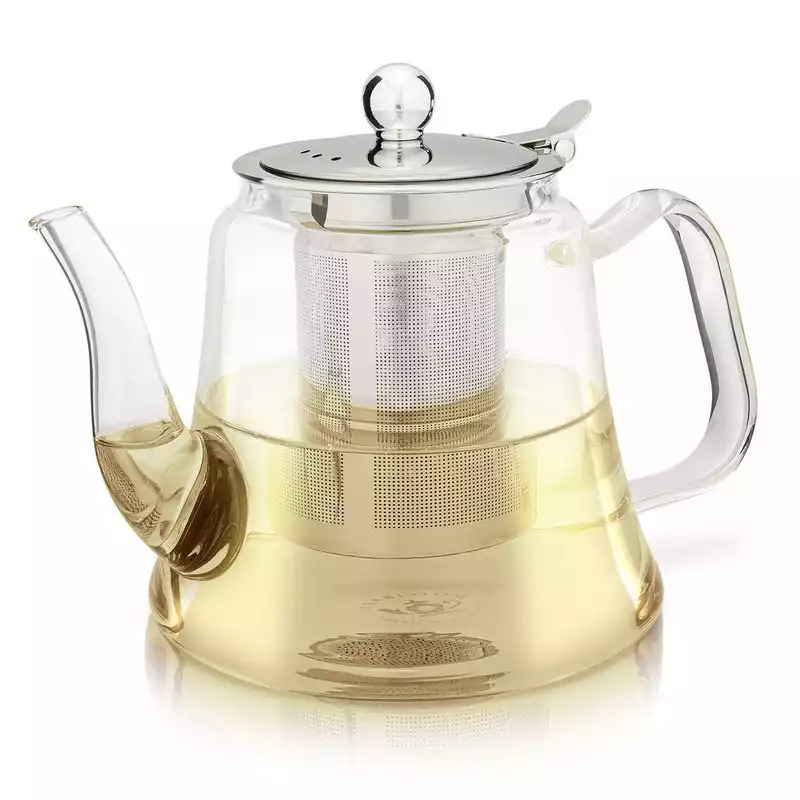 Teabloom Siena Teapot
Available Sizes:
Many additional teapot styles also available from Teabloom.
Learn More
We earn a commission if you make a purchase, at no additional cost to you.
I bought a new teapot for myself a few years ago on a trip to China and loved it. It was very simple, but didn't have a lot of the little annoying issues so many other pots have (dripping spout or a long narrow spout that is hard to clean, for example).
Unfortunately, I dropped it and it broke.
My next teapot cost more, but had one of those annoying dripping spouts. The first chance I got, I contacted the manufacturer of the previous teapot from China to ask where I could get another one. Long story short, I ended up coming to an agreement to sell them on my site.
Of course, I got another one of their teapots for myself as well. The first thing I noticed is that they fixed the one issue I had with the previous model. With the old one, you couldn't use the lid unless the strainer was in the pot. Now the lid fits even without the removable infuser, which is a huge upgrade.
But then came Covid. This led to shipping delays, since I was importing the pots from China. Some customers got extremely nasty about this and I had a number of them file disputes with their credit card companies to get their money back.
Which they did.
Of course, their teapots were already on the way and they ended up getting them a month or so later. So I received no money, but still had to pay for the teapots and shipping, while the nasty customers got free teapots.
I made the hard decision to stop selling these teapots on my site. It was hard, because there was nothing else like it on the market. Everyone who bought one loved it. And unfortunately, I couldn't offer my readers an alternative.
Until now.
Teabloom now sells a number of different teapots with this same type of lid, that allows you to keep the lid on even when the infuser is removed.
They have ones with a long spout and ones with a short. I prefer the short spouts, because they are easier to clean. But the long ones are easier to pour without dripping, so it's a trade off.
The one pictured here is a long-spout version, because it comes in several sizes (the short-spout one is only available in the large 40 oz version).
What's really surprising is that they sell them for less than I was. I wasn't trying to make a profit, so I was basically selling them for what they cost me for the pot plus shipping and taxes.
I guess when you buy in bulk, you really save a lot in costs. I was obviously just having one at a time shipped, since I don't have a warehouse or anything like that.
As for the teapot, it is made from 100% heat-resistant borosilicate glass, which is microwaveable and dishwasher safe. Just make sure to remove any stainless steel components before placing it in the microwave to boil water.
Due to the heat-resistant glass, this teapot can double as a kettle to boil water. You can place it on an open flame or radiant cooker (but not an induction cooker).
The strainer is made from lead-free food-safe stainless steel, so no toxins will leech into your tea. The pot is available in 3 sizes. Teabloom also has a few other styles, which you can see on their website (just follow the "check current price" button below).
I have the 20 oz (600 ml) version, which is perfect for one person. It is smaller than you might think, so if you make tea for more than one person, you'll definitely want one of the larger ones (measure out 20 oz of water before buying, to see just how much it actually is).
Hario Chacha Kyusu Maru Teapot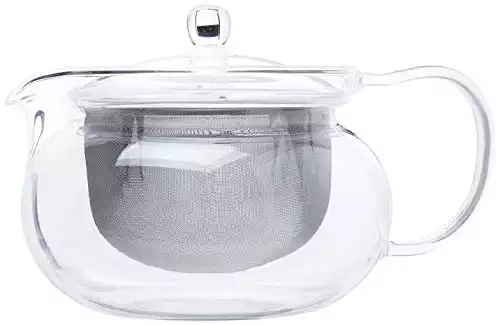 This Kyusu Maru teapot from Hario is imported from Japan. It comes in three different sizes (300, 450 and 700 ml), with the largest being the cheapest. 700 ml is about equal to 24 fluid ounces.
Hario means "King of Glass" in Japanese, but the truth is, this is one of the lower quality teapots on this list. It is also the cheapest and when you consider the price, it is a good buy.
It might not be as high quality as some of the others, but it does exactly what it is supposed to: it brews and holds tea.
At 24 ounces, even the largest version of this pot is smaller than the other options on this list, apart from the first one. This is typically Japanese.
They like to brew just one or two cups at a time (24 ounces will give you about 2 cups). If you need an inexpensive and small glass teapot with infuser, this Japanese model is your best bet.
Willow & Everett Teapot With Infuser and Warmer
This well-crafted teapot with infuser and warmer is made from premium hand-blown glass and the removable infuser is made from stainless steel.
The glass pot can be put in the microwave. You simply remove the strainer and heat your water in the microwave. Once it reaches the correct temperature, put the infuser back in and brew your tea.
It holds 32 ounces, or 3 to 4 cups of tea. The included tea cozy ensures even the last cup will still be hot. It is black and zips snugly over the pot keeping the contents warm for a long time.
The removable infuser is rust-free and the lid spill-free. One thing to be careful of: this teapot can not be heated on the stove. Either heat it in the microwave or heat the water separately in a different pot or using an electric kettle. It comes with a 90-day money-back guarantee.
Cozyna Lotus Japanese Teapot
The Cozyna Lotus teapot is made entirely from borosilicate glass and the lid and infuser are made from a high-grade stainless steel. There are no plastics or other materials that could leach harmful chemicals into your tea.
The strainer is easily removable, so you can take the tea leaves out once the tea has reached the desired strength. This allows you to reuse the leaves for multiple pots of tea, saving you money. Most loose leaf tea leaves can be reused 3 to 4 times.
Some customers have reported issues with the spot dripping tea down the front of the pot, but most are happy with their purchase. Cozyna include a 2-year warranty (as well as free recipe book), so you can always return the teapot if it does not work as advertised.
Hiware Borosilicate Glass Teapot With Removable Infuser
The Hiware Teapot is hand-crafted from heatproof borosilicate glass that is safe to put in the top rack of a dishwasher. It comes with a micromesh stainless steel filter and a lid.
There are actually two versions on this tea pot being sold on Amazon: one for loose leaf teas and one specifically for blooming teas. The flowering teapot version does not come with an infuser. Instead it has a strainer built into the lid. This way you can see your flowering tea expand in the pot.
The loose leaf version holds 27 ounces, while the flowering version holds 40 ounces. Both are rated as stove top safe, but I personally would heat my water in a kettle.
Ehugos Stovetop Safe Teapot Kettle
The Ehugos Teapot Kettle is made from borosilicate glass that can withstand instant temperature changes from minus 30°C to 150°C. In other words, it will stay intact even if you freeze the teapot then instantly fill it with boiling water.
Given that, it should come as no surprise that it is safe to heat on both gas and electric stoves. This is great for times when you don't have a kettle. The included filter is made from stainless steel and is ultra-dense, so no residue can escape into your tea.
Like almost every glass teapot with stainless steel infuser, the lid fits into the strainer, not the pot. This means you can't use the lid unless the filter is in the pot.
The Ehugos pot has a 30 ounce capacity, which equals about 2 to 3 cups of tea. It comes with a warranty and a 100% money-back guarantee, so you can rest assured when making your purchase
Modern Innovations Heat Resistant Glass Teapot
Note: unfortunately, this teapot is no longer available, due to supply chain issues. Hopefully it will be back on the market soon.
The Modern Innovations tea pot is unique on this list in that it comes with a plastic frame to help protect the glass. The frame is BPA-free and able to withstand extreme temperatures.
The spill-free lid is made from the same BPA-free plastic, while the mesh infuser is made from rust-free stainless steel.
Finally, you also get a black Neoprene custom fit cozy that zips securely around your teapot to keep it warm. It is designed to resist stains and odors, but is also easy to clean. You can wash it in the machine or pop it in the dishwasher.
The Modern Innovations glass teapot with removable infuser holds up to 40 ounces, which equals 4 to 5 cups of tea. It is great as a personal tea pot, but is also large enough to entertain guests.
Glass Teapot With Infuser: How To Use
There are two basic variations and both are equally easy to use. The first are the ones where the lid fits into the strainer, meaning you can only have the lid on the pot when the filter is in use. Once you take it out, you have to remove the lid.
To use these models, simply put the filter into the pot and fill it with the desired amount of tea leaves. Add hot water and cover with the lid. Steep for the required length of time.
Once the tea is ready, remove the filter with the tea leaves and the lid. Set it aside, but do not discard the leaves, since you can use them for subsequent steepings (3-6 steepings, usually).
With the second kind of pot, the ones where the lid fits even when the strainer is not in use, you can put the lid back on the pot after you have removed the filter, to help keep the tea warm longer.
If you are unsure about the amount of tea leaves to use, the best water temperature (for most teas, you should not be using boiling water), or the length of time to steep, consult the instructions that came with your tea leaves. If they did not come with instructions, check this article.