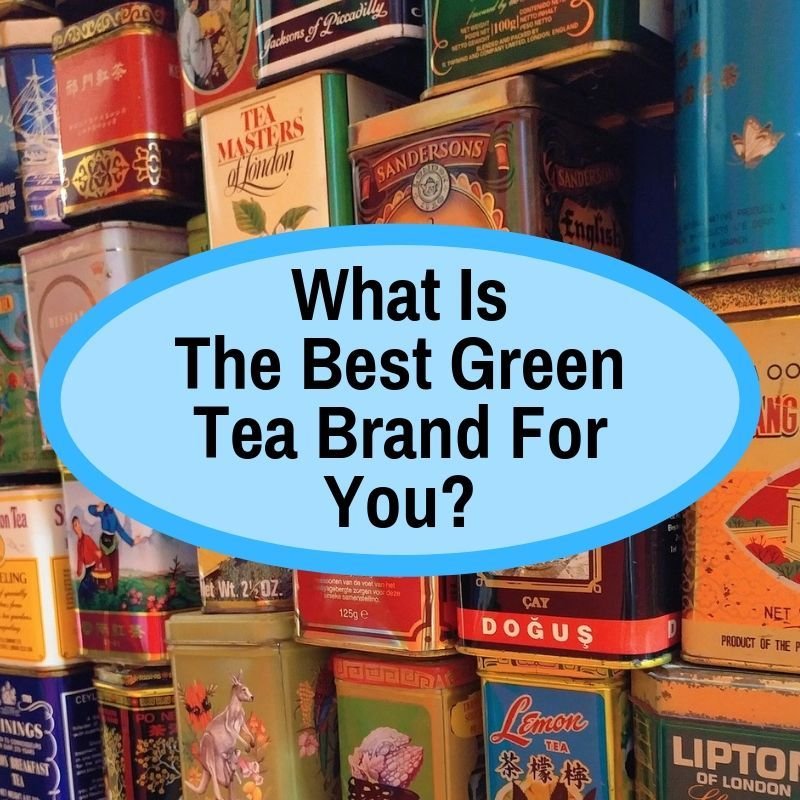 There is no best green tea brand.
There are some great ones, some good ones and a lot of bad ones.
I can help you avoid the bad ones and I can tell you which ones are great.
But which brand is best will differ from person to person. It depends on your individual needs and preferences.
And for many, knowing the best green tea brand is not as important as figuring out which type of green tea is best for them.
That's why I'll begin by helping you determine which type of green tea is best for you.
Once you know that, I'll then give you a list of the top brands that make those types of green tea. By the end of the article, you will know exactly which green tea to get, and where to get it.
Let's get started by figuring out which type of green tea is best for you.
The Best Type Of Green Tea For You
The easiest way to figure out which type of green tea is ideal for you is to begin with your preference. Look at the following headings and see which describes the characteristic that is most important to you.
Healthy
The healthiest tea of all is matcha, which is a green tea powder made from ground up leaves. Because the whole leaves are consumed, you get far more of tea's health benefits. You also get far more caffeine.
Matcha is more difficult that other teas to brew properly, but to be honest, you don't need to worry about the "correct" brewing method. You can also just put some of the powder in hot water and stir it a bit. That works just fine. Furthermore, matcha is often used in cooking, so you can eat it as well.
If you prefer a standard tea, where you steep the leaves but don't consume them, then Gyokuro is the healthiest. It is also the highest quality green tea there is, but unfortunately, that also means it is the most expensive.
It is a shade-grown tea, which means it gets less sunlight. This results in more chlorophyll, since the leaves need to be able to extract more energy from the limited sunlight. More chlorophyll means more nutrients and also more caffeine.
You can read all about Gyokuro here.
Grassy Green Tea Flavor
Green tea has a distinct grassy flavor, but the strength of that grassiness varies from tea to tea, with some varieties exhibiting almost none of this taste. Personally, I like a grassy tea and really enjoy Sencha as a result.
Sencha is a Japanese tea that is steamed to stop the oxidation process (instead of roasted). This gives it a grassier, more green tea-ish flavor. What is great about Sencha is that you can alter the flavor profile a lot simply by modifying the amount of leaves you use and the steeping time.
You can also cold brew sencha or any other green tea. Sencha is one of my favorite varieties to cold brew.
Milder, Sweeter Flavor
If you prefer a tea that is less grassy and has a milder and sweeter flavor, you should try Dragon Well. This Chinese tea is roasted, instead of steamed. This results in a milder flavor and a lower caffeine content.
Daragon Well is very easy to brew. In fact many restaurants in China simply put a few leaves in a glass of hot water and serve it like that. It is often referred to by its Chinese name: Longjing.
You could say that Longjing is the quintessential Chinese green tea and sencha the quintessential Japanese variety. Trying these two types is a great way to compare Chinese vs Japanese green tea.
Learn about Dragon Well tea here.
High Caffeine Content
As mentioned above, matcha has the highest caffeine content and gyokuro is the highest among regular green teas. Both are expensive, though.
If you are looking for a lower cost tea with a high caffeine content, sencha is probably your best bet. Another good option is Lu Mountain Cloud Mist tea (aka Lu Shan Yun Wu), which is a shade-grown tea like Gyokuro. It is not always easy to find, though.
Learn about Lu Mountain Cloud Mist Tea.
Low Caffeine Content
Houjicha is a roasted Japanese tea. Roasting results in a lower caffeine content. In Japan, houjicha is famous as a milder tea that contains less caffeine and is often given to small children as a result.
Cheapest
The cheapest green tea is generally Gunpowder tea. Named for the way it looks, this tea has a smokier flavor. I personally do not like it as much as other varieties, but it is usually very inexpensive, so you may want to give it a try and see how you like it.
Learn about Gunpowder tea. I also have an article that goes over the gunpowder green tea health benefits.
Best Green Tea Brands
I like buying my tea from online stores like Art of Tea or Teavivre. They have their own teas, so those are actually my favorite brands. I will begin with these store brands and then add the top brands that are widely sold, which means you can find them in Amazon and other stores.
I have a strong preference for loose leaf teas, so these will all be brands that mainly sell loose teas. Learn why I prefer loose tea (and why you probably should too) in this article.
If you are looking for the best green tea bag brands, most of the brands listed at the end (the ones sold widely) carry tea bags as well as loose tea leaves. I even included two that only sell tea bags.
Art of Tea
Art of Tea
Excellent selection
Great quality
Great prices considering the quality
Good easy-to-navigate website
10% off your first purchase if you sign up for newsletter
Shop Now
We earn a commission if you make a purchase, at no additional cost to you.
Art of Tea is my favorite online vendor overall. They have a great selection of high quality tea of all types. The prices are quite good too, considering the quality. The one problem? They only ship to the US and Canada. So if you're not there, you can't shop at Art of Tea.
Teavivre
Teavivre Online Tea Store
Unbeatable selection of high-quality Chinese teas
Huge selection of quality pu'er tea
US warehouse for fast delivery
Free shipping on orders over $40
Shop Now
We earn a commission if you make a purchase, at no additional cost to you.
Teavivre is my favorite vendor if I'm looking for Chinese teas. They specialize in teas from China and sell nothing else. They ship worldwide.
Teavivre have a large selection (including Pu'er) with several teas of each type, in varying qualities. For example, they have 3 different Dragon Well teas, a good one, a great one and an exceptional one. The prices vary accordingly.
Generation Tea
Generation Tea
High quality Chinese teas
Great Selection of Pu'er teas
Great prices
Website is unfortunately pretty basic
Shop Now
We earn a commission if you make a purchase, at no additional cost to you.
Generation Tea is another great vendor of Chinese tea, but their selection is much smaller than Teavivre. Their teas are generally higher quality, but because their selection is smaller, they may not have the tea you want. They do have a huge selection of pu'er, though.
Matcha Source
Matcha Source
Best online tea store for matcha
High quality matcha green tea at great prices
Matcha Source matcha is farmed by the Yahagi river whose micro-climate and misty fog air make for ideal growing conditions
Matcha

made traditionally without the use of artificial colors, preservatives or additives
Shop Now
We earn a commission if you make a purchase, at no additional cost to you.
Matcha Source is my favorite source for high quality matcha. Their selection is limited to only matcha, but if that's the tea you want, this is the place to get it.
They make their teas using traditional Japanese methods and have two different quality levels. Both are excellent, but the ceremony grade is as good as it gets. With a price to match, naturally.
Top Brands That Are Sold In Major Stores (Like Amazon)
These are my favorite green tea brands that are widely sold in many stores. They can all be found on Amazon.
I've placed them in order from my favorite to least favorite. I recommend checking if the first one has the tea you want and if they don't, moving to the next one.
More info specifically on where to buy certain teas can be found in this article.
Best Green Tea Brand: Final Thoughts
The brands listed above are the best places to buy green tea. If you're not sure which tea to buy, the section above on the best types of green tea should help you out.
If you are looking for flavored green teas (or other types of tea, like herbal teas), you might want to check out some of the so-called luxury tea brands. The best luxury tea brands are better for herbal teas, flavored teas, and tea blends.