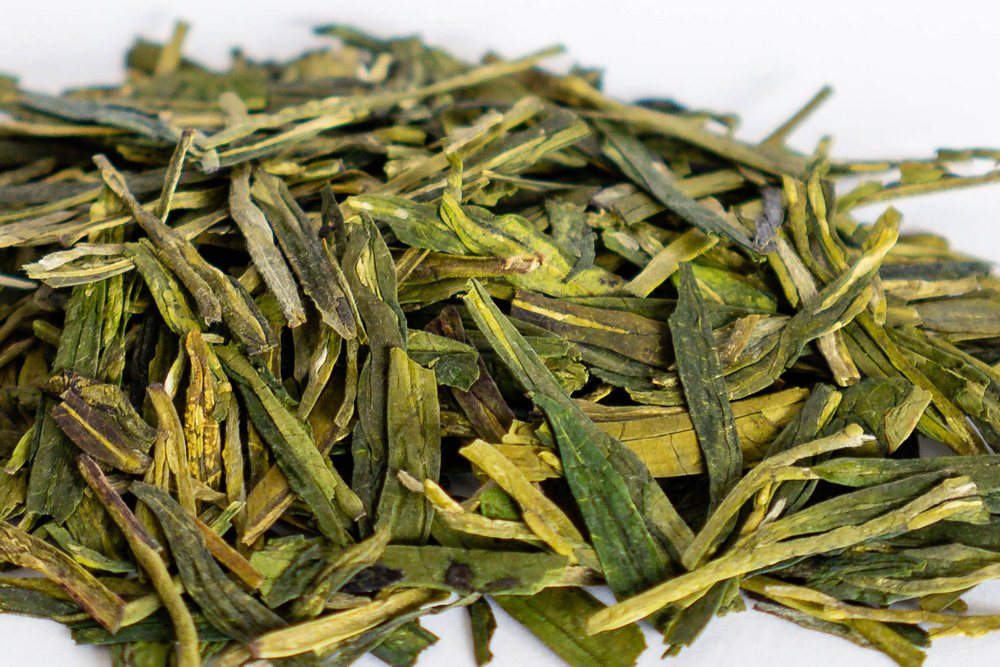 Dragon Well Tea (aka Longjing Tea) is the most famous Chinese green tea and it has earned the 'China Famous Tea' title. It contains vitamin C, amino acids and has one of the highest concentration of catechins among teas. It has a gentle and sweet flavor and a fresh aroma.
Dragon Well Tea comes in seven grades: Superior, Special, and then 1 through 5. The quality is most apparent after infusion: high quality Longjing teas have tender whole leaves that are all of a similar size, shape and color, while lower quality leaves vary in color from deep green to almost blue.
Where To Buy Longjing Tea
You can buy Longjing Tea in any tea shop or through a number of online vendors. If you are unsure where to begin, you can check out some of my recommendations below.
How To Brew Dragonwell Tea
Chinese green teas are generally much easier to brew than Japanese varieties and Longjing is no exception. Like most other green teas, Dragon Well tea should be steeped in cooler water than black or oolong teas.
A temperature of 80°C (176°F) is a good starting point. To get this temperature, you can just use a simple stove-top kettle to bring the water to a boil and then let it cool down for about two minutes.
For Chinese teas, the temperature is not as important as it is for Japanese teas. As long as it is a bit below boiling, it should be fine. If you would like to be more accurate in judging the water temperature, you can simply use a thermometer.
If you plan on trying a lot of varieties of tea and/or coffee it might be worth it to invest in a water boiler/warmer or an electric kettle with a variable temperature setting.
Personally, I recommend this Cuisinart kettle, because it has presets for every type of tea, so you always get the perfect temperature: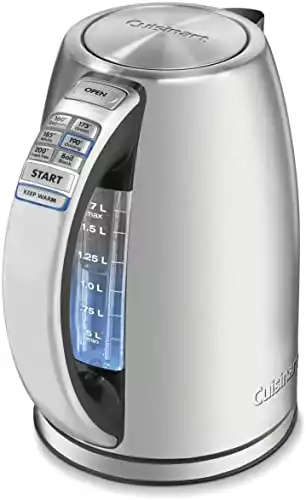 Many Chinese will brew Longjing in a plain 8 ounce glass. Many restaurants in China do this as well.
In tea shops, however, you will usually be served Dragon Well in a traditional lidded cup called a gaiwan and that is what I'll use for these instructions.
Brewing Instructions
Fill your gaiwan (or glass) about halfway with hot water to pre-heat it. Tilt the cup a bit so that the water creeps up the side and then rotate it so the inside gets wet all the way around. Then pour the water out.
Cover the bottom of the gaiwan with a shallow layer of dry leaves. You will need approximately 1 teaspoon. Use twice this amount if you are brewing your tea in an 8oz glass.
Fill the gaiwan about one third of the way with hot water. The temperature should be below boiling; around 80°C (176°F) is ideal.
Tilt the cup a bit and rotate, so that the leaves get wet all over. Then add more hot water until the gaiwan is 80-90% full.
Place the lid on the gaiwan and let the tea steep for 2-3 minutes. It is ready to drink when most of the leaves have sunk to the bottom of the cup.
When you get down to about one quarter of the tea remaining, refill the gaiwan with hot water of the same temperature as before and let it steep for 3 minutes.
You can get 3-5 infusions out of most Dragon Well Teas. Increase the steeping time 30 seconds to one minute for each infusion. How many infusions you do depends entirely on your taste. Experiment.
Use the amounts given in these instructions as a rough guide. If you find the resulting tea too weak, add more tea leaves; if it is too strong, reduce the amount of leaves used. Similarly, try increasing or decreasing the steeping times.
If the tea is too bitter, reduce the temperature of the water. Basically, you'll want to keep experimenting until you come up with the perfect brew for your particular taste.
This video shows how to brew Longjing tea. If you're curious about the glass teapot with strainer in the video, this post reviews the best ones.
Best Dragon Well Teas
Most Convenient
Many people already have an account with Amazon.com so it is probably the easiest place to buy tea online.
Their overall selection of Dragonwell tea leaves a lot to be desired, but this one from Golden Moon is quite good.
More importantly, it comes in a 2 oz tin, so you can sample it without spending much money.
Best Value
Personally, I prefer to buy from specialty tea shops online. The best deal I've found so far is the inexpensive Dragonwell from Art of Tea.
This excellent tea has a fresh, clean aroma with a gentle, mellow flavor. It's a great purchase.
High Quality
If you're looking for the absolute highest quality, Teavivre is a company that specializes in the highest grade Chinese teas. Their Organic Nonpareil Ming Qian Longjing is as good a Dragon Well as you will find and incredibly rare.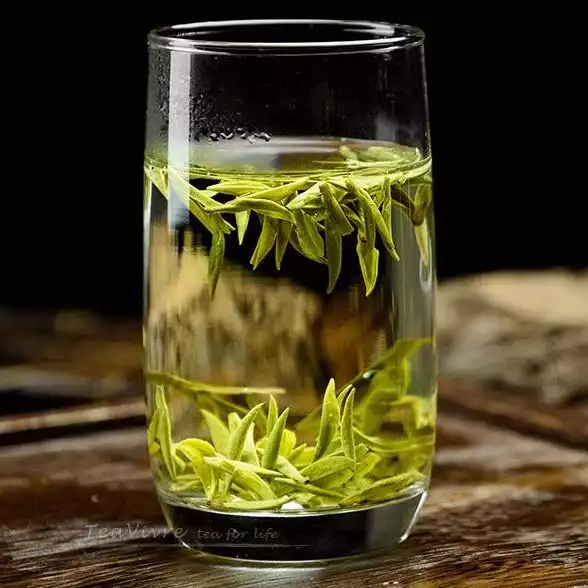 They also have several other high quality Longjing teas that sell for a bit less. Two of them are even from the West Lake area.
Longjing Tea Benefits
Let's take a brief look at the main health benefits of drinking Dragonwell tea. After that, we will take a closer look at the origins, growing conditions, processing and more.
Cardiovascular Benefits
Longjing tea can help improve heart health in several ways. It is high in catechins, which are powerful antioxidants that can help lower blood pressure and cholesterol levels.
The catechins may prevent atherosclerosis by reducing oxidation of LDL cholesterol. Longjing tea drinkers have been found to have lower risks of heart attack and stroke than non-drinkers. Of course, more study is needed.
Anti-Inflammatory Effects
The antioxidants in Dragonwell tea, such as catechins and vitamin C, help reduce inflammation in the body. This can help provide relief for conditions like arthritis and rheumatism by lowering inflammatory markers. The anti-inflammatory properties may also protect against chronic diseases over the long run.
Weight Management
Longjing tea contains antioxidants that can stimulate metabolism and boost energy levels. This leads to increased calorie burning and helps with weight loss. Studies have found Longjing tea drinkers tend to have lower body fat percentages than non-drinkers.
Of course, this may not be due to the tea itself, but due to an overall healthier lifestyle. What is sure, is that drinking tea is better for your weight than drinking anything with more calories (which is most drinks).
Anticancer Potential
The antioxidants in Dragonwell tea have been shown to neutralize free radicals and protect DNA from damage, which could help reduce cancer risk over the long term. More research is still needed but Longjing tea's antioxidant properties give it promising potential for cancer prevention.
Additional Information About Dragonwell Tea
Dragon Well comes from the area around Longjing Village (hence the name) in Hangzhou, Zhejiang Province, China. Even today, it is mostly hand-picked and processed and is known as one of the highest quality green teas available. It holds the China Famous Tea title.
Chinese green tea leaves are generally roasted after after they've been picked in order to stop oxidation (unlike Japanese teas, most of which are steamed), and Longjing tea leaves are no exception. It is the halting of oxidation before it can occur that makes a tea a green tea.
Longjing has a mellow and fruity flavor with definite vegetal tones that remind of spinach or fresh grass. It also has slight hints of cream and chestnut.
Growing Conditions
The region of Zhejiang province where Dragon Well leaves are grown is mountainous, but the climate is mild. It gets a lot of rain and is covered in fog all year.
This means a lack of sunlight, which essentially makes Dragon Well a shade grown tea, like Gyokuro or Matcha. As such, it contains higher levels of theanine and with that, more catechins, more nutrients and more caffeine.
The highest-quality and most prized Longjing teas come from the West Lake area, but the tea is produced in numerous areas in Zhejiang. It is also produced in other parts of China and Taiwan. Growers there use the same techniques, but their teas are not authentic Dragon Well.
Processing
Longjing leaves are picked early in the spring. The highest quality varieties are harvested before the Qingming festival (aka Tomb Sweeping Day) on April 5th. Only the young buds are used.
After they are picked, the leaves are roasted to stop the oxidation process. Traditionally, this was done by hand in iron woks.
The roasters used their bare hands to move the leaves around the wok and press it against the surface. They felt the heat and the moisture in the leaves through their hands and developed a feel for knowing when the leaves are sufficiently roasted.
These days, many growers use machines to do the roasting, but the highest quality teas are still hand-roasted.
After roasting, the leaves are folded by hand into the characteristic shape resembling flattened sticks. This folding results in a great aroma, as the structure of the leaves is broken.
This folding is copied by many growers to disguise their low-quality tea as Longjing, so that they can charge a higher price. Since the growing are of real Daragon Well is small, much of what is sold as Dragon Well is actually from elsewhere and is almost always substandard.
Real Longjing is very expensive, especially the highest grade (superior). Higher grades have tender leaves that are used whole and uniform in size. Lower quality leaves are often darker and contain leaves of varying colors and sizes.
Varieties Of Dragon Well
Here are five famous varieties of this tea, although the final two are grown outside the West Lake (Xihu) area (but still in Zhejiang Province), so some connoisseurs do not consider them true Dragon Well teas.
Shi Feng Longjing: Shi Feng means "Lion Peak" and it is one of the five peaks of the West Lake area (the others being Dragon, Cloud, Tiger and Plumb Flower); tea from Lion Peak is considered the highest-quality of all and it was where the tea was first grown; it has a fresh taste and a long-lasting fragrance, with yellowish leaves; the most expensive of all
Tiger Spring Longjing: tiger spring is considered the best water source in the Xihu region; teas from here can handle multiple infusions without a decrease in flavor; very expensive
Meijiawu Longjing: comes from the Mejiawu village area of the Xihu region; has a jade green color . This tea is renowned for its jade green color; very expensive
Bai Longjing: looks just like a true Longjing, but comes a different area in Zhejiang Province (called Anji); it is a newer tee that was created 30 years ago from a strain of bush used primarily for white teas; less expensive that Xihu varieties
Qiantang Longjing: even though it grows just outside the Xihu district, it is far less expensive than tea from Xihu