Lu Mountain Cloud Mist Tea is a Chinese green tea from Jiangxi province. Pronounced "Lu Shan Yun Wu," it has traditionally held the "China Famous Tea" designation, although these days it is only found in the top ten of some of the lists.
Cloud Mist tea is grown in the shade, which results in a high concentration of chlorophyll and nutrients in the leaves. It has a lasting sweet flavor with a touch of saltiness and a hint of baby spinach and hazelnut.
Where To Buy Lushan Yunwu Tea
This tea can be difficult to get outside of China. You may find it in a specialty tea shop or through some online vendors. If you are unsure where to begin, you can check out some of my recommendations below.
How To Prepare Lu Mountain Cloud Mist Tea
The preparation instructions given here are for loose leaf teas. For tea bags, you can just follow the instructions given on the box.
Chinese green teas are generally much easier to brew than Japanese varieties and this one is no exception. Like most other green teas, it should be steeped in cooler water than black or oolong teas.
A temperature of 80°C (176°F) is a good starting point. To get this temperature, you can just use a simple stove-top kettle to bring the water to a boil and then let it cool down for about two minutes.
For Chinese teas, the temperature is not as important as it is for Japanese teas. As long as it is a bit below boiling, it should be fine. If you would like to be more accurate in judging the water temperature, you can simply use a thermometer.
If you plan on trying a lot of varieties of tea and/or coffee it might be worth it to invest in a water boiler/warmer or an electric kettle with a variable temperature setting.
Personally, I recommend this Cuisinart kettle, because it has presets for every type of tea, so you always get the perfect temperature: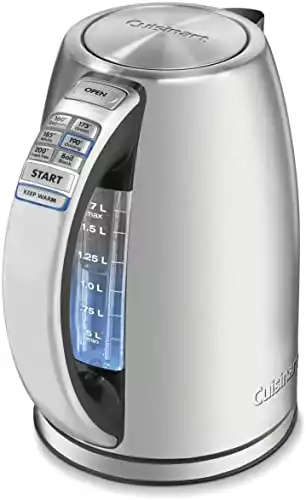 Many Chinese will brew this tea in a plain 8oz glass. Many restaurants in China do this as well.
In tea shops, however, you will usually be served Lu Shan Yun Wu in a traditional lidded cup called a gaiwan, which is what I will use for these instructions.
Brewing Instructions
Fill your gaiwan (or glass) about halfway with hot water to pre-heat it. Tilt the cup a bit so that the water creeps up the side and then rotate it so the inside gets wet all the way around. Then pour the water out.
Refill the gaiwan with hot water until it is about one quarter full. The water temperature should be below boiling; around 80°C (176°F) is ideal.
Drop approximately 1 teaspoon of tea leaves into the water. Use 1.5 teaspoons if you are brewing your tea in an 8oz glass. Tilt the glass and turn it gently, letting all the leaves get wet and soak in some water.
Fill the gaiwan the rest of the way with 80°C (176°F) water.
Place the lid on the gaiwan and let the tea steep for 1-2 minutes. Enjoy your tea.
When you get down to about one quarter of the tea remaining, refill the gaiwan with hot water of the same temperature as before and let it steep for 30 seconds to one minute.
You can get 3-5 infusions out of most Lu Mountain Cloud Mist teas. Increase the steeping time 30 seconds to one minute for each infusion. How many infusions you do depends entirely on your taste. Experiment.
Use the amounts given in these instructions as a rough guide. If you find the resulting tea too weak, add more tea leaves; if it is too strong, reduce the amount of leaves used. Similarly, try increasing or decreasing the steeping times.
If the tea is too bitter, reduce the temperature of the water. Basically, you'll want to keep experimenting until you come up with the perfect brew for your particular taste.

Best Lu Mountain Cloud Mist Teas
Most Convenient
Many people already have an account with Amazon.com so it is probably the easiest place to buy tea online. Unfortunately, their selection of Lu Mountain Cloud Mist Tea is severely lacking. The only good one is the Premium Organic LuShan Cloud Mist from Goartea.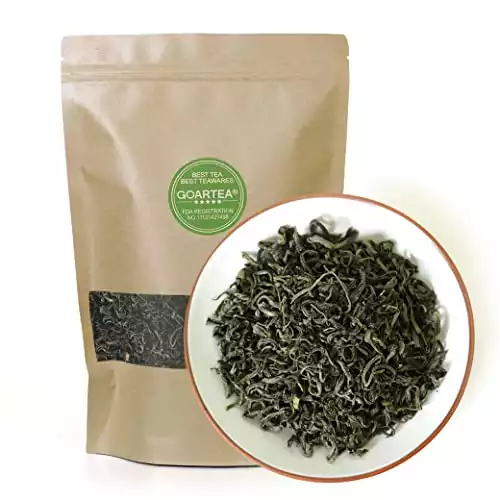 Teavana also have their Emperor's Clouds and Mist Tea. It is pretty good, but not worth the cost. I highly recommend the Goartea one. Teavana's tea is extremely overpriced.
Best Value
If you're looking for an extremely high quality tea, try the Cloud Mist tea from Teavivre. As expected, it costs more than the ones from Amazon, but it is very much worth it.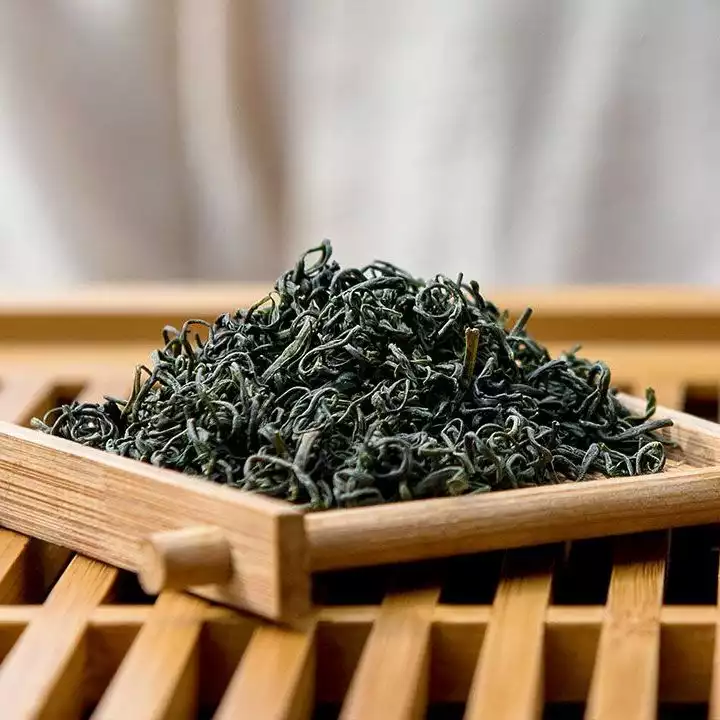 More Information About Lushan Yunwu Tea
As the name might suggest, this tea comes from Lu Mountain, which is near Jiujiang city in Jiangxi province, bordered in the north by the city and the Yangtze River and in the east by Poyang Lake. You'll also see it referred to as Lushan Mountain or Mount Lushan, but that is technically incorrect, since the Chinese word "shan" means "mountain."
The Lu Mountain scenic are is a famous destination known for many mountain peaks, waterfalls, gorges and more. It was also one of the Buddhist centers of China.
It is well suited as a tea growing area, because it sits at a fairly high altitude (the tea is grown around 800 to 1000 meters above sea level) and it has a mild, but rainy climate. The are is often covered in clouds, which serves to block out much of the sunlight. As a result, Cloud Mist tea is mostly a shade grown teas.
Shade grown teas tend to contain more chlorophyll and with it more nutrients (and also more caffeine). This is a result of the leaves making up for the lack of sunlight by producing more chlorophyll to better be able to absorb the sunlight that does exist.
This makes it similar to Dragon Well tea (and also the Japanese gyokuro, although gyokuro is artificially shaded, so it gets no sun whatsoever for a specific period).
The tea has a delicate aroma and a mellow, fresh and sweet flavor. It has a jade green color.
Cultivation of tea in the Lushan area began in the Eastern Han Dynasty, around 1800 years ago. It was the monks in the area that began growing it.
Like Dragon Well, the most expensive and highly prized varieties are called "mingqian", which means "before ming." Mig refers to the Qing Ming Festival, which is known as Tomb Sweeping day. Teas picked before this day are younger and more delicate, since the first buds and first leaves have just begun to open.
After picking, the leaves need to be heated to stop oxidation, then loosened up and rolled. Then they are stirred, sorted, rubbed, sorted, tipped and baked. The whole process has nine steps and is very involved.