The Darjeeling region of India is famous for its black teas, but they should actually be called oolong teas. Black teas undergo full oxidization, but most Darjeeling teas are less than 90% oxidized.
Because they are technically oolong teas, they brew to a light amber infusion with a fresh, floral aroma. They have a spicy flavor that is often described as "muscatel" and can have a slightly bitter finish.
The Darjeeling region also produces white and oolong teas, but these are quite rare. This article focuses on the black tea.
Where to Buy Darjeeling Tea
These teas can be found just about everywhere, but for a good one, look to specialty tea shops or online vendors. If you are unsure where to begin, you can check out some of my recommendations below.
How to Brew Darjeeling Tea
The preparation instructions given here are for loose leaf teas. For tea bags, you can just follow the instructions given on the box.
Teas from India's most famous growing region can be a bit trickier to brew than other black teas. Since they are not usually fully oxidized, they should be brewed at a slightly lower temperature than most: 80-90ºC (180-194ºF) is a good start.
You can just boil the water using a simple stove-top kettle and then let it cool for two minutes or so. It would be better to use a thermometer to more accurately judge the water temperature.
If you plan on trying a lot of varieties of tea and/or coffee it might be worth it to invest in a water boiler/warmer or an electric kettle with a variable temperature setting.
Personally, I recommend this Cuisinart kettle, because it has presets for every type of tea, so you always get the perfect temperature:
This wonderful black tea can be brewed in a variety of vessels, but a ceramic teapot is probably the best choice.
Brewing Instructions
Fill both the teapot and the cups about halfway with hot water to pre-heat them. Tilt them a bit so that the water creeps up the side and then rotate them so the insides get wet all the way around. Then pour the water out.
Put 1 teaspoon of tea leaves into the teapot for every 8 oz. (236 ml) of water.
Fill the teapot with 80-90ºC (180-194ºF) water.
Place the lid on the teapot and let the tea steep for 2 minutes.
Pour the tea into the teacups and enjoy your tea!
With these teas you want to be careful not to over-brew them, especially cheaper varieties, as they can easily become bitter. Because of that, the amounts and times given in the instructions are somewhat conservative; use them as a rough guide.
If you find the resulting tea too weak, add more tea leaves or try increasing the steeping time. If you like your tea more bitter, increase the water temperature.
Best Darjeeling Teas
Most Convenient
Many people already have an account with Amazon.com so it is probably the easiest place to buy tea online. Unfortunately, most of their Darjeeling black teas are fairly low quality.
The one exception is Vadham Teas. They have a number of Darjeelings, from incredibly high quality to good. This one is the second highest quality Darjeeling they have (and the one I find is the best value):
If you don't care so much about quality and just want a drinkable, inexpensive tea, Amazon has a lot of options. Personally, I like this one:
It's not the greatest, but it's decent and inexpensive. I'd use it to fill a thermos and drink throughout the day or to make iced tea.
Best Value
My favorite option is the award winning award winning Darjeeling from Art of Tea.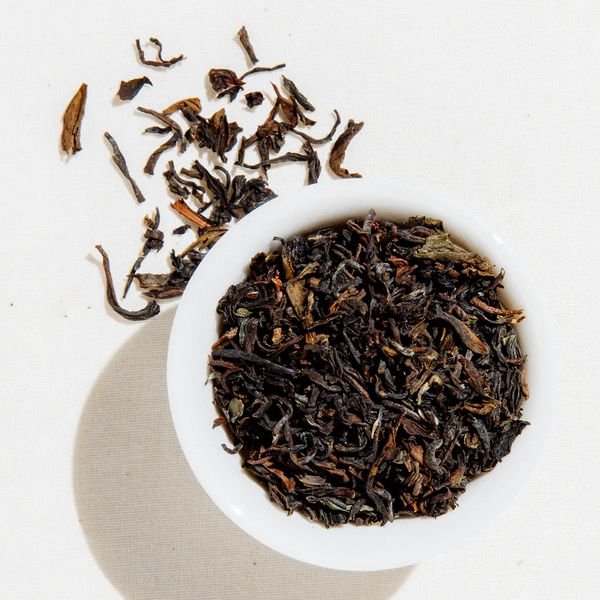 It is a proprietary blend of 2nd and autumnal flush teas and it brews to a light amber color, with a fresh floral and apple-like character. A great Darjeeling like this is rare outside India. It's a great purchase and not at all expensive.
More Information About Darjeeling Tea
When we speak of Darjeeling Tea, we generally mean Darjeeling black tea. Even though the region also produces oolong tea and white tea, the majority of its production goes toward black tea and it is the variety for which it is most famous.
That said, technically their "black tea" is really an oolong, because it is not fully oxidized like "real" black teas. Be that as it may, this is one of the world's most famous teas. It is fairly light with fruity and floral tones and has a golden or bronze color.
One big difference between tea from this region and Indian teas from other regions is the type of plant used. Most Indian teas (like Assam black tea) are made from the large leaf camellia sinensis var. assamica, but in the Darjeeling region, tea is made from the small leaf Chinese variety camellia sinensis.
Even though it is considered a very high quality tea, much of what is sold as Darjeeling is not actually from the region. The market is flooded with fake varieties and most of it is substandard.
How do we know it's fake?
Because the Darjeeling district in the state of West Bengal is very small and only produces around 11,000 of tea per year, but the amount of tea sold as Darjeeling is around 40,000 tons. That means about 75% of the tea being sold on the market is fake.
But how do you know if a specific tea is fake?
The Tea Board of India puts the official Darjeeling logo on every package of authentic tea. Unfortunately, I doubt the efficacy of this. I'm sure anyone who goes to the trouble of faking the tea will also be able to fake the logo.
The bottom line: you never really can know if you are drinking an authentic tea or a cheap knock off. And unfortunately, the odds are not in your favor. In most cases, you will not have a true Darjeeling.
The few real teas that are sold are either labeled as a generic "Darjeeling Tea", which means they are a blend of different teas from different plantations, or they come from a single estate and they have that estates designation, plus a grade, on the label.
Darjeeling Black Tea Flushes
There are five different flushes, though first and second are the most common and the most prized.
First flush: a mild tea with a light color; harvested in mid-March, right after the spring rains
In-between: as the name suggests, it is harvested in between the two flush periods
Second flush: a full-bodied, muscatel flavor with an amber color; harvested in June
Monsoon (or rains) tea: lower quality, less withered and more oxidized; is harvested in the monsoon season
Autumnal flush: fuller body and darker color, with less delicate flavor; is harvested in the autumn after the monsoon season
History
Tea cultivation first began in this region in 1841. Arthur Campbell of the British East India Company experimented with planting camellia sinensis seeds from China to see if they would work. They did and he, plus a few other, continued to grow tea in the region throughout the 1840s.
The tea they were growing was such high quality and so popular, that the government got involved and also set up tea nurseries in the 40s. In the 1850s, commercial development began.