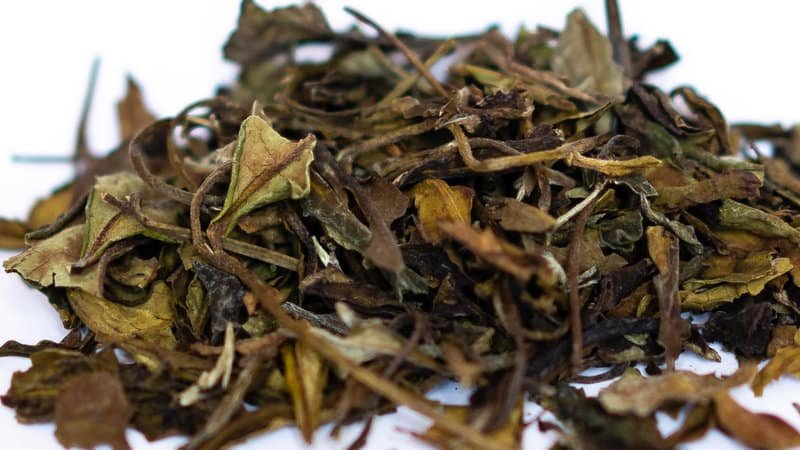 White Peony (Bai Mudan in Mandarin) Tea is a Chinese white tea. Unlike the more famous and more expensive White Hair Silver Needle Tea, which is made from only the leaf shoots, White Peony contains plucks of one leaf shoot and two young leaves each.
Due to the inclusion of two young leaves with each shoot, Bai Mudan Tea has a much fuller and more fruity flavor and aroma than Silver Needle Tea, but is still similarly fresh, mellow and mild.
Where To Buy Bai Mudan Tea
This tea can be found in most specialty tea shops or through a number of online vendors. If you are unsure where to begin, you can check out some of my recommendations below.
How To Brew White Peony Tea
The preparation instructions given here are for loose leaf teas. For tea bags, you can just follow the instructions given on the box.
Like all white teas, this one should be steeped in cooler water than black or oolong teas.
A temperature of 75-80°C (167-176°F) is a good starting point. To get this temperature, you can just use a simple stove-top kettle to bring the water to a boil and then let it cool down for about five minutes. If you would like to be more accurate in judging the water temperature, you can simply use a thermometer.
If you plan on trying a lot of varieties of tea and/or coffee it might be worth it to invest in a water boiler/warmer or an electric kettle with a variable temperature setting.
Personally, I recommend this Cuisinart kettle, because it has presets for every type of tea, so you always get the perfect temperature: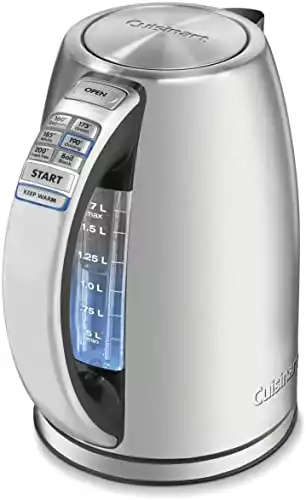 You can brew White Peony Tea in any regular teapot, although I would recommend using one made from glass or ceramic.
Many connoisseurs use a traditional lidded brew cup known as a gaiwan. The gaiwan can be used for oolong teas and green teas as well.
Brewing Instructions
Fill both your brew cup and tasting bowl about halfway with hot water to preheat them. Tilt them a bit so that the water creeps up the side and then rotate them so the insides get wet all the way around. Then pour the water out. If you are using a teapot and tea cups, warm those up in a similar fashion.
Put about 2 teaspoons of tea leaves in the brew cup. If you are using a teapot, use 2 teaspoons for each cup of tea.
Pour hot water onto the leaves in the brew cup (or the teapot). The water temperature should be below boiling; around 75-80°C (167-176°F) is ideal.
Place the lid on the brew cup and let the tea steep for 2-3 minutes.
After 2 or 3 minutes, pour the tea into the tasting bowl, using the lid of the brew cup to hold back the leaves. Enjoy your tea!
You can get 3-5 infusions out of most varieties. Increase the steeping time one minute for each subsequent infusion. How many infusions you do depends entirely on your taste. Experiment.
Use the amounts given in these instructions as a rough guide. If you find the resulting tea too weak, add more tea leaves; if it is too strong, reduce the amount of leaves used. Similarly, try increasing or decreasing the steeping times.
If the tea is too bitter, reduce the temperature of the water. Basically, you'll want to keep experimenting until you come up with the perfect brew for your particular taste.
The following video shows you that brewing this tea does not have to be complicated. Even if you don't follow all the instructions to the letter, you will still get a great cup.
Best White Peony Teas
Most Convenient
Many people already have an account with Amazon.com so it is probably the easiest place to buy tea online. Unfortunately, their selection of Bai Mudan is severely lacking; they have a few pretty good values, i.e. average teas for very low prices, but only one good one.
That is the White Peony from Golden Moon. It's not as good as the ones below, but you can't beat the price.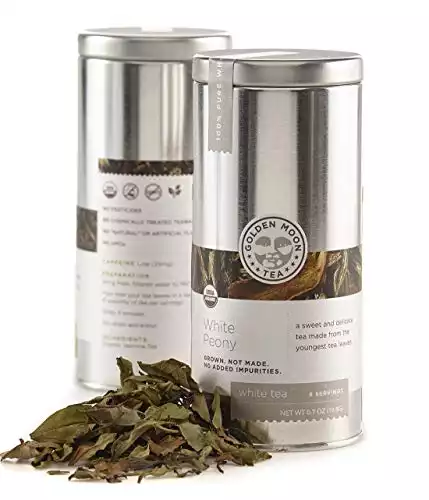 Make sure you note the amount, though. The tin only holds 0.7 oz (19.8 g). That means the teas below are actually a better value. You pay more, but you also get more tea.
Highest Quality
My personal favorite is the Organic Bai Mudan from Teavivre: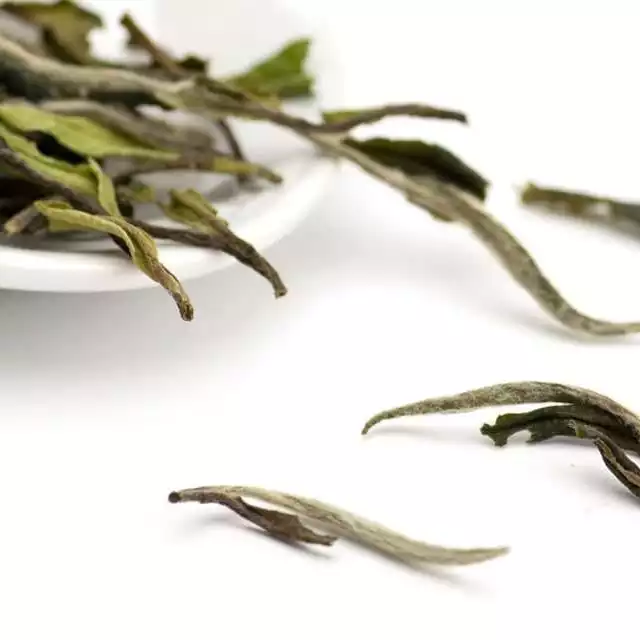 It is the highest quality one I've found online. Teavivre also have a few that are slightly lower quality, and thus also less expensive.
Great Value
If you're looking for a lower priced option, Culinary Teas has an White Peony that's quite a bit cheaper. Naturally, the quality is also a bit lower, but overall, this tea is a great value.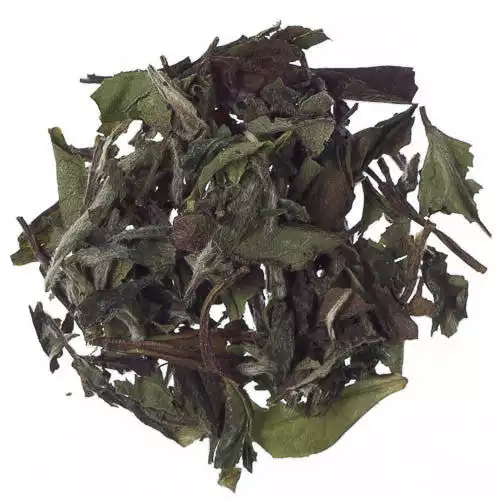 More Information About Bai Mudan White Tea
Like Baihao Yinzhen, Bai Mudan is made from the fresh buds that are so fresh they are still covered in fine white hairs. But unlike Baihao Yinzhen, it also includes the first two young leaves. As a result, it has a fuller, uniquely refreshing and fruity flavor.
The name, white peony (bai mudan in Mandarin Chinese) comes from the way the bud and leaves unfurl when placed in hot water. They are said to resemble the white peony flower.
White peony tea was first introduced in Fuding and Zhenghe counties in Fujian, province China. Today it is still produced in those areas and also in a few neighboring counties.
Two Varieties
There are two main varieties and they are based on the area they come from: either Fuding and Zhenghe. They look different and also taste different. Part of this is due to the plant and part to processing.
Both are made from the Da Bai variety of tea plant, but each from a different version of that plant. The versions are also named after the locations. The Fuding variety is greener and the shoots are a lighter silver. In terms of processing, the Zhenghe variety is fermented longer, which is one reason its leaves are darker.
Because the Fuding version looks fresher, with lighter green leaves, it is the more sought after one. As a result, it costs more, though the price difference is not huge.
Quite a few people prefer the Zhenghe version, which is also called the Zhenghe Mudan Wang (which means "King of Peonies from Zhenghe").
It has a fuller body in lieu of fresher looking leaves. Many even let the Zhenghe leaves mature for several years, which makes them sweeter and takes away a bit of the sharpness.
High quality Bai Mudan is unfortunately fairly hard to find, especially outside China. The higher grades brew darker and have a nutty, smoky flavor. If you get one, consider yourself lucky. Mostly you will end up with a lower grade tea, but they are generally still quite good.
The difference between a great tea and a lesser one usually comes down to processing.
Processing
White Peony is plucked in early spring. Only the bud and the next two leaves are picked, before the bud is fully open. The leaves have a light grayish-green color at this time, because they are covered in little white hairs.
The picking must be done with great care. If the leaves are crushed or bent, the cell tissue breaks down and oxidation begins. If the leaves oxidize, they are no longer white tea leaves. The key to a good white tea is to ensure as little oxidation as possible.
After being picked, the leaves are withered in the sun for up to 3 days. This is difficult to do, because it depends on the weather conditions holding up for the whole period of time.
After this, the leaves are piled up for a very slight bit of oxidation. It is very minimal, which is why white tea as generally said to be unoxidized.
After this, the leaves are sorted to remove any that are not high quality enough to be included. Then they are bake dried and packaged.