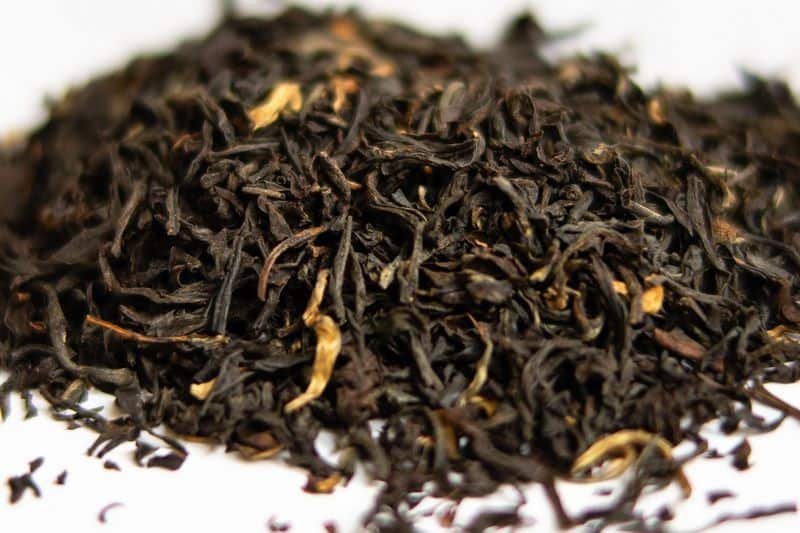 Tea from the Assam region has a rich, golden color and a strong, malty flavor. It is the quintessential black tea. The growing region lies near sea level and has a hot, humid rainy season and a cool, arid winter. These unique growing conditions give the tea its flavor and make the region one of the most prolific tea producing areas on earth.
Where to Buy Assam Tea
These teas are generally easy to find, but for higher qualities, look to specialty tea shops or online vendors. If you are unsure where to begin, you can check out some of my recommendations below.
How to Brew Assam Tea
The preparation instructions given here are for loose leaf teas. For tea bags, you can just follow the instructions given on the box.
The ideal temperature is 90-95ºC (194-205ºF), which is just below the boiling point. You can just boil the water using a simple stove-top kettle and then let it cool for 20 seconds.
If you plan on trying a lot of varieties of tea and/or coffee it might be worth it to invest in a water boiler/warmer or an electric kettle with a variable temperature setting.
Personally, I recommend this Cuisinart kettle, because it has presets for every type of tea, so you always get the perfect temperature: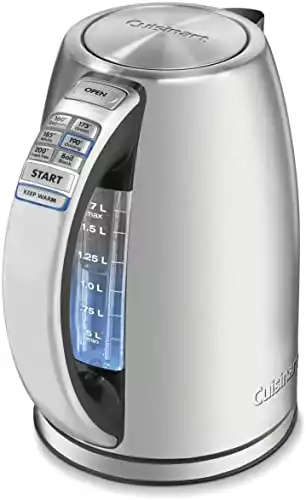 This wonderful black tea can be brewed in a variety of vessels, but ideally you would use a ceramic teapot like this one: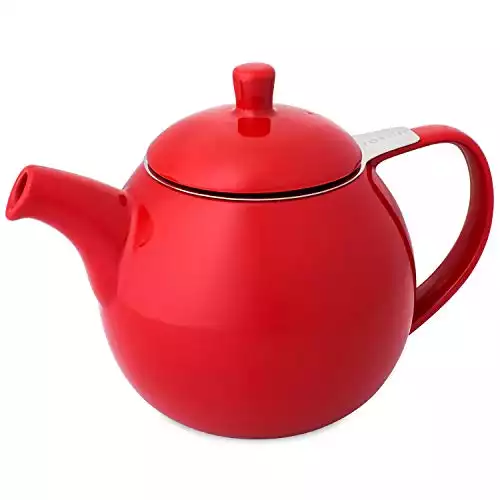 Brewing Instructions
Fill both the teapot and the cups about halfway with hot water to pre-heat them. Tilt them a bit so that the water creeps up the side and then rotate them so the insides get wet all the way around. Then pour the water out.
Put 1 teaspoon of tea leaves into the teapot for every 8 oz. (236 ml) of water.
Fill the teapot with 90-95ºC (194-205ºF) water.
Place the lid on the teapot and let the tea steep for 2 minutes.
Pour the tea into the teacups and enjoy your tea!
You want to be careful not to over-brew these teas, especially cheaper varieties, as they can become too bitter. Because of that, the amounts and times given in the instructions are somewhat conservative; use them as a rough guide.
If you find the resulting tea too weak, add more tea leaves or try increasing the steeping time. If you like your tea more bitter, increase the water temperature.
The following video shows how to make this tea:
Best Assam Teas
Most Convenient
Many people already have an account with Amazon.com so it is probably the easiest place to buy tea online. They have a pretty good selection of tea bags, but not very many good loose leaf options.
The best one is easily this Assam from Taylor's of Harrogate:
Naturally, it is also a bit expensive. The best value I've found on Amazon is this 1lb pouch from Stash Tea:
Best Value
My favorite option is the "tippy" Assam Gold from Art of Tea:
"Tippy" refers to the gold tips, which are a characteristic of the more prized second-flush. This tea has a great bold, malty flavor and is surprisingly affordable priced.
More Information About Assam Tea
The Assam tea growing region lies in the Brahmaputra Valley and only tea from this region can be classified as Assam.
It is the world's largest tea growing region, but to this day, many producers use organic methods. They grow without the use of any pesticides, fertilizers, or other harmful chemicals.
Harvest And Processing
Due to the climate, tea leaves are harvested twice a year. The two harvests are referred to as the first and second flush.
Spring Flush (Or First Flush): The first harvest begins in March and can run until mid-May. Small leaves and buds are harvested during this flush. First flush Assam is considered lower quality and less desirable.
Summer Flush (Or Second Flush): The second harvest begins in mid-May. Tea from this harvest is known as "tippy", because the leaves have golden tips. They brew to a sweeter, darker and more full-bodied tea, that is more prized than first flush tea.
The tea leaves are harvested manually and collected in bamboo baskets or sacks made from cloth. Within 24 hours of being picked, the leaves are withered, by spreading them out on bamboo mats or mesh racks for 12 hours. This reduces the moisture content in the leaves and they become softer.
After withering, the leaves are either rolled or crushed and shaken in a machine. This releases enzymes and prepared them for oxidation. They oxidize slowly while spread out on trays. As the leaves oxidize, they turn dark.
The amount of oxidation they undergo depends on the producer, but each has a specific level they oxidize to. Once that level is reached, the leaves are dried using hot air (and sometimes steaming or roasting in a pan) to prevent further oxidation.
After this, the leaves are ready to be packed. The higher quality intact leaves are used to make loose leaf teas, while the broken leaves, fannings and dust are used for tea bags (which is why I prefer loose leaf tea).
Because the Assam region is located in the far east of India, the tea growing areas actually have their own time zone. India is a large country, but it only has one time zone. This means that the sun rises and sets earlier in the east than in the west of the country.
In order to increase tea production, the British introduced "Tea Garden Time", which is one hour ahead of the rest of India and is actually the same time zone as neighboring Myanmar.
This has been very effective in increasing production. Workers usually work from 9 am to 5 pm and thanks to the "Tea Garden Time", this falls during the daylight hours.
The Assam Plant
Assam tea is a bit different than most other tea, because it comes from a different plant. It is still a tea plant, but a different variant from the one used in most other tea growing regions.
Most tea comes from the camellia sinensis plant, but tea in Assam, and most of India, comes from the camellia sinensis var. assamica. This distinguishes it from the most famous Indian tea, Darjeeling tea, which is produced using the smaller leaf camellia sinensis variety.
History
Originally, all tea came from the Chinese tea plant. The only way to get it was to buy from the Chinese or to take plants from there and transport them elsewhere.
This elsewhere was mainly India, where the British planted tea bushes taken from China to start their own production and reduce their dependence on India.
This changed in 1823. A Scotsman named Robert Bruce discovered a new plant in the Assam region that turned out to be a heretofore undiscovered variant of the tea plant growing in the wild. But he did not know that and dies shortly thereafter.
It was not until the early 1830s that Robert's brother Charles finally got the plant identified as the camellia sinensis var. assamica. In 1839 the Assam Tea Company was founded and began producing tea from this plant variant in the Assam region.