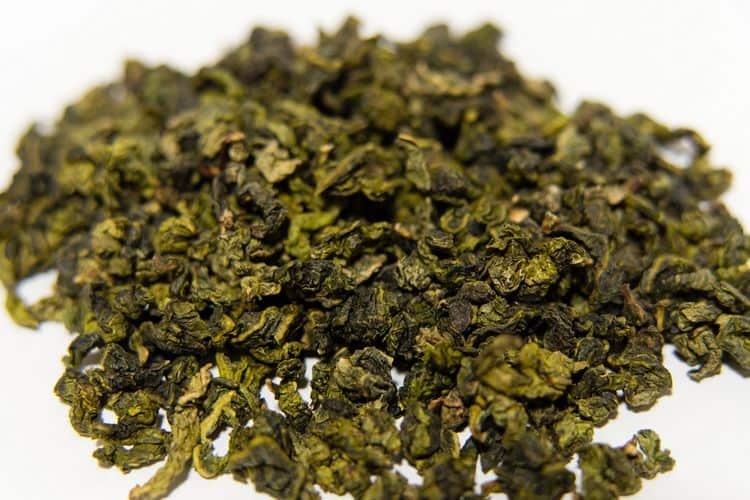 Tie Guan Yin (Iron Goddess of Mercy) is a popular Chinese oolong tea. It is also sometimes written as Ti Kuan or Ti Kwan.
These days, this tea is generally only lightly oxidized, making it closer to a green than a black tea. It can be roasted or unroasted. The many different variations have varying flavors, but all are noted for a fruity taste and aroma that can be described as 'berry.'
Where To Buy Tie Guan Yin Tea
Iron Goddess of Mercy Tea can be found in many specialty tea shops or through a number of online tea vendors. If you are unsure where to begin, you can check out some of my recommendations below.
How To Prepare Iron Goddess Of Mercy Tea
The preparation instructions given here are for loose leaf teas. For tea bags, you can just follow the instructions given on the box.
The ideal brewing temperature is 90-95ºC (194-205ºF), which is just below the boiling point. You can just boil the water using a simple stove-top kettle and then let it cool for 30 seconds.
If you plan on trying a lot of varieties of tea and/or coffee it might be worth it to invest in a water boiler/warmer or an electric kettle with a variable temperature setting.
Personally, I recommend this Cuisinart kettle, because it has presets for every type of tea, so you always get the perfect temperature: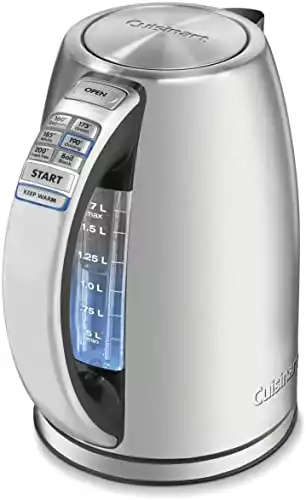 Ti Kuan Yin tea is best brewed in a porcelain vessel, like a gaiwan or in a traditional yixing, a teapot made from purple clay.
Brewing Instructions
Fill both the teapot and the cup about halfway with hot water to preheat them. Tilt them a bit so that the water creeps up the side and then rotate them so the insides get wet all the way around. Then pour the water out.
Put 2 teaspoons of tea leaves into the teapot. If using a different vessel, use 2 teaspoons for every 8 oz. (236 ml) of water.
Fill the teapot with 90-95ºC (194-205ºF) water.
Place the lid on the teapot and let the tea steep for 2 minutes.
Pour the tea into the teacups and enjoy your tea!
You can get 3-6 infusions out of most Ti Kwan Yin teas. Increase the steeping time 30 seconds or so for each infusion. How many infusions you do depends entirely on your taste. Experiment.
Here is a video to illustrate the brewing process. In the video I use a tea press (like these), but the method is the same as for a gaiwan or an yixing.
Use the amounts given in these instructions as a rough guide. If you find the resulting tea too weak, add more tea leaves; if it is too strong, reduce the amount of leaves used. Similarly, try increasing or decreasing the steeping times.

Best Tie Guan Yin Teas
Most Convenient
Many people already have an account with Amazon.com so it is probably the easiest place to buy tea online. They have a fairly large selection of low-priced Iron Goddess teas, but I'm not sure how good most of them are. One that is definitely pretty good is the Numi Organic Ti Kuan Yin.
Highest Quality
The highest quality option I've found is the Anxi Qing Xiang Tie Guan Yin from Teavivre: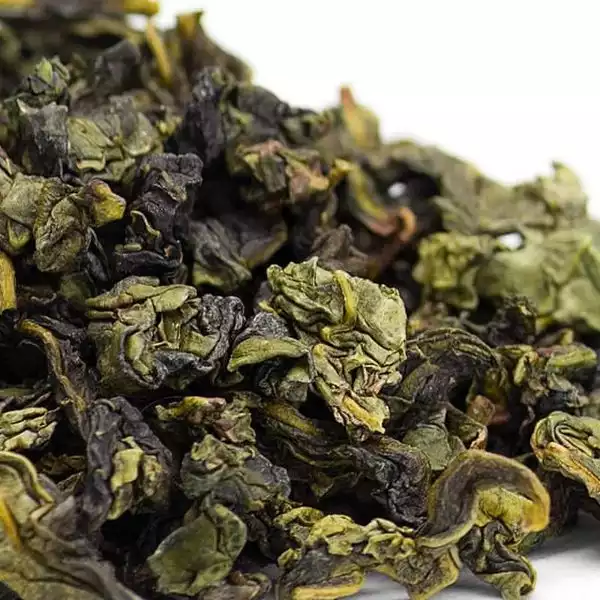 They also have a great Charcoal-Baked Anxi Tie Guan Yin:
Both are great teas and as good as you'll find outside of China, but naturally, they aren't cheap.
Art of tea have a pretty good regular Iron Goddess of Mercy Tea, that I really like.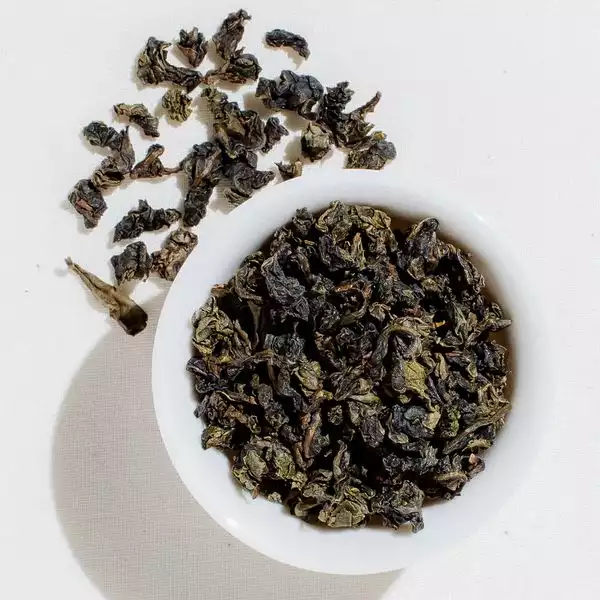 It is almost as good as the three options above, but it's a bit cheaper (most of the time; sometimes the price jumps drastically), making it a great bargain.
Best Values
Another high quality option comes from Generation Tea. Their website looks like one of the first websites ever created (big news: they've finally updated it! it still doesn't look modern, but it's a huge improvement), but their teas are great.
Their Anxi Tieguanyin is wonderful and slightly cheaper.
I consider this the best bargain, because the quality is on par with the great teas from Teavivre, but it costs less.
More Information About Ti Kuan Yin Tea
Ti Kuan Yin is the most famous oolong tea and the most popular worldwide. Personally, I am not a huge fan, but I think I would have liked it better in the past.
That is because this tea used to be darker and closer to other oolong teas, but in the 1990s, a lighter version became popular and has all but replaced the previous version. This lighter version is only slightly more oxidized than a green tea and, to me, does not really taste how I want my wulong tea to taste.
But Tieguanyin is the first oolong most people in the west try, so it is well-known and well-liked. And it is a good tea, just not my personal preference. It is a tightly rolled dry leaf that brews to a bright, floral, refreshing tea. It is was actually the most popular Chinese tea of all during the 1990s and 2000s.
Originally, Iron Goddess Of Mercy tea referred only to teas made from the variety of plant carrying that name, but these days it can also refer to teas made from other varieties of the plant that were processed in the traditional Tieguanyin style.
Location
This tea originally comes from the Anxi region of Fujian Province in China, but much of the Iron Goddess on the market today actually comes from neighboring regions like Zhang Zhou.
There are two growing areas in Anxi: inner mountains and outer mountains. The town where the tea originated is called Xiping, which is in the outer mountains. The most famous growing location is Hauizhi village, which lies in the inner mountains.
Production
Only leaves, not buds, are used to make this oolong tea, just like all other wulong teas. The more mature leaves are used and three to four of them are plucked together with the stems.
There are harvests in all four seasons, with the spring and autumn harvests selling best. That is actually quite unusual, as for most other teas, the spring harvest far outsells the autumnal one. If they even harvest them in the autumn at all. And winter harvests are very rare among teas.
After picking, the leaves are left to wilt in the sun until they are soft, then moved inside for more wilting. For traditional Tieguanyin, the leaves are shaken 3 to 5 times, in what is the most important part of making oolong tea. The amount and strength and timing of the shaking is all done by feel, so it is very difficult to replicate correctly.
The newer Tikuanyin that is popular today differs from the traditional in that it is not shaken as much, or at all. There are different variations, but the important distinction between new and traditional is less (or no) shaking and fermentation at controlled temperatures.
Leaves for the traditional versions are left to ferment overnight after the shaking, while leaves for the newer versions are left to ferment in a controlled environment. After fermentation, all types are fried in a wok to stop the fermentation (oxidation) process.
While still hot, the leaves are rolled tightly into the distinctive ball shape. Then they are baked, which turns them into what is known as rough tea. Rough tea has had the main processing done, but still needs additional processing to refine it.
For this tea, the additional processing takes the form of roasting and removal of the stems. It is generally roasted two times. Removing the stems and roasting to perfection is not easy, making this another painstaking part of the process.
History
What makes or breaks a tea in China is endorsement from a top official. For this tea, it was the Emperor Qian Long, who lived from 1711 to 1799. Apparently he was so impressed with the tea, which he said had the "weight of iron and the appearance of the Avalokitasvara Bodhisattva".
The word iron is "tie" in Chinese and the Avalokitasvara Bodhisattva is "Guan Yin". Thus the name of the tea was born, which was definitely a step up from what locals had been calling it: "dragonfly head and toad tail."
The Avalokitasvara Bodhisattva is usually translated as Iron Goddess of Mercy in English. This is correct, though the Avalokitasvara Bodhisattva is actually genderless and when it took on a mortal form, it was the form of a man, not a woman. But Chinese folk art depicts it as female, so that is where the English version comes from.