I need to say this upfront.
I am not a fan of instant tea.
Tea made from loose leaves just tastes much better. And I actually like the ritual of brewing a pot.
But I understand the appeal of instant teas. And they get many people who would not otherwise drink tea to switch from less healthy drinks.
That is a huge plus point, in my opinion.
And while even the best instant teas can't come close to a good loose leaf tea, the flavor has improved a lot.
Keep reading to see the best instant teas on the market today. The 6 teas below are all tasty, but also very different, because we wanted to include something for every taste.
Best Instant Tea Compared
$27.99

$26.02 ($0.19 / Ounce)
09/24/2023 01:27 pm GMT
Best Instant Teas Reviewed
As mentioned above, these teas listed here are all quite different, so that everyone will be able to find something that would appeal to them. What they all have in common is that they all give you good value for your money.
Best Instant Black Tea: TEAki Hut Instant Black Tea Powder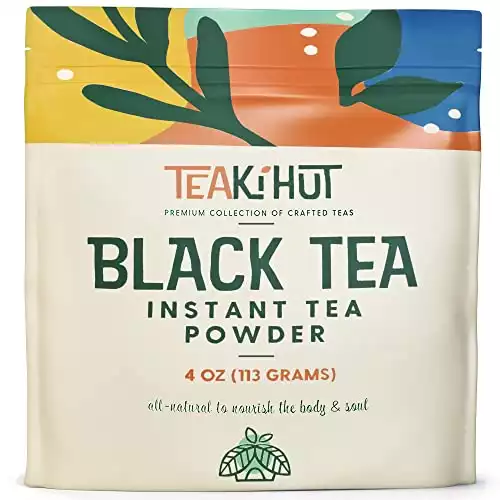 Teaki Hut Instant Black Tea Powder
Pros:
Natural ingredients with no artificial junk added

Black tea tastes good with any meal or alone

Fast and easy to make

Makes great smoothies and lattes

A good alternative to Nestea
Cons:
Some customers complained that the tea had little to no taste (using more powder will solve this)
View on Amazon
We earn a commission if you make a purchase, at no additional cost to you.
09/24/2023 01:27 pm GMT
Teaki Hut instant black tea powder is the best value for your money, if you are looking for an instant tea that you can have either hot or cold. One bag contains 4 ounces (113 g), which is good for 113 servings. It can be used in smoothies and lattes as well.
It comes in a zip lock style bag that some people like, while others prefer the traditional plastic screw-top jar as Nestea uses. It is black tea and does not use any additional spices or flavorings, just black tea leaves that have been processed to make instant tea powder.
Features
Tastes good either iced or hot: the tea mix powder is made from ground black tea leaves which go well hot with breakfast, iced with lunch or either hot or cold any time of day
Pure tea leaves: no artificial preservatives, flavors, or colors are added to the mix; the leaves are oxidized and dried, then ground into a special powder that allows you to make tea nearly instantly
Lower caffeine: although it is not caffeine-free, it has less caffeine than most competing products
Fast to prepare: simple and fast to make; just add 1/8 teaspoon to 8 oz cold or hot water and stir it up
Best Instant Fruit Tea: Crystal Light Pure Peach Iced Tea
Crystal Light Pure Peach Iced Tea On-The-Go Powdered Drink Mix
Pros:
Many great flavors

Easy to use on the go

Strong energy boost

Aspartame free
Cons:
Can be difficult to find in stores

Quite expensive compared to some other options

Sweetened (a con for me, but a pro for many)
View on Amazon
We earn a commission if you make a purchase, at no additional cost to you.
09/24/2023 01:22 pm GMT
The Crystal Light Pure Peach Iced Tea powdered drink mix is an instant tea powder that comes in a box with 7 packets per box. Each packet can make one glass of tea.
It is a caffeinated drink that has about as much caffeine as a cup of coffee does, which is more than normal iced or black tea.
You can bring the packets with you when you travel since they are small and fit in a pocket very easily. The taste of the pure peach flavor is very nice and sweet, but if you don't want sweet, there are many other flavor options:
Pure energy mixed with berry
Pure energy strawberry
Tropical citrus
Pure grape
Lemonade
Raspberry
Pure tangerine
Tropical
It is a bit sweet for some people (like me), but if you are a fan of Crystal Light, you know to expect a little sweetness in their products. With all the flavor varieties and simplicity of the ingredients, it is the highest-quality powdered instant tea available.
It is also the most expensive. Personally, I prefer regular tea, but if you like sweetened fruit flavored tea, this is easily the best option.
Features
Comes in many flavors: you can choose from a wide variety of flavors
Easy to use on the go: comes in small powder packets you can carry in a pocket or purse and use on the go in any water bottle
Best Instant Iced Tea: Lipton Lemon Iced Tea Mix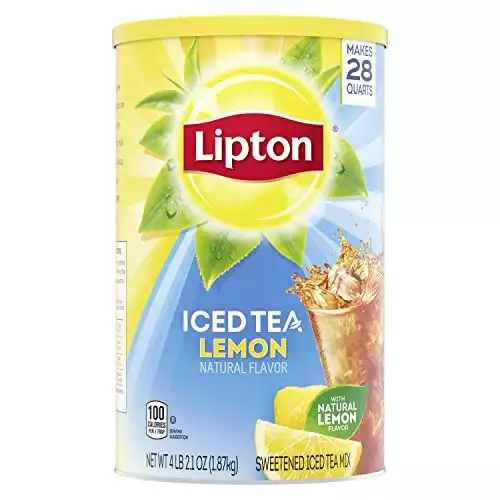 Lipton Lemon Iced Tea Mix
$27.99
$26.02 ($0.19 / Ounce)
Pros:
Affordable: although the price has recently gone up with inflation, it is still an affordable option relative to the other options in similar sizes and flavors

Loved by customers: this product has over 4000 happy reviews, which is a lot for something like this

Lots of size options: with four different package options, there should be a good size for any order
Cons:
Can be very sweet if you mess up the amount you put in the glass

Many customers complain about the recent price increase
View on Amazon
We earn a commission if you make a purchase, at no additional cost to you.
09/24/2023 01:17 pm GMT
The lemon-flavored Lipton Iced Tea Mix is a powdered tea mix with lemon that tastes quite like a normal glass of iced tea with a lemon wedge. You can tell it is instant tea, but it is pretty close to having a real glass of tea. Lipton has been using the same formula for years and this brand and product have many raving fans.
It is not very expensive, and, in my opinion, it is the best budget option for instant powdered iced tea. It can be a little too sweet, if you use too much powder, so be aware of how much you are using.
Features
Four different size options: 70.2-ounce pack of two, 47.2-ounce pack of one, 95.6-ounce pack of one, or 23.3-ounce pack of six; allows you to get the right amount for your needs
Classic flavor: Lipton iced tea with lemon has been a favorite drink in the USA for years; this powdered version allows you to get that flavor with the convenience of a simple powder you can add to a glass of water
Best Instant Green Tea: Waka Instant Green Tea
Waka Quality Instant Unsweetened Green Tea
Pros:
Not expensive

All-natural

Best tasting-instant green tea (that isn't matcha, of course)

Great value for money
Cons:
It is unsweetened green tea, which some will see as a drawback (I love it!)
View on Amazon
We earn a commission if you make a purchase, at no additional cost to you.
09/24/2023 01:07 pm GMT
Waka Unsweetened Green Tea is a blend of Kenyan and Chinese varieties of the green tea plant. It comes in a relatively large bag (4.5 ounces) instead of smaller pouches or bags like some of the other instant tea brands.
It is quite potent, so you only need a small amount of powder to make a quick glass of green tea. Because you only need a pinch of powder per cup, one bag of this stuff can make up to 200 cups of tea, which is quite a good value.
Some might not like that this is pure tea, meaning it is unsweetened. But you can always add sugar or another sweetener to it. Just don't add milk. Can you add milk to green tea? Sure. But it tastes bad and reduces the health benefits of the tea.
Features
High-quality premium tea leaves: many instant teas use low quality leaves to make their powder; this is a difference you can taste if you try a very cheap brand and then a good brand of instant green tea
Contains no additives: this makes the tea taste pure with no gross insecticides or other nonsense; also no sugar
Very simple to make: you just need to stir a small amount of powder into your water and you will have tea in just a few seconds
Will store for a long time: it comes in a resealable bag that will keep the powder fresh for months
Best Instant Chai: Big Train Powdered Spiced Chai Latte Mix
Big Train Powdered Instant Spiced Chai Latte Mix
Pros:
Great value: under a buck per serving which is good since my friend pays over five per cup from Starbucks

Great taste: apparently this mix tastes excellent, I am not a fan of sweet drinks, so I am relying on friends and user reviews here

More variety than most: this comes in several flavors to suit everyone's weird fetishes
Cons:
Contains milk, which is gross to some people (not something I like in my tea)

Contains sugar, which is gross to some people (like me)
View on Amazon
We earn a commission if you make a purchase, at no additional cost to you.
09/24/2023 08:17 pm GMT
If you are a fan of Chai tea lattes, you are well aware of the addictive nature of this evil drink. I have a close friend who has to drink a huge cup of this stuff from Starbucks every day and it costs her over five bucks every time.
But the cost does not bother her. Before you continue reading, be aware that if you start drinking this stuff, it is likely going to be a lifetime commitment.
Big Train Spiced Instant Chai Mix Is an instant chai tea latte mix that contains all the spices and different teas you would expect in a chai mix.
It makes a latte when you add it to water, which means it contains milk powder and powdered creamer as well as black tea, cinnamon, ginger, clove, vanilla extract, and more. You can also add some espresso to make a dirty chai latte.
Each bag is good for 31 servings. There are multiple flavors available:
Caramel
Chocolate
Decaf Spiced
Gingerbread
Green Tea
Pumpkin Pie
Raspberry
Reduced Sugar Vanilla
Spiced Apple
Vanilla
Spiced Chai
Features
Very flavorful: contains a blend of milk, honey, black tea, and other spices to make a full-bodied sweet spicy drink
Hot or cold: can be added to hot water or cold water; you can also add it to cow's milk or other kinds of milk like coconut or soy or oat milk
Super simple to make: just pour the powder into your liquid and stir; you are not going to strain any brain cells making this stuff
Smoothie-able: can be made into a smoothie too (because you need even more carbs)
Best Instant Oolong Tea: One Organic Instant Oolong Tea Powder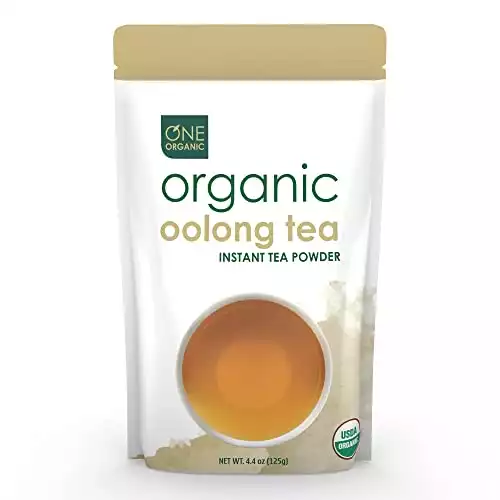 Oolong tea is one of my favorite teas and this instant version is pretty close to bagged tea. Naturally, it can't compete with a good loose leaf tea, but you can't expect that from instant tea.
As long as you accept that you are not going to get the same level of high-quality taste out of this instant oolong powder, it is pretty dang good and easy to make. And not all that expensive either, so that is another win in my opinion. It delivers 125 servings per container which is an excellent bang for your buck.
One Organic Oolong Instant Tea is 100% organic (um, you would think) and has no fillers or preservatives. It has one ingredient: organic oolong tea leaves (in powdered form). This is a good thing for sure and it instantly sets this brand apart from many others in the instant tea space.
Features
Single Ingredient: it contains oolong tea leaves and nothing else; as it should be
USDA organic: certified organic means there are no fillers or pesticides or funny business in this tea
Less caffeine than coffee: we already knew that but to some people, this is a big selling point; technically, it has less than ½ the caffeine of one cup of coffee.
Instant Tea Buying Guide
If you know you want instant tea, but have no idea where to start, this brief buying guide should help you make sense of it all.
What Is Instant Tea?
Instant tea is usually a powder that is made from tea leaves, but is processed in a special way to make it possible to just add the powder to water and have instant tea with no steeping.
It is made by first extracting all the liquid from the tea leaves. Next, the extracted liquid is freeze-dried to form a powdered substance. That powder is then packaged up and sold as instant tea. You are using dried liquid to make your tea which is why there is no steeping.
It does not have nearly as many health benefits as traditional loose-leaf or bagged tea, because the freeze-drying, and processing removes most of the antioxidants and goodies. However, it still has some nutritional value, and it is much faster than steeping tea.
Types Of Instant Tea
There are almost as many types of instant tea as there are types of normal tea. There are instant green tea, black tea, herbal teas, chai tea, white tea, and almost every other type.
The only difference in all these types is the flavor of the leaves and the spices or additives added to the mix (for example, the instant chai adds milk powder). They are all similar in that they are simply added to water and stirred up to make a finished drink.
What To Look For And What To Avoid In Instant Tea
Just like traditional tea, you need to be keenly aware of additives and pesticides. I am not trying to scare you, but many of the giant tea corporations spray pesticides on the tea and you end up consuming it.
Therefore, I highly recommend buying only organic products, especially when it comes to tea.
In addition to pesticides and other poisons, you need to be aware of weird preservatives and fake sweeteners they add to the mix. The best practice when buying instant tea is to read the ingredients list. All of it. If you don't know what something is, google it.
The best instant teas are typically going to be the ones with the fewest ingredients that are the easiest to pronounce (for example, 100% organic oolong tea leaves). No matter how good the ingredients are, these instant teas are still inferior in every way to traditional tea, but they are more convenient, so that is the trade-off.
Best Instant Tea: Final Thoughts
Personally, I am not a fan of instant teas. I actually like the ritual involved in brewing a pot of tea. And I definitely like the full flavor you get from loose leaf tea. Instant tea just doesn't have that.
But it is convenient. You can take it with you and make it in a matter of seconds, no matter where you are. So I do get the appeal there.
And for many, regular tea is just too much trouble. They would never bother making it. But they do bother with instant versions. So if instant tea gets you away from les healthy drinks, then that is a huge plus point in my book.
Instant teas definitely have their place. It just isn't in my cupboard. But if you are looking for a good instant tea and you don't know where to begin, any of the options listed above are great ones to try. They are the best options you'll find.