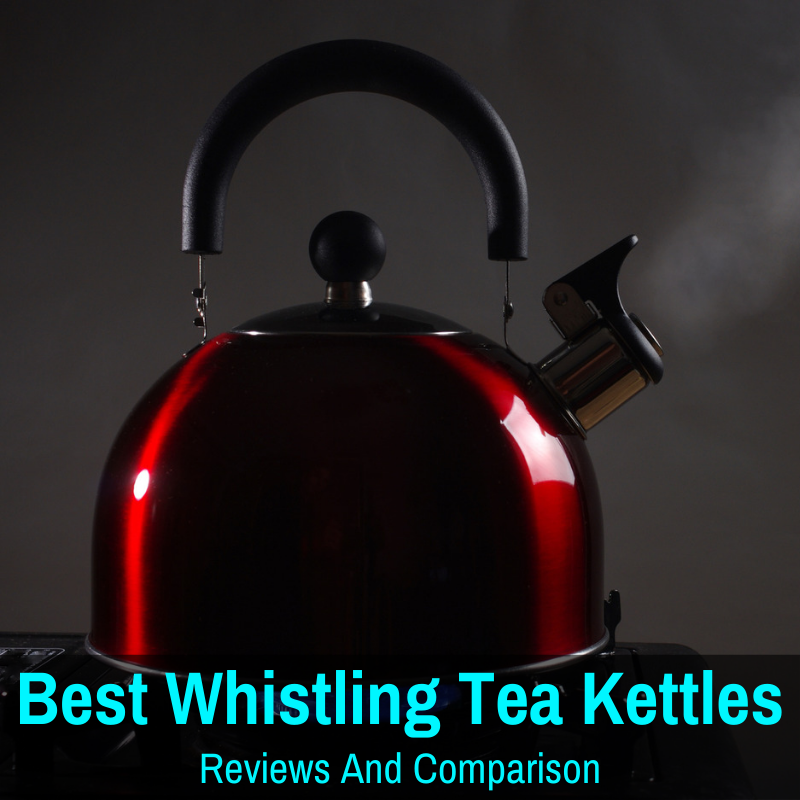 Don't you just love whistling tea kettles?
Even though I have an electric kettle, I still like to use my whistling kettle from time to time.
There's just something so nostalgic about that whistle that somehow makes tea time even more special.
But aren't they old-fashioned and inefficient?
Not at all. Today's kettles are designed with modern methods and materials, while retaining that old-fashioned look and style.
They are more durable and heat water much faster than an actual vintage kettle.
Even better, the prices have come down considerably.
The best whistling tea kettle is one that's durable, looks good, is safe to use, and is designed to last. And that sells for a good price.
I've done the research on dozens of popular models and narrowed them down to the best. I've included a range of prices, so there's something for you, no matter your budget.
Top Whistling Tea Kettles Compared
09/24/2023 11:02 pm GMT
Best Whistling Tea Kettles Reviewed
Here you will find a brief review of each of the top whistling tea kettles, plus links to more in-depth reviews for each one. By the time you finish this article, you should have a good idea which model is best for your needs.
Best Overall: Pykal Whistling Tea Kettle With iCool Handle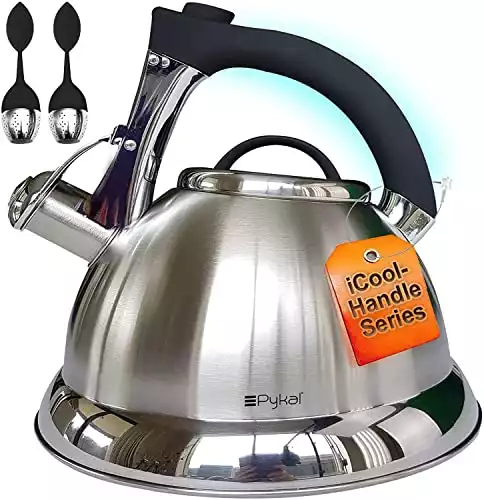 Pykal's newest model is giving the competition a run for its money. This model has a great capacity, a stay-cool handle, an ergonomic push-button pour design, and also comes with a couple of top of the line loose leaf infusers.
Its versatility also allows you to use it on a wide range of stove tops, which is a huge plus for every buyer. The five-ply design promotes even heating, a faster boiling time, and top of the line durability. The handle is heat resistant to avoid burns.
The design includes a thick base that's made out of iron, which is placed between a couple of layers of aluminum. The aluminum is wrapped inside surgical stainless steel. This model is at the top of its class in terms of heating efficiency and quality. And it sells for a great price.
Read our full review of the Pykal.
Best Budget Kettle: Mueller Austria Stove Top Whistling Tea Kettle
Mueller Austria Stove Top Whistling Tea Kettle
Pros:
Stay-cool handle

Ergonomic design

Well-balanced

Straight pour spout

BPA-free

Five-layer design

Two-year warranty
Cons:
Rusting can occur without proper care and maintenance, despite the manufacturer's claim that it contains rust-proof technology
View on Amazon
Our Review
We earn a commission if you make a purchase, at no additional cost to you.
09/24/2023 02:47 pm GMT
This model by Mueller Austria features a five-ply construction, an ergonomic design and handle that allows you to easily pour a full pot. The handle is designed to stay cool, even when the water is boiling.
The well-balanced design of the pot also makes it easier to pour. It also comes with a free tea infuser, so you can enjoy your favorite blend of loose leaf tea, without debris and tea dust.
A great buy for the tea drinker on a budget, this model scored high in most areas. The only reason it ranks below the previous model are some quality control issues. They are few and far between, but some customer report having received a faulty unit.
Our full Mueller Austria review has much more information.
Great Value: Amfocus Thin Base Whistling Kettle
Amfocus Classic Stovetop Whistling Tea Kettle
Pros:
Ergonomic handle

Water level indicator

Made out of food-grade stainless steel

Thinner base for improved heating efficiency

Low Price

Rust-resistant
Cons:
Does not have a stay-cool handle

Low capacity
View on Amazon
Our Review
We earn a commission if you make a purchase, at no additional cost to you.
09/24/2023 11:07 pm GMT
This model by Amfocus features a beautiful design and is made out of food-grade stainless steel. It features a two-quart capacity, and a thinner base that allows you to heat up a pot of water faster and more efficiently.
The wide-mouth design makes it much easier to clean and fill, while the water level indicator allows you to precisely fill up the kettle based on how many cups of tea you're preparing. The spout is narrower, which makes this one part a bit more difficult to clean
The wider, ergonomic handle makes it easier to pour a full pot. It also stays cool, to prevent burns during use.
This is the not the lowest priced model on this list, but it is our favorite value. For those on a budget, go with the Mueller Austria. It cost less. But this one is better made, heats water more quickly and has more safety features.
Read our full Amfocus review for more.
Best Enamel Kettle: Le Creuset Q9401-17 Enamel-On-Steel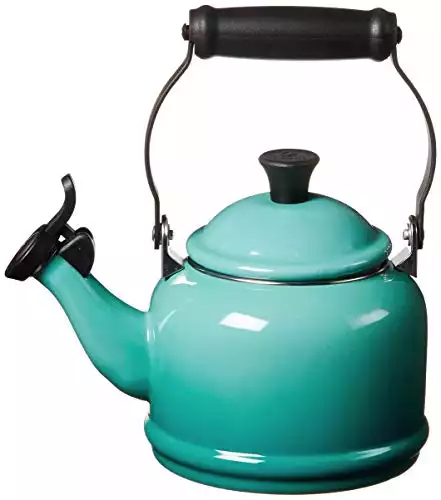 Le Creuset Enamel On Steel Demi Tea Kettle
Pros:
Stay-cool handle

Larger base

Wide-mouth opening

Easy pour spout

Nine color options to choose from

Compatible with all types of stove tops
Cons:
Enamel can become discolored if left on the stove for a long period of time
View on Amazon
Our Review
We earn a commission if you make a purchase, at no additional cost to you.
09/24/2023 10:57 pm GMT
This model by Le Creuset allows you to choose from nine different color options, for a more customized look. The enamel coating itself is vivid and polished.
Made out of stainless steel, this is one tough kettle. It comes with a stay-cool handle to protect your hands from burns during use, and a wide-mouth opening that will allow you to easily wipe out the interior for routine kettle maintenance.
The larger base allows you to use this model on all types of stove tops and burner sizes. The wider ergonomic handle will give you total control when you're pouring.
Versatile, elegant, and a steal for the price, this model earned high marks, but loses some points for the smaller size and the higher price.
Read our full review of the Le Creuset whistling kettle.
Sleekest Design: All-Clad Whistling Tea Kettle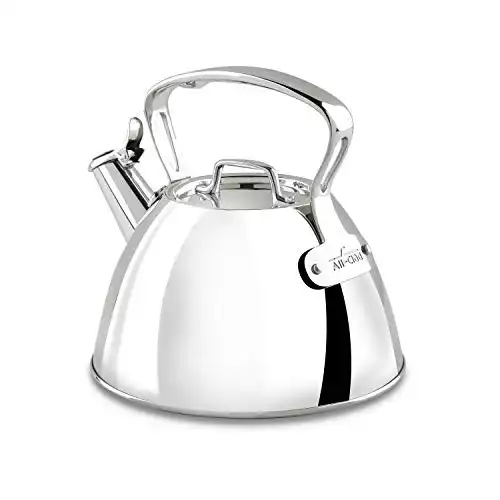 All-Clad E86199 Stainless Steel Tea Kettle
Pros:
Flat bottom

Compatible with all stove top types

High polished finish

Limited lifetime warranty

Wide grip handle for easier pouring

Visible fill line
Cons:
Handle is not equipped with stay-cool technology

Exterior is prone to spotting

Small capacity compared to competing models
View on Amazon
Our Review
We earn a commission if you make a purchase, at no additional cost to you.
09/24/2023 10:47 pm GMT
This model is made out of single-ply stainless steel. The highly polished surface will seamlessly blend into your existing décor in the kitchen. On the negative side, it can be a magnet for fingerprints and water spots. It also lacks a stay-cool handle and it has a smaller capacity than other models.
In terms of quality construction and durability, this model scored big. It comes with a limited lifetime warranty, so you know right away that this manufacturer has confidence in their products.
Dishwasher safe, easy to use, and designed to last, this is the best choice for the tea enthusiast, especially if they need something that works on an induction stove. If you have the budget, this is a great choice.
Check out our full review of the All-Clad kettle here.
Highest Quality: Cuisinox Whistling Tea Kettle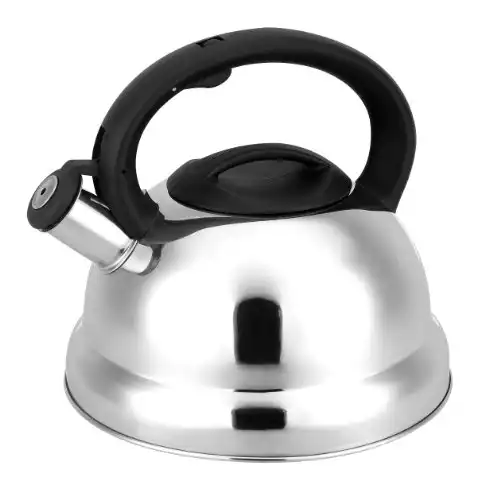 Cuisinox Whistling Tea Kettle
Pros:
Durable stainless steel construction

Rust-resistant

Flat bottom design

Compatible with all range types

Stay-cool handle and lid

Three-ply construction
Cons:
Whistle isn't very loud

If allowed to dry boil the plastic components can melt
View on Amazon
Our Review
We earn a commission if you make a purchase, at no additional cost to you.
This popular model is compact, durable, and features a three-ply construction. Its flat bottom design allows you to use it with any type of stove top. It makes full contact with the burner, which means even heating and a faster boiling time.
The easy pour spout design allows you to pour a full pot without spilling a drop. The spout can also be left open to quickly refill the pot. Not only is this model built tough, but it also comes with a three-ply base for improved heating efficiency and speed.
While it may not be the flashiest model, I like the basic style and I gave it high marks for its low-maintenance design, as well as the stay-cool handle and lid and the satin finish, which helps to mask the appearance of water spots and fingerprints.
This kettle scored especially high marks for safety, but it is an all-around strong performer, with no real weak spots. It is also the second most expensive option on this list, but it is worth every penny.
If you are on more of a budget, the first model listed gives you the best overall value. If you have more to spend, the Cuisinox is the best choice, by far.
See our full review of the Cuisinox for more.
Whistling Tea Kettles Buyer's Guide
Not every kettle is created equally.
While it's true that its main function is to heat water, usually for tea or coffee, the latest models offer some great built-in safety features, thicker designs for improved durability, and a flat base which will allow you to use them on any type of stove top.
Considering there are dozens upon dozens of models to choose from, finding the right tea kettle isn't exactly easy.
This guide is designed to give you an inside look at some of the different types of great features the latest models have to offer. These features are what will determine the model's heating efficiency, power, durability, and more.
Handle Design
One of the best features of modern kettles is the stay-cool handle. These handles remain cool to the touch, even when the contents are over 100 degrees Celcius. This means you no longer have to use an oven mitt to keep from burning your hand on a hot handle.
Additionally, models equipped with ergonomic handles make pouring easier, by giving you more control and improving comfort, even if you're dealing with a larger model that's full to capacity.
Whistle Volume
A low-priced model may have a quiet, low whistle, while top of the line models emit a whistle that's clear and loud. This means you can hear that your water is ready, even when you're in another room of your house.
Rust-Resistant
If you buy a cheap model, then you can expect it to begin rusting at some point, especially if you don't thoroughly dry out the kettle after each use.
Top of the line models can last year after year because they're made out of rust-resistant materials, such as aluminum and copper. If you purchase a model that's not made out of rust-resistant material, then make sure you thoroughly dry it after each use.
Infusers
Do you often brew loose-leaf tea? It's rare, but you can find some models that come equipped with built-in infusers. These tea infusers can easily be lifted out of the water after the tea has finished steeping.
Making tea in the kettle is not generally a good idea anyway. You should only use it to boil water and actually steep your tea in a tea pot or in your mug directly.
For that reason, I don't actually want a tea infuser in my kettle. I brew tea in my glass teapot or in my travel mug, both of which come equipped with strainers.
Material Type
Kettles are made out of a variety of materials.
Glass models are affordable and easy to care for. Some are even dishwasher safe, which can make clean up a breeze. However, glass can also be very fragile.
Cast-iron models are very affordable and they're also considered the most durable. This material is heavy and thick and conducts heat very well. But cast-iron is also prone to rusting, so the kettle must be dried promptly, and thoroughly after use.
Copper is an excellent option for material. Like cast-iron, it also conducts heat well so it reaches a boil in no time. Additionally, it's a very beautiful material, so it will look great in your kitchen. However, it's not quite as durable as cast-iron and tends to tarnish rather easily, which means you will need to stay on top of polishing it.
Aluminum is another good option since it's cheap, lightweight, and rather easy to care for. Unfortunately, it can get scratched or dented rather easily.
Stainless steel is cheap, durable and does a good job in terms of heat conduction. It also doesn't rust, and won't get scratched easily. It's also pretty low maintenance in terms of cleaning. This is the most popular material
Silicone or plastic is sometimes used for the handle to insulate it and prevent burns.
The Purpose Of The Whistle
For most tea drinkers, the sound of a kettle whistling is a great part of the tea-making ritual. However, the whistle does actually serve a purpose.
As I'm sure you know, when you hear the whistle, it indicates that the water is cooking rapidly. More importantly, it also alerts you to the fact that the water is now starting to evaporate, a process which can happen quickly.
Depending on the size of the model, if you let it boil for just two or three minutes, the kettle can boil dry. This can result in damage, depending on the type of material it is made from.
A whistling kettle is great, because it tells you when the water is ready and it protects your kettle, by ensuring you don't forget about it and let it boil dry (I did this so many times before I got one with a whistle).
If you love these kettles, but there are times when you don't want the whistle going off, like when the family is still sleeping, there are some models that have a spout lever that allows you to leave the spout cap open to silence the whistle.
Electric And Stovetop Options
These days you have your choice between electric kettles and stovetop kettles. Electric models are more convenient (I own one myself), but you do lose some of the charm of making tea. And you lose the whistle.
Using a stove top kettle is definitely more work. For one, they only work when placed directly on a heat source, such as the burner on a stove.
The whistling models alert you when the water is ready, which also ensures you don't accidentally let them boil dry. With non-whistling models, you have to stay nearby to keep an eye on them.
If you're simply looking for the fastest and most convenient way to heat your water, then an electric model is the way to go. These electric appliances don't require an additional heat source, so all you have to do is plug it in, add water, and fire it up.
Additionally, some models also allow you to choose the exact temperature settings and also come with automatic shut off features that shut it down once your water has reached the correct temperature.
While these devices are definitely handy, for most tea drinkers, there's just something about a traditional kettle that makes the tea taste fresher and really sets the tone for the entire tea brewing process.
That is why I have, and use, both an electric model and a traditional one with a whistle.
Size
As you're shopping around, you'll come across a variety of shapes and sizes. Before you buy, you'll need to check out the different size options and make sure you get one that can handle the amount of water you normally boil at a time.
If you only drink an occasional cup of tea then you can get away with a model that's only designed to boil two to four cups at a time.
If you have a large family of tea drinkers then you'll want to focus on a model that has a higher water capacity. Keep in mind that larger models take longer to boil water.
Pouring
Once the whistle goes off, your water is ready to go. If you're dealing with a heavy or bulky stovetop kettle that's full to the top with hot water then you may have a hard time pouring the water without spilling.
Many models are marketed as easy to pour and they really are a much safer option, since you don't have to worry about spilling scalding hot water and burning yourself in the process.
Opening
Regardless of how eye-catching your new model may be, it should still come equipped with a wide opening that allows you to easily stick your hand inside. Models with a wider opening are easy to clean and dry, compared to those with a smaller opening.
If the model you like has a tiny lid and small opening, you'll need to purchase a special cleaning brush that can fit inside. But even with a special brush, maintenance can be a problem, especially when it comes to drying.
Tea Type And Brewing Temperature
Water reaches a rolling boil when it's at two hundred and twelve degrees Fahrenheit (one hundred degrees Celsius). This temperature is perfect if you're brewing black tea or pu-erh.
But correctly brewing other types of tea, such as white or green, requires a lower temperature. If you brew a delicate type of tea in water that's too hot, you'll end up with tea that tastes very bitter.
If you often brew white or green tea varieties, then you need to pay close attention to the water's temperature before you pour it over the leaves.
You can purchase a thermometer to track the temperature, or get an electric water boiler with a variable temperature setting. If you prefer black, then a fast, powerful traditional model is exactly what you need.
Finish
Kettles are available in a variety of designs, so you shouldn't have any problem finding a model that compliments your existing kitchen appliances. The main finish options include ceramic, glass, plastic, or stainless steel.
Each type of finish has its own pros and cons. Glass models may look modern and chic, but you'll have to deal with discoloration over time on the inner base, which is caused by mineral residue in the water.
With stainless steel, you may struggle keeping it free from smudges and fingerprints. Enamel finished models come in a wide array of colors, but you have to be extra careful not to boil the kettle dry since an enamel finish can ruin a burner.
Dishwasher Safe
Models that are marketed as dishwasher safe are designed to make your life a little easier, but even if the manufacturer claims that a model can be put in the dishwasher it doesn't mean you should do it.
There may be other dishes, or pots and pans in your dishwasher that can scratch the finish during the cleaning process.
Additionally, if you do decide to put it in the dishwasher, you shouldn't rely on the automatic dry cycle to thoroughly dry the interior. Always make sure the interior is completely dry before you store it away.
Usage And Care
Before you use your new model for the first time, make sure you thoroughly clean it out using warm, soapy water. In order to keep it looking new, only use a cleaner that's recommended by the manufacturer. Most stovetop kettles are fairly easy to clean.
Never leave it unattended during use. If you're cleaning the house or watching a movie you can easily forget that it's boiling away on the stove. Even with a whistling model, if you're in a different part of the house, or outside, and unable to hear the whistle, the kettle can start dry boiling on the burner, which can burn the bottom and cause significant damage.
In the event it has boiled dry, switch off the heat and move it to a cool burner. Allow it to cool down before removing it from the stove. Never leave it on a hot burner, even with the heat switched off. This is especially important if your model has an enamel or aluminum base since it can damage both the kettle and the burner. For safety, always boil your water on a back burner.
Boil water using a burner that's smaller in diameter than the kettle. This can help avoid excess heat, which can cause the handle to heat up if your model doesn't have a stay-cool design.
Did you know that steam can cause serious burns if it escapes from the lid or spout? Because of this, you should avoid opening the lid until it has had time to cool down. You can also wear an oven mitt in order to prevent injuries.
Never overfill, since this can cause boiling water to come out of its spout. The water level should always be kept below the spout.
Once the water is boiling, turn the heat off and allow it to cool for at least twenty seconds before you open the whistle cap and pour.
When not in use, dump out any remaining water and thoroughly dry it in order to prevent mold.
If it has accumulated rust or mineral deposits, allow it to boil for ten to fifteen minutes on medium heat with two ounces of lemon juice.
If you're boiling water on a gas stove, it should be placed on the center of the burner.
Best Whistling Tea Kettle: Final Thoughts
As you can see, there are many characteristics and features to consider, before you hit that buy now button.
I've included a variety of styles in my list of the best whistling tea kettles , so you should have no trouble finding one that works for you and your tea drinking needs.
Remember: before you buy, pay attention to the type of material it's made out of, the size (based on how much water you need to boil at one time), whether or not it comes equipped with a stay-cool handle design, and any other extra features that you need in order to enjoy your favorite hot beverage.