Are you boiling water for tea in a microwave?
Or a regular pot?
I've done both and they're far from ideal.
To get the most out of your tea leaves, you should be using an actual kettle to boil water.
And the good news is that they are no longer expensive.
This whistling tea kettle from Pykal is a great example. We named it our best value whistling kettle for a reason.
It is well made and has all the features you need, like a stay-cool handle, while selling at a very reasonable price.
Heating your water in the microwave might seem quick and convenient, but there is a big problem, especially when brewing more delicate teas like white, green or even oolong.
The radio waves in a microwave tend to super-heat water, which takes it much higher than the boiling point. While high temperatures like this are great for sterilizing, they're not good for any type of tea. Even black tea, which needs the highest water temperature to brew, can't handle temperatures like this.
With a whistling kettle, you know exactly when the water hits the boiling point and when you need to remove it from the heat.
And the Pykal tea kettle is one of the best you can get, especially when you take the cost into consideration.
Pykal Whistling Tea Kettle Review
As mentioned, the Pykal kettle is our top rated for value. There are higher quality kettles, but no other kettle gives you more for your money. Let's see what exactly makes this one so special.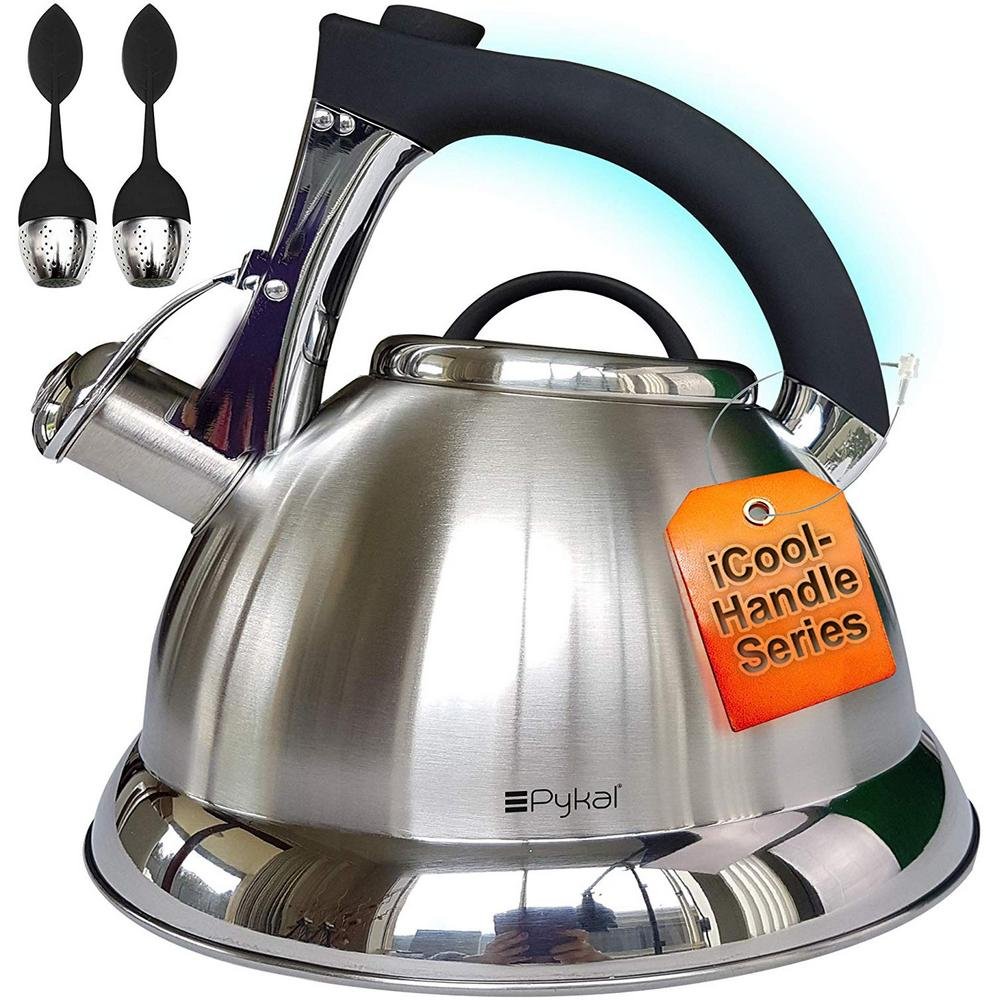 Overview And Features
The whistling tea kettle from Pykal is hands down one of the best whistling tea kettles on the market. In fact, we voted it the best value kettle in that list, thanks to all the great features you get at a very reasonable price.
Those features improve safety, heating efficiency, and durability. And the innovative construction ensures a faster heating time, which is a must for any tea drinker.
Key Features
iCool handle
Five-ply construction
Warranty
Two infusers included
Easy to clean
Ergonomic push-button pour design
Handle
In the past, you got no protection against handle burns, making it necessary to wait for the handle to cool down or to use a potholder, before lifting the kettle off the stove. But advances in technology make it easier and safer than ever to prevent burns during use.
The patented iCool handle is designed with user safety in mind. The handle is equipped with top of the line thermal protection technology that's designed to instantly begin cooling the handle down as soon as you switch off the burner.
In fact, the handle can cool down in a matter of three seconds. The included ergonomic push-button pouring design further promotes user safety by preventing the need to touch any hot metal.
Stellar Heating Performance
This model's five-ply encapsulated base consists of a layer of iron sandwiched between a couple of layers of aluminum. The aluminum is wrapped inside surgical stainless steel. The design tells me this kettle is designed with heating efficiency in mind.
As another bonus, it's also compatible with any type of stove top, even induction. Many types of kettles cannot be used on induction stove tops because they can melt onto the surface of the stove top if left to dry boil. Fortunately, this model is not coated with enamel or ceramic so it's safe to use.
Design
The satin finish will complement any existing kitchen decor. This aluminum, iron, and steel kettle has a capacity of three quarts, so you can brew up a large pot for friends or family.
Although aluminum is very light, it's actually very durable, and can handle daily use like a champ. The addition of the iron and stainless steel adds weight to the kettle, but these materials also help to improve heat distribution and heating efficiency.
Infusers
Included are two loose leaf infusers that can be used with your favorite matcha, black, green, or white blend. The infusers are easy to clean and fill.
To use the infuser, measure the correct amount of tea and spoon it into the infuser. How you use them will depend on if you're placing them in the teapot or in a teacup.
For the teapot, you can use both infusers and fill them based on how many cups of water are in the teapot. You want about one teaspoon of tea per cup. If the pot can hold eight cups, then fill each infuser with four teaspoons.
For an optimal steep, make sure you pre-warm your pot or cup to ensure the temperature of the water remains even as the tea steeps.
Next, place the infuser inside the cup or pot and pour the water to allow the tea to steep. For one cup of tea, you will need six ounces of water.
In terms of how long to leave the infuser in your pot or cup, this will depend on the tea. For delicate teas like white, you will only need to steep for a period of two to four minutes. For black tea, it should steep for three to five minutes.
Some types of herbal tea can take five to six minutes to steep. For more information regarding steeping time, make sure you follow the instructions on the loose leaf tea package and read this post on brewing tea.
Whistle
Worried you won't be alerted once this kettle has reached the correct temperature? You shouldn't be. This model emits a very loud, clear whistling noise that will immediately alert you once the pot of water has reached the perfect brewing temperature. The whistle is loud enough to be heard in the next room.
Warranty
This model is covered by a one year warranty. Most models in this price range don't come with a product warranty, so it's a big deal for the tea drinker on a budget looking for a manufacturer that stands behind their products, despite the low selling price.
Maintenance
Kettle maintenance is simple. The wider mouth makes it easy to use a sponge to wipe out the interior after each use. The kettle should be washed out and towel dried before storing.
Since the kettle is made out of aluminum it's naturally rust-resistant, but it's still prone to mineral deposits, especially in homes with hard water issues, which is why it should be thoroughly dried before stored.
If you run into any issues with mineral deposits over time, simply boil the pot on the stove with a mixture of water, lemon juice, and a quarter cup of vinegar.
Advantages And Disadvantages
Pros
iCool handle
Three-quart capacity
Five-ply construction
Includes two infusers
Low price
Durable
Cons
Over time, the spout lid can be difficult to close
Pykal Versus Mueller Austria Stovetop Kettle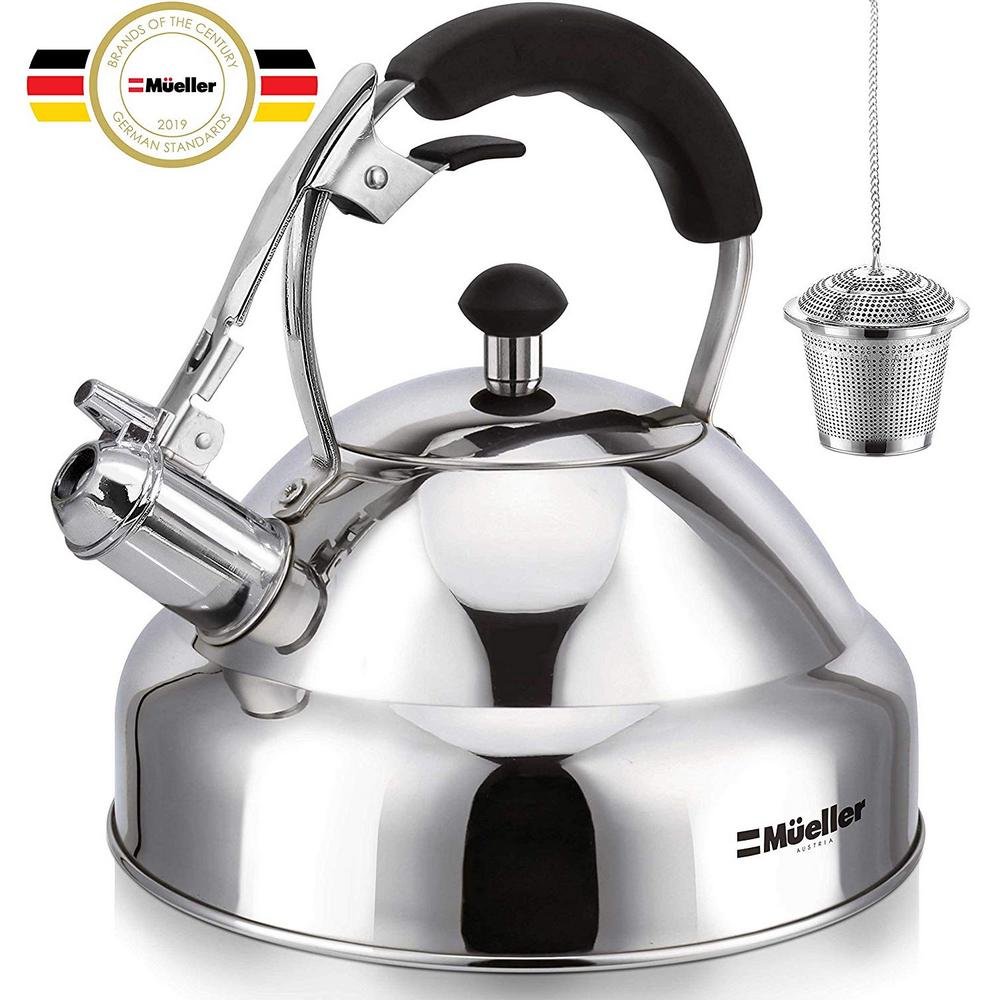 By now, you know that this model comes loaded with some great bells and whistles (literally, when it comes to the whistle), including the patented iCool handle and a five-ply construction for heating efficiency and durability. It also comes with a one-year product warranty.
The competing model by Mueller Austria also offers some great features and is one of the most heat-efficient models on the market. It also comes equipped with an ergonomic stay-cool handle and a five-ply design. However, it's made primarily out of culinary grade stainless steel, not aluminum.
Both aluminum and steel have a reputation for heating efficiency, however, stainless steel can rust. That said, the manufacturer claims that the kettle features a patented corrosion and rust-resistant technology.
The competing model also has a slightly lower capacity of eleven cups, while the model by Pykal can hold up to twelve cups. Both are durable and come with easy pour spouts for improved safety and a no-spill pouring process.
In terms of price, both are very budget-friendly, with the Mueller Austria costing a bit less. However, the competing model's culinary stainless steel construction makes it much heavier.
Stainless steel can also be more difficult to clean and polish, so if you're looking for a lighter, low maintenance model, stick with this kettle by Pykal. That is why I rated the Pykal higher.
Pykal Whistling Kettle Review: Conclusion And Rating
Our Rating: 10 out of 10
To some, it may seem like choosing the right kettle is even harder than finding the best tea. But considering it is something you rely on daily, sometimes several times a day, it is smart to take your time, do your research, and look for a model that comes with all the features you need.
The Pykal Whistling Tea Kettle With iCool Handle earned a high score for heating efficiency, style, durability, and the included iCool handle, complete with the ergonomic push-button design for improved user safety. The larger capacity is also a plus for buyers who love to host or live in a house full of other tea drinkers.
Boiling up a fresh pot of hot water to brew your favorite matcha tea couldn't be easier. The included one-year warranty also gives tea drinkers every reason to buy, especially considering many models in this price bracket don't usually come with any warranty at all.
Its lightweight design, combined with its durability allow you to rely on it for all of your hot water needs, without the long wait time you had to put up with when using your outdated kettle. I gave this model a Let's Drink Tea rating of 10 out of ten, which corresponds to 5 out of 5.