The Mueller Austria whistling tea kettle is not the one we recommend for most people.
But it is one of our favorites. In the budget category, it is actually our top pick.
If you can afford to spend a bit more, we recommend the Pykal kettle over this one. But if your budget is limited, you can't do better than the Mueller Austria.
At a low price, you get a well built 5-layer whistling kettle that boils water quickly and has all the safety features you expect from a modern tea kettle, like a stay-cool handle and a straight spout for easy pouring.
Let's take a closer look and see exactly what makes this kettle our favorite budget pick.
Review Of The Mueller Austria Whistling Tea Kettle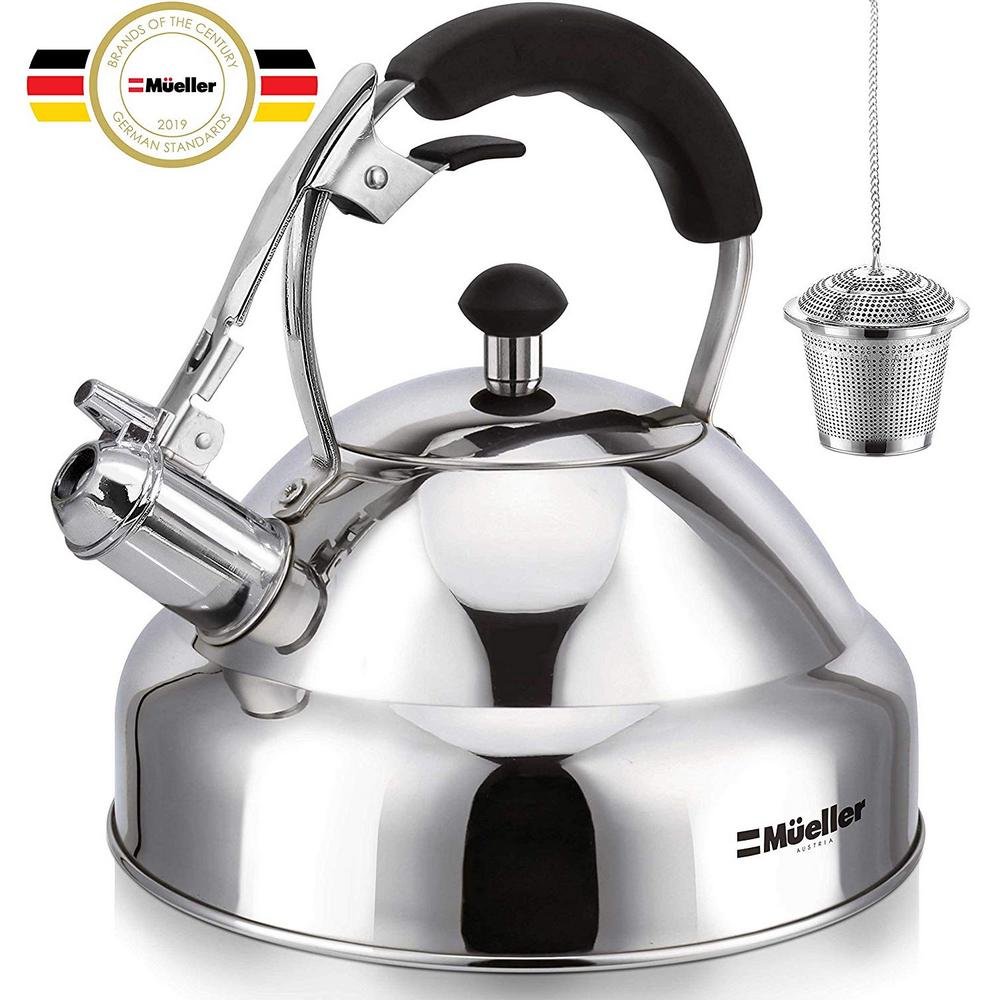 Overview And Features
This is our top budget pick on the list of the whistling tea kettles we recommend. It's a low-maintenance, fast-boiling model that comes with a free tea infuser, all for a budget price. The included infuser is just the right size for a large cup of tea.
Every manufacturer claims their models offer the latest in kettle technology, and Mueller Austria is no different. However, this is one of their top-selling models to date, because it comes with some great features, such as a stay-cool handle, a balanced design for easier pouring, and a small loose leaf infuser, which is a nice extra.
Whether you're just learning to use a whistling kettle or you've been using them for years, this model's simple design, combined with the stay-cool handle, make it easy to use and a great choice for anyone looking for a simple budget kettle.
Key Features
Five-layer design
Stay-cool handle
Ergonomic design
Straight pour spout
Large capacity
Infuser included
Handle
The stay-cool ergonomic handle allows you to easily move this model from the stove top to the counter, without the use of a potholder, or without having to wait until it cools down.
Capacity
This model can hold up to eleven cups of water, which is just under three quarts. This large capacity is perfect if you love hosting tea time or for the family that drinks tea together.
Design
The materials used make this model slightly heavier than your standard model, but they also help to improve durability and keep the cost down, both of which are always a plus.
This is currently one of the only models on the market that's made entirely out of 18/18 culinary grade stainless steel. The pot also includes the manufacturer's patented corrosion and rust-resistant technology, which supposedly prevents the pot from rusting, even if you forget to dry it out after each use.
In reality, this rust-resistant tech works ok, but the pot will rust if you keep it damp too many times, for long periods of time. I recommend making sure it is dry when you are done using it.
The design features a total of five layers, for improved durability and enhanced heat distribution and efficiency. If you want a model that can handle heating your water quickly, this one will get the job done.
Care And Maintenance
The anti-rust and corrosion coating can help prevent rusting, but it will not prevent it altogether, especially if you normally leave it out and don't dry it after each use. For proper care, you should wash it out with a mild cleanser and a soft sponge after each use.
If you have hard water, you will also need to keep an eye on mineral deposit buildup. To clean out mineral deposits, you can boil a quarter cup of white vinegar mixed with four cups of water. You may need to repeat this process a couple of times if you're not able to successfully wipe out all the gunk the first time.
Overall, maintenance with the Mueller Austria is fairly simple, as long as you stay on top of it.
Infuser
For most tea drinkers, a loose leaf infuser is a must. If you don't use one for your loose leaf tea, then you'll have to deal with leaves and tea dust floating in your face while you drink.
This infuser neatly contains the tea, however, it should only be used in a cup, not in a teapot. Unfortunately, the infuser cannot hold enough tea for a full pot. Try not to make tea right in the kettle.
Fill the infuser based on the type of tea you're preparing. For a stronger tea, fill it up three-quarters of the way. For a weaker tea, fill it up halfway. The infuser's max fill line can be difficult to see.
If you're not sure how much tea to add, you can go with the standard one teaspoon per cup. Then increase the amount the next time, if you find the tea too weak. Or decrease it if you find it too strong.
Whistle
You can easily hear the whistle from across the house, so you'll instantly be alerted once your water is ready for your waiting cup. To cut off the whistle, you can take advantage of the whistle-stop lever, or simply remove the kettle from the heating element.
Boiling Speed
Low-quality models feature a two or three-layer design, which can impact the ability to boil water evenly and quickly. This model's five-ply design, made out of culinary grade stainless steel, will heat the water evenly for a faster boiling time.
The bottom of this model is made out of lightweight, rust-proof aluminum, which is known for excellent heat distribution. The formed capsule bottom allows for a more efficient boiling process, without the wait. In terms of speed, you can expect a rapid boil in just two minutes.
Just keep in mind that some types of tea are more delicate than others and need to be steeped at lower water temperatures. Since this model doesn't have a built-in thermometer, you'll need to use your own to check the temperature before you pour the water into a cup or teapot.
Delicate teas include white, green, yellow, and oolong. All four should not be steeped with boiling water, bu water than has cooled down a bit (this post covers ideal brewing temperatures).
Tougher teas like black, pu-erh and herbal teas require a much higher temperature, so you don't have to worry about burning the leaves. Go ahead and steep them with boiling water.
For other types of tea, I recommend using a thermometer to test the water before you pour. If you don't have a thermometer, you can simply allow this water to cool down for a few minutes before you pour.
This isn't ideal, but it works. If you want the water temperature to be exact and you drink a lot of tea, look into getting a water boiler with variable temperatures.
Safety
In the past, it wasn't common to find extra safety features on a kettle, but most modern models come with stay-cool handles that allow you to touch the handle without getting burned. The Mueller Austria handle also has an ergonomic design, which works with the straight pour spout, to makes it easy to pour a full pot of boiling hot water without spilling.
The model is BPA-free and made exclusively out of culinary grade stainless steel, aluminum, and iron.
Warranty
This model is covered by a two-year product warranty.
Spout
The straight spout design makes it easier and safer to pour with a full pot. You can trigger the spout mechanism by pressing a button on the handle. This design minimizes the chances of burning yourself.
User's Manual
The included booklet is well-written and detailed. You'll get some great tips on how to use your new model, complete with care and maintenance instructions and steeping recommendations.
Advantages And Disadvantages
Pros
Stay-cool handle
Ergonomic design
Well-balanced
Straight pour spout
BPA-free
Five-layer design
Two-year warranty
Cons
Rusting can occur without proper care and maintenance, despite the manufacturer's claim that it contains rust-proof technology
Mueller Austria Versus Amfocus Whistling Tea Kettle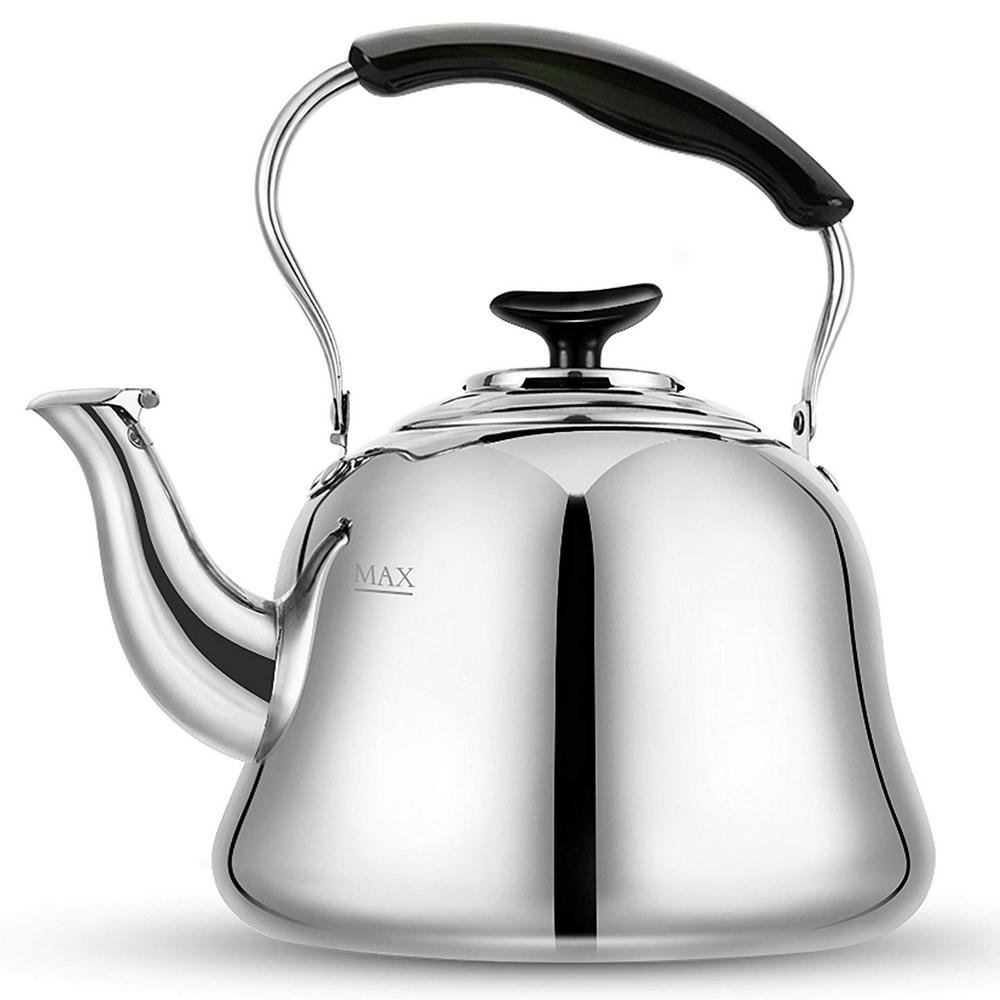 Obviously, this is a tech-heavy budget model, which is what most tea drinkers are looking for. But there's also something to be said about vintage-inspired models that offer that classic, nostalgic look that many tea drinkers love.
The competing model by Amfocus offers that classic look, but it's also much smaller, with a capacity of two quarts. However, despite its lower water capacity, it still has plenty of great features to offer. You get a lot for the extra money it costs.
The ultra-thin base on the Amfocus allows for improved heating efficiency. It also comes with an ergonomic handle, but the handle does not have stay-cool technology, so you must be careful when you take it off the stove.
Unfortunately, the Amfocus model doesn't have the same type of fast heating technology and the safety features that you'll find in this model by Mueller. The smaller capacity can also be a deal-breaker if you need a larger capacity to use for hosting parties, or afternoon tea with family and friends.
The Mueller Austria is the better budget pick, because it is a great kettle for a lower price. But the Amfocus is better made and has an attractive, vintage-inspired design for not all that much more.
In the end, it will depend on your budget and which specific features are more important to you. both kettles are great.
Mueller Austria Tea Kettle Review: Conclusion And Rating
Our Rating: 8.0 out of 10
If you're looking for a budget kettle that still comes loaded with all the right modern features to make brewing your tea a safer, more enjoyable experience, then the Mueller Austria Stove Top Whistling Tea Kettle is a great choice.
It is also great if you're tired of burning your hand on your old kettle, you want a model that doesn't require quite so much upkeep, and you're looking for a faster way to boil water.
That said, if you can afford to pay a bit more, go with the Pykal kettle. It is slightly better all around, for a slightly higher price. If you want to save more, go with the Amfocus. It is lower quality, but also costs less.
if you like what the Mueller Austria offers, then you're getting a superb kettle with an ergonomic stay-cool handle and a five-layer design made from culinary grade stainless steel.
Well-balanced, the design combined with the straight spout makes it easy to pour even a full pot without spilling. The stay-cool handle allows you to take it off the stove top as soon as the whistle alerts you that the water is ready for your tea.
A great classic look with modern features that make it very beginner-friendly and easy to use result in a Let's Drink Tea rating of 8.0 out of 10, which corresponds to a 4 out of 5.