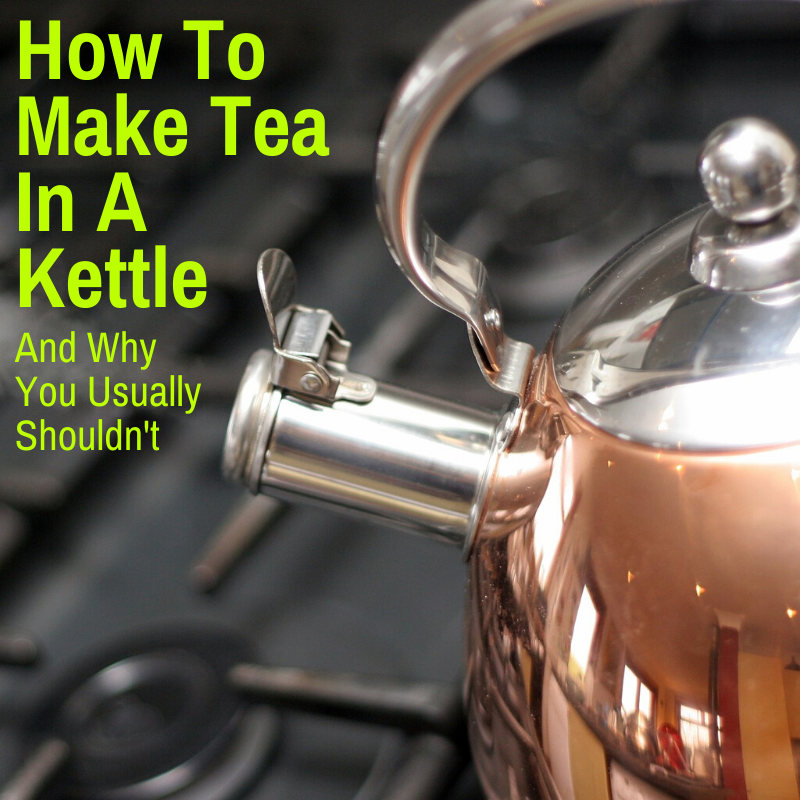 You can certainly make tea without using a kettle at all.
But it isn't the best idea. Assuming you use it correctly.
You want to use a kettle to make tea. But you don't want to make tea in the kettle.
There are a number of reasons why this is a bad idea and we'll go into those below.
But there are also times when it makes sense to brew directly in the kettle. For those times, there are a few things you need to know before doing this.
We'll cover those things and also explain the best way to prepare tea directly in the kettle, if you have no choice but to do so.
Why You Should Avoid Making Tea In A Kettle
Whether you use a simple whistling kettle, a smaller electric kettle or a full-on electric water boiler, the actual brewing should not take place in the kettle. Your kettle should solely be used to heat up the water to the perfect temperature.
You want to steep the tea in a teapot or directly in a mug. The kettle heats the water, which is then poured over the infuser containing the tea leaves. That is the only function it needs to perform. This is also one (of many) reason why you shouldn't brew tea in a coffee maker.
But sometimes, it does make sense to brew your tea directly in the kettle. Mainly these are times when you do not have a teapot and you are making tea for many people. I would still prefer to brew it in the cups, but if you only have one infuser, it would make more sense to brew directly in the kettle.
This situation might most commonly arise when camping. If you only have mugs to drink from and those mugs do not contain infusers (note: if you are often in this situation, you should consider getting travel mugs with tea strainers), it is easiest to simply brew the tea directly in the kettle.
If you find yourself in a situation where you need to use the kettle to brew your tea leaves or tea bags, we've got you covered. Here is what you should know.
How To Make Tea In a Kettle
If you do decide to make your tea directly in the kettle, here are some things to look out for, plus advice on the best way to go about it. The first thing to be aware of involves kettle design.
Kettle Design
One of the reasons it can be problematic to make tea this way is the design of the kettle. If it has a smaller opening, then you may not be able to fit an infuser inside for loose leaf tea. If using tea bags, a small opening could make it difficult to retrieve the bag, if the string is accidentally dropped into the water.
If you have a wide-mouth kettle, it makes things a little easier, but you want to ensure the water level is high enough for steeping, regardless of whether you're using an infuser or tea bags. If you're only making enough tea for one, then this could be a problem, if the kettle is large. You may have to make far more tea than you need.
Steeping
When steeping your tea in a kettle, you want to try to carefully add the right amount of water based on how many cups of tea you want to prepare. This article has more on brewing, but basically, you want to use one tea bag, one teaspoon of loose leaf tea, per cup.
At the same time, you need to make sure the water level is high enough that the leaves in a strainer are submerged. As mentioned above, this could result in you having to make more tea than you actually want.
Use a thermometer to check water temperature. Remember, the temperature is important, based on the type of tea you're making.
For example, black tea requires a hotter water temperature than green tea or white tea, both of which are more delicate. They require a lower steeping temperature to avoid damaging the tea leaves, which negatively impacts the flavor.
Note that this only pertains to loose leaf tea. If you're using tea bags, you can go ahead and use boiling water for everything, since the tea contained in most bags is already low quality.
Once the water is at the ideal temperature, add an infuser filled with tea leaves (or tea bags) to the kettle as it cools. The steeping time is the same as it would be in a teapot or tea cup.
Once the tea is ready, remove the infuser or the teabags and pour the tea into your cup. Keep in mind: preparing tea this way can have an impact on the quality of future pots, since the tea residue can remain inside and can be hard to remove.
Kettles with a narrow opening can be difficult to clean and tea can easily stain the interior. Because of this, I would recommend making tea in a teapot or cup whenever possible and using the kettle only if you absolutely have to.
Using Your Kettle The Right Way
Making tea with an electric kettle or using a traditional stove top kettle is pretty simple. You fill it up with water based on how many cups of tea you wish to make, then allow it to reach a nice smooth rolling boil.
In some cases, you should use a thermometer to test the temperature and ensure the water isn't too hot to pour over the tea leaves. As I mentioned earlier, this is a must if you're making a delicate tea such as white tea or green tea.
The kettle will only take a few minutes to reach the boiling point. If you have to allow the kettle to cool before pouring the hot water over your infuser, measure the temperature every two or three minutes.
Invest In A Good Teapot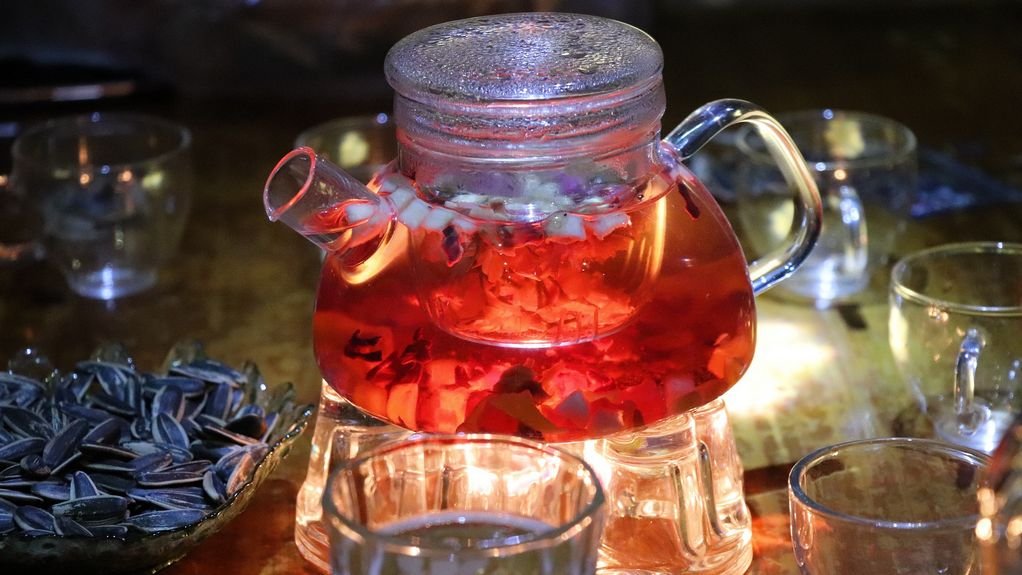 If you enjoy drinking tea regularly, why not invest in a glass teapot? If you often find yourself drinking cup after cup, then steeping your tea in a teapot is faster and much simpler.
Additionally, you have more control over the temperature, taste, and strength of your brew than you do brewing tea in a hot kettle.
And glass is best, because it allows you to watch the color of the tea as you steep, so you can see when it has reached the perfect color. That way you don't have to rely on timing the steep. You simply steep until you have the color you like.
Related Questions
Can You Put Tea Bags In A Kettle?
You can, but I wouldn't, unless you absolutely have to. Allowing tea to steep inside the kettle can not only impact the flavor of the pot of tea you're currently making, but it can also affect future pots of tea.
Kettles can be difficult to clean as it is. Throw some tea residue in the mix and you're looking at one tough job. A kettle should only be used to boil water, that's it.
Placing tea bags in a kettle may seem more convenient, but if your goal is a great cup of tea, then simply boil the water in the kettle, and pour it over the tea bag in a cup.
How Do You Make Loose Leaf Tea In A Kettle?
Again, ideally you don't. Instead of using a kettle to prepare tea, use a teapot.
Those new to tea drinking sometimes use the terms tea kettle and tea pot interchangeably, but these are two very different tools. The kettle should only be used to boil the water to the perfect temperature. If you have a teapot, this is what you use to actually make the tea.
You place an infuser in the teapot, or purchase a teapot with a built-in infuser. The tea steeps in the teapot for the appropriate amount of time, ranging from one to five minutes, depending on the type of tea you're making.
You don't necessarily need a strainer, but it's better to use one. You don't want to just pour loose leaf tea in a kettle unless you enjoy drinking cloudy tea that contains leaves and tea dust.
How Do You Make The Best Tea?
Ask any experienced tea drinker this question and they'll have their own special ritual that they follow when preparing their favorite cup of tea. Learning how to make tea isn't exactly rocket science. In fact, the process is pretty simple.
Start with cold filtered water and pour it into your kettle. Allow the water to warm up, until it is right before the boiling point. Some tea drinkers allow the water to reach a rolling boil if they're making a stronger tea such as black, but for most types of tea, you want a lower temperature.
Once you remove the water from the burner, take a thermometer and check the water's temperature. If you're making green tea or white tea, use water with a lower temperature than for black tea, blends made from black tea (like chai) or herbal teas, which can all handle a higher temperature.
Fill up a loose-leaf infuser with your favorite tea leaves and place the infuser in your teacup or teapot. Use about one teaspoon of loose-leaf tea per cup. Allow the tea to steep for the appropriate amount of time, then remove the infuser.
You can drink the tea plain or add additional flavorings such as cream, milk, sugar, or honey. Drink and enjoy!
Final Thoughts
Learning how to make tea in a kettle is a good idea, if you expect to be in a situation where you have no other choice. But, as I've explained above, you want to avoid it, if at all possible.
It can result in a drink that tastes bitter or a cup full of tea dust. The purpose of a kettle is to boil your water to the perfect temperature. That's it. Even the best stove top kettles should not be used for steeping.
In fact, if you use it for steeping, you may have a hard time getting rid of the tea remnants. Instead of making this common rookie mistake, avoid using your kettle to make tea. Do it the right way and use a tea infuser in a mug or a teapot.