Tea temperature is vital.
The temperature of the water you use to make your tea determines both the flavor and the health benefits you get in your cup.
Get it wrong and you could end up with a flavorless tea with few healthy components. Or a tea that is far too bitter.
But don't you just boil some water and toss a teabag in it?
Not if you want your tea to taste the way it should. And not if you want to maximize the health benefits you get from your cup.
It is far more complex than that.
Different types of teas need to be brewed at different temperatures. We'll give you the best temps for each type below (there's even a handy infographic).
But before we get to that, we need to take a look at why different teas need different brewing temperatures. And to do that, we need to examine the primary compounds in tea that determine its flavor.
Primary Flavor Components Of Tea
Let's begin by going over the main components in tea that are responsible for its flavor. These are:
Amino acids
Tannins
Caffeine
Each of these components has an impact on the flavor of your tea. Amino acids are responsible for the sweetness, while tannins and caffeine are responsible for the bitterness. These components have a different resolution rate, that changes with the temperature of the water.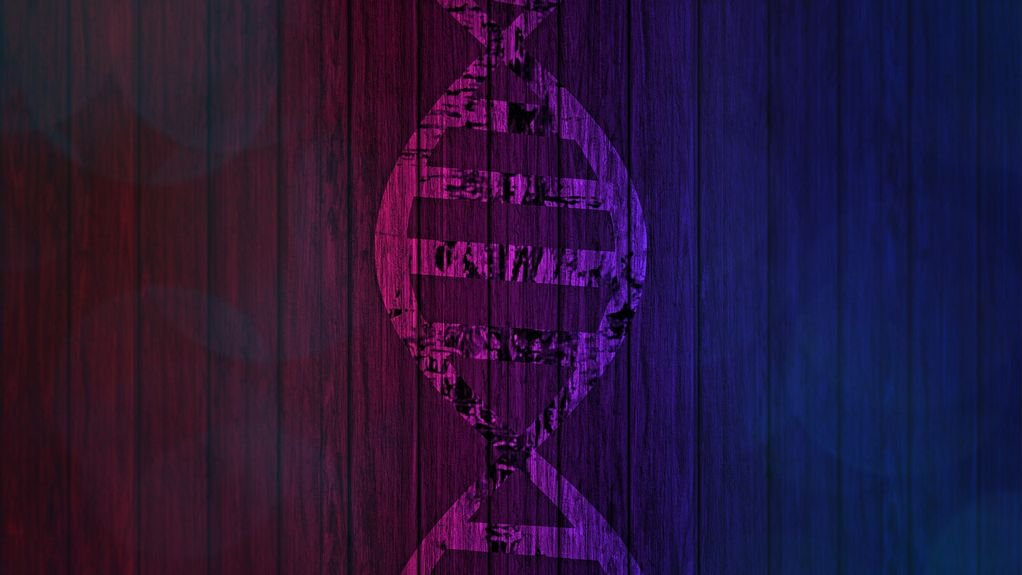 Tannins and caffeine tend to change their extraction rate dramatically, based on the water's temperature. The higher the temperature, the faster these components are extracted.
In low temperatures, neither is extracted well. The extraction rate of amino acids does not change, whether the water is hot or cold.
As a result, tea manufacturers generally recommend using a lower temperature for teas that have a sweeter flavor. At the lower temp, the amino acids are still extracted, but the tannins and caffeine are not (at least not as much).
If you use a higher temperature for a sweeter tea, more tannins and caffeine are extracted, leading to a bitter taste that can easily overpower the tea's sweetness.
As you can see, amino acids play a major role in how delicious and how complex a tea tastes. They, along with tannins, are also the primary source of most of the health benefits associated with tea.
L-theanine is by far the most prominent type of amino acid found in tea. Most teas also contain arginine and asparaginic acids. Apart from amino acids, flavonoids are the other key ingredients found in teas. These include the aforementioned caffeine and tannins.
The Benefits of Tannins in Tea
It may seem like you don't want any tannins in your tea, in order to prevent it from tasting too bitter. But did you know that tannins also offer a variety of health benefits?
Tannins are actually found in a bunch of plants. In tea, it is the compound that gives it its astringency. A high levels of tannins means a more astringent drink.
There are many types of tannins found in tea. One of them are called theraflavins. Theraflavins are produced when the catechins in tea become oxidized. The more catechins that get oxidized, the more tannins, the more bitter the flavor.
At the same time, tannins are also responsible for the antioxidant properties of tea. As such, they can have both a negative and positive effect on the body. In terms of positive effects, tannins offer anti-mutagenic and anti-carcinogenic properties due to their anti-oxidizing nature.
Tannins can also help remove harmful microbes from the body, including fungi, viruses, and bacteria. Additionally, they can have healing effects on wounds and cuts by speeding up the blood's ability to clot. Studies have also indicated a positive effect on regulating blood pressure.
Drawbacks Of High Tannin Content
But it's not all good news. In addition to increasing the bitterness of your tea, too many tannins can also hinder metabolism and digestion. On top of that, they can impact the body's ability to absorb iron, which can be a serious problem for people who already suffer from an iron deficiency.
If you're concerned about the tannin levels in your tea, you might want to try using colder water than normal to brew it. Even better, use completely cold water and let your tea steep overnight (more on cold brewing below).
Generally, this is not a problem, though. The tannins found in tea are mostly beneficial and the main drawback is the astringency which is really only a drawback for some. And it is easily regulated by brewing your tea at the correct temperature.
Tea Temperature Guide
Making a good cup of tea may seem difficult to screw up, but if you don't know what you're doing, you can end up ruining that expensive special blend you just ordered.
It is important to understand how water temperature impacts the bitterness of the tea. But it is also important to know the other effects boiling water can have.
Boiling oxygenates the water, which can bring out some of the more complex flavors in teas. But this doesn't mean a long boil will result in the best cup of tea you've ever had.
Instead, a longer boil simply tires the water out (because all the oxygen boils away), resulting in tea that tastes dull and flat. You want to stick with a nice gentle boil, in order to oxygenate the water perfectly. And the type of boil you want varies depending on the type of tea.
Once again, water temperature is crucial and how long you boil the water depends on the type of tea you're making. Using temperature is the easiest way to determine when to stop heating the water, but you can also keep an eye on the size of the bubbles in the water.
Once the bubbles reach a certain size, you know to pull the kettle off the stove. If you're making a delicate white or green tea, shut off the burner once the bubbles are about pea-sized.
For oolong teas, the bubbles should be twice that size. For stronger teas like black or pu'er (as well as any herbal tea), wait for a roiling boil before you switch off the burner.
Precise Temperature Control
For more brewing precision, you can always grab a thermometer. Even better, use a water boiler/warmer with a temperature control setting (or an electric kettle with such a setting).
To brew white teas, you want to use water that is between 158° and 167° F (70° – 75° C). For green tea, aim for a brewing temp of 176° to 185° F (80° – 85° C).
Oolong tea brews best at a temperature between 176° and 203° F (80° – 95° C), with lighter varieties at the lower end of this range and darker ones at the higher end. Black tea, pu'er and herbal teas need water that is between 203° and 208° F (95° – 98° C).
Here are all the brewing temperatures and times in one handy image: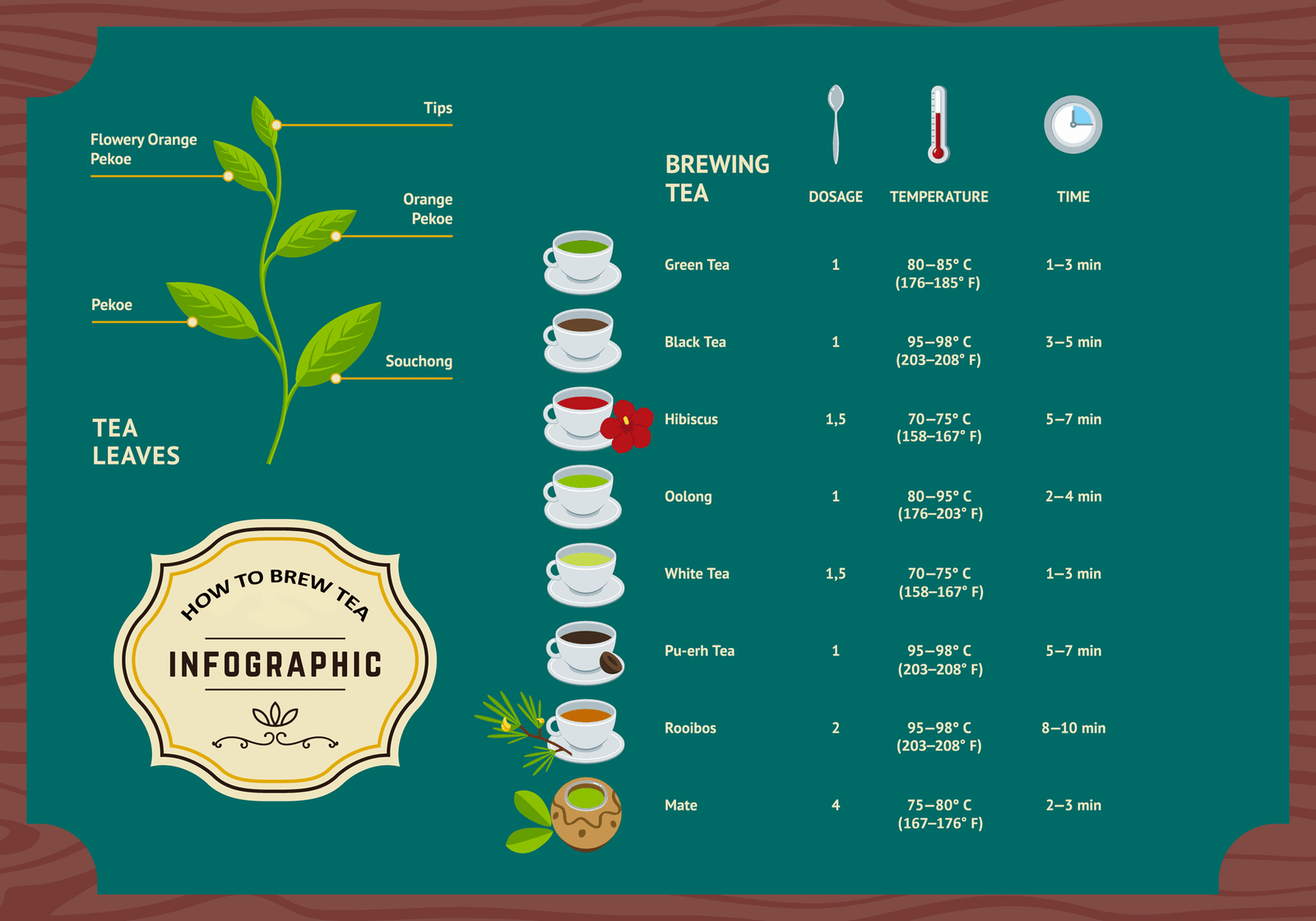 The Cool Down
Did you know that the cooling time is just as important? If you drink your tea immediately after it is done steeping, chances are you will burn yourself. That should be obvious.
That said, some people can drink scalding liquids with ease. So no problem for them, right?
Not so fast.
There is mounting evidence that drinking hot liquids can cause harm to our mouth, tongue and throat. Most notably, it can lead to esophageal cancer. So you definitely want to let your tea cool to a safe temperature before drinking.
What is a safe temp? This article covers everything you need about the ideal tea drinking temperature.
The other reason to let your tea cool down is that the flavor can change once it is a bit cooler. Specifically, it will end up tasting sweeter.
If you add cream, sugar, honey, lemon or something else to your tea right away, before it has had a chance to cool, chances are you will add the wrong amount.
A great alternative is to simply brew your tea with colder water. Then you don't need to worry about the correct brewing temp or the correct drinking temp.
Steeping Tea In Low Temperatures
When you use a lower water temperature, you'll want to steep longer. Water that's around 104° F (40° C) does not extract much astringency or bitterness (i.e. caffeine and tannins), even after several minutes.
But the sweetness is extracted, if the steeping time is sufficient. And you can go even colder than that.
You can actually use cold water to brew your tea. This is called cold brewing and is a method many people prefer, because it avoids any bitterness. The key is a very long steeping time (usually overnight). Learn more about cold brewing tea.
Tea Temperature Guide For Specific Types
Let's take a more detailed look at the most common types of tea and the ideal brewing temperatures for each.
White Tea
White tea should always be brewed well below the boiling point, since a higher temp can scald these delicate leaves and totally ruin the flavor. Shoot for a temperature from 158° to 167° F (70° – 75° C). If you do not have a thermometer and are estimating it by sight, the water should have bubbles that are about slightly smaller than pea-sized. More on white teas can be found here.
Green Tea
Green teas are almost as delicate as white teas (with gyokuro actually being more delicate), so you want to go with a lower temperature here as well. The ideal range is from 176° to 185° F (80° – 85° C). Look for pea-sized bubbles if working without a thermometer.
Steamed teas (most Japanese varieties) should be brewed at the lower end of this range and roasted teas (most Chinese varieties) at the upper end. If the resulting tea tastes very grassy or bitter, then go to a lower temperature. Find more info on green teas here.
If you have a gyokuro, use water that is cooler even than the recommendation for white tea. This extremely high quality Japanese green tea is very delicate and needs colder water than any other variety. You can find detailed instructions for gyokuro here.
Oolong Tea
Oolong teas can vary greatly with some being only slightly oxidized and others being over 70% oxidized. This means a larger temperature range from 176° and 203° F (80° – 95° C). The bubbles will be larger than pea-sized, with an approximate diameter of 5 mm (0.2 inches).
As you would expect, the less oxidized varieties want a lower water temperature than the more oxidized ones. If you are not sure which you have, take a look at the leaves.
Are they green? Then you have a lightly oxidized oolong. If the leaves are brown, your tea is more oxidized. Learn all about making oolong teas here.
Black Tea
Black tea is fully oxidized and can handle high temperatures. Use water that is between 203° and 208° F (95° – 98° C). This is about the point where water begins to boil, with large bubbles and a lot of steam.
Note that Darjeeling and Nepal black teas are not fully oxidized. They are referred to as black teas, but are technically oolongs. For that reason, brew these varieties like a dark oolong tea. Read all about black teas here.
Pu-Erh
I generally recommend brewing pu'er with water that is between 203° and 208° F (95° – 98° C), just like black tea. However, some tea drinkers prefer to use water that is fully boiling. This means allowing it to come to a rolling boil and letting it go for 10 to 20 seconds. Try both and see which you prefer. This article has everything you need to know about pu-erh.
Herbal Teas
Herbal teas are derived from many different types of plants. Because of this, their brewing instructions tend to vary. Some types of herbal teas should be steeped in water that's fully boiled. Other types must be boiled in the water, in order to release their full flavor.
For most types of herbal teas, a temperature of 203° to 208° F (95° – 98° C) works well, which is the same as for black tea. But you'll want to check the instructions on the packaging for your specific tea to be on the safe side.
Tea Temp: Final Thoughts
This tea temperature brewing guide will help you get the best flavors out of your tea, but in the end, it really boils down (pun intended) to your personal preference in terms of taste.
However you prefer you tea, the goal is to maximize the flavor (to your personal tastes) while also maximizing the amount of nutrients that enter your cup. It requires a delicate balance between the amount of leaves you use, the water temperature and the steeping time.
If you're a casual tea drinker who just wants to get your daily caffeine intake out of your morning cup, then these brewing guidelines probably don't even matter. Just add boiling water and drink (after waiting for it to cool down, of course).
But if you're serious about making tea the right way and want to learn how to release its complex flavors, while also maximizing the health benefits, then you'll want to follow the tea temperature guidelines here. You should also check out our full brewing guide.
Once you've brewed your first cup using the correct water temperature, you'll never go back to over-boiling water ever again. It still won't be perfect, because tastes differ, but if you begin with the recommendations here, then experiment and alter them slightly, until you find the flavor that is perfect for your tastes.