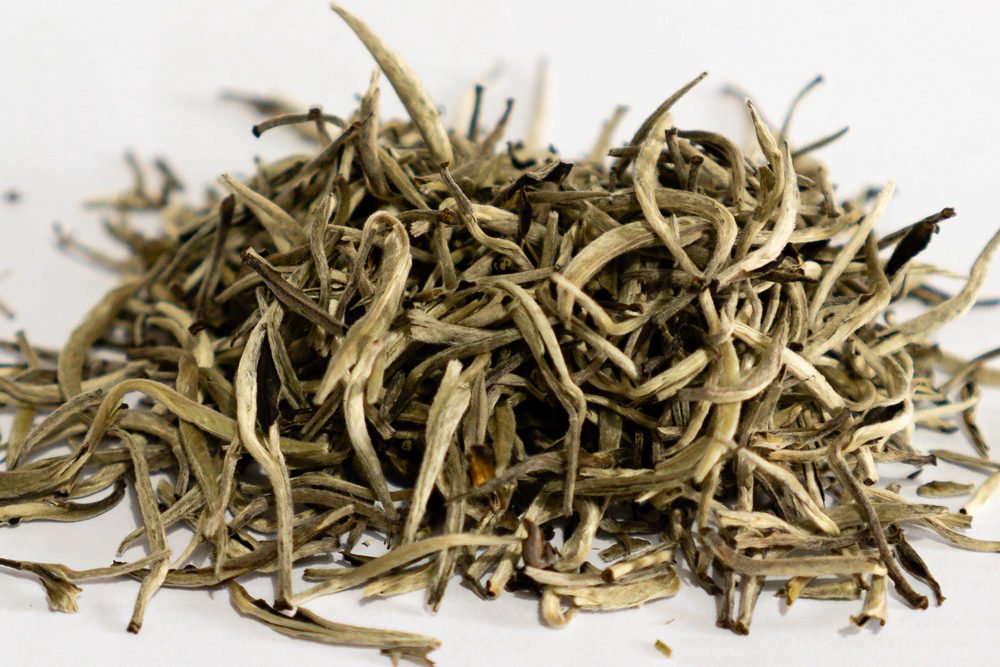 White Hair Silver Needle Tea is the most famous Chinese white tea. Pronounced "Baihao Yinzhen," Silver Needle Tea is the most expensive and most prized variety of white tea and is generally included among the "China Famous Teas." The flavor is unlike any other tea: very mellow, delicate and sweet with a slight flowery note.
Where To Buy Baihao Yinzhen Tea
This tea can be found in most specialty tea shops or through a number of online vendors. If you are unsure where to begin, you can check out some of my recommendations below.
How To Brew White Hair Silver Needle Tea
The preparation instructions given here are for loose leaf teas. For tea bags, you can just follow the instructions given on the box.
Like all white teas, Baihao Yinzhen should be steeped in cooler water than black or oolong teas.
A temperature of 75-80°C (167-176°F) is a good starting point. To get this temperature, you can just use a simple stove-top kettle to bring the water to a boil and then let it cool down for about five minutes. If you would like to be more accurate in judging the water temperature, you can simply use a thermometer.
If you plan on trying a lot of varieties of tea and/or coffee it might be worth it to invest in a water boiler/warmer or an electric kettle with a variable temperature setting.
Personally, I recommend this Cuisinart kettle, because it has presets for every type of tea, so you always get the perfect temperature: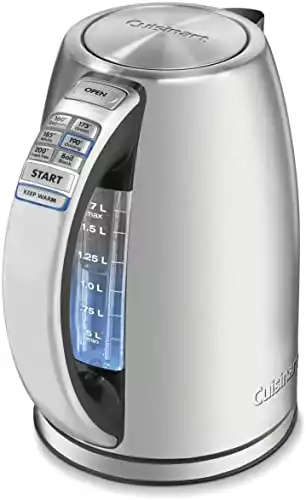 You can brew White Hair Silver Needle Tea in any regular teapot, although I would recommend using one made from glass or ceramic.
Many connoisseurs use a traditional lidded brew cup known as a gaiwan. The gaiwan can be used for Chinese green teas, oolong teas and some black teas as well.
Brewing Instructions
Fill both your brew cup and tasting bowl about halfway with hot water to preheat them. Tilt them a bit so that the water creeps up the side and then rotate them so the insides get wet all the way around. Then pour the water out. If you are using a teapot and tea cups, warm those up in a similar fashion.
Put 1 very full teaspoon of tea leaves in the brew cup. If you are using a teapot, use 1 teaspoon for each cup of tea.
Pour hot water onto the leaves in the brew cup (or the teapot). The water temperature should be below boiling; around 75-80°C (167-176°F) is ideal.
Place the lid on the brew cup and let the tea steep for 3 minutes.
After 3 minutes, pour the tea into the tasting bowl, using the lid of the brew cup to hold back the leaves. Enjoy your tea!
You can get 3-6 infusions out of most Baihao Yinzhen teas. Increase the steeping time 30 seconds to one minute for each infusion. How many infusions you do depends entirely on your taste. Experiment.
Use the amounts given in these instructions as a rough guide. If you find the resulting tea too weak, add more tea leaves; if it is too strong, reduce the amount of leaves used. Similarly, try increasing or decreasing the steeping times.
If the tea is too bitter, reduce the temperature of the water. Basically, you'll want to keep experimenting until you come up with the perfect brew for your particular taste.
Brewing Video
Best White Hair Silver Needle Teas
Most Convenient
Many people already have an account with Amazon.com so it is probably the easiest place to buy tea online.
Unfortunately, their selection of Silver Needle Teas is lacking; they have a few decent choices, but nothing exceptional. The best option is the Organic Silver Needle White Tea from Tealyra.
Best Buy
My personal favorite online buy is the Organic Silver Needle from Art of Tea. It's a great tea and isn't too expensive.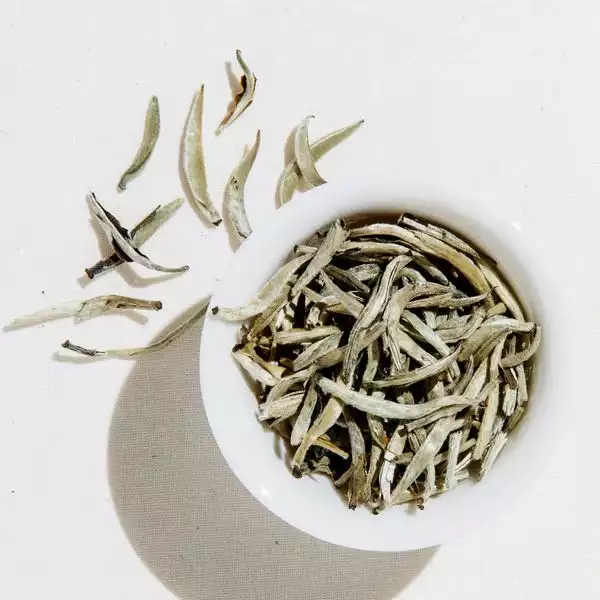 The Yunnan Baihao Yinzhen from Generation Tea is also a good buy.
This company specializes in the highest quality Chinese teas and this Silver Needle is a good tea, but it's not as good as the one above. It's quite a bit cheaper, though.
Highest Quality
If you really want to treat yourself, try Teavivre's Organic Nonpareil Silver Needle: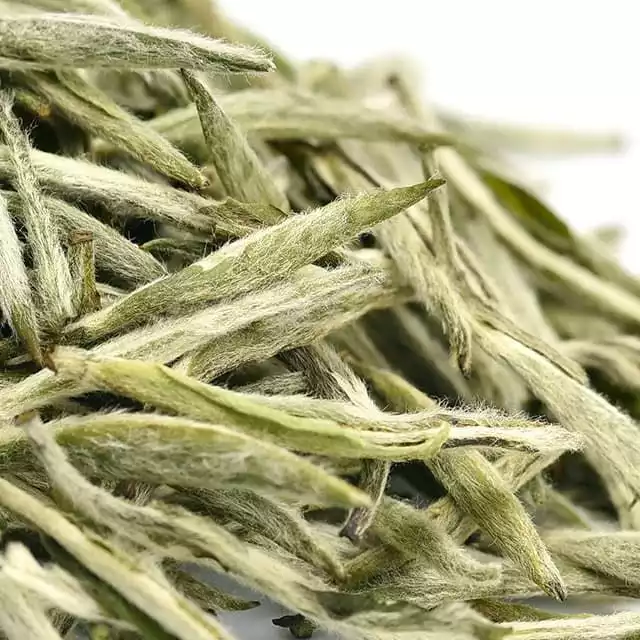 It's as high a quality as you'll find outside of China. Naturally, it has the price tag to match.
More Information About Baihao Yinzhen
Bai Hao Yin Zhen literally means "white hair silver needle." It is made only from the youngest buds, which are picked before they get a chance to develop and open their leaves at all.
The "white hair" part of the name refers to the down white pekoe that grows along those buds, while silver needle refers to the the shape of the buds. They are thick and straight and form sharp tips that resemble needles. With the white hair, they look like silver needles.
When "silver needles" are brewed, they stand up straight in the cup, which is really cool and a great reason to get a glass brewing vessel. You will also notice a layer of white hairs floating on top of the cup that somewhat resembles a fog cover.
There are some teas that look similar, but those are actually green teas and thus quite different. They do not give you the white hairs floating in your cup and they also have a completely different flavor and biochemical profile.
Because only the buds are used, you generally use a larger amount to brew a cup and steep them for longer. You end up with a pale yellow color with the afore-mentioned white hairs. It has a light and delicate flavor and is fresh and sweet. The only tea that has a similar taste is White Peony, but it is fuller and less sweet.
Production Area
Silver needle tea is produced primarily in two regions in the north and northeast of Fujian province, China: Zhenghe and Fuding. A few neighboring areas also produce the tea, but in much smaller amounts.
The tea plants used are named after the regions where they are grown: Fuding Da Bai and Zhenghe Da Bai. They produce distinctly different versions of tea. The Fuding style is darker, having spent more time oxidizing. It also has a thicker layer of white hairs. The Zhenghe style is lighter, due to a shorter oxidation time.
It is actually a defining characteristic of the Fuding bush that it can spend more time piled up oxidizing than other teas, without going bad. Which style is better depends on personal tastes. Both are some of the best teas you can get.
The areas where they grow have a lot to do with that high quality. They experience a subtropical monsoon climate with a high rainfall and mild temperatures with a large difference between day and night. The soil is high in nutrients, because the are is highly forested.
Harvesting And Processing
Harvesting Baihao Yinzhen is never easy. It can't be picked when damp, so no rainy days and no mornings, when dew covers the buds. Any leaves that have been damaged need to be excluded to ensure the highest quality.
The buds are plucked in early spring. They do not undergo any steaming or roasting, which is what differs them from green teas. Instead, they undergo a long withering process that promotes non-enzymatic oxidation.
Once withered, the buds are then dried over a smoldering fire. Right after drying, the tea is packed while still warm. This preserves the needle shape. If you pack it when cool, it is susceptible to breaking.
For more on White Hair Silver Needle tea check out the
Wikipedia page
.