Biluochun (also Pi Lo Chun) is a Chinese green tea. Its name literally means Green Snail Spring, which comes from the tightly rolled leaves, resembling snail meat and from the fact that it is harvested in Spring.
It is has a delicate appearance with distinct white hairs. It tastes fruity and has a floral aroma. Biluochun teas are divided into seven grades: Supreme is the best, then Supreme I, then Grade I, Grade II, Grade III, Chao Qing I and Chao Qing II.
Where To Buy Pi Lo Chun Tea
Biluochun can be a little difficult to get outside of China. You may find it in a specialty tea shop or through some online vendors. If you are unsure where to begin, you can check out some of my recommendations below.
How To Prepare Biluochun Tea
The preparation instructions given here are for loose leaf teas. For tea bags, you can just follow the instructions given on the box.
Chinese green teas are generally much easier to brew than Japanese varieties and Pi Lo Chun is no exception. Like most other green teas, Biluochun tea should be steeped in cooler water than black or oolong teas.
A temperature of 80°C (176°F) is a good starting point. To get this temperature, you can just use a simple stove-top kettle to bring the water to a boil and then let it cool down for about two minutes.
For Chinese teas, the temperature is not as important as it is for Japanese teas. As long as it is a bit below boiling, it should be fine. If you would like to be more accurate in judging the water temperature, you can simply use a thermometer.
If you plan on trying a lot of varieties of tea and/or coffee it might be worth it to invest in a water boiler/warmer or an electric kettle with a variable temperature setting.
Personally, I recommend this Cuisinart kettle, because it has presets for every type of tea, so you always get the perfect temperature: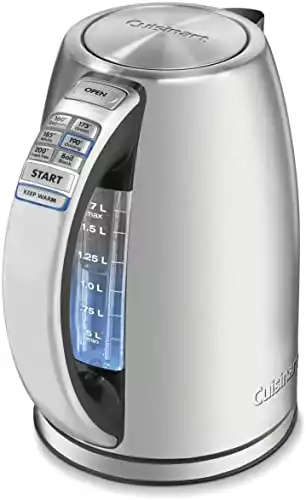 Many Chinese will brew Pi Lo Chun in a plain 8oz glass. Many restaurants in China do this as well.
In tea shops, however, you will usually be served Biluochun in a traditional lidded cup called a gaiwan, which is what I will use for these instructions.
Brewing Instructions
Fill your gaiwan (or glass) about halfway with hot water to pre-heat it. Tilt the cup a bit so that the water creeps up the side and then rotate it so the inside gets wet all the way around. Then pour the water out.
Refill the gaiwan with hot water. It should be about 80-90% full. The water temperature should be below boiling; around 80°C (176°F) is ideal.
Drop approximately 1 teaspoon of Biluochun leaves into the water. Use twice this amount if you are brewing your tea in an 8oz glass. The leaves will sink to the bottom leaving the tiny hairs at the top.
Place the lid on the gaiwan and let the tea steep for 1-2 minutes. Enjoy your tea.
When you get down to about one quarter of the tea remaining, refill the gaiwan with hot water of the same temperature as before and let it steep for 3 minutes.
You can get 3-5 infusions out of most Pi Lo Chun Teas. Increase the steeping time 30 seconds to one minute for each infusion. How many infusions you do depends entirely on your taste. Experiment.
Use the amounts given in these instructions as a rough guide. If you find the resulting tea too weak, add more tea leaves; if it is too strong, reduce the amount of leaves used. Similarly, try increasing or decreasing the steeping times.
If the tea is too bitter, reduce the temperature of the water. Basically, you'll want to keep experimenting until you come up with the perfect brew for your particular taste.

Best Biluochun Teas
Most Convenient
For many people, Amazon.com is the easiest place to buy tea online, because they already have an account. When it comes to Biluochun, Amazon has a bunch of teas that come directly from China, so the only way to know how good they are is to try them.
The only one I've ordered so far is this one and I quite liked it. It's a bit more expensive than some of the other offerings though.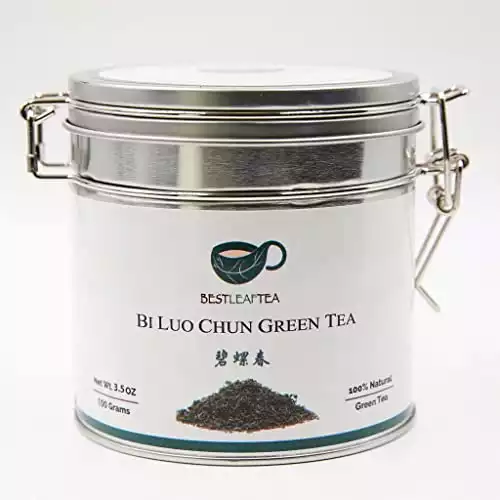 Best Value
Apart from Amazon, Teavivre has a really good premium grade Pi Lo Chun straight from Dong Ting Mountain.
More Information About Pi Lo Chun Tea
Biluochun is a famous Chinese green tea that was ranked #1 among all green teas in the tea encyclopedia of China in the late 1800s, ahead of Longjing and Liu An Gua Pian. Since that time it has never ranked lower than the top 3.
Pi Lo Chun originates in the Dongting Mountain region on Jiangsu province. These days, it is also grown in other parts of China, most notably Zhejiang and Sichuan provinces, but the ones from the Dongting area are by far the best. Biluochun from other regions has larger and less uniform leaves and a nuttier and fruitier flavor.
As mentioned, the name translates as Green Snail Spring, which refers to the shape and the early harvest time. But that wasn't the original name. This tea was first called "scary fragrance".
Legend has it that a tea picker carried some of the tea leaves between her breasts when she ran out of space in her basket and after a while, her body heat warmed the leaves and they began to emit a strong smell.
It was renamed to the much more pleasant current name during the Qing Dynasty. An emperor visited the area and loved the tea, but did not think the name was appropriate. He renamed it to the current "Green Snail Spring."
The Dongting area features lakes and mountains. Water evaporates from the lakes, keeping the mountains shrouded in clouds and mist. These conditions are perfect for Biluochun tea.
One secret to the unique aroma and taste are fruit trees. Growers plant apricot, plum and peach trees between the tea bushes, so that the tea leaves can absorb some of the fragrance from the fruit trees.
The tea leaves are picked very early in the year, and only once. The harvest falls between the middle of March to the middle of April. Only the first leaf and bud are picked and always by hand. Only the highest quality leaves are used, making this a fairly rare tea.
When you steep biluochun leaves, the start at the top of the cup, but slowly float to the bottom. Many drinkers love watching the leaves drift downward, since it reminds them of falling snowflakes.