Yellow tea is the sixth, and the least known, type of tea. It is very similar to green tea, the main difference being a slower drying phase, allowing the leaves to turn yellow while they stay damp.
The infusion also takes on a yellow color. It has a smooth, mellow flavor, without the grassiness of green tea. Similar to white tea, yellow tea is very high quality, with the Junshan Yinzhen variety being one of China's ten famous teas.
Yellow Tea: Where To buy
Yellow tea is rare and still very difficult to find in the west. Even most online tea stores don't carry it. If you need some help finding a good variety, see my recommendations below.
How To Prepare Yellow Tea
The method of brewing yellow tea is basically the same as the method for brewing white tea. This means the leaves should be steeped in cooler water than black or oolong tea leaves.
A temperature of 75-80°C (167-176°F) is a good starting point. To get this temperature, you can just use a simple stove-top kettle to bring the water to a boil and then let it cool down for about five minutes. If you would like to be more accurate in judging the water temperature, you can simply use a thermometer.
If you plan on trying a lot of varieties of tea and/or coffee it might be worth it to invest in a water boiler/warmer or an electric kettle with a variable temperature setting.
Personally, I recommend this Cuisinart kettle, because it has presets for every type of tea, so you always get the perfect temperature: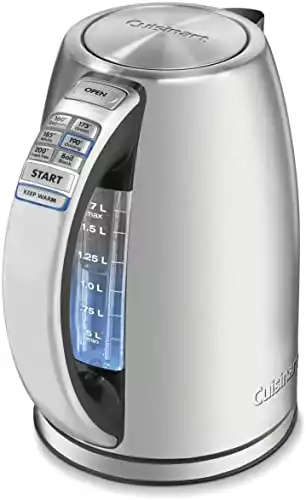 You can brew yellow tea in any regular teapot, although I would recommend using one made from glass or ceramic.
Many connoisseurs use a traditional lidded brew cup known as a gaiwan. The gaiwan can be used for Chinese green teas, white teas, oolong teas, pu-erh teas and some black teas as well.
Brewing Instructions
Fill both your brew cup and tasting bowl about halfway with hot water to preheat them. Tilt them a bit so that the water creeps up the side and then rotate them so the insides get wet all the way around. Then pour the water out. If you are using a teapot and tea cups, warm those up in a similar fashion.
Put 1 very full teaspoon of tea leaves in the brew cup. If you are using a teapot, use 1 teaspoon for each cup of tea.
Pour hot water onto the leaves in the brew cup (or the teapot). The water temperature should be below boiling; around 75-80°C (167-176°F) is ideal.
Place the lid on the brew cup and let the tea steep for 3 minutes.
After 3 minutes, pour the tea into the tasting bowl, using the lid of the brew cup to hold back the leaves. Enjoy your tea!
You can get 3-6 infusions out of most yellow teas. Increase the steeping time 30 seconds to one minute for each infusion. How many infusions you do depends entirely on your taste. Experiment.
Use the amounts given in these instructions as a rough guide. If you find the resulting tea too weak, add more tea leaves; if it is too strong, reduce the amount of leaves used. Similarly, try increasing or decreasing the steeping times.
If the tea is too bitter, reduce the temperature of the water. Basically, you'll want to keep experimenting until you come up with the perfect brew for your particular taste.
Best Yellow Teas
Yellow tea very difficult to find outside China and most online tea shops don't carry it either, but surprisingly (or maybe it's not so surprising), Amazon.com has a few varieties.
That said, the best variety I've found so far is the Huo Shan Huang Ya Yellow Tea from Teavivre: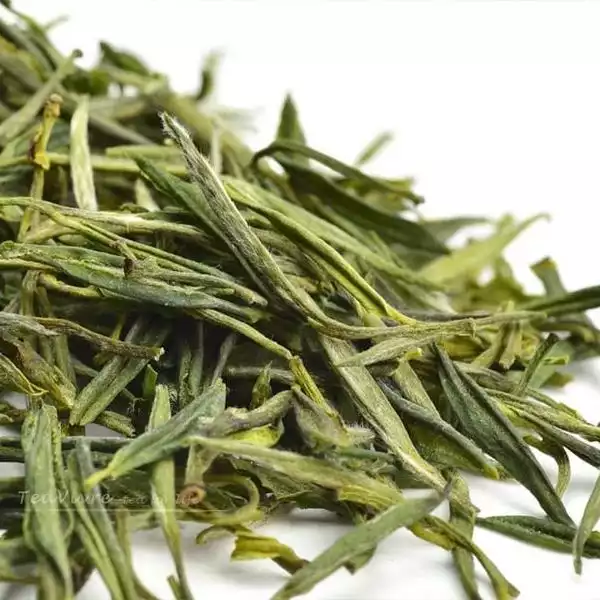 It has beautiful, delicate leaves that brew to a sweet, slightly nutty flavor. The only problem: while this variety was traditionally a yellow tea, it is today produced using green tea techniques. Read more about this below. It is still a great tea, though, and I highly recommend it.
As for the teas from Amazon, I have not tried any of them myself, since I am currently in China and can just buy it at a tea shop. They are also sold out a lot.
Their best options seem to be two varieties from Tealyra. The first is a Junshan Yinzhen (designated as one of China's ten famous teas).
The second is a Huang Cha.
Both seem to be priced a little low, so I'm not sure how great the quality is. A junshan yinzhen especially, is usually very expensive.
That said, they both have good reviews and Tealyra teas are usually quite good. Since they don't cost much, they're definitely worth trying. Who knows, maybe you'll discover a great value.
Additional Information About Yellow Tea
Yellow tea was produced with the intent of removing the grassiness from green tea and making it easier on the stomach. Unfortunately, true yellow tea is becoming more and more rare and expensive.
Making it is difficult and time-consuming. Because the process is so involved, only 3 kinds of true yellow tea still exist on the market today. There are others that are called yellow tea, but they are not the real thing.
Making Yellow Tea
The general process for making yellow tea is the same for all 3 varieties, though there are small differences. First, the tea leaves are fried, just like a standard Chinese green tea.
Unlike green tea, the leaves are then wrapped in a material and stored. This allows for a light and slow oxidation. The Junshan Yinzhen variety is wrapped in thick paper and stored in a wooden box. The other two varieties are wrapped in cloth.
This process of frying and wrapping, then being left to cool and slightly oxidize, is repeated multiple times for up to 3 days. After that, the leaves are slow roasted. Then they are finally ready.
This involved process and short timeframe for harvesting combine to make this such a rare tea. Most producers have simply stopped using the full traditional methods and simply process their "yellow tea" as green tea to save time and effort.
If you ever find a true yellow tea and get a chance to try it, you'll see what a difference all the processing can make. It has an incredibly complex taste and smell that is somewhere between green and oolong. Let's take a look at the only 3 remaining true yellow teas.
The 3 Remaining Varieties
Junshan Yinzhen: from Junshan Isand in Dongting Lake in Hunan province, the most famous variety (probably because Mao Zedong called it his favorite tea, because he was raised in the area)
Mengding Huang Ya: from Mengding Mountain in Sichuan province
Mogan Huang Ya: from Mogan Mountain in Zhejiang province, the rarest (and least known) variety
I'm sure you're thinking "but I've seen other yellow teas." You probably have. But they're not really yellow teas at all.
The trend in China has been toward bright and vibrant green leaves and the same goes for the color of the brewed liquid. Because real yellow tea does not appear bright and vibrant, many famous varieties are no longer produced using traditional methods.
Instead, they are now produced using traditional green tea processing techniques. It's what the market wants and it is much easier, so who can blame them. The teas are still excellent, but they are no longer truly yellow teas.
Despite that, they still keep their original names. Nothing on the packaging indicates the change in processing technique and most consumers have no idea that their "yellow tea" really isn't one at all anymore.
The best known example of this is one of the most famous yellow teas: Huo Shan Huang Ya. It comes from Anhui, which is a very poor province. The growers could no longer bear the expense of using traditional methods, so they switched. Now the traditional methods are lost and they could not go back, even if they wanted to.
Consumers still buy this tea and still pay high prices for it, thinking it to be a famous yellow tea. And it is. It just isn't actually produced as one anymore. This tea is one of my recommendations above. I know it is not a true yellow tea, but it is still very good, and honestly, it is very difficult to find an actual yellow tea outside of China. It is difficult inside China.