Black tea from Yunnan province is generally called Dianhong Tea. Higher quality Yunnan black teas brew to a brassy, golden orange color and have a gentle, sweet aroma and no bitterness. Cheaper varieties become darker and more brownish when brewed and can taste quite bitter if prepared incorrectly.
High quality black teas from Yunnan, like Yunnan Pure Gold and Yunnan Gold are generally enjoyed pure, while lower qualities are often included in tea blends.
Where To Buy Dianhong Tea
These teas can be found in most specialty tea shops or online vendors. If you are unsure where to begin, you can check out some of my recommendations below.
How To Prepare Yunnan Black Tea
The preparation instructions given here are for loose leaf teas. For tea bags, you can just follow the instructions given on the box.
The ideal brewing temperature is 90-100ºC (194-215ºF), which is just below the boiling point. You can simply boil the water using a stove-top kettle and then let it cool for 10 seconds or so.
If you plan on trying a lot of varieties of tea and/or coffee it might be worth it to invest in a water dispenser/boiler/warmer or an electric kettle with a variable temperature setting.
Personally, I recommend this Cuisinart kettle, because it has presets for every type of tea, so you always get the perfect temperature: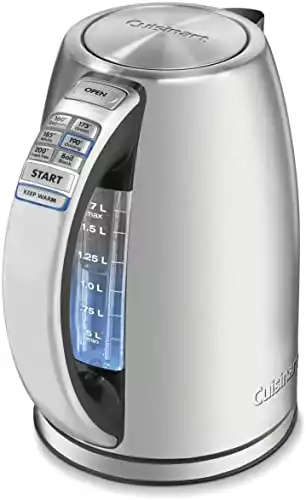 Dianhong tea can be brewed in a variety of vessels, preferably ones made from ceramic or purple clay, like a simple gaiwan or a traditional Chinese yixing teapot.
Brewing Instructions
Fill both the teapot and the cup about halfway with hot water to pre-heat them. Tilt them a bit so that the water creeps up the side and then rotate them so the insides get wet all the way around. Then pour the water out.
Put 1-2 teaspoons of tea leaves into the teapot. If using a different vessel, use 1-2 teaspoons for every 8 oz. (236 ml) of water.
Fill the teapot with 90-100ºC (194-215ºF) water.
Place the lid on the teapot and let the tea steep for 2 minutes.
Pour the tea into the teacups and enjoy your tea!
You can get 3-5 infusions out of most varieties. Increase the steeping time 30 seconds for each infusion. How many infusions you do depends entirely on your taste. Experiment.
With Yunnan teas, you want to be careful not to over-brew them, especially cheaper varieties, as they can easily become bitter. Because of that, the amounts and times given in the instructions are somewhat conservative; use them as a rough guide. If you find the resulting tea too weak, add more tea leaves or try increasing the steeping time.
Best Yunnan Black Teas
Most Convenient
Many people already have an account with Amazon.com so it is probably the easiest place to buy tea online. Their best deal is the Organic Chinese Breakfast Tea from Numi.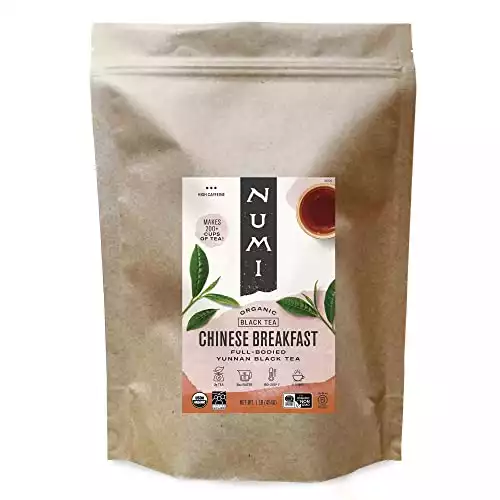 My Favorite
Teavivre is a company that specializes in high-quality teas from China and they have a number of black teas from Yunnan. My favorite is the Golden Tipped Dian Hong, which has a rich, complex, but very smooth and fresh flavor.
Others might prefer their Yunnan Black made with leaves from ancient wild trees. This tea is mellow with a strong floral flavor and a sweet aftertaste. It is more expensive than their Golden Tipped tea, which is one reason I prefer that one. It's a great value.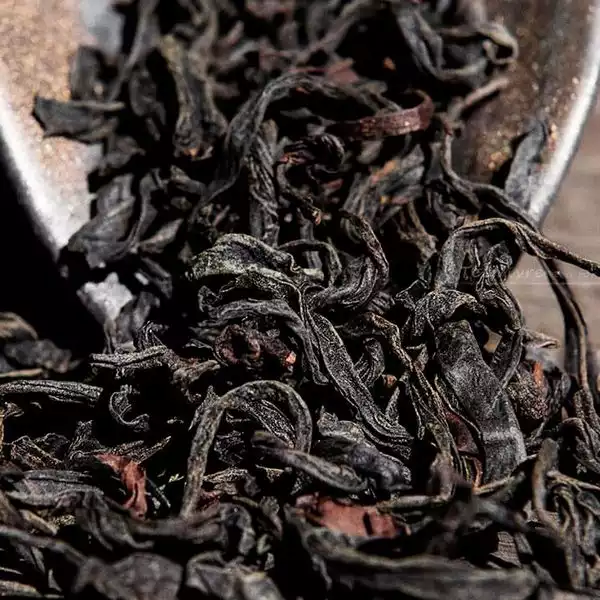 More Information About Dianhong Tea
Before the Han Dynasty (from 206 B.C. to 220 A.D.)teas grown in Yunnan were all processed into the compressed cakes that still exist today in modern pu-erh tea (also made in Yunnan). As such, the Dian hong tea we know today is a relatively new product.
The Chinese name is "Dian Hong Cha". Dian is the abbreviated name for Yunnan province, from which this tea comes. "Hong" means red and "cha" means tea. What we call "black tea" is referred to as "red tea" in China and Japan, because it brews to a red color.
In English, we refer to this tea as Yunnan Black and sometimes Yunnan Red. Both terms can be a bit confusing, since this is far from the only variety of tea produced in Yunnan province.
Dianhong grows in the Lincang area, which is a mountainous region lying from 1680 to 1900 meters above sea level. Despite the high altitude, the climate is mild, making for an extra-long growing season. The tea is harvested from March all the way through to November.
Yunnan black tea is characterized by a larger amount of young leaf buds, also referred to as "golden tips", than other Chinese black teas. These tips result in the delicate, slightly smoky flavor with hints of cocoa and caramel and light peppery tones.
There are several different varieties of Dian Hong Cha:
Broken Yunnan: the cheapest variety with mostly black leaves and very few golden buds; brews dark with a bitter taste; usually used in tea blends
Yunnan Gold: slightly more golden buds; lighter, brassy red brew with a sweetness to it; less intense than Pure Gold, but similarly priced
Yunnan Pure Gold: only golden tips and they are covered in fine hairs; brews bright red with a gently aroma and sweet flavor; the highest quality dian hong tea
Golden Needle: also contains long only golden tips, but they are long and thin like pine needles; brew to an amberish infusion
Pine Needle: similar to Golden Needle, but with a mix of differently colored leaves, which looks like old pine needles that have fallen from the tree