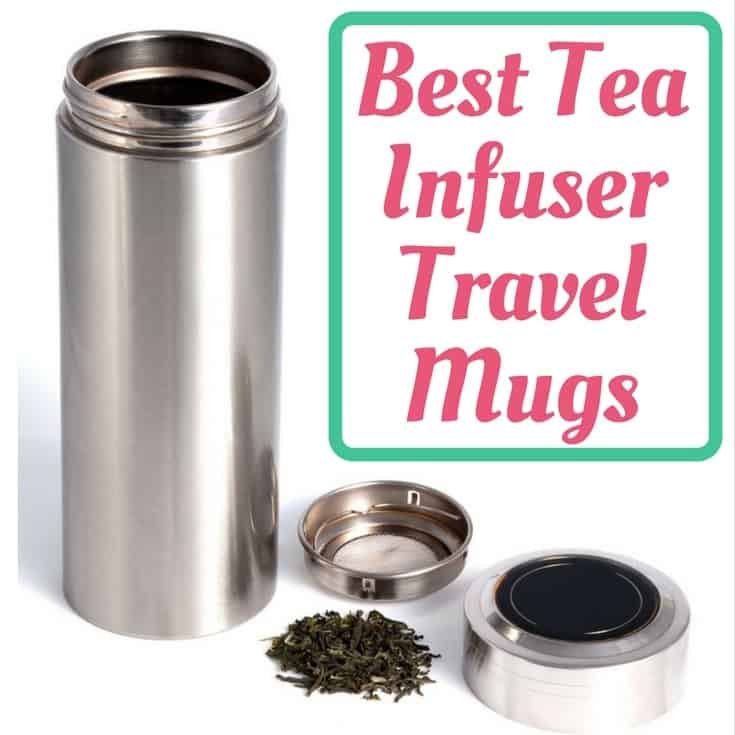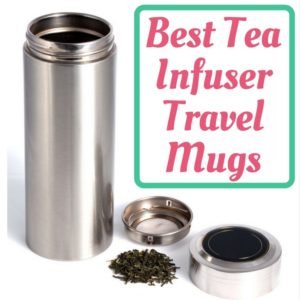 I love having tea with me wherever I go.
That's why I have bought several tea infuser travel mugs.
Why several?
Because they all leaked.
All but the last one I bought, anyway.
They were all tumblers and thermos bottles that come with a built-in (but usually removable) strainer and twist-on lids. They let you brew and drink your tea on the go.
In theory.
I travel a lot and when I put them in my backpack, they get jostled and inevitably leak from the lid.
That is not acceptable.
Travel mugs are different from a regular strainer tea cup, in that they have sealable lids. This makes them ideal for the road.
If the lid does not seal properly, there is no point. I could just get a tea strainer and use it with any old mug I already have lying around.
The good news is: I finally found the best tea tumbler with infuser for my purposes!
It took a lot of research to narrow down all the available options to only the really good ones.
That's why I wrote this post.
I wanted to give you my list of the 7 best travel tea infuser thermos bottles and tumblers.
They all perform as they should, so you can confidently choose the one you like best. I included various styles and colors, so you'll be able to find exactly what you need.
Tea Infuser Bottles And Tumblers Compared
My top choice is the 'Exlorer' Tumbler from Teabloom. It's the one I use now.
But Teabloom actually have a whole line of travel tumblers in different styles, that are just as good. You can see them all here.
These are by far my favorite travel mugs, but I felt it best to only include one of their mugs below.
If you prefer one of their other styles, know that they are all excellent and better than anything else I've found so far.
12/05/2023 09:57 pm GMT
Best Tea Infuser Travel Mug Reviews
'The Explorer' Glass Tea Tumbler from Teabloom
Teabloom Explorer Tumbler
• Reusable and sustainable, made of BPA-free, earth-friendly materials. No toxic products - just pure, functional, premium-quality design.
• Each model features an innovative, two-way stainless steel filter that lets you custom-brew tea or cold-brew coffee, strain fruit-infused water, and more.
• Hot stays hot, cold stays cold, and you stay happy and healthy.
• Slimline design fits into most cupholders and bags.
• Beautifully packaged for thoughtful gift-giving.
Learn More
We earn a commission if you make a purchase, at no additional cost to you.
The Explorer tea tumbler is a beautifully designed travel flask made from double-wall BPA-free borosilicate glass. It is lightweight, but durable and insulates the contents against the environment, keeping them warm longer.
It is great for loose leaf tea, fruit infusions, organic coffee, cocoa or as a water bottle for flavored water.
The Explorer flask holds 14 ounces. It comes with two leak-proof brushed metal lids (one holds the filter on the bottom and the other goes covers the opening you drink from) and a stainless steel strainer.
All parts are tested to the highest standards and are free of toxins or harmful plastic, so no chemical smells or flavors leak into your tea.
This is the best glass tea infuser tumbler and is beautifully packaged and gift-ready. It even includes a poem.
In case you are unhappy with your purchase for any reason, you can return for a refund and replacement within 30 days. Teabloom also gives you a full 1-year warranty.
LeafLife Bamboo Tea Tumbler with Strainer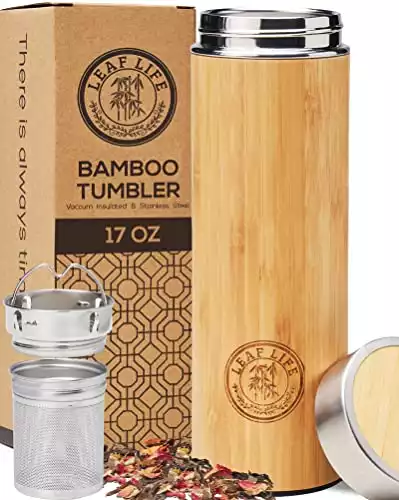 The Bamboo Tea Tumbler from LeafLife has a high quality 18/8 food-grade stainless-steel interior and an eco-freindly bamboo exterior. The bamboo keeps the outside cool to the touch and prevents condensation.
A double-walled vacuum insulation keeps hot liquids hot for up to 12 hours and cold liquids cold for up to 24.
Everything is 100% BPA-free and designed for easy access, so it is easy to clean. The interior is stain and odor free so you can use it for any drink you like: tea, coffee, cocoa, etc. It is not dishwasher-safe, though.
It fits most standard US car cup holders, making it great for your morning or afternoon commute.
In terms of looks, this is the best tea mug for travel I considered as part of my review. Moreover, LeafLife is a family-run business and they definitely seem to treat their customers like part of the family, too.
They give you a 100% lifetime warranty and let you return the tumbler at any time for a full refund, no questions asked.
Zojirushi SM-JTE46PX Stainless Steel Travel Mug With Tea Leaf Filter
The Zojirushi SM-JTE46PX Travel Mug with tea infuser is made from stainless steel and comes in two colors: deep blue and pink champagne. The exterior finish is gorgeous, but it also means this thermos tea infuser is not dishwasher safe.
That said, the interior has Zojirushi's easy to clean "Slick Steel" finish. It is easy to clean and resists corrosion and repels stains. The removable tea leaf filter lets you steep your tea directly in the mug. It keeps the loose tea leaves from flowing out when drinking.
The compact design takes up minimal space while still holding 16 ounces (or 11 ounces, if you buy the smaller version). Vacuum insulation ensures your beverages stay hot or cold for hours. The wide opening can accomodate ice cubes.
The one drawback of this travel thermos is that it is not designed for drinking. You can certainly drink directly from the thermos, but the opening is not ideal for that purpose.
When pouring the liquid out into a separate cup for drinking, this is the best tea thermos.
UEndure Travel Tea And Water Bottle
The UEndure travel tea cup is made from double-walled, insulated borosilicate glass and comes with two twist-off lids and a strainer.
The lid has some plastic parts, but only metal and silicone come into contact with the liquid. The filter screws into either lid.
This travel tea mug with infuser holds 14 ounces, but due to the glass and metal construction, it is the heaviest bottle on this list at 1.5 pounds. The bottle is dishwasher-safe, but the lids and filter are better washed by hand.
Some customers have mentioned that the lids need to be sealed quite tightly or else they leak a bit. UEndure do not have a warranty on their product so this may be of concern.
That said, the owners have pledged to donate 5% of sales to three causes: autism awareness, childhood cancer and addiction.
Vibrant All-In-One Travel Mug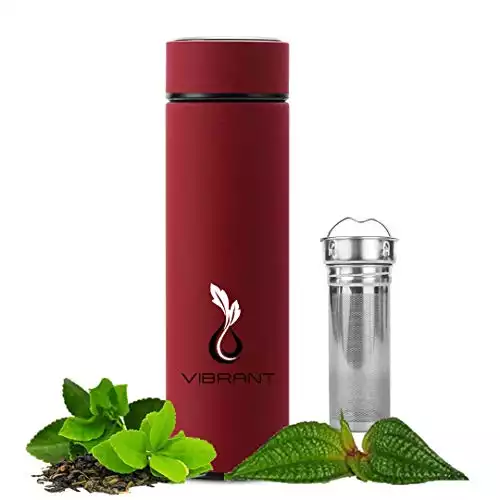 This tumbler tea infuser from Vibrant is the perfect travel mug. It might be the best tea infuser bottle that also functions as an insulated hot coffee thermos, a cold fruit infused water flask and so much more.
This tea thermos with infuser is made from a double-walled vacuum insulated stainless steel that keeps hot liquids hot for up to 12 hours and cold liquids cold for up to 32 hours.
It includes a 2-piece strainer and steeper. You can steep tea or remove the steeper and use only the strainer for a quick fruit infusion.
All parts are BPA-free, so you don't have to worry about harmful chemical leeching into your drink. Vibrant provide a 100% money-back guarantee and a lifetime warranty against manufacturer defects.
Teami BPA-Free Plastic Travel Tumbler (Multiple Colors)
The Tea Traveler from Teami is the only plastic option on this list. Most plastic tea tumblers are cheaply made and there is always a danger of chemicals leeching from the plastic when it is exposed to hot liquids.
I included this one, because it is well-made and uses only 100% BPA-free plastic.
The tumbler itself is made from double-walled plastic, to insulate the contents from the environment. The strainer is made from stainless steel and fits into the top of the bottle, to keep the loose tea leaves inside when you drink from the cup.
The Teami comes in 15 different colors. You can choose from: baby pink, black, blue, gray, lavender, luxe gold, orange, ink, purple, red, rose gold, white, yellow, green or luxe rose gold.
This tea to go cup also comes in two sizes, 13.5 ounces and 20 ounces, and the lid is watertight, making this the perfect tea travel mug with infuser.
'The Lotus' Glass Tea Tumbler Travel Bottle
'The Lotus' is a double-walled tea infuser glass bottle that comes with a stainless steel strainer and a bamboo lid. It is adorned with a gorgeous lotus design and beautifully packaged, making it the perfect gift for any tea drinker.
The glass is strong, but lightweight. This bottle weight only one pound, which is less than most similarly sized glass bottles. It holds 15 ounces. All materials used are thoroughly tested. They do not leak any harmful materials into your drink and they don't give off any chemical smells.
'The Lotus' is perfect for any drink, from loose leaf tea to fruit infusions to coffee to cocoa to flavored water to cold brew and more. It comes with a 30-day refund and replacement guarantee, so you can try it out risk-free.
Best Tea Infuser Travel Mugs: Final Thoughts
The one essential feature of a good travel mug for loose leaf tea is that it doesn't leak. That's why it is so shocking how many don't seal tightly.
All of the above do. They also all contain an infuser, so that you can easily brew loose tea leaves, without having to worry about them getting in your mouth and clinging to your teeth all day.
Moreover, these mugs are all insulated to some degree, so they keep your tea hot longer. They are also robust and can handle the rigors of the road.