A tea infuser mug is the perfect way to brew tea for one.
Teapots are great if you're brewing tea for a lot of people. But if it's just for you, they're too large.
For one, the tea gets cold before you can drink it all, though I don't generally mind that.
But there's a bigger problem.
You need a lot more tea leaves to steep a whole pot full of water. And steeping leaves only once is a waste.
But nobody wants to save a bunch of used tea leaves for the next day.
A tea strainer cup allows you to brew just the right amount of tea for yourself.
You can reuse the leaves 3 or four times, giving you three or four cups, instead of three or four whole teapots.
But which tea mug with infuser to get?
The problem is the large number of choices. Researching the best one takes time. That's why I wrote this post.
I narrowed all the options down to the 6 best loose leaf tea mugs. I included various styles and colors, so there should be something for everyone.
Best Tea Strainer Cups Compared
12/08/2023 01:07 am GMT
Note that these are regular tea cups that come with a strainer. The lids do not seal tightly, so they are not suited for travel. See our list of tea infuser travel mugs for the best tea cups for the road.
Top Tea Infuser Mugs Reviewed
The following reviews detail why I recommend each infusion mug and they will also help you decide which one of these tea steeper mugs is best for your needs.
Teabloom Venice Tea Cup with Infuser and Lid
The Venice Large Double Wall Cup from Teabloom is made of borosilicate lead-free hand-blown glass, which is durable and resistant to thermal shock. It is also BPA-free and can withstand extreme temperatures from -4 to 302 °F.
The stainless-steel infuser has a colored silicone ring that keeps heat in when steeping. Flip it over and it doubles as a coaster for the strainer. This allows you to save the tea leaves and steep them multiple times.
The borosilicate glass is lightweight, but strong. It is stove-top safe, dishwasher safe and resistant to chemical corrosion. Teabloom gives you a 1-year warranty and a 30-day money-back guarantee.
Forlife Uni Brew-In-Mug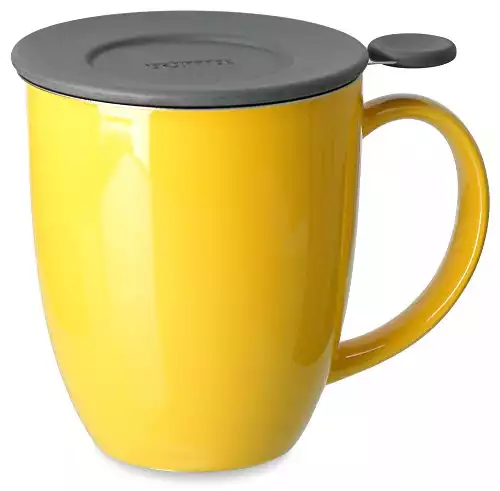 The Uni Brew-In-Mug from FORLIFE comes in 11 different colors, so you're sure to find one you like. It is made from lead-free ceramic with a BPA-free polypropylene lid. The large-capacity infuser is made from stainless steel. All parts are food-safe and can be put in the dishwasher.
The strainer has extra fine holes so your tea can circulate efficiently. The small holes also make it possible to brew even fine teas like rooibos. The large capacity and wide opening make it great for large-leaf teas as well.
The infuser is easily removable and the heat-resistant plastic grip ensures you don't burn your fingers. The ceramic mug also insulates heat well. Your tea stays hot and the handle stays cool.
This is one of the best infuser mugs available and is definitely worth the few extra dollars.
Forlife Curve Tall Tea Mug with Infuser and Lid
The Curve Tall Tea Mug from FORLIFE is made from lead-free high-fired ceramic. It comes with an infuser and a lid. The lid is also ceramic and the infuser is stainless steel. It is available in 11 different colors.
The strainer has extra-fine 0.3 mm holes, so you can brew even the finest of teas. It is also large enough to handle large-leaf teas like some oolong varieties. Whatever tea you drink, this mug can handle it.
The infuser basket is easy to remove, although the tab is not insulated. The lid functions as a holder for the strainer when turned upside down. This is a nice feature.
The pot I use does not do that, so I always have to use a plate, which then needs to be washed.
Tea Forte KATI Insulated Ceramic Single Cup Tea Brewing System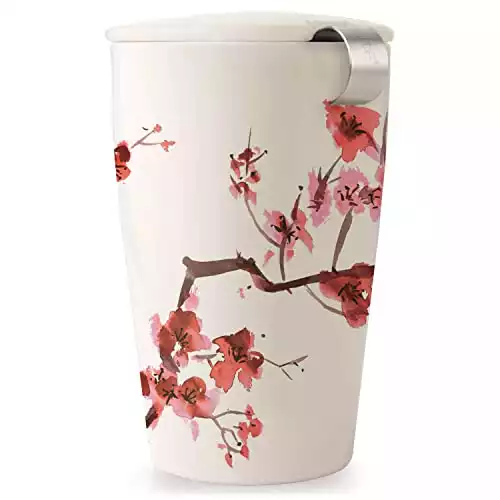 The KATI tea cup with infuser from Tea Forte is made from double-walled ceramic, which insulates your tea from the environment.
It stays hot, but the mug stays cool to the touch. It hold 12 ounces, which is less than most cups listed here. Some might prefer the smaller size, but I like a bigger cup.
The stainless steel infuser basket is removable, so you can reuse the same leaves several times. The handle on the infuser is metal and can get a little hot to the touch. It wont burn you, but an insulated handle would have been a nice touch.
There are over 15 different designs available, from plain colors to various artistic designs like the cherry blossom version pictured here. Unlike other mugs with multiple colors, Tea Forte do not list all the available designs on the same page.
This means you have to scroll down to the related products section to find all the other designs.
Forlife NewLeaf Glass Teacup With Strainer
The NewLeaf Glass Tea Mug from FORLIFE comes in seven different lid colors. The mesh strainer and the lid are made of stainless steel, apart from the colored silicone ring around the edge of the lid.
The ring creates a tighter seal between the lid and the glass, although it still just rests on the rim.
The infuser has a metal grip which can get hot to the touch. It won't burn your fingers, but is a bit uncomfortable. You won't want to hold it for long. Luckily, you can use the upside down lid as a perfect holder for the strainer.
The glass cup is microwave-safe, but obviously the metal lid and strainer are not. The cup can not be heated on a stove and is ideally washed by hand.
It should be fine in the dishwasher, but is not rated dishwasher-safe, so I'd err on the side of caution.
Tealyra Peak Ceramic Tea Mug With Infuser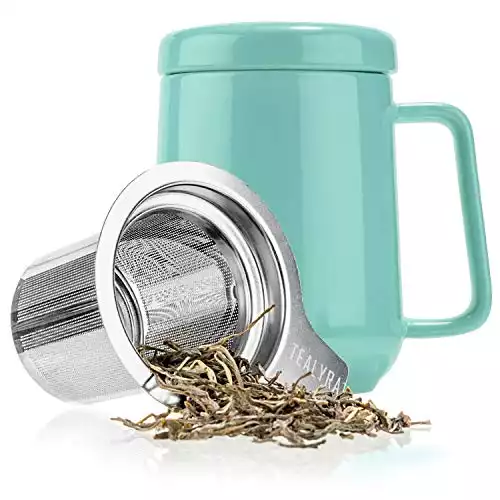 The Ceramic Mug from Tealyra is made from high-fired ceramic. It has the most standard mug shape out of all the options listed here. It is available in five different colors: black, lime, red, turquoise and yellow.
While the cup and lid are ceramic, the infuser is stainless steel. This means you can not put it in a microwave, but if you remove the strainer, the mug and lid are microwave-safe. All parts are fine in the dishwasher.
The infuser is all metal, including the grip. It can get hot to the touch. It won't burn your fingers, but you won't want to hold on to it for too long. Instead, flip over the lid and use it as a coaster to hold your leaves for the next steeping. Click below to see the current price on Amazon.
Asobu Tea Mug with Stainless Steel Infuser
Note: this mug is not available at the moment. Hopefully it will become available again soon.
The Asobu tea mug is made from glass, with a stainless steel infuser. The included lid is also glass. I've always preferred glass teapots and mugs, because I love watching the water slowly change color as the tea brews.
The large infuser allows you to brew any type of tea, no matter how large the leaves. The lid keeps the heat in your cup while brewing. When you are done, turn the lid upside down and use it to hold the infuser. With most loose leaf teas, you can get several steeps from the leaves.
This infuser cup is easy to use and dishwasher safe. The cup and lid are also microwaveable, though that is not a good way to make tea. Is it bad to microwave water for tea? No, but it just doesn't give you the best results.
Really the only negative with this cup is the metal handle on the infuser. It gets hot, although not hot enough to actually burn your fingers.
Still, it's hotter than I'd like, but this is a common problem with tea mug infusers. Very few have insulated grips.
How To Use A Strainer Tea Cup
Tea mug infusers are simple to use, so this will be a brief section. But before we get into the instructions, I want to reiterate one point.
These tea mugs with infuser are not suited for travel. If you plan on using yours during your commute or on the go in some other capacity, you should get a travel mug instead. Those have lids that seal shut, preventing spills. The cups on this page do not.
To use your infuser cup, simply fill the filter with the desired amount of loose tea leaves and place it inside the cup. Pour in hot water.
After letting the leaves steep for the requisite amount of time, remove the strainer and set it aside. With most models, the upturned lid does double-duty as a drip tray, so you can set the infuser on that.
Do not discard the leaves, since you can use them for subsequent steepings. I usually get 3-6 steepings out of my leaves and the first steeping is rarely the best one. I find numbers 2-4 to have the fullest flavor.
If you do not know the correct amount of tea leaves to use, how hot the water needs to be (it should only be boiling for black or pu'er teas) and for how long to steep the leaves, check out the pages for individual teas here. They all contain brewing instructions.
Tea Strainer Mug: Cleaning And General Care
Most models are dishwasher safe, but washing them by hand usually works better. When you hand wash, you keep tea stains at bay for longer. Whether you wash by hand or machine, eventually, you will get tea stains anyway.
To deal with tea stains, give the cup a good scrub with a paste made from baking soda and water. Then soak the cup in a solution of vinegar and salt for a few hours. After that, finish it off with another quick scrub, before rinsing it thoroughly.
Tea Infuser Mug: Final Thoughts
A tea infuser mug is very handy if you brew tea for yourself and no one else. Hopefully you found one you like among the list of the best presented above. Whichever one you choose, rest assured that they are all great options and you will be happy with any one of them!