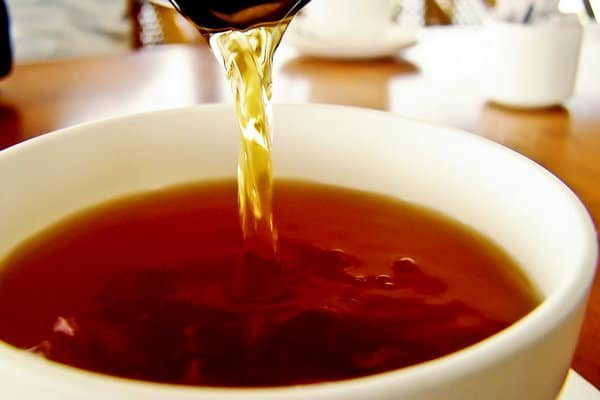 Black tea is made from tea leaves that have undergone more oxidation than white, green or oolong teas. As a result, it has a stronger flavor than the other types of tea and is easier to brew. It is also cheaper than other teas.
China and India produce the most famous black teas. Other well-known varieties come from Sri Lanka and Nepal.
How to Prepare Black Tea
The following brewing instructions are general, but they will work for most black teas; for detailed instructions on each variety, please refer to the pages for individual teas listed below.
In general, you'll want to use about 1 teaspoon of of tea per 8 oz. (236 ml) of water. The water temperature should be between 90-95ºC (194-205ºF) and the steeping time should range from 2 to 3 minutes.The amounts and times given are somewhat conservative; use them as a rough guide. If you find the resulting tea too weak, add more tea leaves or try increasing the steeping time.
Indian, Nepalese and Sri Lankan teas are best brewed in a glass teapot or a ceramic one like this:
The best way to prepare Chinese teas is using a traditional teapot made from purple clay. These teapots are called Yixing and come in a variety of shapes, like this Dalian-style Yixing:
Chinese black teas can certainly be brewed in the same teapot, but when it comes to ceramic vessels, many people prefer the traditional Gaiwan for Chinese varieties.
If you only drink black tea, there's probably no reason to get a gaiwan, but since it is the preferred brewing vessel for Chinese green teas, people who drink a lot of those will probably already have one.
For information on which vessel works best with individual teas and detailed instructions on using those vessels, please see the pages for the individual teas listed below.
Black Tea Varieties
While you'll find a seemingly endless variety, this site will focus only on the most famous and highest quality teas.
Chinese Black Teas
Keemun Tea: fruity, sweet and mellow taste and a distinct floral fragrance; the most famous Chinese black tea
Yunnan Black Tea: high quality varieties are gentle, with a sweet aroma and no bitterness; lower quality teas easily become bitter
Golden Monkey Tea: light with honeyed peach tones and no bitterness; took second place in the Signature Famous Tea: Hot Tea Class of the 2009 World Tea Championship
Lapsang Souchong Tea: strong, smoky flavor; reminiscent of a campfire or a barbecue
Indian Black Teas
Darjeeling Tea: slightly bitter with a spiciness described as "muscatel"; can be a bit difficult to brew correctly; perhaps the most famous black tea
Assam Tea: strong, bright color and a unique malty flavor; Assam is the world's largest tea growing region
Sri Lankan Black Teas
Ceylon Black Tea: citrusy aroma and a lively, refreshing texture with sweet juicy notes reminiscent of a mandarin peel or grapefruit
Nepalese Black Teas
Nepal Black Tea: very similar to, but much cheaper than, Darjeeling in appearance, flavor and aroma
All Articles About Black Tea