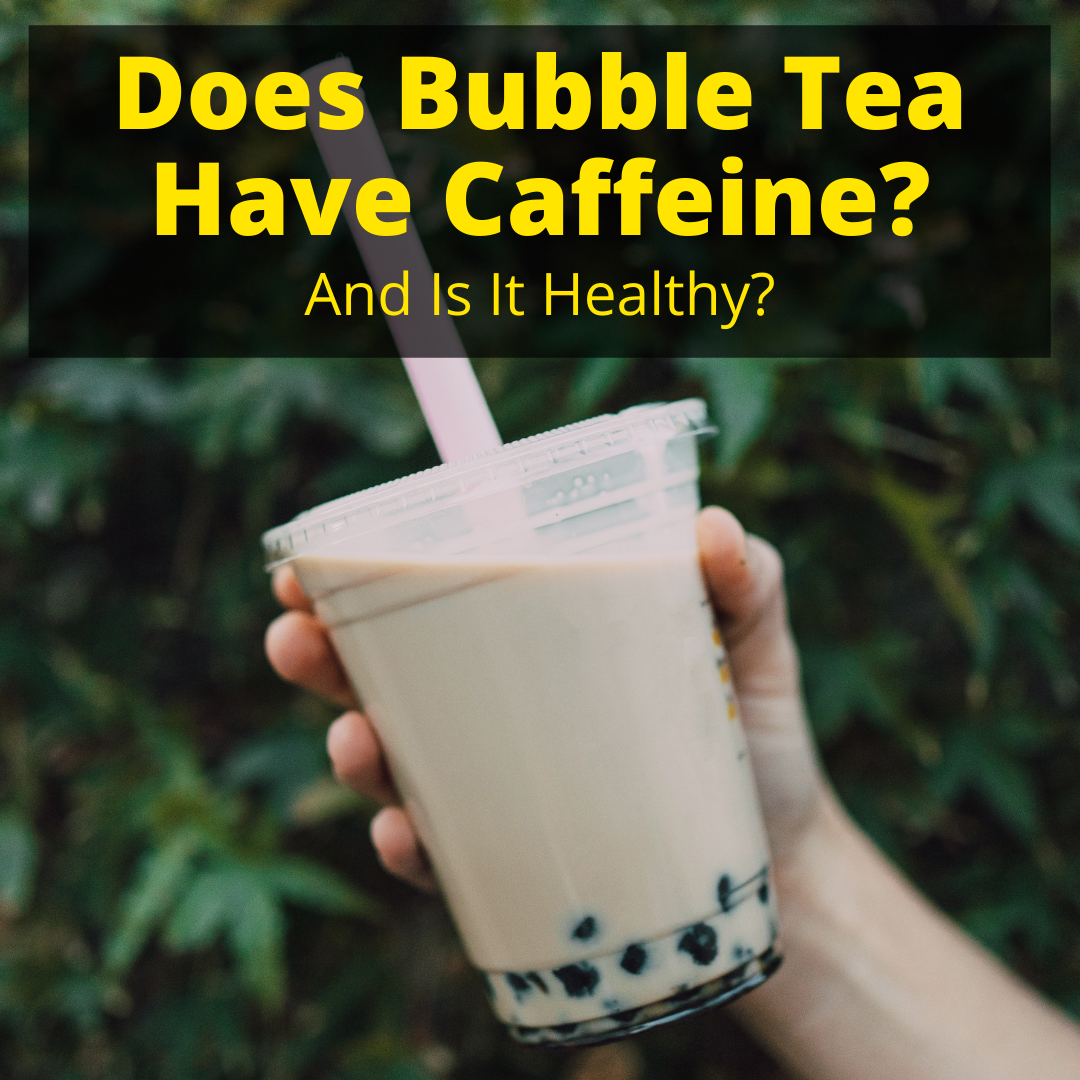 I remember my first time heading to Asia back in 2003.
I went to Fukuoka Japan to teach English for a year. In my first week, I noticed several of my Japanese coworkers drinking a tan-colored drink with a bunch of little balls in the bottom.
That's when I first learned about bubble tea.
At the time, it had become hugely popular in Japan, after arriving from either Hong Kong or Taiwan.
My coworkers were obsessed. But what was this strange drink exactly.
More importantly, what does it do for you?
Does bubble tea have caffeine? Does it have any health benefits? Or is it super unhealthy, like so many other popular drinks?
Keep reading to learn everything you need to know about Boba tea.
Does Bubble Tea Have Caffeine?
Most bubble tea has caffeine, because it is made with tea that contains caffeine, like black or green tea. Some places may have decaf bubble tea, but it is not very common.
What is Bubble Tea, Anyway?
Bubble tea, also called Boba, comes from Taiwan where it is extremely popular, especially among the young people.
It is a sweet drink made from tea, fruit juices and / or fruit chunks, and little balls of tapioca which are referred to as pearls. It usually contains sugar, or some type of sweetener.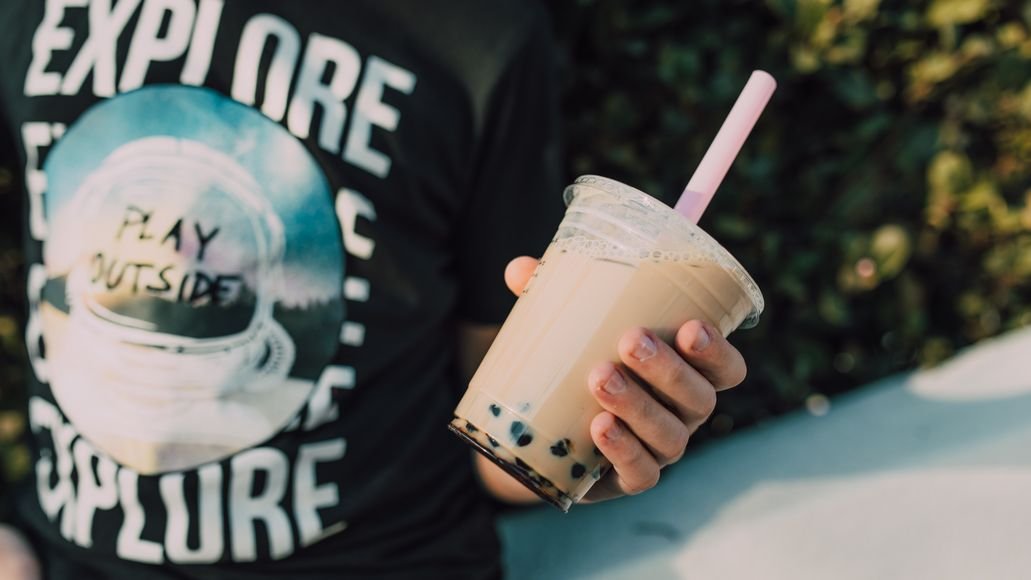 It is a unique looking drink. It looks a lot like iced coffee or a nice chai, but with a bunch of little balls in the bottom of it. It can be served hot or cold.
This drink has been around since the 1980s and it is so popular that there are specific bubble tea shops all over the place in many Asian countries, especially Hong Kong and Taiwan.
Bubble Tea Popularity Worldwide
Boba has become so popular now that kids and adults in the UK, Australia, the USA, and almost every other country know it by name.
The sweet unique looking tea drink is a caffeine boost and sugar rush all in one, much like any Starbucks drink would be.
It is marketed mainly to kids. As a result we have many kids here in the USA clamoring to get their bubble tea fix at shopping malls and juice shops.
Personally, I have had it a few times, but it is not for me. It is simply far too sweet. I find no need to make tea taste better by using a sweetener, and using as much as is in bubble tea (similar to sweet tea from the southern US) is extreme overkill.
As for the tapioca pearls, I guess I can understand the appeal. The soft and chewy balls do become somewhat addictive. They don't have any particular flavor, but it is the texture that is appealing. So much so that people add it to all kinds of other milk teas, like Hokkaido milk tea.
That said, it is this exact texture that some people simply find disgusting. If you do not like tapioca, you are not going to like Boba tea.
How Much Caffeine Is In Bubble Tea?
Depending on what tea is used to make it and how large a cup you order, it may have up to 170 mg of caffeine. Most have a lot less though and they are generally under 100 for regular sized cups.
But it is still a significant amount of stimulant and can really get kids riled up and going a bit batty. The sugar doesn't help.
The caffeine content is not nearly as high as a normal cup of coffee, but the caffeine and the sugar combined have a compound effect on kids, especially pre-teens.
Green Tea Boba Vs Black Tea Boba Caffeine Content
You can get Boba with green tea or black tea. When you get it with green tea it generally has about half as much caffeine as when you get it made with black tea.
The numbers vary a little bit depending on the specific type of green or black tea, but overall, you can expect less of a boost with a green boba tea vs a black. That said, green tea with milk just doesn't taste as good.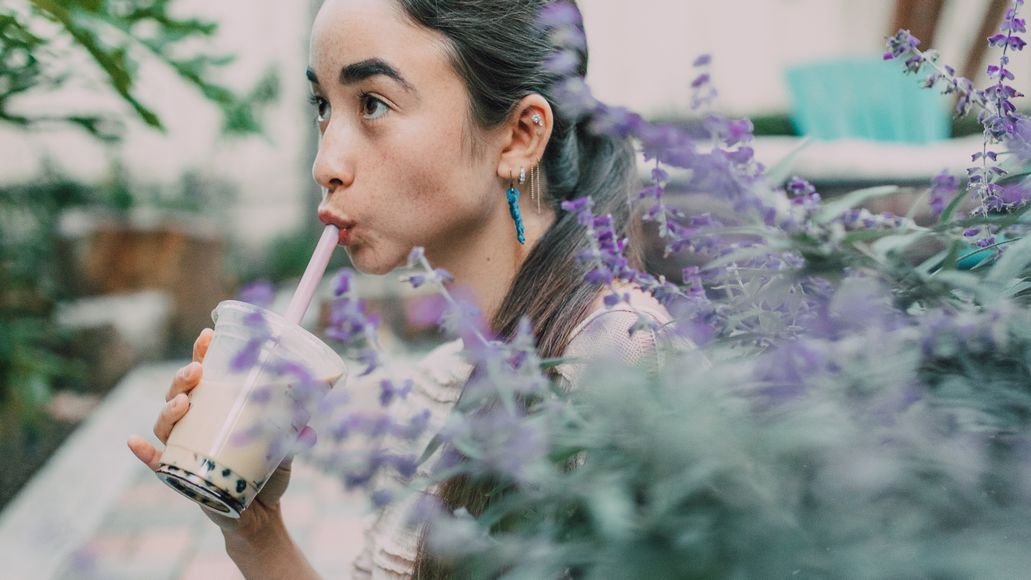 Boba Tea Caffeine Vs Soda Caffeine
If you are concerned about your child (or yourself) getting too much caffeine from bubble tea, let us take a look at some other popular garbage drinks for some context.
Black Tea Boba: 30 – 85 mg
Green Tea Boba: 10 – 45 mg
White Tea Boba: 14 – 40 mg
Coke: 35 mg
Dr. Pepper: 28 mg
Orange Sunkist: 43 mg
As you can see there is not an astronomical difference between the caffeine content of popular soda drinks and bubble tea.
Many factors come into play in the case of the Boba drink, like how big the drink is and what kind of tea was used, whereas the soda is calculated per can, so it is a static value.
There seems to be no real concern about the caffeine content of bubble tea being super high compared to most common drinks out there which you probably already consume.
Just keep in mind that sweet drinks can be addictive, leading to you drinking many of them in a short amount of time!
Is Bubble Tea Healthier That Normal Tea?
Absolutely not. Boba is full of carbohydrates. Most of them are empty carbs, like refined sugar. Just a single large bubble tea can easily contain 55 grams of sugar and a whopping 550 calories.
The pearls in the drink (which give it its name) are starchy carbs which are not good for you and can be hard to digest. In fact, there is a well known case of a Chinese girl who fell into a diabetic coma after routinely drinking bubble tea, which you can read about here.
In contrast to bubble tea, normal tea like Earl Gray (a black tea), or any green tea boast real health benefits. The same goes for any other type of tea and most herbal teas.
Every tea has its own genetic makeup and nutritional value of course but this small list is meant to give you a basic idea of some well-known benefits:
White tea may be the best tea for fighting cancer based on research
Chamomile is known to reduce menstrual pain and symptoms and stress
Rooibos improves blood pressure and overall cardiovascular health
Ginger can be used to fight indigestion and nausea and is also one of the best teas for menstrual cramps
More information can be found here.
Compare those well known benefits to what you have learned about Boba and it is easy to see which one is healthier for you.
Why Is It Sometimes Called Boba Tea And Sometimes Bubble Tea?
There is a distinct difference between the two, but they are used interchangeably all the time.
Boba is actually the word for the small little tapioca balls or 'pearls' that give the drink its unique appeal. Bubble tea is the name for the entire drink.
But you will often hear people referring to the entire drink as a 'Boba' when in fact, this is incorrect.
In the same way that people will call all sodas a 'Coke' in some parts of the world, the word Boba is often misused due to the ease of saying a short two syllable word over two complete words.
When did we all become so lazy in our way of speaking where everything is now a short cut for another word or an acronym? I suppose this is a topic for another time!
Bubble Tea Caffeine Content: Final Thoughts
In the end, bubble tea has a bit less caffeine than the tea that was used to make it, because it is usually diluted with milk. In general, the caffeine is not a problem, unless you drink a bunch of them.
Even then, it is not the caffeine that is the biggest issue, but the sugar. Most boba teas have tons of sugar. And the tapioca balls aren't exactly healthy either.