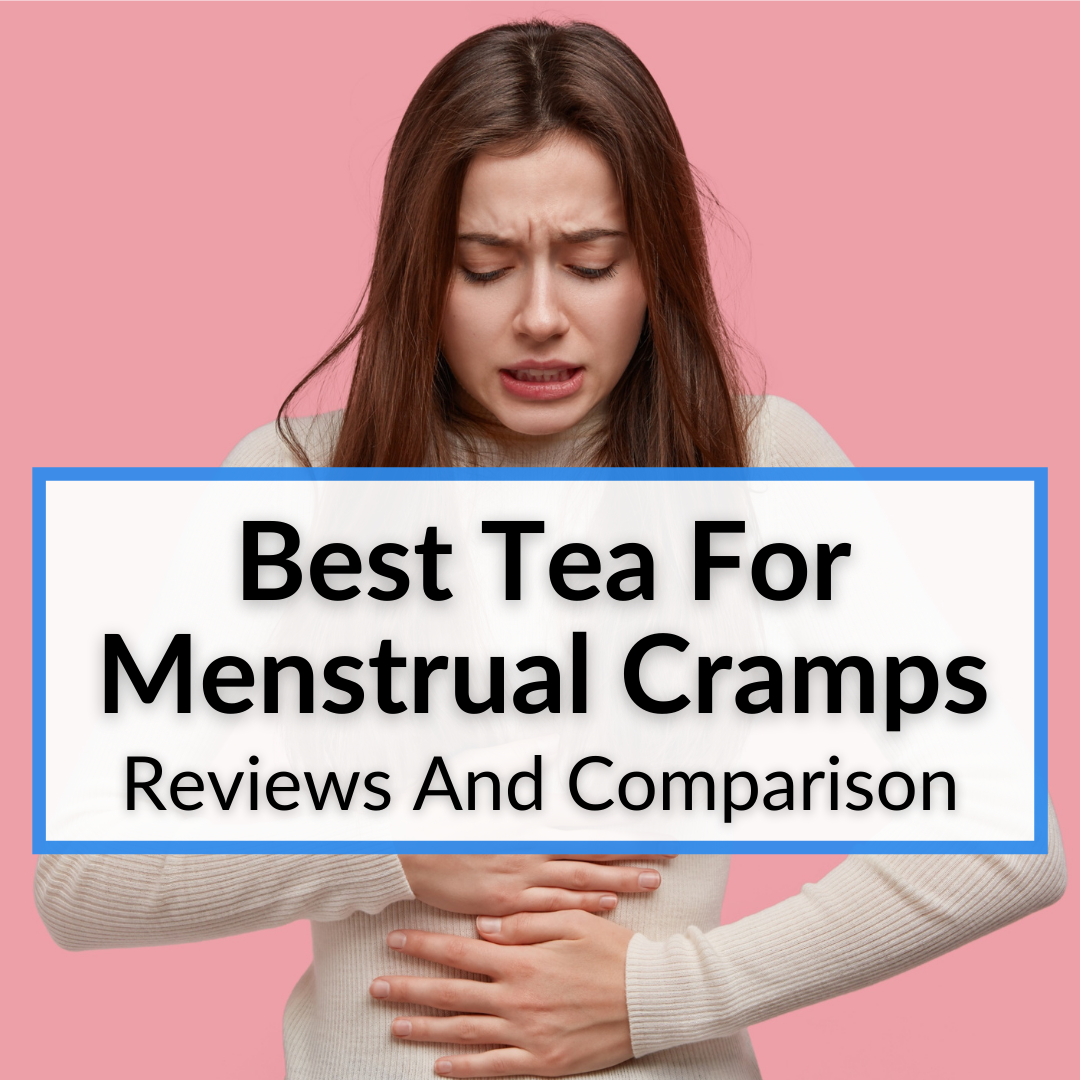 Raspberry leaf tea is the best tea for menstrual cramps.
The general consensus is that it is the most effective at reducing cramps and relieving the pain.
That's why you'll find two raspberry leaf tea options below.
Ginger tea follows closely behind, but not everyone can stomach this spicy drink.
We've included a ginger tea as well. A lavender blend and a chamomile tea round out our recommendations.
Whichever you choose, you should get some relief from menstrual cramps. But the raspberry teas will likely help you the most.
Keep reading to see all of our top choices.
Best Tea For Menstrual Cramps: Comparison
09/24/2023 08:42 pm GMT
Best Teas For Menstrual Cramps Reviewed
Below you'll find brief reviews of our favorite teas for menstrual cramps. We included several different types of tea, which means that they will benefit you in slightly different ways.
All are great. Which one is best for you depends on your personal tastes and preferences.
Best Raspberry Leaf Tea: Yogi Tea Woman's Raspberry Leaf
Yogi Tea Woman's Raspberry Leaf Tea Bags
Pros:
Pleasant, sweet herbal taste that goes down smooth

Effective at relieving menstrual discomfort

Easy to make

Excellent value for money

Can make stronger tea with no fear of getting too amped up
Cons:
Raspberry leaf tea may taste a bit sour to some people
View on Amazon
We earn a commission if you make a purchase, at no additional cost to you.
09/24/2023 08:42 pm GMT
Yogi Tea's raspberry leaf tea provides the most benefits to the most people. That is why it is number one and the best overall tea in this lineup.
It comes in tea bags, though you can find it in loose leaf form, if you like. The box contains 16 tea bags of raspberry tea, which is a popular type of herbal tea for aiding in period cramps.
Herbalists and midwives have used raspberry leaf for centuries to ease the annoying and painful cramps that come with the monthly visitor. It has also been used to help with pain and discomfort during pregnancy.
But you want to make sure not to drink too much of this tea. You can drink too much herbal tea, no matter which type it is. Limit yourself to 4 cups or less per day.
Features
Made with organic raspberry leaves: ensures you are getting pure raspberry leaf with no fillers or harmful chemicals.
Non GMO: this tea is certified non GMO and organic, meaning it has been inspected and certified by the governing bodies of those organizations.
No caffeine or gluten: vegan safe and contains no caffeine which can cause jitters and irritability when you are on your period.
Best Ginger Tea: Traditional Medicinals Organic Ginger Tea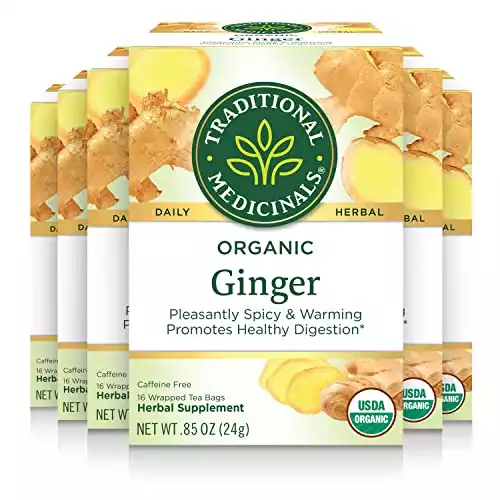 Traditional Medicinals Organic Ginger Herbal Leaf Tea (6 Packs of 16 Tea Bags Each)
Pros:
Highly effective at reducing discomfort caused by the menstruation cycle

Pleasant tasting once you get used to the spicy ginger

Fully organic and pure, with only one ingredient

Pairs well with almost any sweet additive, like sugar, honey, or other sweeteners
Cons:
More expensive relative to the vast array of cheap teas in this category

Some people are turned off by the spicy taste (put honey in it!)
View on Amazon
We earn a commission if you make a purchase, at no additional cost to you.
09/24/2023 08:37 pm GMT
Traditional Medicinals Organic Ginger Tea ticks all boxes when you need a tea to help relieve your menstrual cramps. This is the best high quality tea I could find to relieve menstrual discomfort.
Ginger is one of the best types of tea for abdominal and pelvic discomfort, and this brand and product is particularly good at it. It comes in a box with 16 tea bags so if you drink a couple of cups a day it should last for your entire cycle, and you may still have some left over for the next time.
It is not the cheapest tea, but it is highly effective and has no bad chemicals or side effects when used properly. My favorite part about this tea is the ingredients list. It has one ingredient, organic ginger rhizome. That is the entire ingredients list!
If you are unfamiliar with ginger tea, it may seem a bit intense at first because good ginger tea is spicy to the lips and tongue. Ideally you can pair it with a small amount of honey for a smoother drink.
Features
Aids digestion and reduces nausea, especially from motion sickness. When you are on your period you can feel out of sorts and this tea helps get you centered again.
Spicy taste and calming to the stomach: all ginger tea is spicy, but this one is not quite as spicy as some, and has a unique brisk taste.
Non-GMO: this tea is certified non-GMO as well as organic. In addition to both of those certifications, it is also Kosher and caffeine free. This helps with peace of mind, knowing you are only ingesting pure safe ingredients.
Smaller Raspberry Leaf Package: FGO Organic Red Raspberry Leaf Tea
FGO Organic Red Raspberry Leaf Tea Bags
Pros:
Extremely popular tea with over 53k positive reviews at the time of this writing

Low cost, but you only get 20 bags

Great taste

Effective at reducing discomfort during the menstrual cycle
Cons:
The tea bags don't have any tag or string, so you have no choice but to use a spoon for steeping
View on Amazon
We earn a commission if you make a purchase, at no additional cost to you.
09/24/2023 06:37 pm GMT
FGO Organic Red Raspberry Leaf tea packs a lot of tea into a small package, for a small price. In addition to being another high quality option for red raspberry leaf tea, it is the cheapest option on this list.
But you only get 20 tea bags. If you don't need more, this is great. But if you know you'll want more, other options on this list cost less on a per-bag basis.
The package is a recyclable craft paper pouch with compostable teabags inside. The tea is sourced from Germany, and the packaging is extremely eco-conscious.
The tea bags themselves are made of hemp fiber, which is a compostable material. There are no dyes, glue, bleach, or other nonsense in this product.
It has a semi-sweet herbal raspberry flavor which is pleasant to drink, especially with a sprig of mint leaf added on top for some spice.
Features
Low Cost: less than ten bucks, but you only get 20 bags, so you're actually paying more per bag
Stays Fresh: the pouch that contains the individual bags is foil lined, and will keep the bags fresh for longer than teas that are placed in a normal cardboard box.
Money Back Guarantee: FGO offers to give you a full refund if you don't like the tea, which is not a common thing to find with tea brands.
Best Blend: Pink Stork Calm Lavender Tea
Pink Stork Calm Tea Lavender Herbal Tea
Pros:
Very pleasant tasting tea

Calms the nerves during the stress of your period

Organic ingredients

Pretty tea bags with strings for steeping
Cons:
I would rather they included 30 smaller bags instead of re-using each bag, it is annoying
View on Amazon
We earn a commission if you make a purchase, at no additional cost to you.
If you are sensitive to caffeine or you dislike being anxious, this tea is the best choice for you.
In addition to being an effective aid for your period discomfort, it has the added benefit of also helping to calm you down mentally and physically, while relieving your abdominal pain.
Pink Stork Calm Tea is a sleep aid tea that contains dandelion and natural vanilla flavor. It is a great tea for calming your stomach and for calming your nerves.
The Pink Stork company is women owned as well, so you can be sure you are supporting other women when you buy this product.
The tea bags are of the pyramid shaped variety with a string and tag on top for easier steeping. You get 15 tea bags per pouch, and each pyramid will make 2 cups, so you get a total of 30 cups with one pouch.
Features
Relaxes You: calm tea relieves stress in the body and mind while helping to resolve tension headaches and of course, menstrual cramps.
Organic: all the ingredients in the tea are organic ingredients and it is USDA certified in this regard.
Caffeine Free: there is no caffeine in this tea, it has the opposite effect of making you jittery.
Women Owned And Operated: the company is owned and operated by other women, so you know you are supporting women having their own businesses.
Best Chamomile: Taylors Of Harrogate Organic Chamomile Tea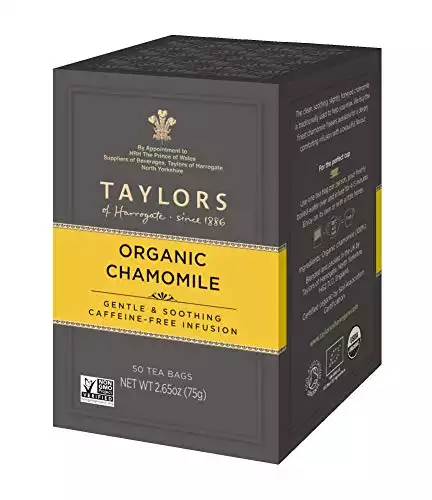 Taylors of Harrogate Organic Chamomile Herbal Tea (50 Teabags)
Pros:
Great taste that goes well with lemon and/or honey

In addition to calming the abdominal area, it relaxes your whole body

Not expensive for the number of teabags you get per box

Organic and ethically sourced
Cons:
Chamomile does not help with menstrual cramps as much as raspberry leaf or ginger
View on Amazon
We earn a commission if you make a purchase, at no additional cost to you.
09/24/2023 08:32 pm GMT
There are not many people that don't like chamomile tea. Taylors of Harrogate do a great job here.
This is the best tasting tea for relief from menstrual cramps on this list. If you add a small amount of honey, it is especially sweet and tasty.
Chamomile has a distinct flowery smell and soft sweet taste that men and women both love, especially near bedtime. It has a calming effect on the whole body, not just the abdominal area. Chamomile before bed is a time honored tradition in my house.
The tea comes in a box with 50 individually wrapped tea bags, which is a lot for this category. This tea is a great value for the money. It is also abalone free, which is a concern for many people who are allergic to abalone.
Features
As another organic tea, it uses only ingredients that are not grown using pesticides or other harsh and unhealthy chemicals.
Strong floral chamomile flavor with lots of tea packed in each bag.
Chamomile tea has no caffeine, so it is safe to drink any time of day and will not cause any unwanted side effects associated with caffeinated drinks
This tea has been honored with the Queen's award
Tea For Menstrual Cramps Buying Guide
In this guide, we'll go over the main characteristics to look for when you consider a new tea brand. IF you are planning to get one of the teas listed above, you can safely skip this section.
Types Of Tea To Consider
There are a handful of teas that are known to help in relieving discomfort caused by menstruation. Here they are, ordered from the most effective to the least.
Raspberry Leaf
Ginger
Peppermint
Cinnamon
Chamomile
Oolong
Green tea
Thyme tea
If you don't care for any of the teas on this list, now you know which types of teas will help you during your period. The consensus around the internet is that red raspberry leaf tea is the most effective for relieving cramps, followed by ginger tea.
Qualities To Look For
The following are the most important qualities to consider when buying a new tea.
Taste
It doesn't matter how beneficial a tea is if you don't like the taste. That is the reason I tried to make this list diverse, with several different flavors. Make sure you choose a flavor that you know will make you happy and excited to brew a cup.
Effectiveness
There is no point in drinking tea to aid your menstrual discomfort if it does not work. Look at the list above under types of tea to consider and if you like the taste. Try to get one near the top of the list.
Ingredients
There are hundreds of brands of tea out there and many of them are mass produced, with little regard for what pesticides are used. Last year I stopped buying any vegetables or teas that weren't certified organic.
The dangers of pesticides and preservatives are now well known, so try to only buy tea that has simple ingredients, and ideally, is organic.
Safety
Just because something is organic does not mean it won't have a negative effect on your body. If you have known allergies, make sure to check each tea to look for ingredients that may trigger an immune response.
Also, if you are taking any medications, it is a smart idea to google your medication names as well as the ingredients in any tea you are considering buying.
Most of these teas are safe for almost everybody, but some of them may have interactions with your medications, so be careful and do your research, or better yet, ask your doctor.
Flavor Vs Result
There may end up being a compromise on your end as a tea buyer. Since you are looking for a tea to do a certain job, almost like a medicine, you may have to compromise a little with taste to get the relief you need.
For example, ginger and raspberry leaf are the most effective and fastest acting teas to calm your cramps, but you may not particularly love these flavors.
It will end up being your decision alone which one to go with, but keep in mind you are drinking it for a specific reason. You may have to accept that it is not your favorite tea to taste.
I always recommend adding a bit of honey or mint, or both, if you are going to go with a tea whose flavor you don't particularly like. That is the easiest way to improve the flavor of tea.
All of the teas on this list are effective at helping with period cramps. If you are especially picky, chamomile is the safest bet, since it is not spicy or too herby tasting.
Price Vs Benefits
Tea is not a very expensive drink, all things being considered. A six pack of soda will cost you over five bucks these days.
A box of tea can go from around 7 bucks all the way up to about 30, depending on the quantity of teabags and prestige of the brand name. But you get far more actual cups of the drink for that money than you do with a soda. Not to mention the health benefits.
Since tea is not expensive, you can probably focus more on what the tea will give you versus how much you are spending. Of course, there are some teas that cost over 20 bucks. But you end up getting enough teabags to last you 2 or more periods.
When trying to choose which to buy, focus more on the other things like taste, effectiveness, safety, and ingredients. Price is not going to be a major consideration for most people.
If money is extremely tight, there is a great option on the list that is under ten bucks! But consider that you only get 20 tea bags. Your overall cost is less, but you actually end up paying more per individual bag.
Teas To Avoid On Your Period
Any highly caffeinated tea is best to avoid on your period. During this time your body is sensitive, and you may already be moody and irritable.
Teas made from the actual tea plant all contain caffeine, so you might want to avoid them, if you know caffeine can be a problem.
That said, there are plenty of options that contain less caffeine, like most oolong varieties (read our comparison of green tea and oolong tea for more). Reducing the steeping time and using fewer leaves also reduces the caffeine content in your cup.
You should also be aware of side effects of green tea and other regular teas. These generally only come into play when you drink too much tea (more than 4 cups per day), but can be magnified when on your period.
Storing Your Special Tea
The teas here all come in either a pouch or a box. The teas that come in pouches are not individually wrapped, so you need to take special care to keep them fresh.
Even if the pouch is resealable, it is not foolproof. We have all thought we sealed a Ziplock bag only to find out a few days later that it has been open the whole time.
Even though none of these are loose leaf teas, it is a good idea to treat them like they are, especially since you will be storing them for at least a month until your next period.
My best advice is to find a good glass or ceramic storage container that has a nice airtight seal that will keep any air from escaping or coming in.
Most teas do best in a cool, dry spot. Some will keep longer in the refrigerator, provided they are truly in an airtight container.
If the container is not airtight in the fridge, you may end up with tea that tastes like yesterday's leftovers, instead of fresh raspberry or ginger.
Some people like to brew a lot of tea at once and then drink it slowly over a few days. If you do this, the brewed tea needs to be refrigerated, if it will sit out for longer than 8 hours.
Teas For Menstrual Cramps: Final Thoughts
As mentioned in the introduction, red raspberry leaf tea is generally considered the most effective at relieving menstrual cramps. If you're not sure which tea to get, get one of the raspberry leaf varieties listed above.
Ginger tea is also a great option and one many of us might already have at home. Even if you don't have any tea bags, you probably have some ginger. Just slice it up and put it in some hot water to make your own ginger tea. Add lemon and honey, if you like.
With 4 vastly different options above, you're sure to find at least one that is effective in relieving your discomfort and that tastes good to you.