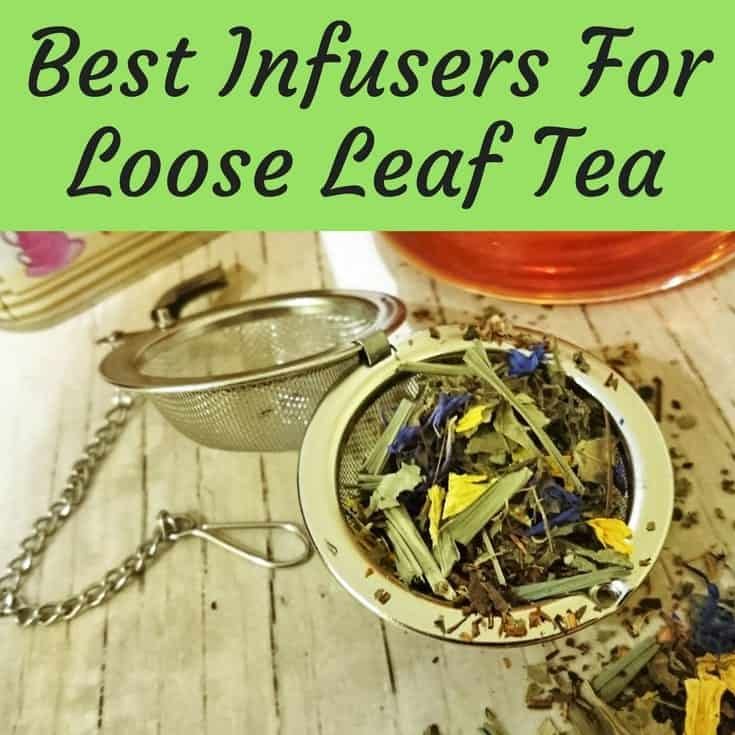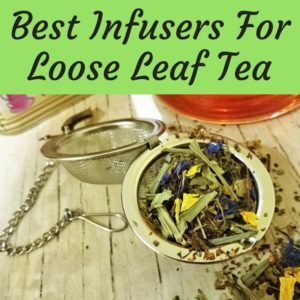 Nothing beats a loose tea infusers for simplicity.
Whether it is a ball infuser, a basket or a cute animal, you can use it with any cup or mug you already have.
Some work with larger teapots as well.
They are the cheapest and easiest way to start drinking loose leaf tea.
The only problem is the huge number of choices.
You want to make sure you get one that doesn't allow tea leaves to escape and that is made from food-safe materials.
You also want it to be well-made and the right size.
I've narrowed all the options down to the 6 best tea steepers.
I included several different styles, from a simple ball infuser, to baskets, to novelty strainers shaped like manatees and dinosaurs. You're sure to find one you like.
Best Loose Tea Infusers Compared
12/08/2023 01:57 am GMT
These are all infusers only. If you are looking for a mug with infuser, check out this page. For mugs made especially for the road, head here. If you need a teapot with an infuser, go here.
Best Tea Strainers Reviewed
The following brief reviews describe why we recommend these tea filters and should also help you figure out which one is the best for your needs.
Best Tea Strainer Overall: Teabloom Tea Infuser Baskets (Stainless Steel Or Glass)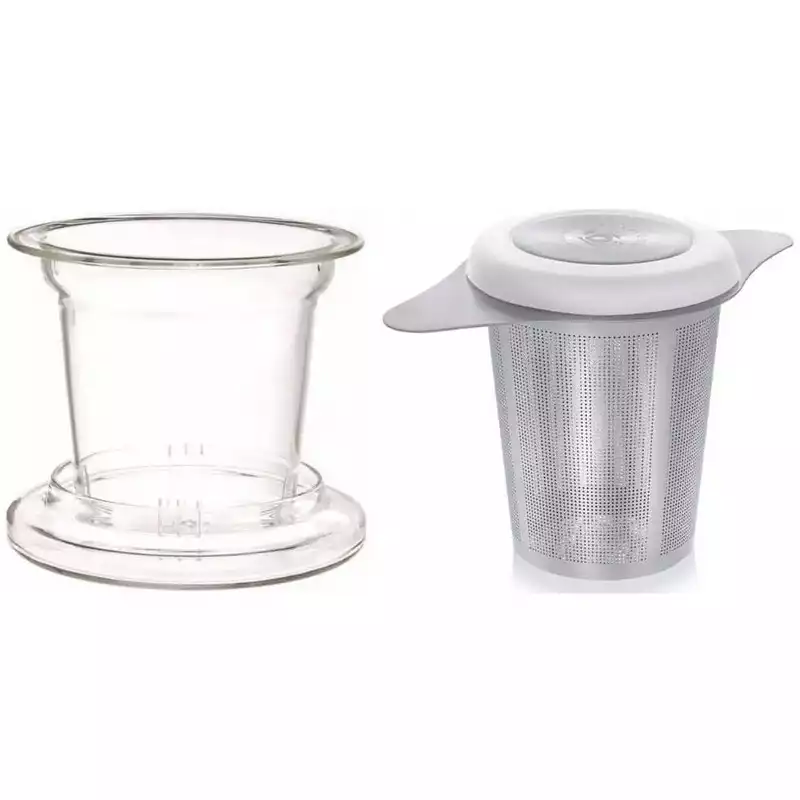 Teabloom offers three different basket-style tea infusers. One is made of glass and the other two are made of food-grade stainless steel. All work equally well. I generally like the glass on for glasses, glass cups, pots or mugs, and the steel ones for everything else.
The premium basket infusers from Teabloom fit any cup, mug, glass or pot with an opening from 3 to 5 inches, thanks to the large handles on the steel version and the gradual increase in size and lip on the glass one.
The ultra-fine holes on the steel filter and slits on the glass one ensure you can brew any tea, from large leaf oolong teas, to green teas, to small-leaf teas like rooibos.
These loose leaf tea strainers come with a lid to keep in the heat while steeping. It doubles as a drip tray coaster for the basket, so you can set the leaves aside for subsequent steepings without making a mess.
The handles on the basket and the lid are insulated, so you don't burn your fingers.
The only materials used in construction are premium quality stainless steel and food grade silicone, so there is no chance of dangerous chemicals leeching into your tea. All parts are dishwasher safe.
Teabloom stand behind their product. If there is any issue with your strainer and drip tray lid, they will replace it, no questions asked. The warranty period is 1 year, and they also allow returns within a 30-day period.
Best Budget Infusers: Novelty Silicone Loose Tea Infusers (Many Different Designs)
A lot of people stay away from plastic tea infusers, but these adorable novelty strainers are made from non-toxic, FDA-approved, food-grade silicone.
They will not alter your tea with a chemical aftertaste or an unpleasant odor and does not contain any BPA. Any of these strainers make a great gift item and conversation piece.
These strainers are microwave oven safe and can be placed in the top rack of your dishwasher for easy cleaning. The silicone is non-corrosive and will not rust or discolor like many of the metal tea infuser balls and baskets.
There are a bunch of different animals, characters and other designs. You can check them all out on Amazon by clicking below.
They are all simple to use: just pop them open, fill them with your favorite loose tea leaves and hang them from the rim of your cup by their hands, bodies, tails, or whatever the case may be for each particular one.
The silicone is heat resistant, making it easy to remove without scalding your fingers.
Best Infuser Set: Chefast 2+1 Pack Stainless Steel Tea Strainer Basket Set
The Chefast set is the most expensive item on this list, but when you consider everything you get, it's actually the best deal of the bunch.
Assuming you can use all 4 components, of course. You get two small strainers for individual mugs, one large strainer for teapots and a tea scoop with a bag clip on the handle.
With this set you get everything you need to brew a cup of tea for yourself or for several people at once. The scoop is a nice touch. Personally, I just use regular teaspoons and wouldn't go out of my way to get a specialized scoop, but if I had it, I would definitely use it.
All parts are made from premier-grade 304 stainless steel. They are dishwasher safe, but you can also just clean them by running cold water over them.
They come in a stylish box, making this a great gift for weddings or other occasions. They are backed by a one-year warranty.
Best Coffee And Tea Infuser: Finum Fine Mesh Brewing Basket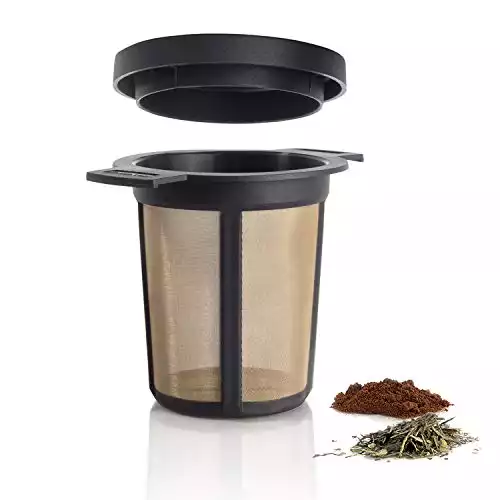 The Finum brewing basket comes in two sizes: the medium size pictured here fits cups with diameters from 2.3 to 3.5 inches. The large version is 3.8 by 3.8 by 4.2 inches and fits cups with diameters from 2.8 to 4-inches. Both sizes come in three colors: black, red and blue.
The frame of the basket is made from heat-resistant plastic and the fine mesh is 18/10 stainless-steel. Neither affects the taste or aroma of your tea. You also get a lid to keep your tea warm while brewing.
It can be flipped over and used as a drip-off tray as well. All parts are dishwasher safe, but can also be cleaned under tap water.
The delicate tissue structure of the fine mesh filter means you can use this product for fine teas and even coffee. It is the only model on this list that also works for coffee, making it the most versatile.
Best Ball Infuser: Loose Leaf Tea Ball Infuser From Yeosen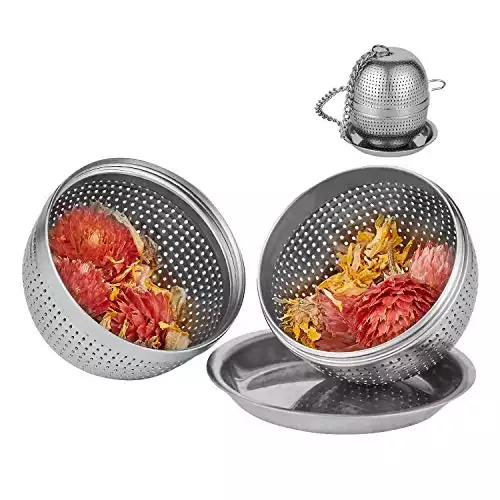 The tea strainer ball from Yeosen is made from a thicker 18/8 stainless-steel that keeps even the smallest tea leaves inside and doesn't trap leaves in the mesh, making it easy to clean.
Tea infuser balls are probably the most portable of all the options, but I personally prefer other styles. It's probably just me, but I often have the chain fall into the tea, making it a pain to get the ball out.
Luckily, this Yeosen ball filter has a little hook on the end of the chain that hooks onto the rim of your mug or glass, keeping it from falling in.
You can clean the Yeosen ball in the dishwasher, but it's not really necessary. Just run some water over it to remove the leaves and you're good to go
It also comes with a drip tray, which is a great addition. I hate having to use a saucer to keep the infuser on between steepings.
Runner-Up Best Set: Apace Living Stainless Steel Tea Infuser Basket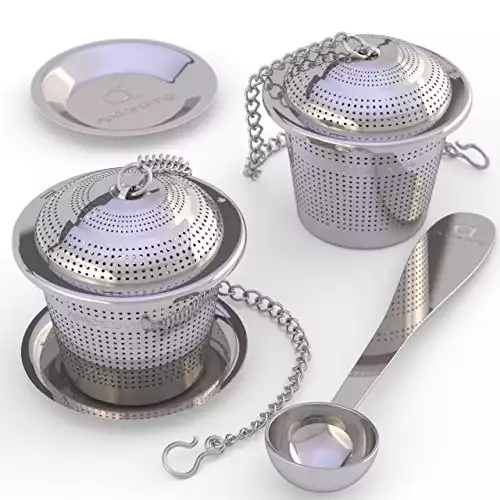 The basket tea infuser set from Apace Living includes two baskets, a tea scoop and two dip trays. Everything is made from the finest 304 grade stainless steel. It will not rust and is dishwasher safe, although you can generally just rinse everything clean under running water.
These basket infusers will fit almost any size mug or cup and are best for large and medium leaf teas. They work for fine teas like rooibos, too, but some debris will occasionally escape through the holes with ultra-fine teas.
This set makes for a great gift, too. Whether you buy it for yourself or someone else, it is backed by a 30-day money-back guarantee and a one-year warranty, so you can try it out risk-free.
Tea Strainer Instructions
Using a loose tea infuser is simple. The actual method differs slightly from one infuser to the next, but the general principle is always the same.
You take your tea leaves and fill them into the filter, then put it in hot water. Lets look at each style of infuser and see exactly how it is used.
Basket Infusers That Hang On The Rim Of Your Cup
These strainers are the easiest of all to use. Simply place them in your mug, so that they hang from the rim. Fill your tea leaves into the basket and then pour hot water over the leaves.
Basket Or Ball Infusers With A Chain
These filters are slightly more complicated, in that you have to open the basket, ball or whatever other shape the filter might take. Not that doing so is difficult in any way.
Once open, fill with tea leaves and close it up again. Then place it in your mug, with the attached chain dangling over the rim, so that you can easily remove it. Add hot water.
Animal Or Character Infusers
These strainers take the form of various animals, people or inanimate objects. They always pop open somewhere, so that you can fill them with tea leaves and have holes through which the water can enter and come into contact with the leaves.
Once the leaves are inside and the strainer is closed, put the filter into a cup of hot water. Some hang on the rim and some go inside the mug. I prefer to put the strainer in place first, then add the hot water.
Using an infuser correctly is not hard. Once the water has been added to a cup with any type of strainer, just let the tea steep.
Usually, your tea should come with instructions for the amount of tea leaves to add and how long to steep them. If it does not, try the general instructions on this page: https://letsdrinktea.com/brew-loose-leaf-tea/
Once the cup of tea is ready, remove the strainer with the loose tea leaves. Set it aside, but do not discard the leaves. You can use them again for additional steepings. Most loose teas give you 2 to 5 good steepings and usually, the first one is not even the most flavorful.
Best Tea Infuser: Final Thoughts
If you already have a mug or teapot you like, but it does not have an infuser, these loose tea strainers are the perfect solution. They are very inexpensive and work with any type of container. Now you can brew your loose tea leaves in anything!