I travel a lot and like to brew my own tea on the road.
The best way to do that is with a small electric kettle.
It shouldn't take up much space in my bag (bonus tip: stuff the inside with t-shirts or socks to save even more space) or weigh a lot.
No overweight baggage fees for me, thank you!
But finding a small travel kettle turned out to be surprisingly difficult.
Local stores don't carry them and Amazon won't let you sort by size.
I ended up spending several days compiling a spreadsheet of undersized kettles, whittling it down to the best ones, then sorting by size to find the smallest.
I decided to write this article to save you from having to spend all that time repeating my research.
Below are the best small kettles on the market, first compared in a table, then a quick review of each. Before that, a brief summary of my recommendations.
Small Electric Kettles Compared
12/08/2023 02:17 am GMT
A lot of readers wrote in saying they didn't want to read through all the reviews and just wanted me to tell them which kettle is best. That's why I added this short section.
Best Electric Kettle Overall
The best overall kettle is the Ecty Water Kettle. It is small and lightweight, despite being made from stainless-steel, which I prefer to plastic.
The one drawback is that it only holds 17 ounces (0.5 liters), which may not be enough for everyone (it's about 4 cups of water).
Best Kettle For Road Trips or Camping
If you are planning to use the kettle on road trips or while camping, you probably won't have access to a power outlet. In that case, the Spardar Car Kettle is the best choice.
It plugs directly into the cigarette lighter plug in any car. As a result, it gets less power than other kettles, though and takes much longer to heat water (about 15 minutes when full).
Highest Quality Kettle
If you don't mind a bit more size and weight (and a higher price), then the Oxo glass kettle is the best choice. It is the highest quality kettle we reviewed.
But it's a glass kettle, which means it weighs quite a bit more. It is also larger. It is definitely the least portable kettle on this list.
Best Small Electric Tea Kettles: Reviews Of The Top 9
With the brief summaries out of the way, here is a bit more on each recommended kettle. These are listed in order from the smallest to the largest.
Ecty 0.5-Liter Electric Travel Kettle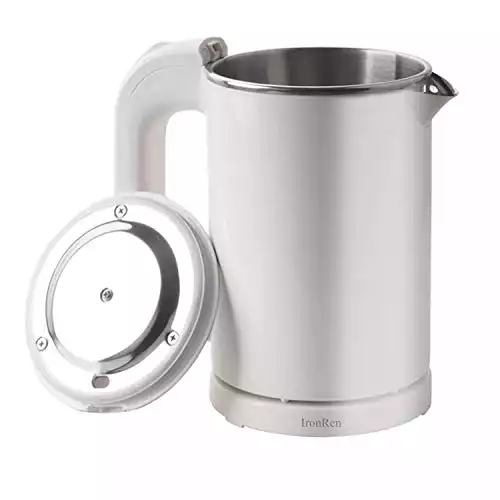 The Ecty travel kettle stands out among 2 cup electric kettles. It is rated for 17 ounces, but in reality, you can get up to 24 ounces, if you fill it above the 17 ounce line.
The Ecty measures 6.5 by 6.1 inches and weighs 1.4 pounds. It has a 700 watt heating element, which brings the water to a boil slightly faster than similar competitors.
The actual time depends on too many factors to give an accurate estimate (water temperature, altitude), but it generally takes under 5 minutes when full (17 ounces).
This kettle runs on 110, but there is a similar kettle available that can runs on 110 or 220 volts. It has a red switch on the bottom to change voltages.
If you order from the US Amazon site, it comes with a standard US power cord, so you'll have to use a plug adapter when traveling overseas.
The Ecty is made from stainless steel, so you don't have to worry about toxins from plastic leaking into your water. It has boil-dry protection that shuts off the heating element when the reservoir is empty and an auto-shutoff once the water begins boiling.
But if you want to use the kettle to boil eggs, you can remove the lid and keep it going at a rolling boil. This is a unique feature not included in most other electric kettles. This is one of the best electric kettles, small or large, on the market.
Narita Dual Voltage Electric Kettle Travel Set
The Narita dual voltage travel kettle can run off 120 or 240 volts, so you can enjoy your tea (or coffee, if that's your thing) anywhere in the world.
It is one of the smallest kettles on this list and it has a capacity of 17 ounces (0.5 liters). It weighs 1.25 pounds and measures 5.8 by 7.1 by 5.3 inches.
This mini electric kettle is made from 304 Stainless Steel with a plastic lid. Boiling water that could come into contact with a plastic component worries some people, but the plastic is BPA free and leaves no taste in your water.
The 1000 watt heating element will generally boil 17 ounces of water in 3 to 5 minutes, but that does depend on altitude and voltage.
Once the water reaches the boiling point, the kettle shuts off automatically. It also has a boil-dry protection feature that shuts off the heating element when the kettle is empty.
A switch on the bottom lets you select between 110/120 volts and 220/240 volts. This water boiler small electric tea kettle does not come with an adapter plug, so you will need an adapter for many countries. With that, you can use it anywhere overseas.
Loutytuo Ultrathin Collapsible Electric Travel Kettle
The Loutytuo kettle is unique in that it collapses to a smaller size, making it the ideal travel kettle.
When expanded, it has a capacity of 17 ounces (0.5 liters) and is just over 5.2 inches tall. Collapsed, it becomes electric kettle: mini at only 2 inches tall with a base diameter of 5.9 inches. It weighs 1.8 pounds.
The collapsible kettle has a couple of useful features.
The spout is drip-free, which seems obvious, but you'd be surprised how many kettles drip when you pour water from them. It can get quite annoying. The handle stays cool, but most kettles have that feature.
The Loutytuo mini electric tea kettle is made from food-grade silicon, so you don't have to worry about harmful chemicals leaking into your water (it is BPA free). It also leaves no taste in the water.
The kettle uses 700 watts which means it boils water slower than larger kettles. Loutytuo claims a boiling time of 3 minutes, but it is usually closer to 5. It does depend on altitude.
Once the water reaches the boiling point, the kettle shuts off automatically. It also has a boil-dry protection feature that shuts off the heating element when the kettle is empty.
There are only a few collapsible electric kettles on the market and this one is easily the best.
I actually wrote this review after I had already purchased a different kettle (see below) for myself, but may end up just getting this one as well. I really like the concept—it is perfect for someone who travels a lot.
Best Car Kettle: Spardar Car Cigarette Lighter Electric Kettle
The Spardar is unique in that it doesn't come with a regular power cord, but rather a cigarette lighter charger you can use in your car.
This makes it perfect for camping trips and other outdoor activities where you do not have access to a power outlet.
If you want the ability to plug it into an outlet, it unfortunately doesn't work with most standard 12 volt DC adapters.
It needs a more powerful 12 volt, 10 amp (120 watt) adapter, which is not something most of us have lying around. They're readily available, though, and generally cost between $10 and $30.
The Uniox has a different shape than the other kettles. It is taller and thinner, measuring 3.1 by 3.1 by 10.1 inches. It is among the lightest at 1.2 pounds.
Obviously, the biggest drawback is going to be the power. Using just 12 volts, it takes around 15 minutes to bring a kettle full of water to a boil.
This is by far the slowest of all kettles on this list, but that's the price you have to pay for the ability to boil water in your car.
The Uniox has a 2-layer stainless steel vacuum body, which greatly reduces the cooling rate. Your water might take longer to boil than other kettles, but it stays hot much longer, too. The rubber parts used are all food-grade silicon rubber and won't leach any toxins into the water.
A nice feature that you usually don't find in the smaller electric kettle is the digital temperature display and the ability to customize the temperature.
Bodum Bistro 17-Ounce Water Kettle
The Bodum kettle is a great small travel kettle and is the third one on this list with a capacity of 17 ounces (0.5 liters), but it is also available with double the capacity.
The 17 ounce version is 7 x 4 x 7.8 inches and weighs 1.8 pounds, while the 34 ounce version is 7.9 by 5 by 8.9 inches and weighs 2.1 pounds.
This kettle comes in black, white, red and green and is made mostly from plastic, with the bottom plate made from stainless steel.
Boiling water in a plastic container may be worrying to some, but the plastic is BPA free and leaves no taste in your water.
The large heating element takes about 4 minutes to bring water to a boil.
The container is cordless and has a mesh screen in the spout to capture any impurities in the water. A steam sensor provides added safety and will automatically shut off the kettle once the water has begun boiling.
Amazon Basics Stainless Steel Portable Electric Kettle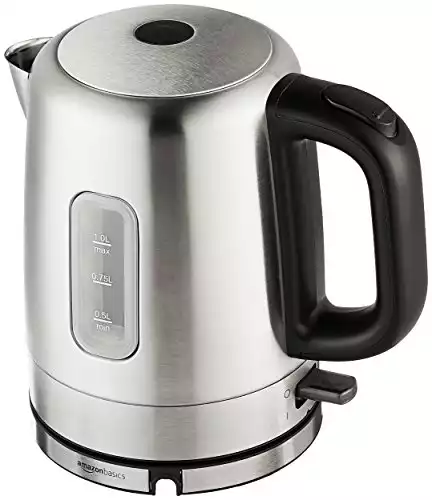 The Amazon Basics is twice as large as the smaller kettles above, but it is still smaller than most and could still fit in a suitcase.
It is also the #1 bestseller on Amazon (not surprising, since they make it). It has a capacity of 34 ounces (1 liter), weighs 1.88 pounds and measures 8 by 5.5 by 7.9 inches.
The 1500 watt heating element brings water to a boil in under five minutes. The kettle has a longer power cord than most at 30 inches.
The cord connects to the base, not the kettle. You can lift the kettle off the base, so you are not limited by the length of the cord.
This small tea kettle is made from stainless steel, but the little water window on the side is made from plastic. I don't quite get this.
Many people opt for steel kettles specifically to avoid boiling water coming into contact with plastic for fear of toxins leading into the water.
Why would you then include a piece of plastic that actually maintains contact with boiling water on a stainless steel kettle?
It has both auto shut off and boil dry protection. This means it will stop heating the water once it has begun boiling and it will not heat, if there is no water in the kettle.
The Amazon Basics kettle is actually the best value kettle on the market, as long as you don't mind the plastic window. The only reason I did not rank it higher, apart from the plastic, is that it is larger than many of the other kettles.
Since we are specifically looking for a small size and portability here, it falls behind some of the other models. If the size is not as important to you, then this is probably your best option.
Cosori Gooseneck Stainless Steel Electric Kettle
The gooseneck kettle from Cosori has a capacity of 27 ounces (0.8 liters) and measures 12.1″ by 9.5″ by 7.8″ inches. It weighs 3.5 pounds.
It's a bit more expensive than the previous two, but that's because it is made from food-grade stainless steel (i.e. no teflon or chemical linings).
The plastic used in the handle and on the lid is BPA-free, but no plastic ever comes into contact with the water while it is boiling.
A 1200 watt base boils water quickly (3 to 5 minutes) and a spill-proof airtight lid ensures it stays in the kettle. For added safety, the kettle shuts off automatically once the water is boiling. The unit lifts off the base for easy pouring.
Speaking of the base, it has 5 temperature presets on it. This allows you to always achieve the perfect temperature, no matter what type of tea you are brewing.
When I first saw the gooseneck spout, I thought it was just a gimmick, but it's actually a great feature. It ensures a steady pour that is perfect for brewing tea (or coffee). It also prevents dripping.
This kettle is also available in a black version, if you prefer that to the stainless steel look. It is obviously not quite as portable as some of the other kettles on this list, but it is the only one with the gooseneck spout, if you want that feature.
Diximus Instant Electric Immersion Heater
I debated for a while whether to include an electric immersion heater like this one from Diximus in this list, since it is obviously not a kettle.
In the end, I decide to include one, since this is what I traveled with for many years.
It doesn't get any more portable than an immersion heater like this. It is only 6 inches long weighs 5 ounces with the carrying pouch. You could easily just carry it in your pocket.
The Dixumis heater is dual voltage, meaning you can use it in just about any country. It comes with an EU adapter plug, too. That means you can use it in the Americas, most of Europe and most of Asia, without needing any additional adapters.
It uses 300 watts of electricity, which can generally boil a mug of water in under 5 minutes. Plus, you can boil many other liquids as well, which you might not want to do with a regular kettle (harder to clean).
You only want to use it with thin liquids though (like water), not with something thick.
The big drawback of an immersion heater like this is that you can only boil one cup at a time. Of course, you could use it to boil a larger container, but it would take longer.
When I used to travel with one, I would always boil a single cup of water and use that to make one cup of tea. I did not travel with a teapot back then. Now I travel with a glass teapot, so I could easily heat up the water in there (it makes about two cups).
To use the Diximus immersion heater, simply clip it onto the edge of your cup and plug it in. Once the water has started boiling (or reached the desired temperature), unplug it and remove from the water. Place somewhere safe until it cools down (i.e. don't put it on something flammable).
OXO Cordless Glass Kettle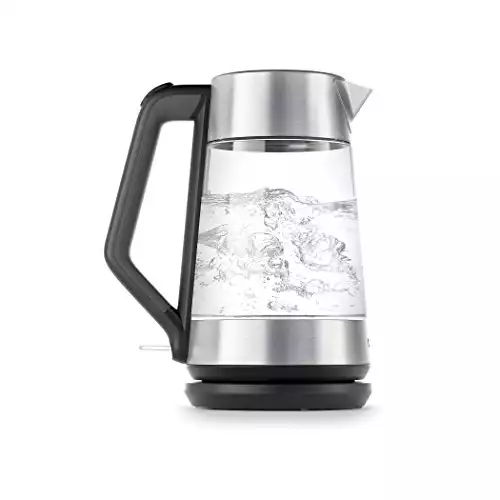 I decided to add the OXO to this list, even though it is larger, heavier and more expensive than the rest of the small electric tea pots. I wanted to include a glass option and this was the smallest one.
It weights in at 2.8 pounds and measures 9 by 6.3 by 11.2 inches. It has a larger capacity that the rest at 59.5 ounces (1.75 liters).
The OXO was voted Best Electric Kettle by Good Housekeeping Magazine (February 2016). It has a lot of little features that add to our convenience.
It has a large slip-free handle to prevent accidents. A stainless steel mesh screen inside the spout keeps debris out of your cup and is removable for easy cleaning.
The pitcher is cordless, so you can remove it from the base for easy pouring and it has an automatic shut-off feature for added safety. In addition to the glass interior, OXO uses a medical grade silicon sealant to prevent the possibility of any toxins leaking into your water.
The inside of the lid is made from plastic, however. The plastic is BPA-free and doesn't come into direct contact with the boiling water (the steam hits it), but it still worries some people.
Note: OXO also makes a version with an interface that allows you to select the exact temperature, which makes it the perfect water heater for tea. Portable may be a stretch though, since that version is a bit larger and heavier. You can read about it on Amazon.
Best Mini Travel Kettles: Final Thoughts
If you're looking for electric kettles, small and portable, the above are by far the best options. I know the last one is larger than the rest, but it is the smallest glass kettle and I felt that warranted adding it to this list.
Personally, I decided on the OXO kettle. It is the largest and heaviest on this list, but I really wanted a glass kettle. At 2.8 pounds, it's probably more weight than you'd want in your suitcase, but I felt the advantages make up for that. I do wish it were lighter, though.
I also made this choice, because I no longer travel with a single backpack. I now always take a larger suitcase. This gives me more space. With only a backpack, I would definitely go with a collapsible kettle.
Whatever you personal preferences, I hope this list helps you decide on the perfect small water heater for tea for you.