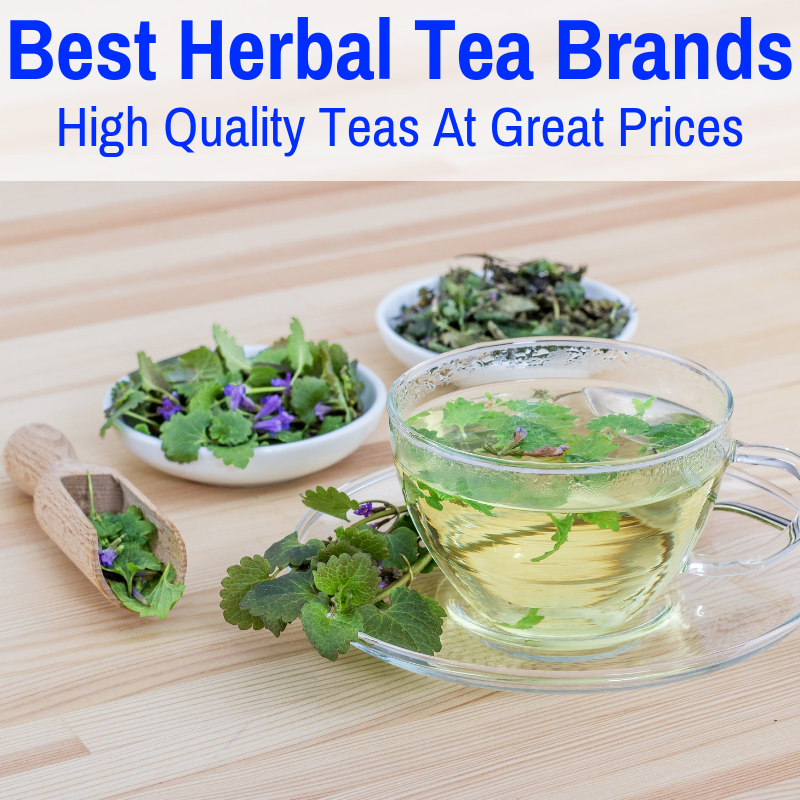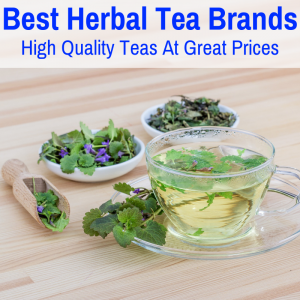 Don't like the taste of regular tea?
Then herbal teas are perfect for you.
There are endless options in terms of flavors, ranging from earthy and spicy, to sweet and fruity.
Most herbal teas also contain no caffeine and offer a wide range of health benefits.
But there are so many different types of choose from.
Finding the best types is hard enough. Finding the best herbal tea brands that produce each type can seem overwhelming.
Fortunately, I've done all the research for you. My guide covers the leading brands on the market.
But before we dive into which teas to try, let's first learn a little bit more about what herbal teas are and what you can expect regarding health benefits.
Why Herbal Tea Isn't Really A Tea
Herbal teas aren't actually true teas, despite the word tea on the label. A true tea is a beverage that's made using leaves from the camellia sinensis plant. True teas are:
Black
Green
Oolong
Pu-erh
White
Yellow
All other types of tea are made using the flowers, roots, and leaves of different types of plants. These are the teas we call herbal.
Some companies will also blend their herbal teas with a green tea, white tea, or other true tea, in order to create a type of flavored tea.
Most herbal teas are known for their health benefits, including:
Improved digestion
Weight loss
Bowel regularity
Improved sleep
Natural detox
These teas have been used in traditional medicine for hundreds of years, especially in America and Asia.
Herbal teas are mainly popular due to the wide variety of flavors available. Essentially, there's a flavor out there for everyone. Let's take a look at some of the most popular.
List Of Herbal Teas
Let's take a brief look at a few of the most popular herbal tea options.
Chamomile Tea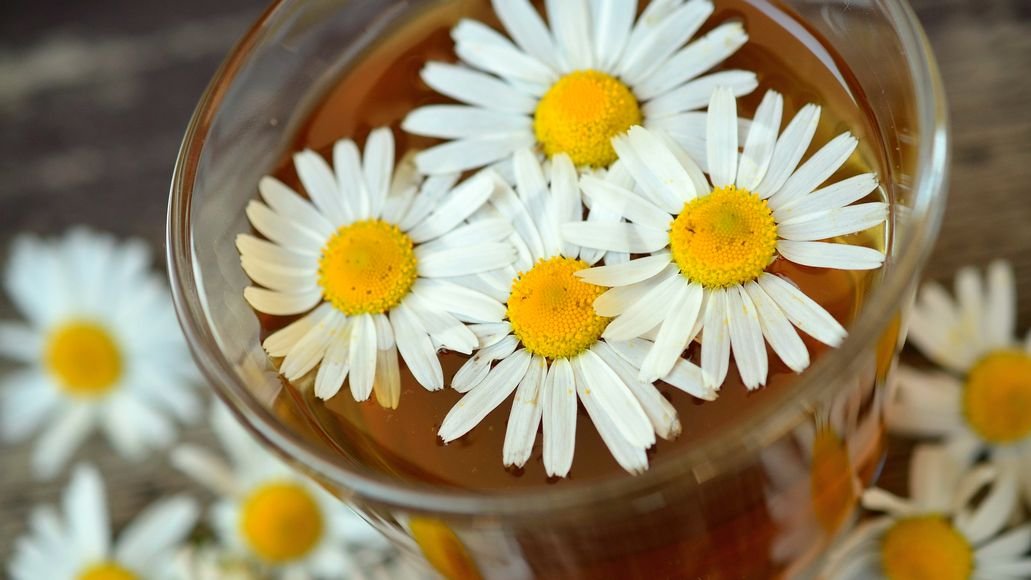 Chamomile is probably the most popular herbal tea. It is commonly used for it's calming properties, which makes it the perfect bedtime tea, though some prefer green tea at bedtime.
It has a mild herbal aroma and floral taste. Many people compare the taste of chamomile to that of apples. This tea can help induce relaxation, minimize stress, and promote a healthy sleep pattern.
Ginger
Thanks to its anti-inflammatory properties, ginger tea has been widely used in traditional medicine for hundreds of years. It's most commonly used to treat nausea and improve digestion.
Ginger tea also works to relax the stomach muscles and minimize inflammation and bloating. It is derived from the roots of the ginger plant and is available in loose leaf or bag form.
Peppermint
Peppermint tea has a wonderful cooling effect and is typically described as very refreshing. Depending on the type of mint used, it may have hints of fruit, chocolate, or vanilla. It's often used to naturally treat digestive tract issues, and can also help soothe nausea, stomach pain, and indigestion.
Lemon Balm
As the name might suggest, lemon balm tea is derived from the lemon balm plant. It can be made using dried or fresh herbs. This tea has a nice citrusy flavor and a scent that's much stronger than lemongrass.
Best Herbal Tea Brands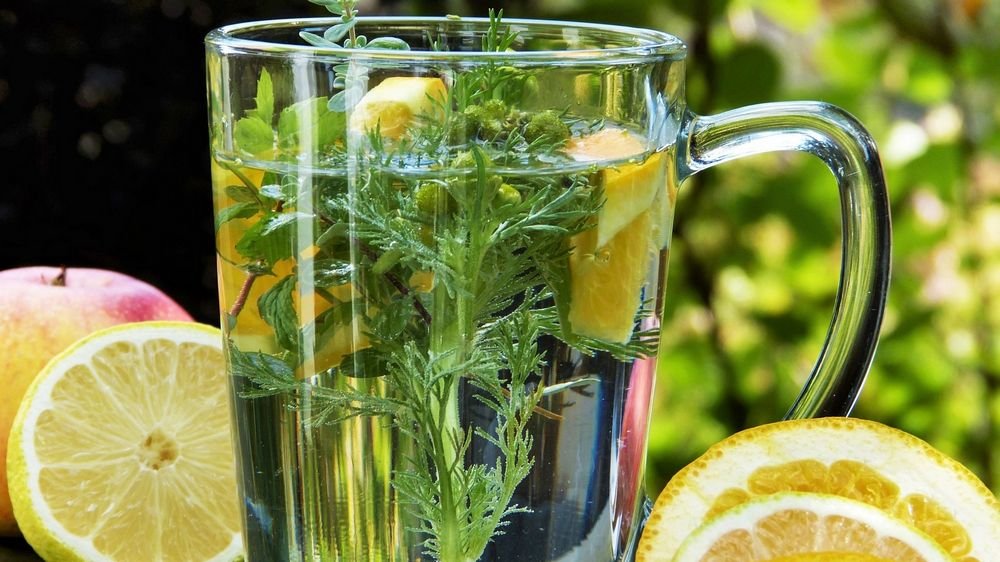 Below, you'll find a list of the leading herbal tea brands, along with reasons why they are a top brand and why you should give their tea a try.
Some of them have their own online store, while others sell on Amazon. A few sell both in their own store and Amazon. In those cases, I always provide the Amazon link, because it is a more convenient place to shop for most people.
Teavivre
Teavivre is a Chinese tea shop that used to specialize in true teas from China. But they have expanded. They now have a US warehouse for faster shipping times and they offer a large selection of herbal and fruit teas.
The quality of their teas has always been excellent and that has not changed. They always have a lot of info about their teas on their site and plenty of reviews on most of them. They offer sample sizes and the choice of a pouch or a tin.
Check out Teavivre's herbal teas.
Art Of Tea
Art of Tea treats tea production like an art form. While their production is considered one of the most sustainable in the tea world, they also ensure top quality herbal tea via vigorous testing.
Everything about Art of Tea company, from their harvesting techniques to their packaging is as eco-friendly as possible. They offer a wide range of products such as packaged and loose teas, true teas, and the leading herbal teas.
Unfortunately, they do not have a "herbal tea" product category on their site. Their herbal teas are mixed into the other categories, making them harder to find than they should be. I usually start in the "loose-leaf" category or simply use the search function, if I already know what I'm looking for.
Check out Art of Tea's loose-leaf selection.
Culinary Teas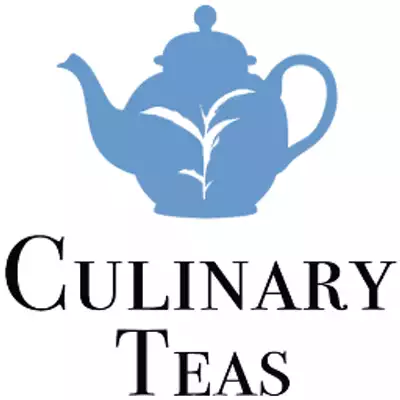 Culinary Teas is another website with a large selection of herbal teas. You can find just about any variety here. Even better, they have a separate category for these teas, so they are easy to find and browse.
The prices are great and so is the quality. Each tea comes in a number of different amounts, including a sample size. Shipping is free for orders over $75.
Numi
Numi is a popular brand that offers an extensive line of the leading herbal teas. In fact, they're both fair trade and organic certified, so you know you're drinking one hundred percent pure tea.
Aside from their wide variety of teas, this company is known for their quality. Each blend is sustainable, organic, and features a strong aroma and pure taste.
Rishi
Rishi is a major organic tea brand, with a name that means seeker of truth. All of their products come straight from nature and aren't developed in processing plants or labs. Their goal is truly to produce healthy, natural teas.
Bigelow
One of the biggest tea producers in the world, Bigelow has been around since 1945. Not only do they produce some of the leading herbal teas, but they also have an extensive line of seasonal, iced, decaffeinated, and true teas. They only sell tea bags and mostly in stores, but they have some varieties on Amazon.
Dilmah
Dilmah is an international brand from Sri Lanka. Their line of teas also includes herbal and true teas. Currently, their most popular herbal tea is called Moroccan mint green tea, which consists of a blend of herbal and true tea, which allows you to enjoy the best of both worlds. They only sell tea bags, so you'll want to learn how to reuse old tea bags.
See Dilmah's offering on Amazon.
Tielka
It all began in 2009 in Australia, however, the founders of Tielka started out much earlier in Poland before they created Tielka, which has a reputation for producing some of the best, organic herbal tea in the world.
In fact, in 2018, they won eight golden leaf awards, which is really what shone a light on their innovative harvesting processes, not to mention the overall quality of their true and herbal teas. Tielka also made our list of the best luxury tea brands.
Browse their herbal selection on their site.
Mountain Rose Herbs
Mountain Rose Herbs puts a major emphasis on community and environmental well-being. Not only do they produce some of the best herbal teas, but they also became the first certified platinum zero-waste facility in the state of Oregon back in 2016
They offer a large selection of fair trade and organic herbal teas ranging from floral and minty herbal teas to popular true teas including black and oolong. They also have a ton of other organic oils, skin products, etc.
See Mountain Rose Herbs' Store.
Teatulia
One of Teatulia's biggest achievements is that their tea is sourced from their own three thousand acre tea garden located in Northern Bangladesh. Most of their tea blends combine true teas with herbal teas.
The fact that they source their own teas and herbs gives them a major advantage over the competition in terms of taste and quality. Each of their teas comes with detailed instructions on how to brew iced, cold, or hot teas. You can purchase this tea online in pyramid bag form or loose leaf.
See Teatulia's selection on Amazon.
Terra
Terra sources their true teas and herbal teas from all over the world. They purchase teas from Thailand, China, Sri Lanka, India, and South America.
Regardless of where they get their herbs and tea, it's always fresh and organic. Their philosophy is to leave as little of an environmental footprint as possible, which is why they support fair treatment of workers and their business partners in other countries.
Terra specializes in bulk orders, but you can still purchase Terra tea for home use by ordering from their online shop. Be warned, it is not a pleasant experience. Otherwise, you can check out their website to find a list of restaurants and cafes that serve their tea. In short, they make it pretty hard to get their tea.
Terra's website (it needs a lot of work).
Top Herbal Tea Brands: Related Questions
What Are The Most Popular Herbal Teas?
The following are among the best-selling and well-known herbal teas on the planet:
Peppermint
Ginger
Chamomile
Raspberry leaf
Sage
Hibiscus
Rooibos
Echinacea
Lemon balm
Is Drinking Herbal Tea As Good As Water For Hydration?
Some researchers believe so. Drinking three to four cups of herbal tea daily is just as good for you as increasing your daily water intake, plus it comes with some extra health benefits.
Tea made from herbs can help rehydrate you and can also protect against diabetes, certain cancers, can lower cholesterol levels, and can even lower your risk of heart disease.
Best Herbal Tea Brands: Final Thoughts
Now that you know the top herbal tea brands and where to buy them online, break out your favorite tea strainer. You've got a lot of tasting to do!
I hope my list of the best herbal tea brands has given you a little insight regarding the type of quality they offer and what you can expect in terms of flavor, aroma, variety, and freshness.
Whether you love ginger, mint, or chamomile tea, each of these brands promises to deliver the best organic, fresh and potent teas and herbal blends that money can buy.