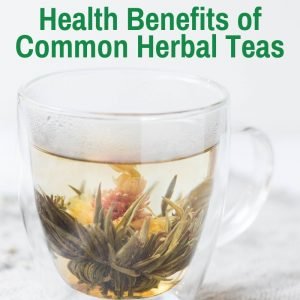 Herbal tea is healthy. We all know that.
But how? And what, exactly, is herbal tea?
People think of different things when they hear that word and even just the word 'tea' on its own.
Some picture a sweet, milky cup of black tea; others a sweet, minty cup; others a pure green tea; and others still an herbal mixture.
In reality, only drinks made from the Camellia sinensis plant are considered tea.
This includes the first three in the list above, i.e. black tea and green tea, as well as white tea, oolong tea, post-fermented tea (like pu'er) and yellow tea.
It does not include teas made from any other plants.
These herbal 'teas' are actually called tisanes and you might have noticed their absence on this site. Since they are not really teas, I have chosen to leave them out.
But I do get a lot of questions about the possible benefits of various tisanes, so I have decided to address some of the more common herbal teas and their supposed benefits.
Health Benefits Of Herbal Teas
Below are the proven and potential health benefits of the most common herbal teas. Even if you don't care about the benefits, the teas are all delicious and worth drinking just for that alone.
Chamomile Tea Health Benefits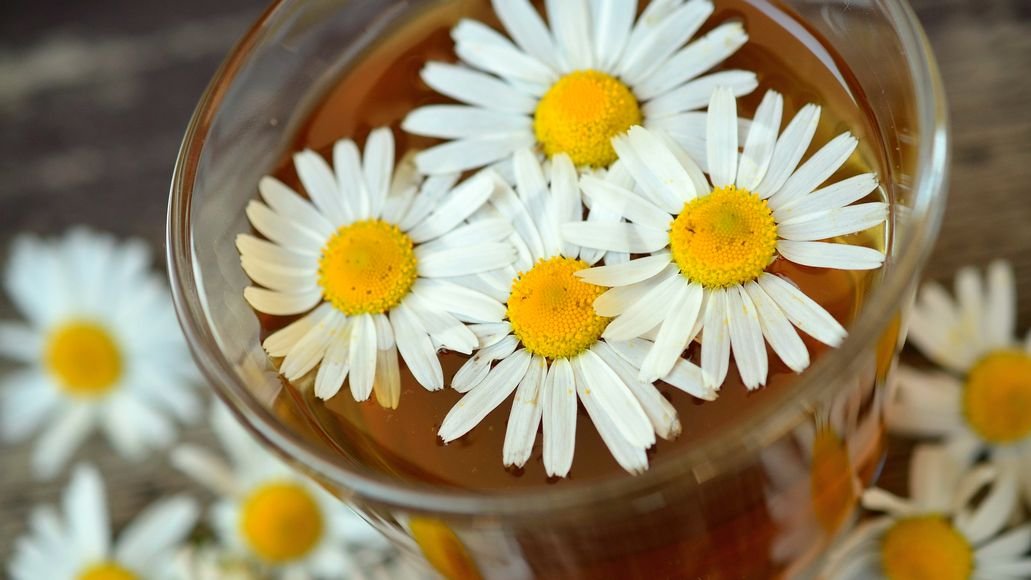 My mom often gave us chamomile tea as kids. It has no caffeine, so children can drink it and I always loved the warm, flowery taste. We got it whenever we had digestion problems or if we couldn't sleep. My mom swore by the effects.
But is there are truth to that or are those just old wives tales?
It turns out, those are the two most commonly recognized (though not fully proven) positive effects of Chamomile tea. But it doesn't stop there. Chamomile tea is credited with a bunch of other healing properties, both for the body and the soul.
Most of these claims are supported by scientific studies (although those can never truly be conclusive), but some are just anecdotal.
Scientifically backed claims
Improves sleep: chamomile contains an antioxidant called apigenin that may promote sleepiness and reduce insomnia (study at PubMed), making it a great sleep aid tea; another study found that people who consumed 270 mg of chamomile extract twice a day for 28 days spent 1/3 less time awake lying awake at night and fell asleep 15 minutes faster than people who took none of the extract (study on PubMed)
Promotes digestive health: anecdotally, most people feel that drinking chamomile tea helps calm an upset stomach and there have been animal studies that seem to back this up (like this one on PubMed), but none yet on humans
Protects against some types of cancer: the antioxidant apigenin doesn't just help with sleep; this study has also shown it to fight cancer cells, especially prostate, breast, skin, uterus and digestive track cancers
Lowers blood sugar: this study of 64 diabetic people resulted in lower average blood sugar levels in people who drank chamomile tea with meals for 8 weeks, instead of water
Improves heart health: a class of antioxidants in Chamomile tea called flavones are thought to lower blood pressure and cholesterol levels; the same 64 diabetics who drank tea with meals from the study in the previous point also showed notable improvements to total cholesterol, triglyceride and "bad" LDL cholesterol levels
Anecdotal claims
Boosts immune health: my mom always had us drink chamomile tea when we had a cold or sore throat and it seems she is not alone
Relieves anxiety and depression: some claim that taking a chamomile supplement or using it as aromatherapy can help against anxiety and depression, but there is not concrete evidence, especially when it comes to consuming the herb in tea form
Improves skin health: using it in lotions, creams and soap supposedly helps moisturize your skin and can reduce skin inflammation
Prevents bone loss: some believe it can help prevent osteoporosis, but there is no evidence at all to back up this claim
You can find a very high quality Chamomile tea in pyramid tea bags here:
It's not cheap though. If you aren't looking to spend that much, here is a great Chamomile tea on Amazon that costs far less. The main difference is that it comes in regular teabags, not pyramid bags.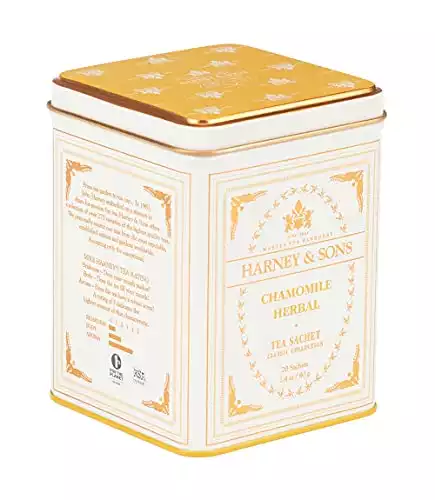 Of course, loose leaf (in this case, loose blossom) is better. You can find plenty of great options on Amazon, or you can harvest chamomile for tea yourself. It actually incredibly easy.
Ginger Tea Health Benefits
I like to make myself some ginger tea whenever I have an upset stomach and that is, indeed, one of it's main benefits. But it has others as well.
Good for stomach and digestion: ginger tea can soothe any kind of stomach queasiness, from nausea to motion sickness to morning sickness and help prevent indigestion and stomach ulcers; apparently adding lemon and mint makes it even more effective against a queasy stomach (I always add lemon, but haven't tried it with mint yet)
Pain relief: ginger can help alleviate inflammation, muscle and joint pain, and menstrual cramps
Protects brain health: there is some evidence (this study) that ginger could help protect against neurodegenerative disorders like Alzheimer's or Parkinson's
Boosts immune system: ginger can help against cold symptoms, infections and allergies; it also has antibacterial, antifungal and antiviral properties
Aids weight loss: this study found that ginger may help with weight loss suppressing appetite, blocking fat absorption and boosting the breakdown of fat
Lowers cholesterol: there is some evidence (this study) that ginger may help lower cholesterol levels
I always just make my own ginger tea, by chopping up some ginger root and putting it in a cup of boiling water along with some honey and lemon. My article of herbal tea recipes has one for ginger tea.
If you prefer to avoid the hassle, there is a great ginger tea available on Amazon: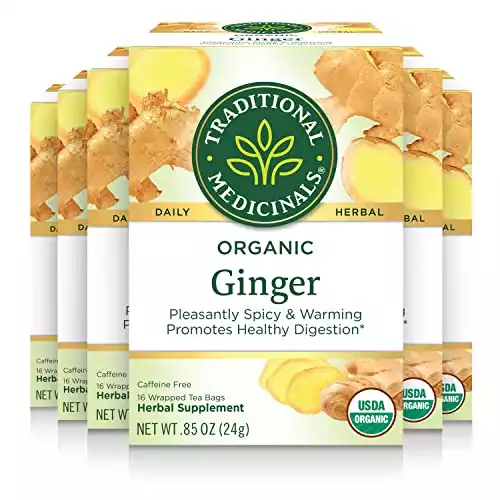 Hibiscus Tea Health Benefits
Hibiscus tea is most famous for its believed ability to lower blood pressure, but it has plenty of other great positive affects as well.
Lowers blood pressure: several studies (like this one) have shown that this tisane lowered systolic blood pressure by an average of 7.58 mmHg and diastolic blood pressure by an average of 3.53 mmHg
Lowers cholesterol: some studies have shown hibiscus tea to lower levels of bad cholesterol and raise levels of good, but other studies have shown no effect
Boosts liver health: this study of 19 overweight people who took an hibiscus extract for 12 weeks showed an improvement in their liver steatosis
Helps weight loss: in one study of 36 overweight individuals, those who drank hibiscus tea for 12 weeks exhibited a lower body weight, body fat, body mass index and hip-to-waist ratio than those who took a placebo
Helps prevent cancer: hibiscus is high in polyphenols, compounds that possess powerful anti-cancer properties, so it may help prevent cancer in humans
Fights bacteria: test tube studies have suggested hibiscus might have antibacterial properties, but no studies have been done on humans
You can find several hibiscus teas on Amazon. This one is a great choice for tea bags.
If you prefer a loose leaf variety, I recommend this one.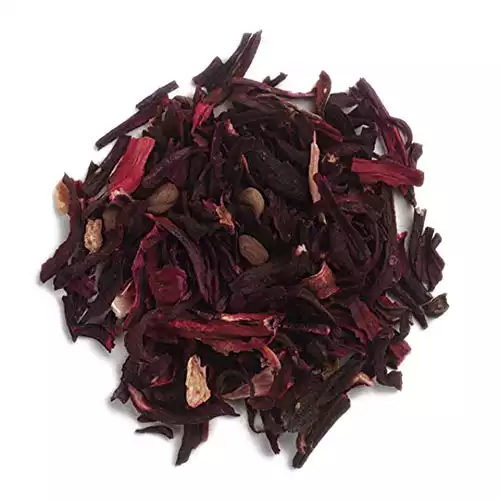 St John's Wort Tea Health Benefits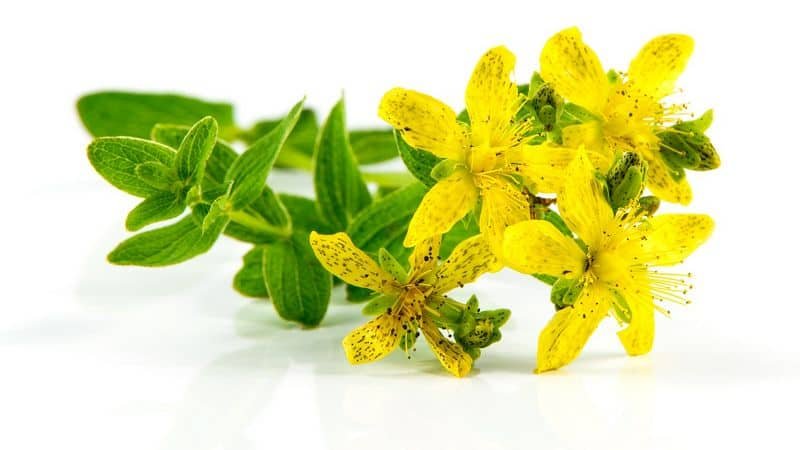 St. John's Wort Tea is an old remedy for depression and can help with Seasonal Affective Disorder (SAD). People who suffer from serious cases of depression should seek additional help, but for mild cases, go ahead and give this tea a try. Here are the main positive effects:
Anti-depressant: it is a popular natural anti-depressant that is about as effective as most prescription drugs for mild depression and is often prescribed by doctors as a result
Relieves anxiety and mood swings: St. John's Wort helps restore hormonal balance (and eliminate stress hormones) which reduces mood swings and can relieve some anxiety
Eases withdrawal symptoms: it may help ease cravings and withdrawal symptoms when quitting tobacco, alcohol or other addictive substances, but research is still in the early stages
Anti-viral: it may have antiviral capabilities that reduce the risk of AIDS, hepatitis, and other serious viral conditions, but research is in the early stages and extremely high doses are needed, which would result in major side effects
The easiest place to get St.John's Wort tea online is Amazon. This brand is a great choice that sells for a low price: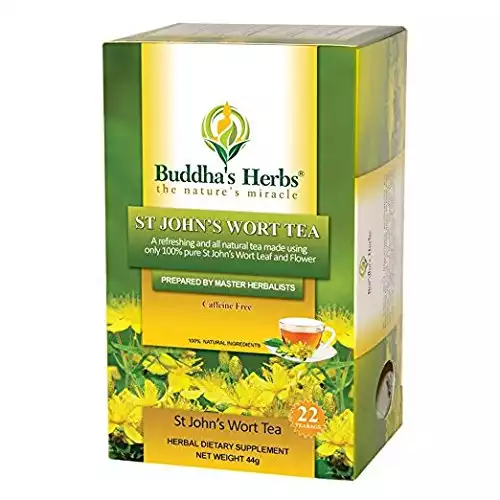 Raspberry Leaf Tea Benefits
Raspberry Leaf Tea is high in antioxidants, vitamins C, E and B, calcium, potassium, phosphorus, niacin, magnesium, and manganese. But its main use is helping women with menstrual pain, pregnancy and fertility problems.
in fact, it is the best tea for menstrual cramps. It can also increase fertility, ease morning sickness and make childbirth faster and easier.
Raspberry Leaf Tea can strengthen and tone the muscles of the uterine wall. This makes for a faster delivery time and reduced labor pain. The tea stimulates labor and eases childbirth overall. It is one of the best teas for expecting mothers.
You can find this great raspberry leaf tea online on Amazon: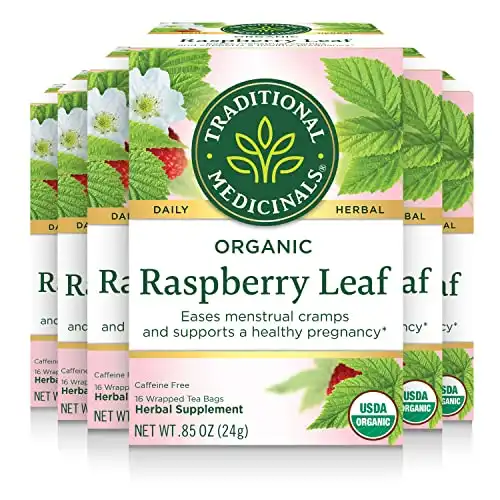 Nettle Leaf Tea
Nettle Leaf Tea not only has numerous health benefits, it also contains a bunch of vitamins, minerals, fatty acids, amino acids, polyphenols and pigments. Many of those act as antioxidants.
In addition to it nutritional value, it also does a lot of good for our health:
Treats sore muscles and arthritis: nettle tea contains analgesic compounds and rubbing some on a sore muscle relieves some of the pain; drinking it can also help with a headache or a sore back
Maintains kidney and urinary tract health: nettle tea acts as a diuretic and helps flush kidneys and the urinary tract and also prevent kidney stones
Helps manage blood sugar: there is some evidence that it helps the pancreas make or release more insulin, which is the hormone that lowers blood sugar
Helps maintain blood pressure levels: nettles contain potassium and anti-inflammatory compounds, than can lower tension in blood vessels and arteries; this helps maintain blood pressure levels and proper circulation, reducing your risk for stroke or heart attack
Helps against indigestion: compounds in nettle tea help kill intestinal parasites and worms and antioxidants block factors that contribute to digestive problems like IBS, stomach cramps, diarrhea or constipation
If you're not sure where to get nettle leaf tea, here is a great one on Amazon:
Peppermint Tea
Peppermint Tea helps with an upset stomach and any other gastrointestinal problems. It also relieves nausea, soothes headaches and helps with a number of other issues. People who get heartburn or indigestion should avoid drinking peppermint tea, though.
Here are some of the great benefits of peppermint tea:
Soothes digestive problems: it can relieve symptoms like gas, bloating and indigestion and also relieve intestinal cramps
Soothes headaches: it can act as a muscle relaxant and pain reliever to help soothe migraines or tension headaches
Fights bad breath: peppermint smells great and has antibacterial properties that can kill germs that cause plaque and bad breath; that's one reason it is such a popular flavor in toothpastes and mouthwash
Relieves cold, flu and allergy symptoms: peppermint tea can reduce sore throat, itchy nose and eyes, clogged sinuses, and fever; it also has antibacterial properties and contains essential vitamins and minerals that can boost your immune system and relieve or prevent the cold or flu
Improves energy and concentration: no studies have been performed on the tea, but compounds in peppermint are proven to have positive effects on energy levels; peppermint oil (no studies yet on the tea) has also been shown to have beneficial effects on memory, concentration and alertness
Peppermint tea is easy to find, but if you're not sure which ones are good, give this organic peppermint tea from Traditional Medicinals a try.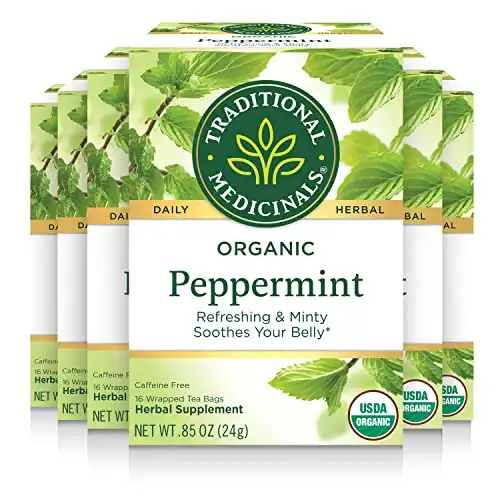 Milk Thistle Tea Health Benefits
Milk Thistle Tea is especially useful for people who put undue pressure on their liver, i.e. alcoholics, drug addicts or anyone on painkillers. It functions as a liver cleanser helping to regenerate the liver, which allows it to work at an increased capacity.
It also has other benefits. Let's check out the main ones:
Promotes liver health: milk thistle tea both may protect the liver against toxins and improve liver function in people with damaged livers due to alcoholism or diseases like hepatitis
Helps prevent decline in brain function: milk thistle has been used for over 2000 years to treat conditions like Alzheimer's and Parkinson's, but studies are far from conclusive
Protects bones: it has been shown to help prevent bone loss due to estrogen deficiency, but its effect on bone loss due to other conditions has not been studied
Improves cancer treatment: studies have suggested that the silymarin in milk thistle may have some anticancer effects; furthermore, it could reduce the side effects of cancer treatments increase the effectiveness of chemotherapy against certain cancers
Helps in treating diabetes: milk thistle tea has blood sugar-regulating properties and can increase resistance to insulin and prevent large fluctuations in glucose levels; the silymarin in milk thistle tea helps reduce overall cholesterol levels, especially LDL (the bad) cholesterol
This tea is a bit harder to find that some of the others, but luckily Amazon has some options. This is a great organic milk thistle tea, if you are looking for tea bags:
Herbal Tea Health Benefits: Final Thoughts
As is always the case with herbal remedies, more research is needed, but all of the claims listed above do have studies to support them. Luckily, none of these teas are overly expensive and they don't cause any harm (be careful of drug interactions, though; make sure you read the packaging), so there's really nothing to stop you from giving them a try and seeing how you feel.
And if you don't want to drink them, but still want the health benefits, I also wrote an article about making a tea bath out of herbal tea. If you're not sure which brand to get, this article covers the top brands available.