You have to give up so much while pregnant!
Don't tell me tea is another sacrifice I have to make!
You're in luck. It isn't.
Depending on how much tea you drink, you may want to cut back a bit. Or switch to a different variety.
But in general, tea is not only safe to drink while pregnant, it is actually good for you.
Just make sure to keep caffeine intake in check and avoid certain types of herbal teas (listed below) that are known to create problems for expecting mothers.
Let's take a look at why tea may or may not be good for pregnant woman and which teas specifically are the most beneficial and the most harmful.
Is Drinking Tea Safe When You're Expecting?
Most women already know to steer clear of coffee during pregnancy, but many have never considered the high caffeine content found in certain teas.
Not all teas share the same caffeine content and some teas have less than half a milligram of caffeine per cup. These are usually herbal blends, which are safe to drink during pregnancy.
However, herbal teas are not regulated by the FDA. While there are some studies that have shown us the risks and benefits of drinking tea while pregnant, most doctors suggest limiting how much you drink, unless you're consuming very mild teas such as ginger, mint, or peppermint.
To date, there have been no studies conducted regarding any dangers associated with drinking green tea during pregnancy, which is why many OB/GYNs give the go-ahead to enjoy one to two cups of tea daily. However, exceeding two cups a day is not recommended considering green tea does contain caffeine.
Green tea is made from the cameila sinensis plant, so all other teas made from the same plant are also fine to drink, with the same caveat about caffeine. These teas are: black tea, white tea, yellow tea, oolong tea and pu-erh tea.
Note that black tea does not necessarily contain more caffeine than white tea, as many sites falsely claim. There is so much false information out there concerning which tea has the most caffeine.
Caffeine content has nothing to do with the type of tea, but depends on other factors like steeping time, age of the leaves, the specific strain of plant, how the leaves are processed, how and where the plant is grown, etc.
Ideally, you should keep your caffeine consumption limited to around two hundred milligrams a day. This equals approximately four cups of green tea per day, or any other type of tea from the same plant.
This caffeine limit applies to all sources of caffeine, including chocolate, and it's important that you stick to this limit for your health and the health of your unborn child.
Is Green Tea Good For Your Pregnancy?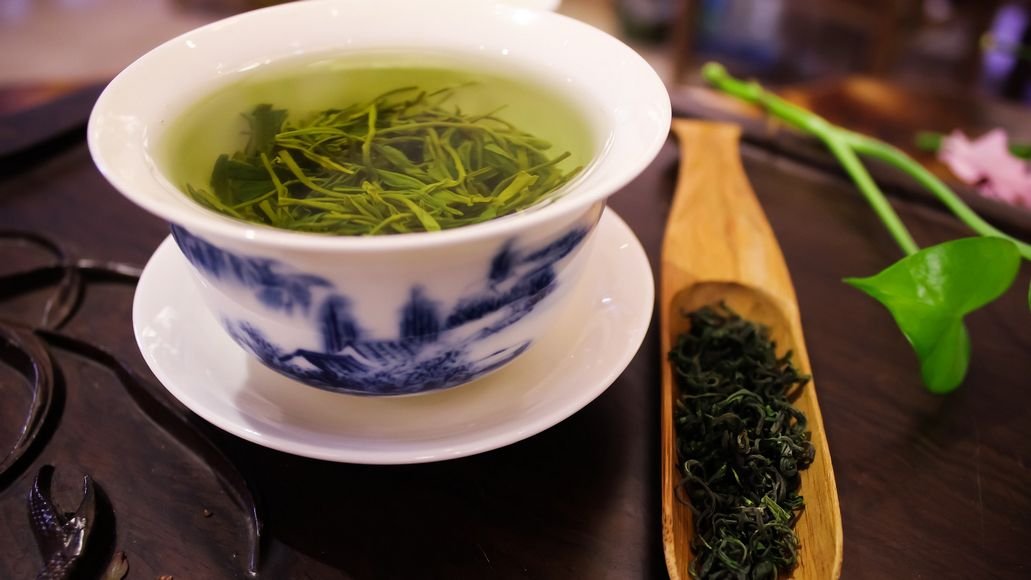 Most people consider green tea to be health-boosting drink since it's loaded with antioxidants. Antioxidants are believed to help repair and prevent cell damage and can even work to protect against diabetes, high blood pressure, and even heart disease. It's also believed that green tea has a positive impact on bone health and that it can boost the immune system.
However, like with most things in life, moderation is key.
Drinking too much tea during your pregnancy can impact folic acid absorption. Folic acid is an important nutrient, especially during the first trimester because it can prevent the development of certain conditions such as spina bifida and neural tube defects.
Since this tea can negatively impact how your body absorbs this nutrient, drinking too much of it around the time of conception has been linked to an increased risk of neural tube defects. However, the risks are very low.
Keep in mind, just like other teas, green tea can also have an impact on how the body absorbs iron. Because of this, you should avoid drinking tea at mealtime.
If you still prefer to drink green tea when you're expecting, but you're looking for a different way to prepare it to take some of the edge off the bitterness, then read my guide on how to make green tea taste better naturally.
What Tea Can You Drink When Pregnant?
Is chai tea safe during pregnancy? What about pu'er? Or oolong? As I mentioned earlier, you can drink any type of tea during pregnancy, as long as you follow the recommended caffeine intake of two hundred milligrams a day.
However, there are safer, almost caffeine-free options out there. It should go without saying that alcoholic tea drinks are off limits.
Most women choose to drink tea during pregnancy because it boosts the immune system and offers a wide range of health benefits, which I briefly touched on earlier. Many believe that the health benefits of tea are even better during pregnancy.
One cup of tea can help to soothe an upset stomach caused by morning sickness. There are also certain types of tea that are said to shorten the duration of labor.
If you want a healthier tea to drink when you're expecting, then go with an herbal blend. If you check out any good online tea shop, you should find no shortage of healthy herbal teas to choose from.
I have an article that details the health benefits of common herbal teas and also gives you good recommendations for each that you can find on Amazon, which is probably the easiest place to buy.
I'll summarize some of the health benefits here as well.
First of all, these teas are all great choices, because they can actually help to keep you hydrated, without giving you harmful sugars or additives, like soft drinks do. They also contain important nutrients such as iron, magnesium, and calcium.
Rooibos tea is a great option because it's caffeine-free and loaded with antioxidants. Other types of herbal teas, such as mint or ginger, can help to prevent or alleviate morning sickness.
Chamomile tea can help you to rest better at night and can even prevent insomnia. If you're looking for a tea to drink during labor, try raspberry leaf, which is said to make contractions more effective.
Stinging nettle is a type of herb that you'll commonly find in teas designed for women who are pregnant. It's also recommended by many midwives because it's a great source of vitamins and minerals including:
Potassium
Vitamin K
Vitamin C
Vitamin A
Iron
However, when making this tea, never use the root. Instead, always use a good loose-leaf blend. It should also be consumed in moderation, especially during the first three months of pregnancy since it can stimulate the uterus. During the second and third trimester, this tea is totally safe to drink.
Are There Any Teas I Should Steer Clear of?
Some types of herbal tea are not recommended for pregnant women. This includes detox and cleansing tea blends, and diet teas. Additionally, you should avoid:
Laxative tea
Blue cohosh
Black cohosh
Dong quai
High doses of these teas can cause major changes in electrolytes. Electrolytes contain potassium, sodium, and chloride, which are required for normal organ and cell function. Some types of herbal laxative teas can promote increased urination or may cause diarrhea, which can lead to dehydration.
Caffeine Content
Herbal teas only contain around 0.4 milligrams of caffeine per cup. Non-herbal teas, i.e. those I listed above like green tea, oolong tea, black tea, etc., contain approximately fifty milligrams of caffeine per cup, thought the amount varies (generally between 35 and 60 mm).
Research has linked a high caffeine consumption with an increased risk of miscarriage. High intake in this case meant a caffeine intake of three hundred and fifty milligrams or more.
Since more research is needed in order to fully understand the caffeine and miscarriage connection, most doctors recommend cutting out caffeine whenever possible.
But as you may know, when you're expecting, increased fatigue is very common. As long as you monitor your daily caffeine intake, there's nothing wrong with indulging and enjoying your daily cup or two of green tea.
Can A Pregnant Woman Drink Green Tea: Related Questions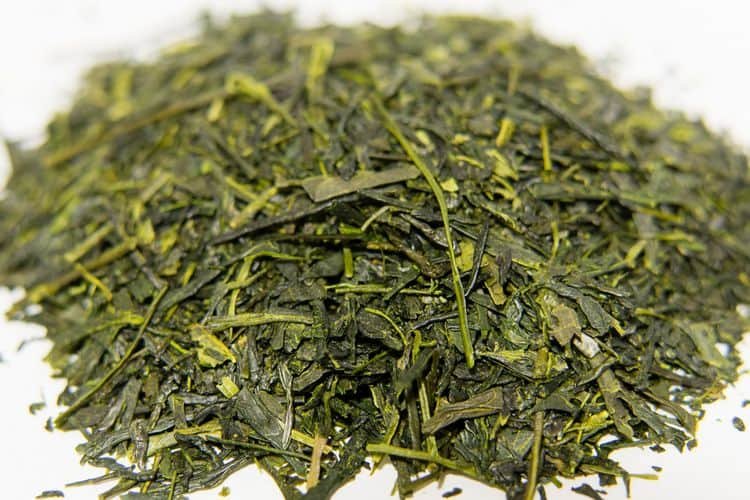 What Is The Best Way To Make Loose-Leaf Tea?
There are several ways you can make this type of tea. Which is best depends on your specific situation. You can boil the water in a stove top kettle, or use an electric kettle to speed things up.
If you already have a ug and want to make brewing as simple as possible, just use a loose tea infuser. If you don't have a mug, get a cup that includes a strainer. or you can even make tea with the help of a tea infuser mug. If you're looking for a solution for your daily commute, I recommend one of these travel infuser mugs.
As for the actual process of preparing the tea, read my brewing instructions and tips article.
What Type Of Tea Is Better During Pregnancy, Iced Or Hot?
Iced tea is actually better for you when you're expecting because even a larger serving of iced tea contains less caffeine than a smaller hot cup of tea will. Read my article on how to make loose leaf iced tea for tips on making the perfect batch.
Can You Drink Green Tea While Breastfeeding?
Yes, you can drink green tea while breastfeeding. But you should limit your intake to 2 or 3 cups maximum. The generally accepted safe amount of caffeine for breastfeeding mothers is 300 mg. An average cup of green tea contains 25 to 50 mg, but it is still best to only have a few cups per day.
Is There A Way I Can Lower The Amount Of Caffeine In My Favorite Tea?
Maybe. Some people claim that caffeine is the first substance that is released in the water when you steep your tea. It is all released in the first thirty seconds of the steeping process.
Because of that, if you want to cut down on the amount of caffeine all you have to do is allow the tea to steep for thirty seconds, dump out the water, then use a new cup of hot water and steep the same tea again. This time around, most of the caffeine will have been removed.
Others claim that is completely false. The problem is that there is no conclusive proof either way. If you are trying to drink tea without caffeine, I recommend houjicha. It is a roasted Japanese green tea that has a much lower caffeine content that other teas, due to the roasting process.
In Japan, people drink this tea before bed time and also give it to children and the elderly, because those age groups generally should not consume large amounts of caffeine.
Another great way to reduce the caffeine content in tea is to brew it cold. This has many additional benefits as well. Learn all about cold brewed green tea (and any other type) here.
When Should I Start Drinking Raspberry Leaf Tea?
This is a type of herbal tea that provides a number of health benefits, because it contains high levels of tannins, minerals, and vitamins. Many pregnant women drink this tea because it's believed that it helps strengthen the uterine walls.
Others believe that it has the ability to speed up labor. Some midwives even swear that drinking this tea during your third trimester can bring about labor.
Most midwives recommend drinking this tea when you're eight months pregnant. This will give the tea the chance to build up in your system and have the desired effect.
Begin by drinking only one cup a day for a period of two to three weeks. After this time, you can drink as many as two to three cups a day. If you're not sure whether raspberry leaf tea is right for you, or even safe to drink, speak with your OB/GYN before trying.
Read about the top herbal tea brands, if you're not sure where to get raspberry, or other types of herbal, tea.
Drinking Tea While Pregnant: Final Thoughts
So, can a pregnant woman drink green tea?
Yes. Just as long as you closely monitor your caffeine intake and try to stay at, or under, two hundred milligrams of caffeine daily.
If you're concerned about your caffeine intake in general, you can also switch to houjicha green tea or an herbal blend. Herbal teas have less than 0.4 milligrams per cup. If you're not sure if a particular tea is safe to drink while pregnant, speak with your OB/GYN prior to drinking.