What warms you up on a cold day?
Alcohol? A hot cup of tea?
Those are two common answers. So why not combine them!
A big reason I don't enjoy most mixed drinks is the high sugar content. They're just too sweet. Which also makes them quite unhealthy.
Replacing the sodas or other sweet mixers with tea is a great way to make alcoholic drinks healthier.
It also makes them hot, which is just wonderful when the days and nights are cold!
It's also a nice treat when you're feeling a bit under the weather.
These days, alcoholic hot tea drinks are really the only mixed drinks I make. And if it's a hot day, I simply use iced tea instead. Here are some great alcoholic iced tea recipes.
Alcoholic Hot Tea Drinks: Finding The Perfect One For You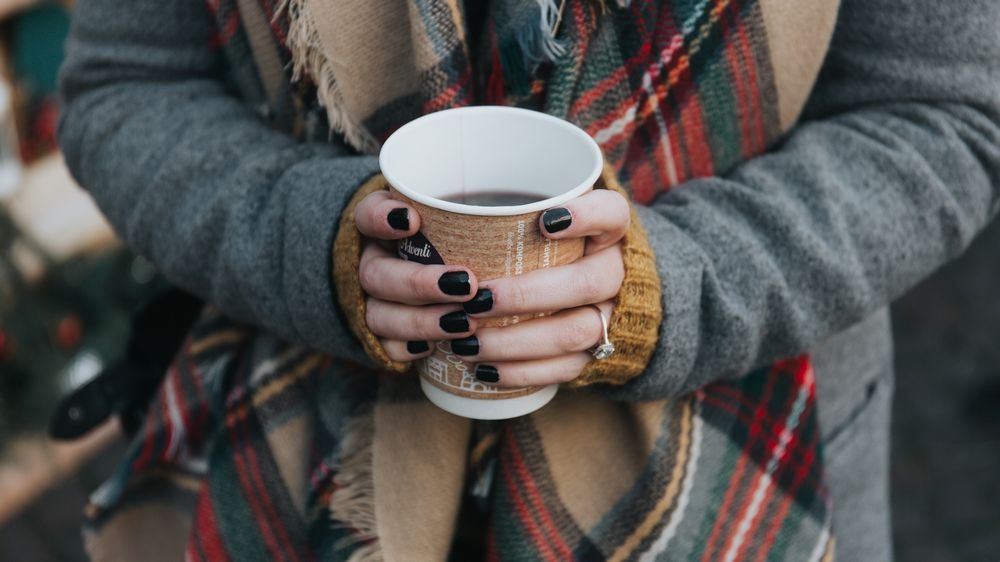 When it's cold outside or you're just not feeling your best, there's nothing like relaxing with a hot cup of tea. There are many different types of teas to choose from including white, oolong, black, green, and many different fruit and herbal teas.
It's not just green or black. A hot cup of raspberry or chamomile can also be a great choice if you're ready for bed and want a drink to help you unwind.
Even better: add a little extra something to your tea to not only enhance its flavor, but to also help you relax, to reduce pain, anxiety, and stress, or to simply allow you to enjoy your hot cup of tea that much more.
Most people drink tea for the many health benefits, such as the variety of vitamins, minerals, and antioxidants. Naturally, adding alcohol offsets from some of these health benefits, since alcohol isn't exactly healthy in and of itself.
But this is still a great low-calorie way to enjoy your favorite alcohol, because tea is a much healthier mixer than soda. Furthermore, you still get all of the same great health benefits that you do from your nonalcoholic cup of tea in the morning.
Adding alcohol to hot tea is really nothing new. In fact, hundreds of years ago, many people swore that doing so could help you get over a cold faster or even prevent sickness in the first place.
While we've learned over time that this isn't exactly true, enjoying a cup of alcoholic tea can definitely be the perfect way to unwind after work or to enjoy a get together with friends and family.
Let's look at some of the best warm alcoholic tea drinks.
The Hot Toddy
A hot toddy is probably the best and easiest way to combine tea and alcohol. It's perfect for unwinding but it's also a must-have drink if it's freezing outside or you're fighting a cold.
It's also a very versatile drink. You can choose your preferred alcohol, including rum, scotch, whiskey, or gin. Use your favorite tea and add honey, lemon, and cinnamon to enhance the flavor.
Rum And Black
Spiced rum and black tea seem to go with everything, so it only makes sense to put the two together. For this hot alcoholic drink, you may want to stick with a stronger tea if you're looking for more flavor and a higher caffeine content.
Try Lapsang Souchong, a smokey black tea with a strong flavor. But really, any black tea will do. Another great choice is an orange pekoe Ceylon tea.
What is orange pekoe tea? It has nothing to do with the fruit or the color orange. The name actually comes from a combination of an association with Dutch royalty and from a Chinese word.
The natural sweetness of rum is the perfect complement to a strong black tea, especially if you use loose leaf tea. The sweetness of the rum will take the edge off the slight bitterness of the black tea.
Whiskey And Green
Try using a pure Japanese whiskey and mix it with your favorite brand of green tea. For some, the flavor of green tea on its own is just too bland, especially when compared to stronger teas such as black.
That is why I wrote a whole article on how to make green tea taste better, but one thing I did not mention in the article is to try mixing it with a good Japanese whiskey.
First, prepare the green tea. Then add the whiskey. It's that simple.
The tea adds a grassy, savory quality to the whiskey, which makes this drink a great choice to serve at mealtime or alone. When served hot, a whiskey and green can help you unwind after a long day at the office, while also warming your body on a cold evening.
Bourbon And Mint
If you're not a big mint fan, then you'll want to skip past this drink. For most, mint is a very versatile flavor and one that compliments a variety of cocktails, especially the popular mojito.
If you want to try a hot version of the mojito, try pairing white rum with mint tea and lemon. This drink is perfect for those cold fall or winter nights and has the type of refreshing flavor that also makes it a great choice if you have a cold and you're looking for a little relief.
Another plus? This hot tea take on the mojito allows you to enjoy a delicious low-calorie beverage that's not loaded with sugar or flavored syrups, so it's the perfect option if you're counting calories or you're on a low or no sugar diet.
Gin And Chamomile
Chamomile tea is a favorite choice for those cold autumn or winter days. And really, when it comes to floral flavor, you can't top chamomile.
It can be perfectly paired with gin for an impressively powerful herbal flavor. Add a little cinnamon and honey and you'll have the perfect herbal drink on a cold winter's night.
Rye Whiskey And Chai
If you're a rye whiskey fan, then you'll love this next drink. Chai tea and rye whiskey nicely complement each other because they share some characteristics.
Irish cream can be a better option if you're not looking for the type of spicy flavor that rye whiskey offers. Kahlua can also add a nice creamy base.
Just keep in mind that both Irish cream and Kahlua contain a lot of sugar, so both can easily overpower the flavor of the chai. Add some frothy milk or cream on top of this hot satisfying tea concoction.
Some people also like to add some whisky to a dirty chai. Read our article on the difference between dirty chai and chai latte, if you're not sure what a dirty chai latte is.
Bourbon and Earl Grey
Earl grey boasts bergamot oil, even though it's typically made out of a blend of black teas. Bergamot is a type of orange and it can provide a slightly citric taste to the tea. While Earl Grey would also go well with rum, bourbon tends to do a better job of balancing out the sharper notes of the tea.
Tea Rum Punch
A hot tea punch is perfect for any social gathering. For a nice base, you can use red wine and rum. Add some black or white tea and apple cider for a well-rounded flavor. If you prefer a sweeter punch, add some cinnamon sticks and brown sugar or cloves.
White Amarula Tea
Amarula is a type of cream liqueur and it's made out of the Marula fruit. This liqueur has a creamy, rich taste that goes well with a mellow tea such as white or even green. Add some frothy cream on you've got yourself a type of alcoholic hot tea latte drink.
Chilled Alcoholic Tea Drinks
If you're looking for a cool and refreshing drink you can enjoy once the weather starts warming up, why not make a fresh pitcher of iced tea and mix it with your favorite alcohol for a great way to beat the heat?
Many of the drinks I've covered here can also be enjoyed iced. In fact, if you're looking for a stronger drink, try making cold brew tea and adding your favorite blend of alcohol, flavored syrups, and fruit.
Of course, with cold brew tea, the longer you brew it, the stronger the flavor. When making iced tea drinks, avoid adding the tea, fruit, or flavored syrup until the last minute, in order to prevent the tea from fermenting in the fridge. Keep the pitcher free from sweeteners and just add them to the glasses instead.
Hot Alcoholic Tea Drinks: Related Questions
Which Is The Best Hot Tea Drink In The Winter Time?
Really, the possibilities here are endless, and it all boils down to personal preference. Below you'll find examples of some winter favorites that are both rich in tea flavor and nutrients:
Hot green tea sake
Hot toddy
Black tea and pear or apple cider
Hot buttered rum and white tea
What Alcohol Should I Pair With Black Tea?
Wild Turkey is a great choice and goes well with most types of black teas. It also complements green and white tea nicely. Add some lemon or oranges for a nice twist on the flavor. If you're not a fan of Wild Turkey you can also choose from dozens of different types of flavored vodkas.
Can I Drink Sleepy Time Tea With Alcohol?
Yes. Adding this type of tea to alcohol can be the perfect way to unwind at night, especially if you're having trouble sleeping. There are also a variety of different types of Sleepy Time teas to choose from, so you can get a little creative and try different blends with your favorite alcohol.
Hot Tea With Alcohol: Final Thoughts
White and green tea blends are perfect if you're looking for a milder tea taste, while black teas such as English breakfast offer a stronger flavor. Don't be afraid to get creative and try adding different ingredients to your drink, including fresh and dried fruit, spices, mixers, and cream.
Alcoholic hot tea drinks have been a part of tea culture for hundreds of years. If you've never enjoyed this type of drink before, now is the time to try a little experimenting. Just make sure you don't drink them too hot. That has been shown to potentially cause cancer.
Use your favorite tea blends and add different combinations of flavors and alcohols to come up with a drink that's perfect for you and your next get-together.