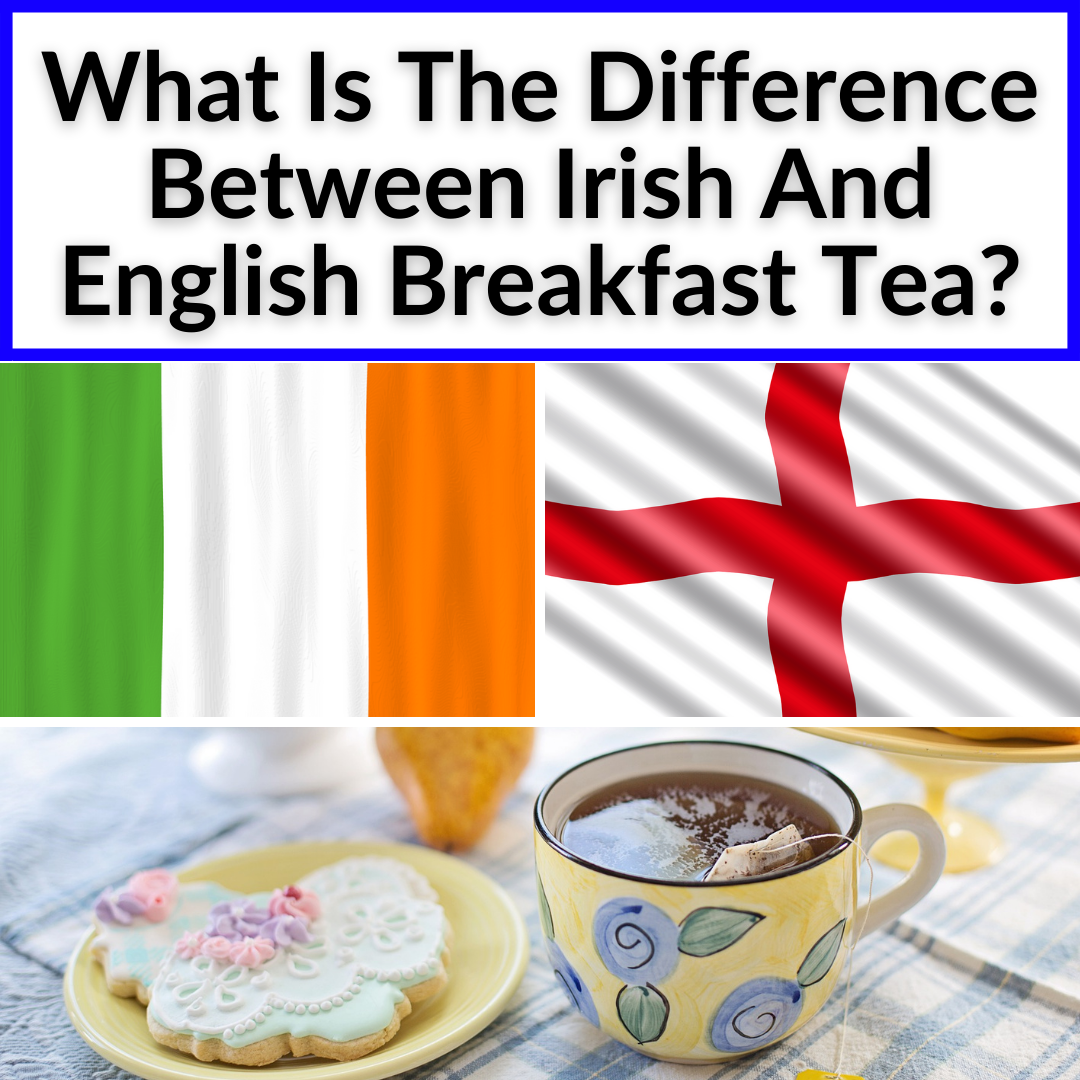 Is there even a difference?
At first glance, Irish vs English Breakfast tea seems to be mostly the same.
But there are a few key differences.
The most important one concerns the composition of each blend, which affects the strength of the tea.
One of these two teas is considerably stronger.
That makes the two distinct enough that one or the other will definitely be the better choice for you.
Keep reading for a full rundown of the similarities and differences between Irish and English breakfast tea. By the end, you will understand the advantages of each and know which one is right for you. Or just do what I do and have both on hand.
What Is The Difference Between Irish And English Breakfast Tea?
We'll begin our Irish vs English Breakfast Tea comparison by looking at each tea individually, before diving into the differences and similarities. Then we'll go into each tea's advantages and look at reasons to choose one over the other.
What Is English Breakfast Tea?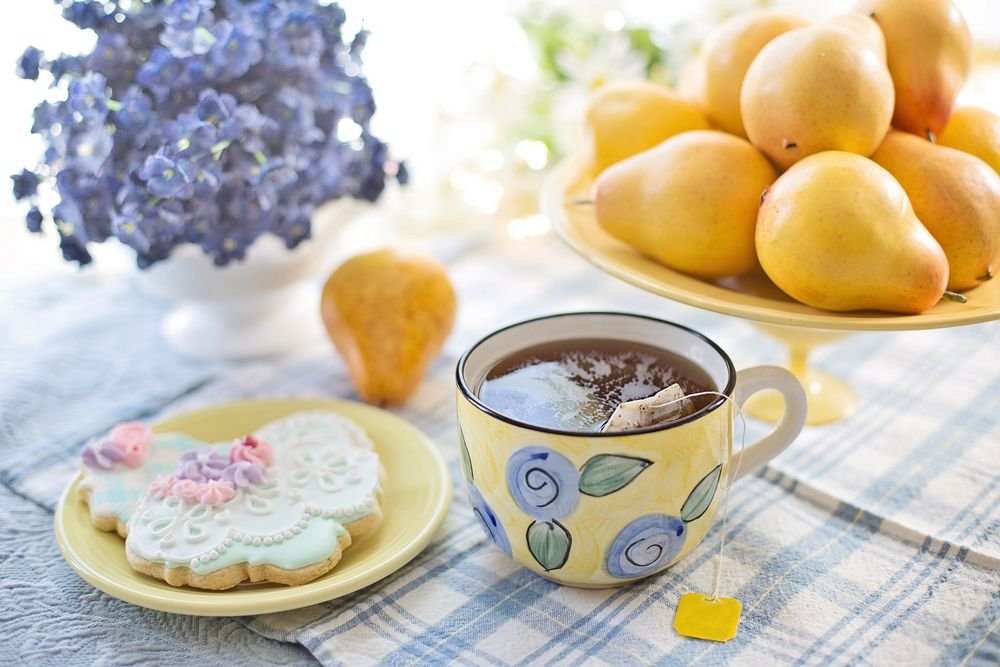 English breakfast tea is a robust blend of black teas that is traditionally drunk with breakfast in the UK, but it is also enjoyed worldwide at any time of day, not just in the morning. It is one of the most popular blended teas in the world and is quite common in many countries, including the USA.
There are some variations of English breakfast tea, but it is safe to say that it is usually a blend of three different types of teas coming from Sri Lanka, Kenya, and the Assam region of India.
The three different teas are blended and form a rich and robust tasting dark tea that is usually mixed with honey or sugar, and cream or milk (especially in the UK).
People have been drinking black teas for breakfast for hundreds of years in England and Ireland. There are some conflicting stories about the true origin of English breakfast tea, with some saying that it is actually from Scotland.
And there is some evidence to back this up. However, there is also a strong case to be made that the black breakfast tea has its roots in England. Either way, it's here to stay.
What Is Irish Breakfast Tea?
Irish breakfast tea is strong dark, red tea that is drunk with breakfast or at midday (or anytime, really) in Ireland and everywhere in the world. It is in Irish tea culture though, that this tea has its origins and strongest following to this day.
Tea came to Ireland via China in the 18th century. When it first arrived, it was sold to the very wealthy in Ireland, because the cost of importing tea from China was so high.
In the 19th century, it became more readily available to normal Irish folks, not just the upper class, due to more supply and the lower cost of importing it.
It is a blended tea that contains Ceylon teas as well as Assam teas. Many of the most popular Irish tea makers tend to have much more Assam tea in their breakfast tea blends than Ceylon. It is a very strong tea that is commonly mixed with milk or sugar.
Interestingly, the tea is not referred to as breakfast tea in Ireland other than on the packaging. Instead, is referred to just as tea and they drink it any time of day in Ireland and around the world.
Differences Between English And Irish Breakfast Tea
The biggest and most glaring difference between the two teas is that Irish breakfast tea is heavily weighted toward Assam tea, which gives it a malty, strong flavor and a red color.
Irish breakfast tea is generally stronger and bolder than the English version and tends to have more of a kick due to the intense Assam tea leaves included in the blend.
Irish Breakfast tea is commonly drunk with milk due to the strength of the tea, but also because of the huge role dairy plays in the Irish culture and economy. Although English breakfast tea is also drunk with milk, they tend to use cream as their go-to, instead of milk.
The blend of the teas is different as well, and it is interesting to note that there has never been an actual standard mixture or formula used to make Irish or English breakfast tea. It is just up to the makers of the tea to follow tradition and make tweaks to their blends.
As mentioned, Irish breakfast has a lot more Assam tea leaves than the English tea. This could be due to the history of importing tea to Ireland and the abundance of Assam tea when Irish tea culture was going mainstream.
Irish Breakfast Tea Vs English Breakfast Tea: Similarities
Both teas use the same core black teas to make their blends. Assam, Ceylon, and Kenyan are all present in these tea blends. Some tea makers change this blend and add other teas and spices to make their brand stand out. But in general, those three teas are the main components of both teas.
They are both called breakfast tea on the packaging but are not called this in practice. For example, in the UK nobody says, "I could fancy some breakfast tea." Instead they just call it tea.
They are drunk any time of day and commonly combined with dairy and sweeteners, like honey or sugar, due to the strength and taste of the tea. Part of the reason they add milk and sugar is just cultural, at this point. To me, a good black tea tastes fine on its own.
Both of these teas are popular all over the world, not just in their country of origin. You will find fans of English and Irish breakfast tea in every country. They are a staple of the tea world much like green tea or oolong tea is.
In any tea lover's cabinet, you will definitely find either English or Irish or both. Personally, I have both varieties on hand. I drink English tea when I just want a black tea for any reason at all, and I reach for the Irish stuff when I need a kick in the teeth. I drink it black, of course.
Advantages Of English Breakfast Tea
English breakfast tea is more versatile, in my opinion. It can be drunk at any time for any reason, without worrying about getting too much caffeine. It has a milder taste and appeals to more people, because it is not so immediately attention-grabbing.
It is a great tea to add some citrus to (like they do with Earl Gray), usually in the form of lemon. And of course, you can add cream or honey or both, if you like to act like a Brit.
At the risk of being more boring or bland, it is just an all-around more useful tea to have, because it can be drunk with anything at any time. The Irish version is a bit more hardcore and has a distinct flavor that does not always go with what you are eating. It is, therefore, less likely to be included in as many meals or daily activities.
Advantages Of Irish Breakfast Tea
If you are used to drinking coffee, you will probably transition easier to Irish breakfast tea. It is a strong, robust, dark, and unique tasting tea that has a good caffeine punch, though not as much as coffee.
Irish breakfast tea can have between 40 and 60 mg of caffein, whereas coffee packs a walloping 80 to 120 mg of caffeine per cup. You would need to drink 2 cups of Irish tea to get the same caffeine as you do from drinking one cup of coffee.
However, some brave souls use 2 tea bags or brew loose leaf Irish tea very strongly and end up with as much, or more, caffeine per cup than coffee. It is well known that the Irish tend to be gluttons for punishment.
Why To Drink English Breakfast Tea
English breakfast tea is for everyone. And you don't have to drink it in the morning. It is a good dark tea that can be mild or strong, depending on how you brew it. It does taste great with some honey and milk or cream (though I am not a fan of dairy in my tea at all).
It is a little milder than its Irish cousin and will taste good with just about any meal. But I would not recommend it with something like garlicky spaghetti. Trust me, just avoid that combination.
Why To Drink Irish Breakfast Tea
If you like strong robust black tea and/or are currently a coffee drinker, Irish breakfast tea may be more your speed. It just has more of a strong flavor, and it grabs you right away. To me, it is a bit bitter like some coffee is, especially when you drink it straight.
Irish Vs English Breakfast Tea: Final Thoughts
There is indeed not a ton of difference between Irish and English breakfast tea, but the differences that do exist make them quite different teas for different occasions and palates.
You will almost certainly have a strong preference for one or the other, though it is likely this preference will change depending on the situation, occasion, or just time of day.
At least, that is how it is for me. Sometimes an Irish tea just sounds better, while other times, I feel like the English version. That is why I always have both on hand. It is also nice to be able to offer guests a choice. Even better if you can offer it in a nice English style tea set.