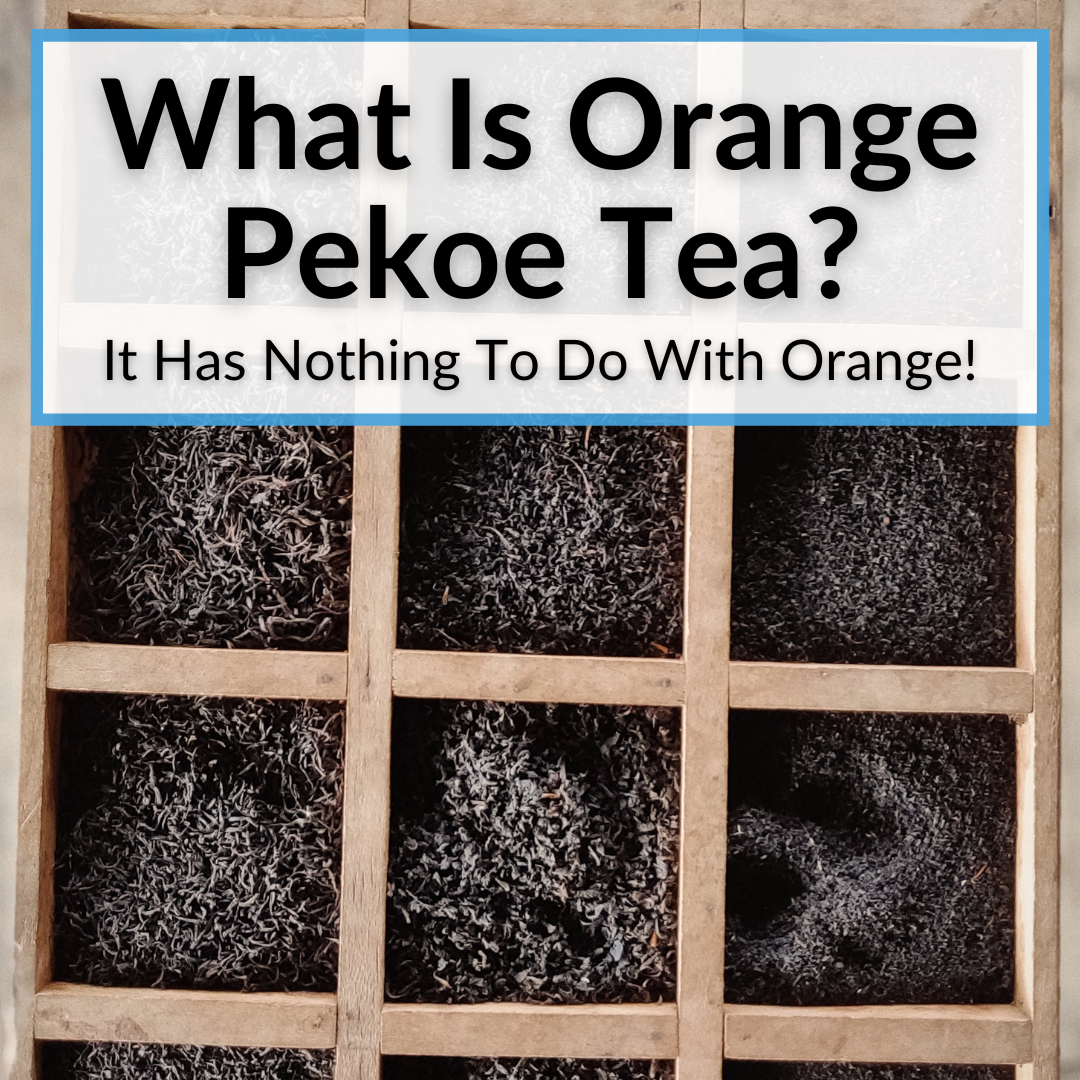 Orange Pekoe tea is a bit confusing.
It has nothing to do with the color orange. Or with the fruit.
It does not look orange and it does not taste like an orange.
So what is with the name, then?
Keep reading. We'll get into the origins of the name below.
You'll never guess where it comes from.
We'll also cover everything else you need to know about orange pekoe. The bottom line is that it is something you definitely want to try!
What Is Orange Pekoe Tea?
Orange pekoe is the best quality loose-leaf black tea. It is considered the traditional standard for black tea in terms of taste. The price of orange pekoe varies from a few dollars, to several hundred dollars for top-shelf blends.
Orange pekoe tea is high-quality black tea made from young leaves and buds of black tea plants. To qualify as orange pekoe, the tea blend must have full tea leaves.
Despite its name, orange pekoe does not have any orange flavoring at all. It does not brew orange either. Like most black teas, orange pekoe brews to a deep golden or reddish brown.
Orange pekoe tea is one of the oldest commercialized black teas on the market. Sales of orange pekoe date back to the Dutch East India Company, nearly 600 years ago.
While most people don't know this, orange pekoe tea is the traditional black tea. It is also the common flavor-profile standard for a blend of black tea.
Most highest-quality orange pekoe tea comes from the jungles of Northeastern India. It comes from the camellia Sinensis plant. The top growing regions of orange pekoe tea are the Darjeeling area and the Assam region. Lesser-quality orange pekoe is grown in Sri Lanka and other areas of Asia.
Orange pekoe tea is naturally caffeinated. It has approximately half the caffeine as one cup of regular coffee, though this varies greatly from one variety to the next.
Are There Different Types Of Orange Pekoe?
Plain orange pekoe black tea is actually the lowest quality of the orange pekoe loose-leaf black teas. There are several ways the grade of an orange pekoe tea is determined.
Flowery (F): this means that buds of the tea plant are included in the blend, not just the leaves.
Golden (G): "golden" refers to a large ratio of buds in the tea blend. The buds are usually a gold color.
Tippy (T): as the name suggests, this means that the best-quality buds and leaves were used. Those come from the very top (or tip) of the plant. These are also the youngest buds and leaves and they have the most flavor.
The highest-grade orange pekoe tea is TGFOP, which translates to Tippy Golden Flowery Orange Pekoe. Even the lowest-quality, loose-leaf black tea is better than the average tea on the market.
It is also important to point out that orange pekoe black tea can be sold broken or as dust. This is what is used in tea bags.
Broken pekoe is considered low-quality because more mature leaves are used to make the tea blend. Also, tea leaves lose their flavor and medicinal properties when broken down.
Why Is It Called Orange Pekoe Tea If It's Black Tea?
The official origin of the name is still debated by tea masters. Pekoe is thought to have been derived from a Chinese word that describes the downy white hairs on young tea buds.
Tea must be made from small, young buds and leaves to qualify as pekoe. These commonly have wispy white hairs. Therefore, "pekoe" is considered to be a physical description of the tea plants used to make orange pekoe.
The reason why it is described as "orange" is still a mystery. Some tea enthusiasts believe that it is because of the Dutch East India Company. They brought teas from around the world to Europe and reserved the best-quality black teas for Dutch royalty. Those black teas were pekoes.
Dutch royalty was known as "The House of Orange". The theory is that the Dutch East India Company coined their high-end black teas as "orange" pekoe as a marketing scheme to connect it with the Royal Family. This gave the impression that it is the absolute best tea that money could buy.
Other tea masters think that "orange" is meant to describe the color of the young buds harvested to make pekoe tea blends. This theory is not as widely accepted. Young buds of black tea plants are usually described as being "golden", not "orange".
However, there are not any historical documents that specify the origin of the name, so it is still truly anyone's guess! One thing that is not up for debate is that orange pekoe tea was not named based on flavor or brew color!
Benefits Of Drinking Orange Pekoe Tea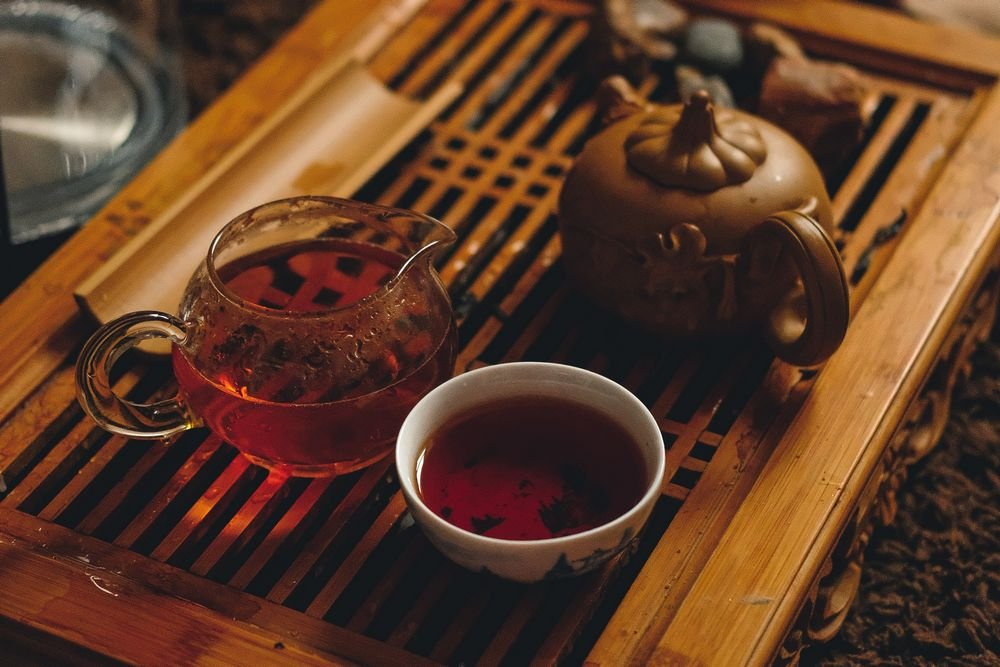 Aside from its enjoyably rich herbal taste, people also consume orange pekoe tea for its health benefits. Orange pekoe tea is most recognized for its rich antioxidants and inflammatory properties. Studies have shown that people who consistently drink Orange pekoe tea experience:
Better digestion
Improved gut health
Improved brain health
Lower cholesterol
Faster recovery from colds and cases of flu
Orange Pekoe tea also has a compound called l-theanine. This reduces stress and anxiety, both of which are primary contributing factors to health diseases. Consequently, orange pekoe can have positive effects on heart health and mental wellness.
While unproven, orange pekoe is also thought to slow the production of cancer cells. It is commonly suggested to drink orange pekoe black tea as a way to ward off symptoms and decline the progression of degenerative diseases.
You may have noticed that these health benefits are basically the same as those fr green tea, oolong tea, white tea, yellow tea or pu-erh tea. That's because all of these 'true' teas are made from the camellia Sinensis plant and thus have the same health benefits.
How To Make Orange Pekoe Tea
To get the best result, boil cool, filtered water. Using a strainer or loose tea brewing basket, submerge the orange pekoe tea leaves in the boiling water for 3 to 5 minutes. Be sure to remove any wayward leaves or buds before serving.
I prefer brewing teas in my glass teapot. Any good one comes with a strainer included. You can see our recommendations for the best glass teapots with infusers here.
High-end cafes and tea rooms will display the tea leaves when it is served. This shows you the coloring and integrity of the tea.
How Much Does Orange Pekoe Cost?
Standard orange pekoe tea is pretty affordable. For example, the Ceylon Orange Pekoe (shortened as 'OP') from Davidson's Tea that we recommend on our page about Ceylon tea costs only $19.88 for a 1 pound bag, or $1.24 per ounce.
However, high grades of orange pekoe can get quite expensive.
The Mahamosa Guranse Organic FTGFOP1 (Finest Tippy Golden Flower Orange Pekoe Grade 1) Nepal black tea we recommend on our page about Nepalese black tea is a god example. It costs 17.99 for a mere 2 ounces, which works out to almost $9 per ounce (or $144 per pound).
Orange pekoe is also sold in tea bags. This is much lower quality than loose tea and is commonly found in grocery stores and commercial-chain coffee shops. A box of orange pekoe tea bags retails for under $10.
Orange Pekoe Tea: Final Thoughts
Orange pekoe tea is not orange. It does not bres to an orange liquid. It does not taste anything like the fruit (well, some varieties may have a slight hint of citrus, but it is not characteristic of OP tea).
The name comes from a Chinese word and, possibly, from a reference to Dutch royalty. If you see the words Orange Pekoe on a tea, you know you have a quality loose leaf black tea. If it has a bunch of additional letters (as explained above), it is especially high quality.