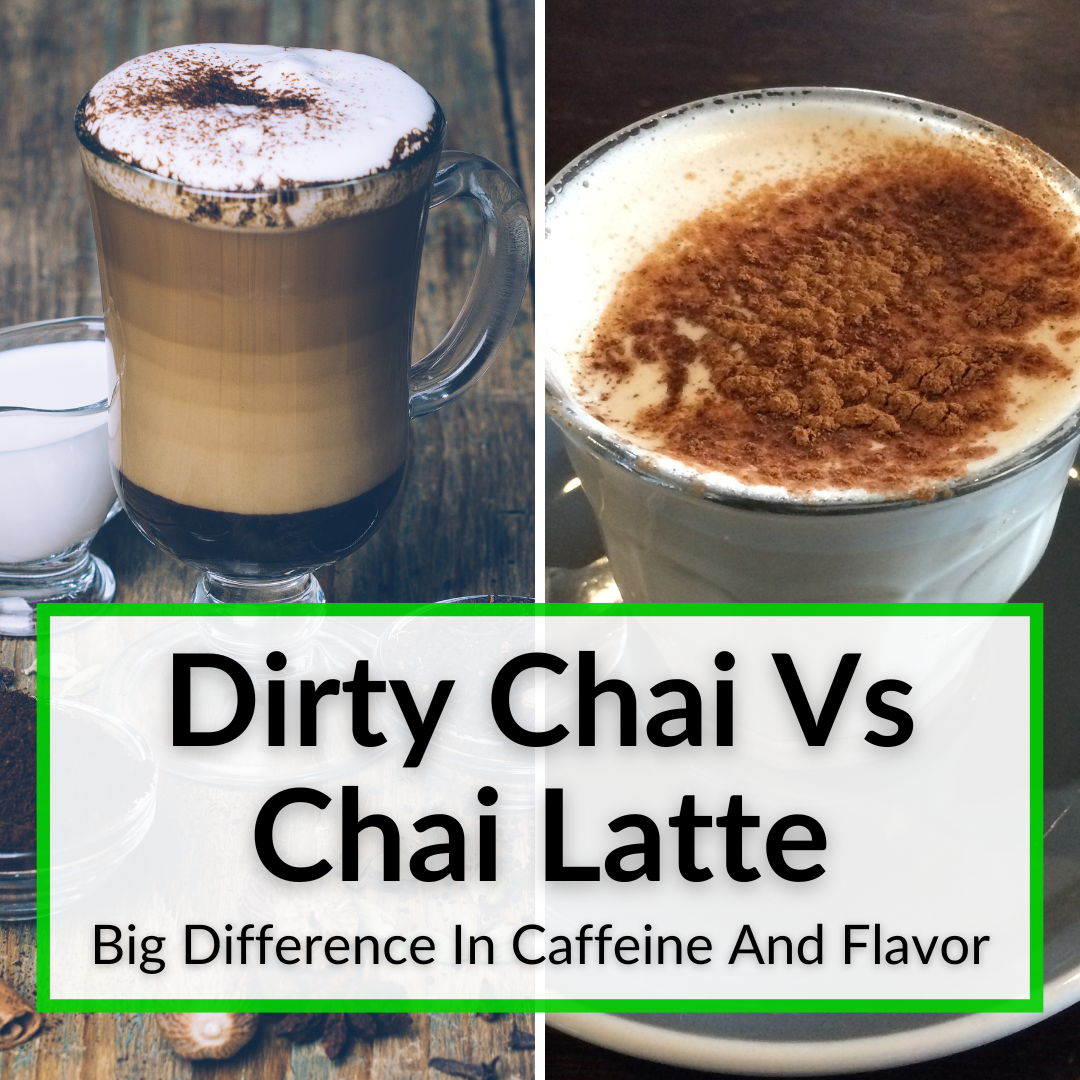 Sweet and addictive.
Those are perhaps the best words to describe these two popular drinks.
Both have become global drink phenomena that sometimes even border on obsession.
But aren't they basically just the same thing?
Not even close.
There are definitely similarities, but there is a huge difference in flavor and caffeine content.
One of these drinks contains far more caffeine than the other and it also has a much stronger flavor.
Keep reading to learn all of the differences between dirty chai and chai latte. We also have two great recipes for you below.
Dirty Chai Vs Chai Latte
Let's begin our comparison of chai latte and dirty chai by examining each drink individually, before taking a closer look at the major differences. We'll follow that up with a recipe for each of the two drinks.
What Is Dirty Chai?
According to rumors that have been circulating since the 90s, a barista was preparing a chai latte for a traveler, but he added a shot of espresso to the drink by mistake. The traveler decided to try the drink anyway and was amazed by its incredible taste.
The Dirty Chai was born!
This unusual, yet delicious drink contains an espresso shot and steamed milk with spices. It is ideal for all those who don't like their mouth on fire! If we wanted to describe the taste in more detail, we could profile it as a smooth, milky, and fragrant coffee taste.
Best of all, the dirty chai latte is absolutely suitable for those who like a slightly stronger coffee taste, because the recipe allows for the addition of two or more shots of espresso coffee.
As for spices, people usually prefer to add cardamom, cloves, cinnamon, and ginger. However, black pepper is by far the most popular, because it has such a strong and unique aroma when burned.
This drink is a great choice to start the day. We especially like that you can consume it both cold and warm. And you can add steamed milk, and/or ice for an iced drink. Finally, you can also add additional sweeteners, if that is your preference.
Get more details about dirty chai here, or keep reading below for a great recipe.
What Is A Chai Latte?
A chai latte (masala chai) is a popular drink that can be found on the menu of most coffee shops. It uses steamed milk with spices, usually cinnamon or cardamom. It can even be topped off with foam, to make it even more special.
As for the recipe itself, it varies depending on the café. What does that even mean? Well, it's very simple. Each café has its own signature blend and secret ingredients.
Many people find it confusing to distinguish between espresso lattes and masala chai. Most believe they are the same drink, but that is not the case.
Espresso latte has a strong mixture of coffee and steamed milk, which gives it a rather strong, rich taste. Masala chai is made with tea and has a foamy texture and lighter taste.
Difference Between Dirty Chai And Chai Latte
Now that you know the basics about each drink, it's time to talk little more about the differences and similarities between dirty chai vs chai latte, as well as the methods of preparation of each variety.
The categories we will compare are taste, caffeine content, and calories. Let's begin with the flavor.
Taste
The main difference between dirty chai and chai latte is in their flavor. Chai latte is a tea drink made with concentrated tea and various spices, in order to create a unique balance between flavors.
On the other hand, dirty chai contains an espresso shot for a strong coffee taste. We can say that masala chai is an excellent option for all those who do not like bitter coffee, but still like to feel an extra dose of caffeine without the taste being too strong or overwhelming.
Learn more about what chai milk tea tastes like.
Caffeine Content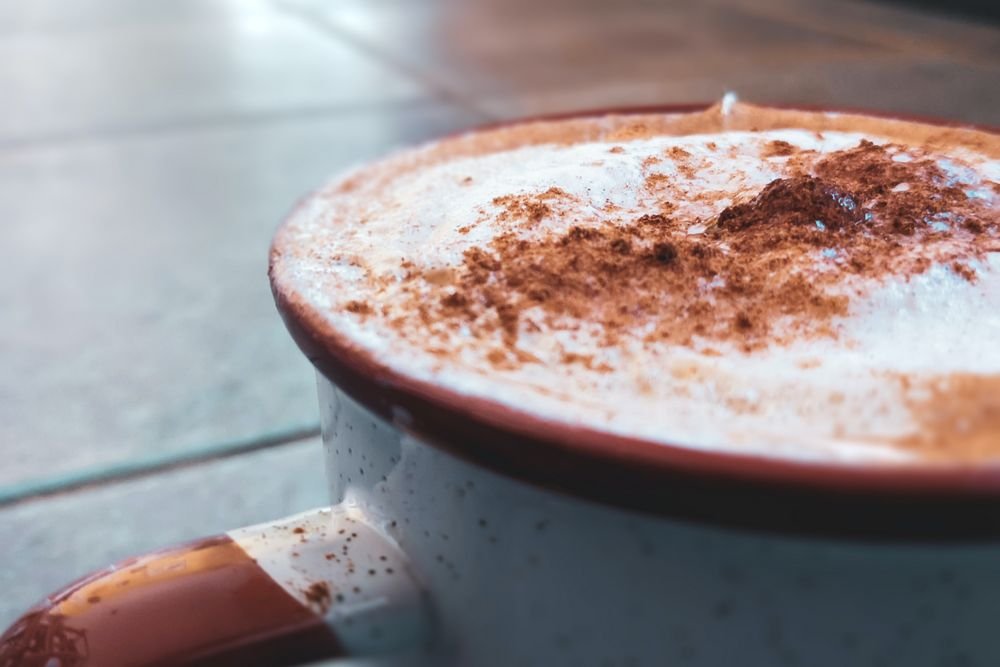 Though you might think otherwise at first, the dirty chai latte has more caffeine than a chai latte. That makes it less suitable during pregnancy or before bed.
Were you fooled by the color of the drink? Trust us, you aren't the only. The ingredients of the dirty chai latte tell the story.
Espresso
This delicious drink is made from finely ground coffee beans, as well as indispensable hot water pumped through them under pressure in an espresso maker. As for the coffee itself, you can use any variety of beans or roasts.
It is only important that they are ground finer than regular filtered coffees. That guarantees a more intense taste, but also less caffeine due to higher pressure.
Steamed Milk
To make the perfect dirty chai latte, you need nonfat or full-fat milk, soy milk, almond milk, or oat milk, which is heated up to create bubbles.
Flavored Syrups And/Or Sweeteners
This drink probably wouldn't be so popular if it didn't have the addition of various characteristic syrups and sweeteners. What these drinks have in common are cozy and warm notes. However, the "dirty" version contains an additional caffeine kick.
It is also important to note that people tend to brew chai tea lattes in a much stronger way than they do with regular, pure tea. Accordingly, chai tea lattes contain more caffeine.
Thus, it is no surprise that this is the number one option for all those sleepy individuals who need an extra shot of espresso every morning.
The difference in caffeine content is quite large, too. A dirty chai latte has 160 mg, while a chai latte has somewhere between 50 and 70 mg of caffeine. You can see that masala chai has considerably less caffeine than typical coffee, which is true of almost all types of tea.
Calories
As you might imagine, neither of these drinks are especially low in calories, but they are still much better than many other coffee drinks, and especially soft drinks. It also depends a lot on the ingredients.
12 ounces of dirty chai latte contains around 200 calories and 20 ounces has around 340. A 12 ounce chai latte has around 190 calories, so the difference is negligible.
When Is The Right Time To Drink A Chai?
Many people aren't sure about the right time to consume these beverages. Plus, a good percentage of people can't tolerate caffeine intake before bed.
In short, when you need a quick dose of energy, feel free to reach for dirty chai. The exotic flavors of this blend will give you everything you need to boost your energy.
On the other hand, a chai latte is perfect for consuming in the evening since it's not as caffeinated. Accordingly, it is not as likely to cause insomnia as dirty chai.
How To Make Dirty Chai At Home
All coffee lovers know that blessed feeling when drinking the first coffee in the morning. Unfortunately, most dirty chai lattes take a long time to prepare.
I'm guessing you aren't in the mood to get up at least an hour early just to make coffee. Luckily, this recipe does not take much time at all. Let's see what you need to enjoy that first delicious sip.
Ingredients
1 – 2 shots of espresso (as a substitute for espresso you can use 2-4 oz of some other type of strong coffee)
Black tea (bag or leaves)
1 – 2 tablespoons of Chai tea powder (essential part)
1/3 cup whole milk (or substitute)
Instructions
The preparation is very simple. It mostly depends on whether you use black tea leaves or ready-made tea from a bag. The form in which the tea came (bag or leaves) also defines the strength of the flavor.
Option 1: If you are using a tea bag, all you need to do is pour boiling water over it and let it steep for 3-5 minutes. After that, throw away the tea bag and add 1-2 shots of espresso, depending on the strength of flavor you want and how much caffeine you want.
Option 2: Another option is to use black tea leaves. Simply pour boiling water over the tea leaves and brew the tea as normal (following the instructions on the box, or around 2-5 minutes if there are no instructions). Strain out the leaves and add 1-2 shots of espresso.
After preparing the tea in one of the two suggested ways, add 1-2 tablespoons of chai tea powder containing cinnamon, cardamom, ginger, and nutmeg. As for the milk, you can use a frother or simply heat it in the microwave.
And that is it. It only takes a few steps to enjoy this caffeine bomb!
How To Make Chai Latte At Home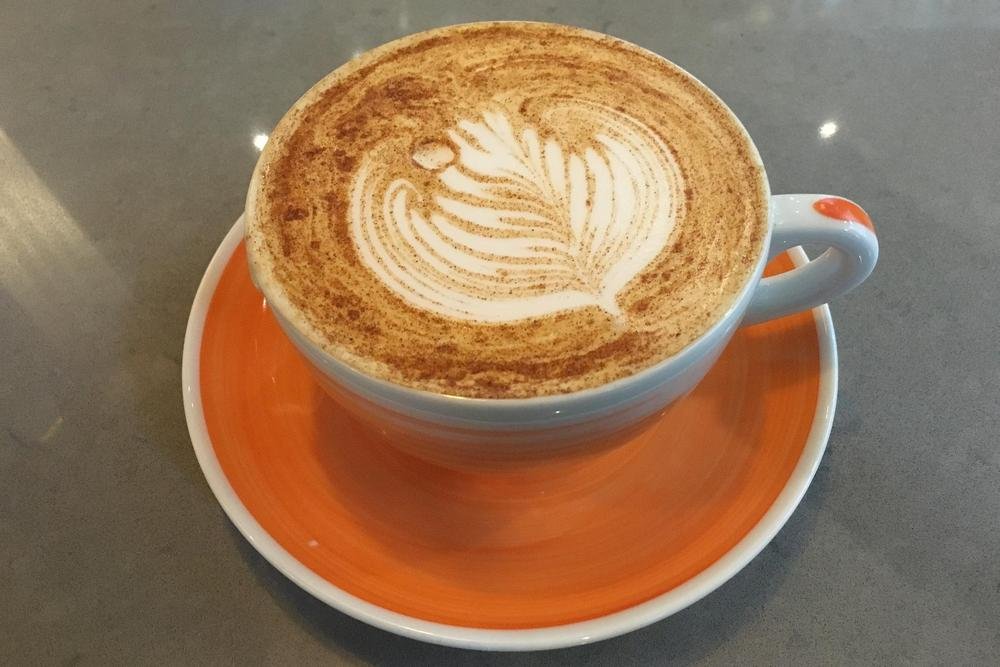 You will notice very quickly that chai latte requires a lot more ingredients. Of course, there are premixed powders available that contain all of the ingredients to make chai tea by just adding water or milk, if you prefer the fast and easy route.
Ingredients
¼ cup of powdered cane sugar
1 ¾ cup of non-fat milk powder
2 scoops of vanilla extract
1 ½ cup natural sweetener (our recommendation is to choose between coconut sugar and sucanat)
1 scoop of Pimento
½ scoop of cardamom
½ scoop of white pepper
1 scoop of dry cloves
1 scoop of nutmeg
2 scoops of cinnamon
2 scoops of ginger
Instructions
The first thing you need to do is mix cane sugar and vanilla in a clean bowl, and then let the mixture dry well before breaking it into lumps.
Your next step is to mix spices, powdered, and cane sugar and stir them well. As for the spices, it would be wisest to grind them because that is the only way to feel the fullness of the flavor. The best way to do this is with a food processor or blender, then store the spices in a separate container.
Then prepare a drink from tea bags or black tea leaves and mix with 2 teaspoons of latte mix. For all those who like to add some extra flavor and aroma to their drinks, we recommend blending the mix in a food processor or blender.
Finally, you can add a little bit of vanilla if you like the taste, however, those who prefer their chai latte black can leave it out.
Chai Vs Dirty Chai Latte: Final Thoughts
The difference between dirty chai and chai latte is in the ingredients and the method of preparation. Dirty chai is made from espresso and sweetened condensed milk, and some popular spices such as cinnamon, cardamom, ginger, and nutmeg.
On the other hand, chai latte only contains brewed tea infused with ground spices such as cinnamon, white pepper, ginger root, cardamom, cloves, and the indispensable ground nutmeg.
Which one do you prefer? Let us know in the comments below.