You give up a lot when you're pregnant.
Especially if you want to heed all of the advice and always do what is best for your baby.
You've probably heard that caffeine is bad for pregnant women.
Does that mean you have to give up you favorite caffeinated drinks?
For example, is chai tea safe during pregnancy, or is this delicious drink another of the many sacrifices you have to make?
It turns out, a small amount of caffeine is considered safe. And that amount is more than you get from a cup of chai.
In other words, you get to keep drinking chai. In moderation. But how much is ok?
Keep reading to learn how much chai you can safely drink. We will also cover other possible health concerns apart from the caffeine, along with some potential benefits of chai to pregnant women.
Is Chai Tea Safe During Pregnancy?
Chai tea is safe during pregnancy, but only in moderation. It contains caffeine, which is a stimulant that can have an impact on your developing fetus.
Moderate caffeine consumption is generally considered safe during pregnancy. But excessive caffeine intake may increase the risk of certain complications, such as low birth weight, miscarriage, and preterm labor.
If you want to be as safe as possible, it is best to avoid caffeine altogether. But if you don't want to give up drinking delicious chai during your pregnancy, having a cup or two per day is fine.
Let's take a closer look at exactly what is in chai tea and how it can impact your pregnancy. We'll look at both potential dangers, as well as benefits. We'll cover how much caffeine is considered safe and also give you some alternatives to chai tea.
What Is In Chai Tea
You may be wondering about chai tea's ingredients and how much caffeine it actually contains. Chai tea typically consists of black tea, a blend of spices, and milk or non-dairy milk alternatives.
The specific spices used in chai tea can vary, but typically include cinnamon, ginger, cardamom, and cloves. These make for a delicious, spicy flavor.
In terms of caffeine content, the amount of caffeine in chai tea can vary depending on the recipe and how it's prepared. For example, a typical 8-ounce cup of chai tea made with a tea bag can contain anywhere from 25 to 50 milligrams of caffeine.
A cup of dirty chai, a drink made with espresso, can contain 60 to 120 milligrams of caffeine.
Different types of chai tea that are lower in caffeine are also available, like certain blends or decaf chai tea. These alternatives may be a good option if you're looking to reduce your caffeine intake during pregnancy.
Potential Risks Associated With Chai Tea During Pregnancy
As mentioned earlier, caffeine content is the main concern when it comes to consuming chai tea during pregnancy. The caffeine content of chai tea can vary depending on the recipe and preparation method.
Generally, chai tea contains about 25 to 50 milligrams of caffeine per 8-ounce serving. However, some commercial varieties may contain more caffeine. It's important to check the label and be aware of the caffeine content, so you can limit your intake accordingly.
Effects Of Excessive Caffeine Intake During Pregnancy
Consuming too much caffeine during pregnancy has been linked to negative outcomes such as low birth weight, premature birth, and miscarriage. The American College of Obstetricians and Gynecologists recommends that pregnant women limit their caffeine intake to 200 milligrams per day.
Other Potential Risks Associated With Certain Ingredients In Chai Tea
Some varieties of chai tea may contain additional ingredients, usually herbs or spices, that can be harmful in large amounts. For example, some types of cinnamon have been linked to liver toxicity in high doses.
It's important to read ingredient labels and research any unfamiliar ingredients before consuming chai tea during pregnancy. If you are unsure about anything, consult with your doctor.
Potential Benefits Of Chai Tea During Pregnancy
It's not all bd news. Chai tea contains a variety of ingredients that can actually provide health benefits for pregnant women.
For example, black tea, which is a common base for chai tea, is a good source of antioxidants. Antioxidants can help protect your body from damage caused by harmful molecules called free radicals.
Additionally, many of the spices used in chai tea, such as cinnamon, ginger, and cardamom, have anti-inflammatory properties and may help relieve nausea and other digestive issues commonly experienced during pregnancy, like morning sickness.
However, it's important to note that, while chai tea can provide health benefits, you need to take care to consume it in moderation, to avoid potential risks associated with caffeine and other ingredients.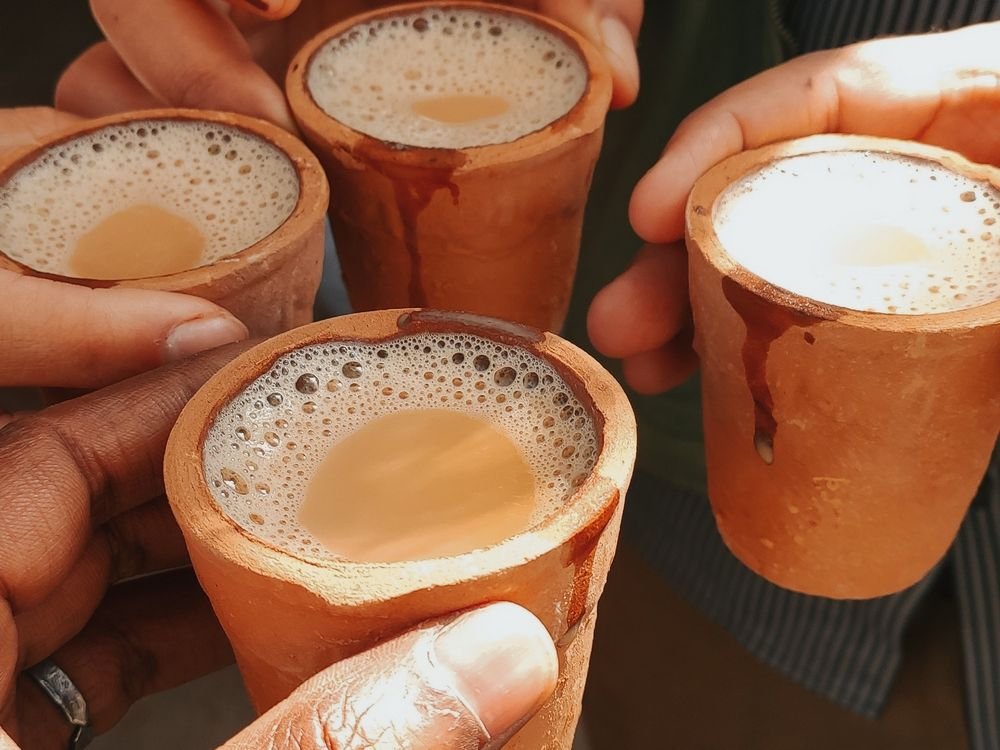 As always, it's important to talk to your healthcare provider before adding any new foods or drinks to your diet during pregnancy. Your doctor can provide personalized recommendations based on your individual health needs and the specific ingredients in the brand of chai tea that you usually drink.
Alternatives To Traditional Chai Tea
If you are concerned about the caffeine content in chai tea or want to try something new, there are many alternatives to traditional chai tea that are safe for pregnant women. You can try herbal teas like peppermint, ginger, or chamomile, which have a wide range of health benefits and are naturally caffeine-free.
Is Chai Tea Okay During Pregnancy: Related Questions
Next, we will answer some common questions related to chai tea and pregnancy. If you have any additional questions, please feel free to ask them in the comments below.
What Teas Are Safe To Drink While Pregnant?
Black, white, and green teas in moderation are safe during pregnancy. They do contain caffeine, so be careful of how much you consume to stay under the recommended limit for pregnancy. Use extra caution with herbal teas, which aren't FDA regulated.
Is Earl Grey Tea OK During Pregnancy?
Traditional Earl Grey tea contains less caffeine than an average cup of coffee and is therefore safe to consume while pregnant. It is recommended, however, to stick to a cup or two daily, to maintain moderate caffeine consumption and not exceed the recommended limits.
Which Herbal Teas Should You Avoid When Pregnant?
Some herbal teas are unsafe or ill-advised when you're pregnant. Among them are diet teas, cleansing teas, and detox teas, along with teas that contain black cohosh, blue cohosh, and dong quai.
Is Decaf Chai Tea Caffeine-Free?
Not entirely, no. The decaffeination process does not completely remove all caffeine. Decaffeinated teas contain around four milligrams or less of caffeine per cup. An average cup of caffeinated black tea with milk contains around 50 milligrams of caffeine.
Does Chai Always Have Cinnamon?
Chai tea blends almost always include cinnamon, ginger, cardamom, black tea, and cloves in their blends. There are some variations out there that also include additional spices, such as nutmeg, star anise, peppercorns, fennel seeds, and more.
Chai Is Safe When Pregnant: Final Thoughts
It is safe to drink chai tea during pregnancy, as long as you limit it to a cup or two. Usually, you can have even more than that, but how much you can have exactly depends on the blend in question. But one or two cups is a safe amount, no matter the blend.
Make sure to check the ingredient list of any chai you consume, just to make sure there is not something else in there that could be harmful to your baby. I know this is not possible if you are drinking chai on the street in India, but any good chai tea you buy online will tell you exactly what is in it.