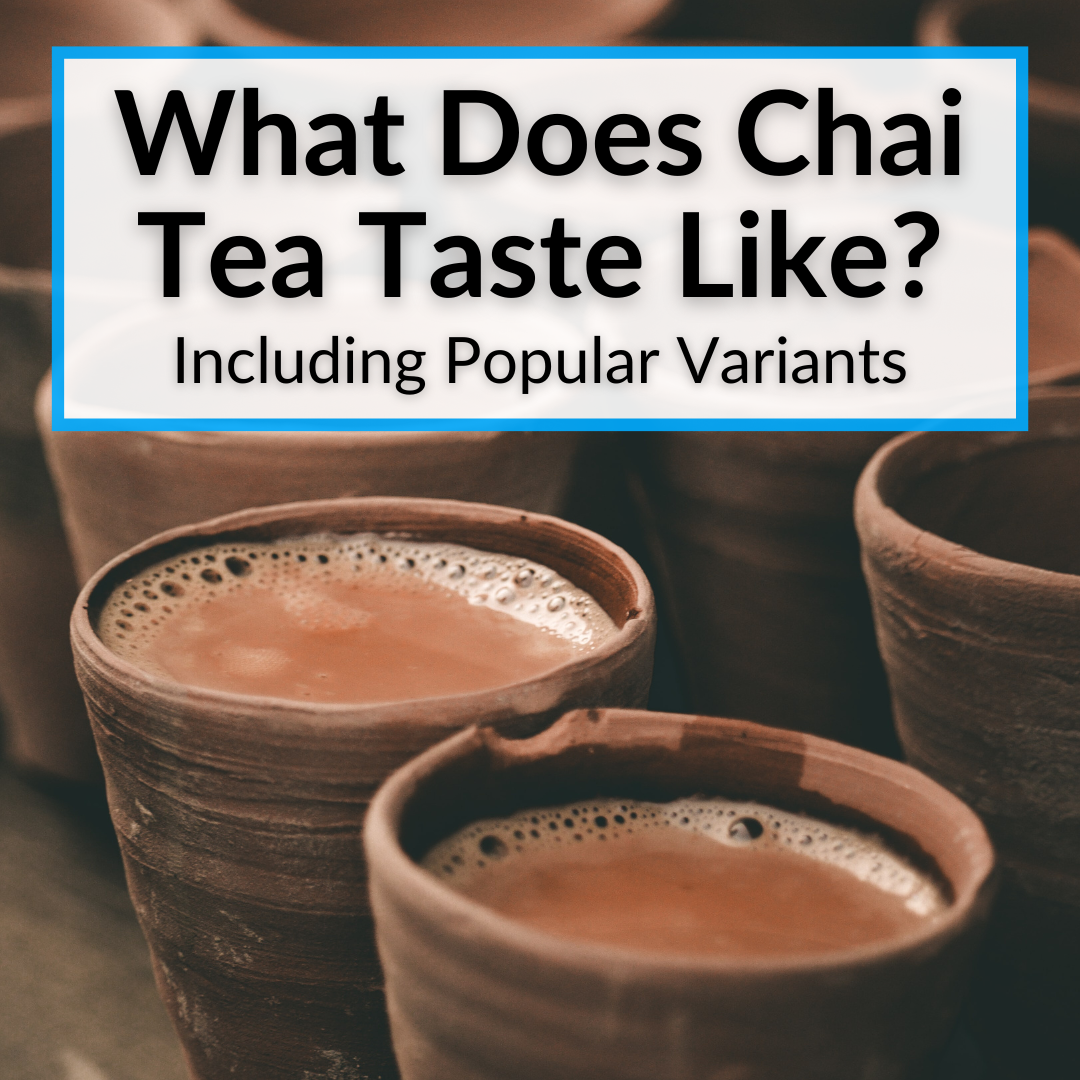 I always feel I should explain this.
Even though you probably already know.
The phrase "chai tea" is redundant. Those two words mean the same thing.
"Chai" is the word for "tea" in a number of languages, including Hindi. And India is where what we refer to as "chai tea" originates.
But that has little to do with today's topic. You want to know what chai tea tastes like.
Unfortunately, that is a bit more complicated than you may realize. There are many different variations of chai.
We will cover the most common chai variants below and do our best to give yo an idea of the type of flavor you can expect from each one.
What Does Chai Tea Taste Like?
Chai tea tastes like black tea with milk and whatever spices you add to it. Those could be ginger, cardamom, bergamot, cinnamon, or other masalas or spices.
You could describe traditionally prepared Chai tea with milk as zesty, spicy, creamy, milky, rich, earthy, invigorating, sweet, or energizing. The truth is, there are many ways to describe the taste of chai tea.
The base flavor is the tea. Chai is typically made using black tea, although some people also use oolong tea. Depending on what you add to that tea, your chai can take on different flavors.
How Different Types Of Chai Tea Taste
Here's how most people would describe the taste of chai tea based on various ingredients used in making it.
Plain Chai Tea
This tea is prepared using black or oolong tea, water, sugar, and milk. It tastes like milk tea with an invigorating, earthy, and energizing taste.
Masala Chai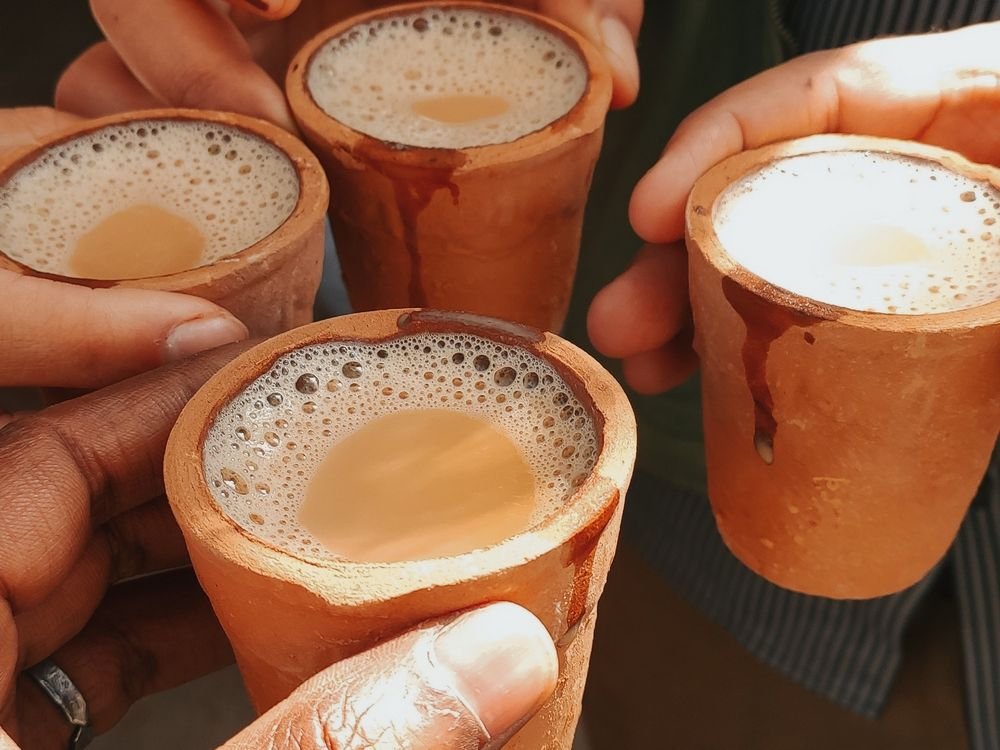 This is a favorite Indian chai variant. It is made using various spices such as ginger, cardamom, black pepper, cinnamon, cloves, etc. The tea can be described as spicy, energizing, refreshing, invigorating, and warming. This is the tea to drink on cold winter mornings.
If you don't want to bother with all of those spices, there are tons of great instant chai tea mixes on the market. This article lists the best chai teas you can buy online.
Ginger Chai
Ginger chai is made using ginger root which may be grated or sliced or in its powdered form. You add the ginger root while brewing the tea. This spicy tea is an excellent remedy for colds and can soothe a sore throat.
Ginger tea tastes the best when taken plain with honey or sugar. Some people prefer milky ginger chai with milk or cream and a sweetener like honey, sugar, or stevia.
Cardamom Chai
This is a summertime favorite, because the cardamom pods are cooling. They add their own sweetness to the chai tea. This type of tea is best had with milk.
You crush the cardamom in a pestle (to retain slight coarseness) and add it to black tea, water, sugar, and milk. Boil the mixture, steep it for 2-3 minutes, then strain and enjoy.
Cinnamon Chai
Cinnamon chai has a lightly sweet and spicy taste. You can have it with or without milk. The naturally sweet tea does not need any sugar or sweetener. You can use powdered cinnamon or cinnamon sticks or barks.
Earl Grey Chai
This quintessentially British tea is made using a base of black tea flavored with bergamot oil. This tea has a mild citrus taste. Adding milk to this tea could cause the milk to spoil, so it is best to have it plain with a bit of honey.
Iced Chai Latte
This is a refreshing cold, milky drink made using chai, milk, sugar, water, and ice cubes. You can add a bit of vanilla, cinnamon, or cardamom for extra flavor.
Is Chai Tea Healthier Than Coffee?
Both drinks have their benefits. In general, chai tea is considered healthier, because it contains less caffeine than coffee. One cup of chai could contain between 20 and 55 mg of caffeine whereas one cup of coffee contains around 120 mg of caffeine.
Coffee is also a diuretic which means it increases urine production. This could cause dehydration if you drink it in excess. And hydration is the key to metabolic function and brain health.
Chai made with pure water and black tea can replace some of the water you lose through sweating. When drunk in moderate quantities, tea does not have any dehydration effect like coffee. That said, the tannins in tea could result in your mouth feeling dry after drinking tea.
Some people also experience jitters after drinking coffee. This is because coffee acts as a stimulant and increases heart rate and blood pressure. These effects are not documented in chai tea drinkers.
Sure, coffee awakens and refreshes you because of its caffeine content. But the tannins in chai tea work with its meager caffeine content to produce a calming and stimulating effect. This means that chai tea energizes and makes you feel alert without the jittery feeling that coffee causes.
The tannins in chai tea also promote heart health by lowering bad cholesterol. They even help in digestion. Chai tea can also relieve menstrual cramps, boost immunity, and fight inflammation.
Does Chai Tea Taste Like Milk Tea?
Chai tea is what most Indians drink. It is tea made by boiling a little bit of milk, tea leaves, water, and sugar. Milk tea is the name given by tea drinkers in the west for black tea prepared with milk and water.
As such chai tea is a type of milk tea, but there are many different types. Two other popular types are Hokkaido milk tea and Okinawa milk tea.
Chai tea sets itself apart from those, and other, milk teas, because it is often prepared with other masalas or spices like cardamom, ginger, etc. In such cases, the chai tea will take on the flavor and taste of these spices. Milk tea is just black tea with a milky taste.
Will Chai Tea Keep Me Awake?
Chai tea contains very little caffeine – between 20 and 55 mg per cup. On the other hand, coffee contains almost 120 mg of caffeine per cup. For this reason, chai is not anywhere near as strong as coffee.
Therefore, most people don't have trouble sleeping if they drink chai tea in the evening. Having said that, if you are sensitive to caffeine, it may be best to avoid chai tea after 6 pm.
If you want to stay awake for the purpose of studying or work, then a cup of strong black coffee might do a better job of helping you stay awake than a cup of chai tea would.
Is Chai Tea Good For Weight Loss?
Chai tea prepared with black tea, low-fat milk like skim milk or soy milk, and without sugar could help suppress the appetite, especially if you consume it before meals.
This, combined with a healthy diet and workout plan, could help you lose weight. On the other hand, if you drink several cups of chai tea with sugar and full-fat milk or cream, it could actually cause weight gain.
What Are The Side Effects Of Chai Tea?
Drinking several cups of chai tea with sugar and full-fat milk could cause the following side effects:
Headache
Acidity and indigestion
Pregnancy complications
Poor sleep.
These effects are mostly seen in people who are sensitive to tannins and caffeine. If you are pregnant and do not want to give up your chai, one or two cups of chai tea is safe to drink when pregnant.
What Does Chai Milk Tea Taste Like: Final Thoughts
As mentioned in the beginning, there are many different variations of chai tea, depending on which spices you choose to include. Using different spices can lead to very different flavors, making it impossible to say exactly what chai tea tastes like.
We tried to cover the most common chai variants above and give you an idea of what they will taste like. However, the best way to find out what chai tea tastes like is to simply try some for yourself. Chances are you'll enjoy it!
I do not generally like tea with milk or sugar, but even I enjoyed the occasional cup of chai tea when I was traveling through India. That said, I did always much prefer a cup of plain Darjeeling tea with no additives at all.