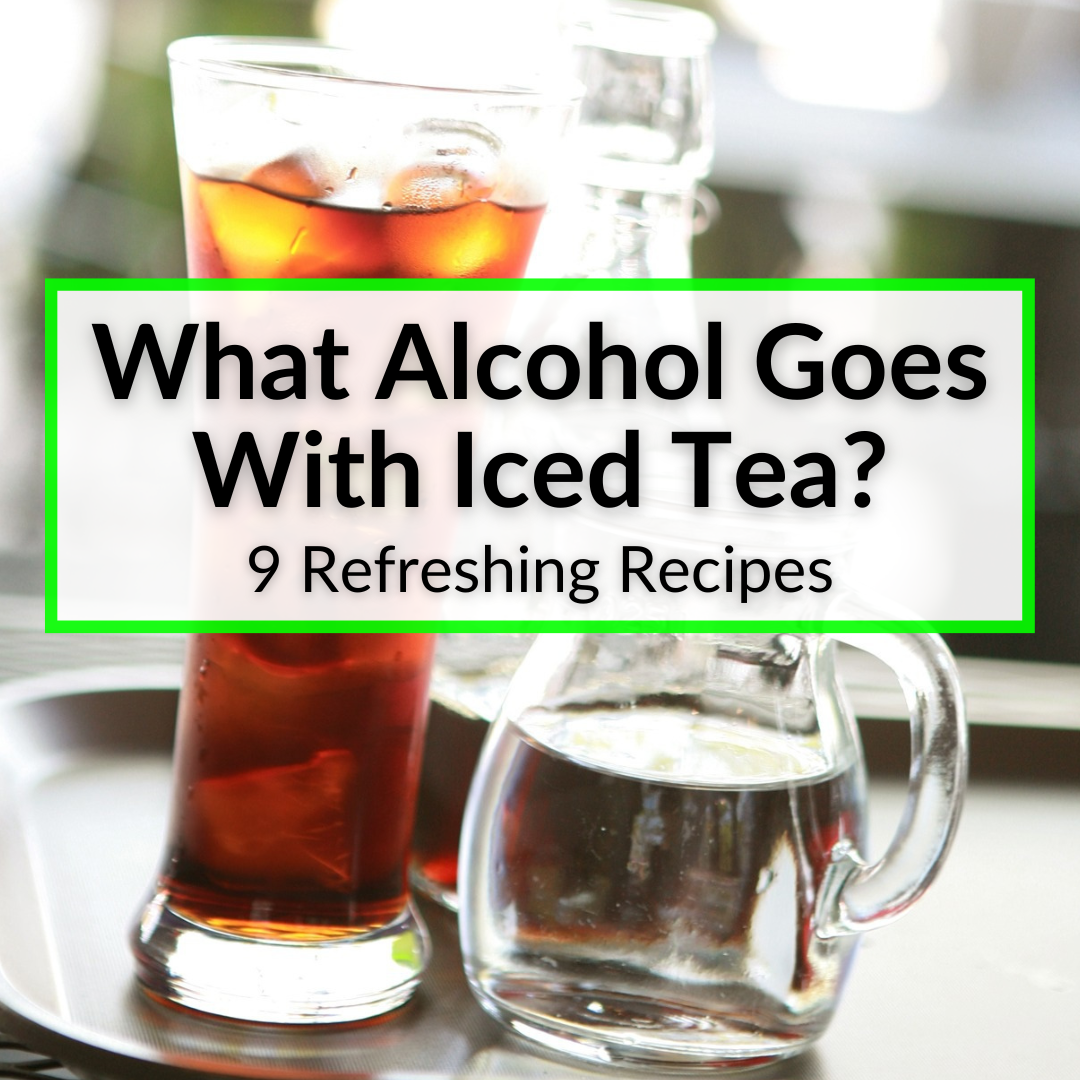 I remember the first time I had an alcoholic drink with tea.
I was living in Japan and was out for dinner with some coworkers.
One of them ordered a round of umeshu, a drink made with plums and shochu, a strong Japanese alcohol.
It tasted amazing and led me to try all kinds of drinks combining iced tea and shochu.
But shochu is not the only alcohol you can combine with tea. Good thing, since it is expensive and hard to find outside Japan.
What alcohol goes with iced tea apart from shochu?
Keep reading to find out. I've got 6 different alcohol suggestions below along with 9 different recipes combining them with tea.
What Alcohol Goes With Iced Tea?
You will notice that all of the recipes below include sugar. And often quite a bit of it. One thing loved about the tea drinks I had in Japan is that they were not sweetened.
If you prefer your drinks without sugar, feel free to reduce the amount used, or leave it out entirely. I generally just omit it altogether.
But if you prefer the drinks sweeter, as most do, you can follow the recipes below. In the end, you will probably find yourself adjusting the amount of sugar to fit your taste.
Vodka
Vodka and tea are a classic combination. While you may have already tried a hot toddy (hot tea with vodka: see our article on hot alcoholic tea drinks for a recipe), iced tea and vodka is also a great choice. It is a refreshing summer combo. Here is a great recipe for vodka and iced tea.
Recipe: Spiced Iced Tea With Vodka
This is a super straightforward recipe that does not need any shaking or stirring. Most people use black tea for this recipe but oolong tea and a black tea blend like Earl Grey will also work.
Ingredients
Strong brewed black tea, refrigerated and chilled. You can also use ready-made iced tea with lemon or ginger peach flavors.
Orange liqueur
Your favorite vodka
Juice from half a lemon
Honey
Fresh mint leaves for garnishing
Ice cubes
Instructions
In a glass, add about 1/4 cup of strong black tea or ready-made iced tea.
Mix in a few tablespoons of vodka and orange liqueur.
Add the lemon juice and honey and stir. If you use ready-made iced tea, adjust the honey based on how sweet it already is.
Garnish with mint leaves and ice cubes.
Here's another great recipe combining vodka with iced tea.
Recipe: Vodka Sweet Tea
Sweet tea is a popular drink in the south and by adding vodka, you can kick it up a notch. Be careful with this drink. It tastes awesome and you can hardly taste the alcohol. So proceed with caution and don't have too many!
Ingredients
Cold brew tea bags. You can also use regular tea bags or loose leaf tea
750 ml Vodka
Lemon
½ cup sugar or Agave nectar
Instructions
Pour vodka into a jar.
Add the tea bags. Steep for half an hour. Regular tea bags will need longer steeping time. The finished tea should be very dark or amber-colored.
Discard the tea bags.
You can make sugar syrup by boiling water and sugar.
To make vodka sweet tea, take a glass, add ice cubes, and pour the tea and vodka mixture on top.
Sweeten with agave nectar or sugar syrup to taste.
Squeeze the lemon and stir well before sipping.
Rum
Rum and iced tea are an excellent pair. Orange pekoe tea (a black tea) works best for this combination, but any other black tea also works. For rum, you can use white rum, amber rum, dark rum, or spiced rum.
Recipe: Spiked Ice Tea With Rum
This drink is quite sweet. If it is too sweet for you, feel free to reduce (or even eliminate) the brown sugar. Rum is already a sweet drink, so you may not need the sugar, depending on your sweet tooth.
Ingredients
½ cup brown sugar
4 cups water + 1 gallon of cold water
2 cups amber rum
8-10 tea bags of orange pekoe or other black tea (loose leaf work too)
Lemon slices for garnishing
Ice cubes
Instructions
Make a sugar syrup by boiling sugar with water. Turn off the heat once the mixture starts bubbling.
Add tea bags to the sweet solution.
Steep for 2 hours.
Pour the tea into a jar.
Add the rum and a gallon of cold water.
Refrigerate.
Serve with lemon slices and ice cubes.
Brandy
Brandy and iced tea are a great combination because brandy has a sweet and fruity or vanilla-like flavor that compliments the earthy flavor of the tea.
Recipe: Brandy Tea Punch
You can use spiced brandy or plain for these recipes. Cognac is also a great choice.
Ingredients
1:1 cognac or spiced brandy and iced tea
½ part orange liqueur
½ part sugar syrup or agave nectar
1 whole maraschino cherry
1 peach
1 strawberry
Ice cubes
Instructions
In a shaker, combine all the ingredients except the fruits.
Pour in a glass over ice cubes.
Garnish with a cherry, slices of peach, and strawberry.
Whiskey
Whiskey has a woodsy, smoky, sweet, or spicy flavor. It complements black tea (especially orange pekoe), and black tea blends like Earl Grey.
Recipe: Whiskey Iced Tea Cocktail
This whiskey and iced tea recipe is incredibly simple. t only has two ingredients, apart from water and ice: the tea and the whiskey.
Ingredients
8-10 black tea bags (or 8-10 tsp loose leaf tea)
A gallon of water
1 ½ ounce of whiskey
Ice cubes
Instructions
Brew a pitcher of strong black tea by steeping the tea bag in hot water. Refrigerate for 4-5 hours.
Add whiskey to the chilled tea. Stir to combine.
Pour in a tall glass over ice cubes.
Recipe: Fruity Whiskey Iced Tea
This recipe is similar t the previous one, except it adds in some fruit and lemon juice, for an extra flavor burst.
Ingredients
5-8 black tea bags (or 5-8 tsp loose leaf tea)
½ gallon hot water
Ice cubes + some for serving.
1 cup diced peaches + some for garnish
Juice of 1 lemon
Whiskey
Instructions
Steep the tea bags (or loose leaves) in hot water for a couple of hours.
In a shaker, add the tea, whiskey, ice cubes, and diced peaches. Shake well.
In a tall glass, add some ice cubes, and pour the mixture over it.
Add lemon juice and stir.
Garnish with cubed peaches.
Wine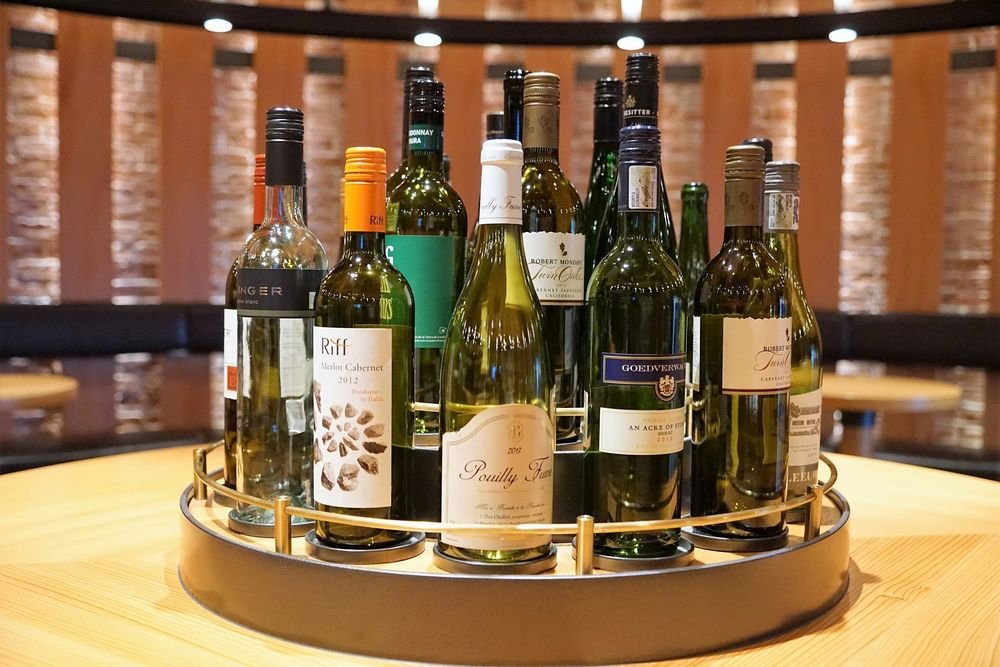 Wine and iced tea make a perfect summer party drink. Here are two iced tea and wine recipes.
Recipe: Iced Tea And White Wine Sangria
Sangria is a wonderful summer drink and adding tea to the mix only makes it better!
Ingredients
4 cups brewed iced tea. You can use flavored iced tea like jasmine or lemon iced tea.
2 cups white wine
Sugar syrup, honey or agave nectar. (You can make your DIY syrup by boiling 1 cup white sugar with 1 cup water until the sugar dissolves).
2 cups chopped fruit: strawberry, mango, nectarines, etc.
Instructions
Use ½-1 cup sugar syrup for sweet sangria.
Mix all the liquids.
Stir well
Add the fruit before serving.
Recipe: Iced Tea And Red Wine Sangria
This recipe is similar to the previous one, except it uses red wine, which is more in line with a traditional sangria.
Ingredients
3-4 oolong tea bags or 3-4 tsp loose leaf oolong tea
2-3 cups hot water
½ orange, peeled, de-seeded, cubed
½ apple, peeled and cubed
2 tbsp honey
2 cups orange juice
1 cup grape juice
1 cup red wine
2 pcs star anise
1 cup ice cubes
Instructions
Steep the tea bags in hot water for an hour. Discard the bags and refrigerate the tea.
In a large pitcher, add the fruit pieces, star anise, wine, orange juice, grape juice, and chilled tea.
Add honey or a sweetener of your choice. Taste and adjust sweetness.
Serve the mixture over ice cubes.
Beer
Beer with iced tea is a unique and surprisingly refreshing summer drink that your guests will love.
Recipe: Iced Tea And Beer Summer Drink
You can use lager for this recipe, if you prefer a lighter beer taste or an ale for a stronger beer flavor.
Ingredients
An 8 ounce can of iced tea (or make your own)
A bottle of your favorite beer
Lemon wedge to garnish
Instructions
In a tall glass, add all the tea and beer.
Stir to combine.
Garnish with a lemon wedge.
What Alcohol Goes With Sweet Tea?
As mentioned, these recipes are all quite sweet. As such they would all work well for sweet tea. If you already have the sweet tea made, simply use that in place of the tea in the recipe and d not add anymore sugar. Or add a reduced amount. It depends on how sweet you like your drinks, really.
Alcohols That Go Well With Iced Tea: Final Thoughts
Iced tea blends well with many different types of alcohol to make refreshing summer drinks. The list above is only a small sampling. I included these alcohols, because they are easy to find anywhere.
Many countries have their own unique alcohols that are difficult to find outside those countries. Many of those go well with iced tea too. Of course, there are the various types of shochu you can find in Japan, which I mentioned in the introduction above.
But there are also spirits like raki in Albania (and similar alcohols all around that region of the world like grappa in Italy), chacha in Georgia, or mezcal in Mexico that would pair well with tea, just to name a few.