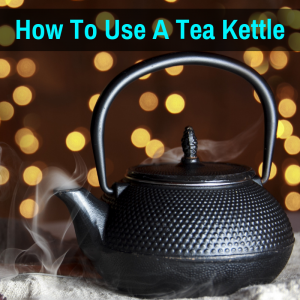 How to use a tea kettle?
Isn't that a no-brainer?
Yes. And No.
It turns out there are multiple ways to use a tea kettle. And multiple types of tea kettles.
For this article, I will focus on traditional stove top kettles. But even there, we need to look at several types.
Specifically, I will focus on whistling tea kettles and one with a built-in tea infuser.
Why would you want a strainer in your kettle?
Isn't the purpose of a tea kettle to heat water? Doesn't that mean the strainer should be in the teapot and not the kettle?
Well, that depends on how you use your kettle.
How Do You Use Your Tea Kettle?
Some people will make a pot of tea right in the tea kettle, but traditionally, the main purpose of a kettle is to boil the water, not actually make tea.
Boiling your tea in the kettle, will make it more difficult to clean. Tea leaves behind a residue which you'll want to remove after each use or it will build up. It could even clog the whistle on a whistling tea kettle.
For that reason, I recommend boiling your water in a kettle and then pouring it over your tea leaves in a cup or a teapot. Ideally, use a whistling kettle, because it will signal when the water is ready, without you having to continuously check on it.
Not only does this make it easier to keep your kettle clean, it also allows the tea leaves to steep properly. As the hot water is poured over the leaves, it allows for proper aeration and releases the full flavor of the tea.
All that said, many tea kettles come with a strainer, because many people prefer the convenience of heating their water and steeping their tea in the same vessel.
If you plan to put your loose tea leaves into your kettle once the water has reached the desired temperature and let them steep in there, you'll definitely want a kettle with a strainer. It's just so much easier.
The best whistling tea kettles that also double as teapots will come with a built-in infuser that is specifically designed to capture even the smallest tea leaf particles.
You're better off getting one with an included strainer, than buying one separately, because that way you know they are made to work together.
And once you have your new kettle, you want to be sure you use the the right way, so that it lasts a long time.
How To Use A Kettle Properly
Once you receive your new tea kettle, make sure you wash it by hand using a gentle cleanser and hot water. Allow it to air dry.
The Boiling Process
When you boil water, always ensure the kettle is placed on the right size burner. You should never use a burner that's much larger in diameter than the kettle since this can burn the kettle's exterior.
Make sure that the kettle is halfway full of water before you place it on the stove. Be careful of overfilling it. The kettle should not be filled above the spout.
Allowing your kettle to boil dry can be the absolute worst thing you do. If the kettle is left unattended and allowed to boil dry it can become extremely hot, and may result in personal injury. It can also damage the kettle (more below). Only heat the kettle on medium-high heat.
Pouring
For some, carefully pouring a kettle full of boiling water can feel a little intimidating. Because of the risk of injury, it's important that you use caution when you pour the hot water over the tea leaves.
If your kettle doesn't have a stay cool handle then you must always use a potholder when you remove the kettle from the stove, since the handles can get very hot. Make sure you pour the water away from your body into the cup.
If you're worried about the hot water splattering, make sure you pour the water at a lower angle to the cup. Never, pour it from a high angle, which can cause splatters and lead to burns.
Tea Kettle Care
After each use, the tea kettle should be emptied and washed by hand with warm soapy water, especially if you steep the tea inside the kettle. Never use steel wool or harsh abrasive cleaning products, both of which can scratch the exterior. Once clean, the kettle should be dried and stored.
How To Use A Whistling Tea Kettle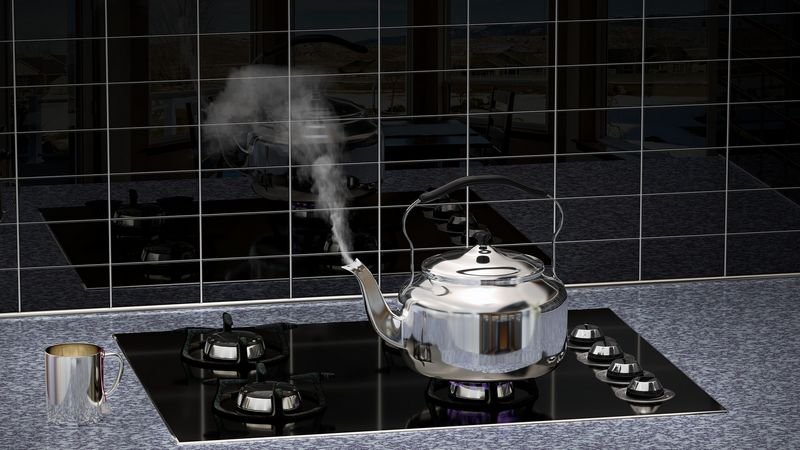 I love whistling tea kettles! I hate standing by the kettle and waiting for the water to boil, so I always go do something else.
But then I forget about the kettle and often don't remember until the water has completely boiled away. Not only is that frustrating, but it is also really bad for your kettle (see the safety tips below).
With a whistling tea kettle, you'll always know that the water has begun to boil as soon as you hear it whistle. This has changed my life, but there is one caveat.
Many teas should be brewed in water that is colder than boiling. It is best to only heat the water to the correct temperature and not even let it reach the boiling point. When water boils, it loses oxygen. That has a negative effect on the flavor of your tea.
Personally, I don't think the impact is that large. Certainly not large enough for me to bother measuring the temperature of my water and taking it off the stove once it reaches the desired temperature. I prefer the easy way.
I let my water reach the boiling point and then let it cool down a bit. It's not exact and my water loses some of its oxygen content, but I still enjoy my tea just as much. And I don't have to stand by the stove watching my water boil. Did I mention I hate that?
The two keys when using a whistling tea kettle are to ensure the lid is securely in place and that the water level below the spout. If the lid is loose or the water level is too high, the kettle will not whistle properly.
How To Use A Tea Kettle On The Stove To Actually Make Tea
If you're a true tea lover, then you know just how important a tea kettle is to your whole operation and the ritual of making tea itself. Because of this, choosing the right kettle can have a big impact on how you make and how you enjoy your next cup of tea.
If you've never made a cup of tea before, then you've come to the right place. Here are the steps.
To start, fill your new whistling tea kettle with water and place it on the stove on high heat
Bring the water in the kettle to the ideal temperature (I usually heat to boiling and then let it cool, if my tea requires a lower temperature; it is better to heat to the right temperature only, and not all the way to boiling, but I am lazy)
While the water is being heated up, fill your tea leaves in the strainer (or take you bag out of the packaging and place it in the cup, if using tea bags)
Once the kettle begins to whistle, remove it from the heat, carefully. Models such as the Pykal Whistling Tea Kettle with iCool handle feature a stay cool handle, which allows you to remove the kettle from the heat without the use of a pot holder. It's a great safety feature to have, unfortunately, most kettles lack it.
The next step is to pour the hot water over the tea bag or strainer.
Steep for the amount of time given in the tea's preparation instructions, which should be clearly listed on the package. You should also keep in mind that certain teas will require a special temperature. Because of this, I recommend carefully reading the instructions prior to making your tea.
If you're using loose leaves without a strainer, after the desired amount of steeping time, promptly remove the leaves and remember to press them against the side of the teacup to squeeze out the last bit of flavor.
Tea Kettle Safety Tips
Because you're dealing with boiling hot water, following the proper safety protocol is important. The kettle should never be left out on the stove unattended, if you live in a home with small children or pets.
Additionally, the fumes from a boiling kettle can be potentially harmful to pets if it has a PTFE coating. The coating can emit fumes that are life-threatening to birds. Because of this, it's important to pay close attention to your kettle as it boils and never allow it to overheat.
Another safety issue can arise if your kettle has an aluminum base. A kettle with an aluminum base can separate and melt if it's allowed to boil dry.
If you have a copper bottom or stainless steel bottom kettle, the bottom of the kettle can become warped or discolored if you allow the kettle to boil dry.
Fusing is another safety concern. If you have a copper, silicone-polyester, or enamel kettle, the bottoms of the kettle can actually fuse to the burner on stove tops that are made out of glass, if the kettle is allowed to overheat.
Never drag or slide your kettle on the stove top. This is especially important if you have a stove top that's made out of glass.
Using A Tea Kettle: Related Questions
Do All Tea Kettles Whistle?
No, not all kettles whistle. A whistling tea kettle is fitted with a device on the spout that creates the whistling sound when air is blown through it (basically like a regular whistle).
In this case, the air that blows through to make it whistle is steam from the boiling water that needs to find a way to escape. Since the lid is on tight (if it isn't, the kettle will not whistle), the only way for the steam to escape is though the spout with the attached whistling device.
Can I Put My Tea Kettle In The Dishwasher?
Kettles that are made out of stainless steel are dishwasher safe, while kettles that are made out of porcelain or have a hard-anodized exterior are not.
If you put a porcelain or hard-anodized kettle in the dishwasher you may end up voiding the product's warranty.
If you're not sure whether or not your kettle is dishwasher safe, I recommend simply washing it by hand. In reality, washing out a kettle will take only a few minutes of your time and it allows you to dry it promptly, without the worry of tarnish or water spots developing.
How Do You Clean A Tea Kettle?
Mineral deposits can pose a big problem over time. If you have hard water in your home and mineral deposits do form you can remedy this problem by filling the kettle with a solution of fifty percent water and fifty percent vinegar.
Place the kettle on the stove and allow it to reach a boil. Once the solution is boiling, you should turn down the heat and allow it to simmer for five to fifteen minutes, depending on the severity of the mineral deposit buildup.
Next, rinse out the kettle with warm soapy water. If there are still mineral deposits present, repeat. Learn learn more about cleaning your kettle here.
Electric Kettles Versus Traditional Kettles: Which One Is Better?
Many people prefer the electric kettle to the traditional stove top kettle. They find it more convenient, even though it requires electricity in order to boil water.
What exactly do they like about the electric kettle?
For one, electric kettles offer more features than a conventional kettle, which can make them more convenient to use. These features include automatic shut off and the ability to maintain their temperature.
While a traditional kettle can boil water at a higher temperature than an electric model, the electric kettle can boil water at a much faster rate. This is because they're equipped with an electrical element that heats up impressively fast.
Keep in mind that an electric model that features a higher wattage will heat up much faster than a kettle with a lower wattage. The lower wattage electric kettles tend to boil water at the same speed as a standard stove top kettle.
In the end, an avid tea drinker and connoisseur will usually turn to traditional kettles for their simplicity, elegance, and the ritual of making tea the traditional way.
Electric kettles do have their place. Small travel kettles are great if you like to enjoy tea on your vacation and an electric kettle is always a great addition to your kitchen, not just for making tea, but anything which may require hot water.
On the other hand, they do tend to cost more, can run into performance issues, and are pretty limited in terms of style.
How To Use A Tea Kettle: Final Thoughts
Now you know how to use a whistling tea kettle, and are aware of the important tips for use, safety, and care. With proper use, you will enjoy a fresh cup of rich, flavor-packed tea, anytime you want.
Just remember, the type and brand of kettle you use can have a major impact on the flavor and quality of your cup of tea. Not all kettles are created equal, and some aren't designed to withstand heavy daily use. Don't skimp when choosing one and treat it right once you have it.