Why would you ever need to clean your kettle if you only use it to boil water?
I mean, you use water to clean it, so how does putting water in it make it dirty?
Both of those questions are very reasonable. But if you've been using a kettle for a while, you've no doubt noticed a crusty buildup inside and around the spout.
And I'm sure you've also noticed how hard it is to get rid of that buildup.
Let me assure you: you can get rid of it.
It just takes a little extra care, but it's not difficult at all.
I'll show you exactly how to clean various types of kettles, small or large, a bit further down the page. First, let's find out what that buildup in your kettle is and what effect it has on your kettle and on the quality of the water you boil in it.
What Is The Buildup In Your Kettle?
Water is essential to our survival. Ideally we want pure and clean drinking water, because we prefer not to get sick.
In order to provide clean drinking water to every home, the H2O running through our pipes undergoes a thorough treatment process. This process makes the water potable, but can also release elements into it.
And in many places, the groundwater already contains a considerable amount of minerals like magnesium and calcium.
Although the taste of these elements is close to indistinguishable, some of them remain on any surface they touch on your water kettle. They clinging to the interior surface and gradually build up over time, forming mineral deposits called limescale.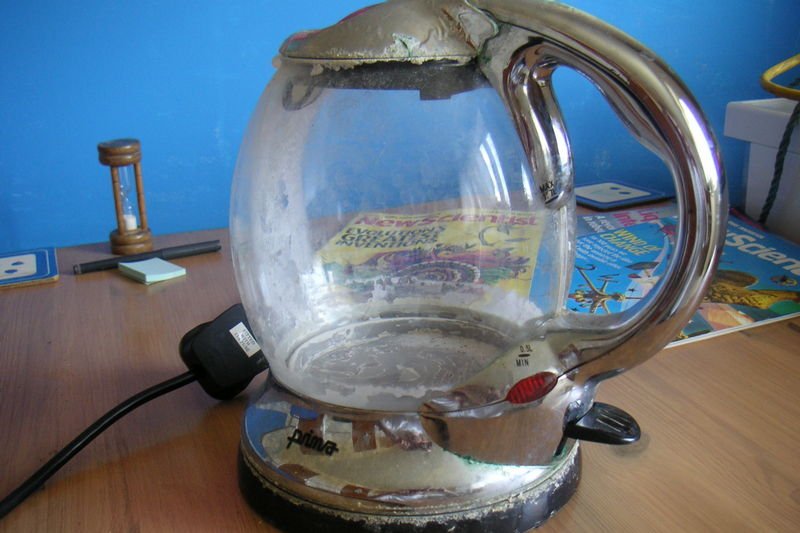 This happens because the high boiling temperatures convert the calcium bicarbonate in the water into an insoluble form of calcium carbonate called limescale. In simple words, boiling removes hardness from the water by making it stick to the kettle over time.
Limescale is believed to have no adverse health effects on the body, but it is visually unappealing. And if not cleaned with regular upkeep, simply washing your kettle as you normally would will do little to rid you of the problem.
A high intake of hard water can, however, aggravate health according to some studies. It can lead to medical conditions such as the reappearance of calcium stones in the kidneys.
This is a big reason I use a water filter on the water I boil for making tea. It removes the minerals in the water, making it better for me, making it better for tea (calcium in the water reacts with compounds in the tea to form an oily film), and making it better for my kettle.
Effect Of Limescale On The Kettle
Limescale does not disappear on its own, because it is insoluble in water. Removing limescale from a tea kettle requires extra effort. And electric tea kettles can be especially problematic.
Limescale has a tendency to form in hard-to-clean places. It will often stick in nooks and crannies. This does not have much of an effect on the operation of the kettle most of the time, but electric tea kettles also tend to attract limescale on the lid. This can eventually make it harder to fully seal the lid shut.
Whistling tea kettles often develop a buildup in the actual whistle, which negatively affects their performance. Too much buildup, and the whistle won't work at all. In addition, a lid that seals properly is even more important for a whistling kettle.
If the lid does not shut properly, a whistling kettle will not whistle, because the air escapes through the lid opening and not the whistle. In any kettle, a loose lid means that it takes more energy to heat the water, because more of the generated heat can escape. This will hike up the energy bills.
The functional life span of the kettle is also greatly shortened as a result. A serious buildup problem can make it easier for the lid to unhinge, the base to break apart, and it can give a busted look to the overall appearance of the kettle.
Effect Of Limescale On The Flavor Of Tea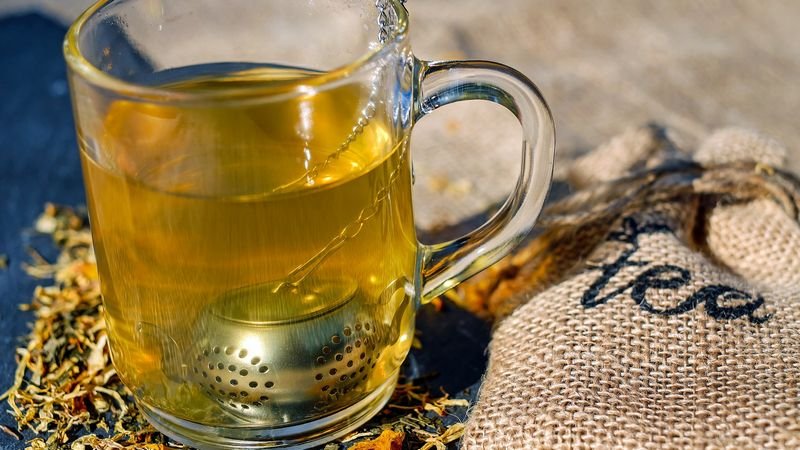 Limescale can alter the taste of your favorite brew, resulting in an unappetizing flavor. It has a slightly salty and bitter aftertaste, is chalky in texture and can negatively impact the overall quality of your tea.
Limescale can hang suspended in the liquid making the water rich with chalky deposits. This makes it harder for tea to dissolve completely in the water, resulting in a flavor that is neither smooth nor well rounded.
Instead, the tea ends up with peculiar aftertaste. The tea is very weak in flavor with a powdery texture that sticks to the tongue.
How To Clean A Tea Kettle The Right Way
There are various types, designs, and colors of kettles on the market to choose from. There are the automatic electric tea kettle varieties and then there are the over-the-stove variants made of glass, copper, cast iron and stainless steel bodies.
For a well-balanced flavor, it is essential to keep your kettles clean and in pristine condition. Here are some ways to clean a tea kettle, whether it is the stove-top variety or an electric kettle.
You'll see that even limescale can usually be removed successfully simply by using some form of acid. Liquids that are acidic in nature transform the limescale into a soluble state, making it easy to wash away.
This is why common acidic kitchen staples, such as vinegar and lemon juice, are popular choices to eradicate limescale from kitchen appliances.
How To Clean An Electric Tea Kettle
Electric tea kettle are prone to developing an observable amount of buildup on the inside. Limescale tends to cling to the interior surface, due to the high temperatures inflicted on the water, especially if that water is hard.
Luckily, removing limescale from a one of these kettles is a relatively quick and easy process. However, since such kettles can quickly develop a layer of deposit, descaling must be carried out at least once every 4 to 6 weeks, depending on the state of the kettle.
For cleaning the inside of a tea kettle, a simple trick is to boil an acidic liquid inside it. Start by draining any liquid contained within.
Next, wash the kettle with a liquid soap and water mixture and rinse thoroughly until clean. If there is any loose debris or chalky deposit left behind, ensure that it is removed from the kettle.
Fill water into the kettle reservoir and pour an equal amount of vinegar into the kettle. You want this mixture to be a 1:1 ratio of vinegar to water. Boil this for a few minutes until you observe the limescale starting to melt away.
Rinse away the mixture and wash the kettle again thoroughly to remove the smell of vinegar. This is to stop the vinegar from affecting the flavor and fragrance of the tea.
It is best to leave the boiled mixture in the kettle reservoir and allow it to soak for 30 to 40 minutes. Repeat this cycle again if the condition of your kettle has not improved after the first cleanup session. Make sure to boil the kettle with just water later to remove any stench of vinegar as well.
To clean the exterior body of the kettle, you can use the boiled vinegar and water mixture. Rub it generously onto the surface then wash the body with a liquid soap mixture. You can also substitute lemon juice for the vinegar mixture for similar results.
Cleaning Stove Top Kettles
Stove top kettles come in many varieties. From glass to cast iron kettles, the options are unlimited. Glass kettles can accumulate limescale while cast iron kettles can have the added disadvantage of accumulating rust on their body. Follow these instruction to clean a stove top tea kettle made of glass, copper, and cast iron or stainless steel.
How To Clean A Glass Kettle
Kettles made of glass are the easiest to clean out of all over-the-stove models. They can be cleaned perfectly and restored to their original form with household items such as vinegar and lemon juice.
If the kettle comes with a warning dissuading the use of vinegar, then use citric acid in its place to give equally impressive results.
Mix water and vinegar in a ratio of 1:1 and pour into the kettle. Let the liquid soak in the kettle for an hour then boil it for a few minutes until any limescale separates. Wash the kettle thoroughly with liquid soap and rinse a couple of times.
If the kettle can not be cleaned with vinegar, extract juice from 2 large lemons and pour this juice into the kettle reservoir with water. I would add the chopped up juiced lemon into this mixture as well. Allow it to boil for 10 to 15 minutes until the limescale dissolves. Let the mixture sit for a few hours.
Wash and rinse the kettle with a liquid soap mixture a couple of times, then dry with a cloth. You can rub the lemon on the outside of the kettle and rinse with soapy liquid to make your kettle look absolutely brand new.
Cleaning A Copper Tea Kettle
Copper kettles can lose their luster and shine (even worse than a silver teapot), ending up with a worn out look. And this is just from exposure to air. They are susceptible to accumulating limescale as well.
Cleaning a copper kettle is similar to cleaning a glass kettle. Lemon juice and water, or water boiled with chopped lemon bits, should suffice to remove the chalky buildup from the interior surface.
To bring the shiny and spotless polished look back to the outside of the kettle, mix salt and lemon together until it turns into a thick paste. Rub this mixture gently on to the kettle in circular patterns with a cloth. Repeat this process until cleaner spots start to emerge.
Wipe the mixture off with a wet cloth and rinse with dish washing soap and water. Your copper kettle will emerge free from stains and limescale and will look brand new.
How To Clean A Cast Iron Tea Kettle
Cast iron kettles will grow a layer of rust in addition to the usual limescale problem. The limescale removal process is similar to the electric kettle method.
For effective removal of rust, it is best to wash the kettle first with an iron mesh brush, liquid detergent, and water. Next, soak the kettle overnight in a black carbonated soda like coke. Wash the kettle the next day with a soapy liquid mixture and water and rinse thoroughly.
This step will remove most rust. However, if you still observe any rusty spots, mix coarse salt and olive oil and vigorously rub this mixture onto the rusty parts. Your kettle should look restored in no time.
An alternative method is to generously apply any branded oven cleaner and let it soak overnight. Wash the kettle completely and wipe with a clean cloth. Personally, I would try to avoid using a chemical oven cleaner if at all possible, but it will work as a last resort.
Rubbing a layer of cooking oil onto the kettle surface will keep it sealed so that rust-causing elements can't get to it, keeping it clean and rust free for longer.
How To Clean A Stainless Steel Kettle
Cleaning the inside of a stainless steel tea kettle is similar to cleaning the other types of kettles above, using the 1:1 mix of vinegar and water. You can also use the juice from a lemon, as well as actual lemon pieces, with water, as described above, if you prefer not to use vinegar.
Another option is to use baking soda. Pour about a cup of baking soda into the kettle and fill it up with water. Bring the mixture to a boil, then remove it from the heat and let it sit for at least 10 minutes.
Once the water has cooled a bit (so as not to burn yourself), gently scrub the inside with a scrub brush (nothing abrasive, just a regular plastic brush) You can also use a dish scrubber, but definitely make sure the water has cooled down for this, since these will require submerging your hand in the water.
If you still see some tea stains that just won't come off, pour out most of the liquid in the kettle, until there is only a few millimeters left at the bottom and add more baking soda to the remaining liquid.
Mix it into the water to form a paste. If it dissolves, keep adding more baking soda until you get a paste. Use this paste with your brush to attack the remaining stains. Once you've gotten rid of them, wash the kettle thoroughly.
To clean the outside of a stainless steel kettle, you can also use baking soda. Use about 3 tablespoons. Add water to the baking soda gradually, stirring it in until you get a thick paste.
Use a sponge our scouring pad (plastic, not metal, since steel will scratch easily) to rub the paste into the kettle, paying extra attention to stains.
Once you've scrubbed it down, put some white vinegar on a cloth and use that to wipe off the baking soda paste. Make sure to dry the surface, too. Failing to do so will leave water stains.
How To Keep Your Tea Kettle Looking Brand New
A cup of home-brewed tea is only as delicious as the condition of your tea kettle allows it to be. It makes sense to make a habit of keeping your kettle clean and free from problems like rust and limescale. You could also take some preventive measures.
For instance, a preventive measure to keep limescale away is to invest in a good quality water softener that limits the hardness of the water. Personally, I use filtered water that has been run through my Brita.
Additionally, stainless steel mesh, if placed in the kettle, can attract the limescale to its frame, and away from the surface of the kettle itself.
Measures like these will keep your kettle free from limescale deposits longer, but eventually you will still have to clean them. I always recommend regular cleaning, even if it is not visibly dirty. That way, the buildup will never get too serious and clean up will always be much easier.
I suggest descaling your kettle every 4 to 6 weeks, using one of the DIY remedies above. You could also use a branded descaler and cleaner.
If you use your tea kettle correctly and adhere to proper preventive measures and regular cleaning and descaling, your electric or stove top tea kettle will last a long time and produce thousands of delicious cups of healthy tea.