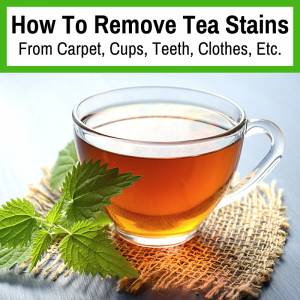 Any tea drinker knows that tea stains.
What many don't know is how to get rid of those tea stains.
If you've tried to remove a hardened tea stain from your dishes, your clothes, your carpet or a nice sofa, you undoubtedly realized just how stubborn these stains can be.
And if you drink a lot of tea, you may have noticed that even your teeth are not immune.
And removing the stains from the cracks on the backsides of your teeth is near impossible.
The good news: it's not that hard to get rid of most tea stains. If you tackle the stain within a reasonable amount of time, you'll be able to make it disappear, no matter the surface or material.
But if you let it dry out and sit for a long time, your options for getting rid of it become more limited.
So let's tackle that stain right away and make sure we remove it before it gets a chance to really settle it.
Let's begin by examining why tea stains the way it does and then go over stain removal methods for different surfaces and materials.
Why Does Tea Stain?
There are many health benefits attributed to the consumption of tea. Apart from reducing the risk of cardiovascular disorders, diabetes, and excessive weight gain, it is known to calm the nerves and be a good stress reliever.
All these qualities are credited to various natural compounds found within the structure of tea leaves such as polyphenols, catechin, flavonoids, and more. One type of polyphenol contained in tea are tannins which are activated once the leaves react with boiling water.
The black variant of tea has a high concentration of tannins in its structure, these are released gradually through infusion. The longer the tea is brewed, the higher the concentration of tannins in the final cup.
Tannins are thought the be behind the calming effect tea has on our minds. That is why many believe a longer brewed cup of tea is better for relieving daily stresses.
If you look at a long-brewed cup of tea, you'll notice that a stronger brewed cup is also darker in hue. This is due to the staining quality of tannins.
Tannin compounds in tea are behind its rich and intense brown color. In addition to tannins, tea also contains other compounds like thearubigins, theaflavins, and more, which hold similar discoloring qualities.
Stronger teas tend to be relaxing, but they are also more likely to stain any material or surface with which they come into contact. In short, tea contains compounds which can dye multiple surfaces and materials and when mixed with hot water, these qualities tend to magnify in effect.
But the main culprit for the staining quality of tea are the tannins in the infused liquid. Tannins can stain everything from fabrics to ceramics to plastics to teeth. In fact, my own teeth have some tea stains on the inside in the cracks where two teeth meet. You can't see them from them outside, but if I look closely in the mirror, they're there.
Teeth generally have a thin layer of protein residing on the tooth enamel, also referred to as dental pellicle. When exposed to tannic acid, this thin layer quickly starts to absorb color, taking on a brownish hue.
All it takes is 0.2% of tannic acid to cause serious discoloration within just 12 days (source). In addition, teeth are also vulnerable due to the porous nature of the enamel. They can absorb the rich colored liquid, ultimately resulting in a wash of color on them.
Best Way To Remove Tea Stains From Different Surfaces
Tea is usually drunk hot, and tannins in hot water tend to leave even harder-to-remove stains. They longer they are ignored, the harder these stains become to remove.
Older stains may require thorough removal treatments, usually with multiple methods. The ideal time to remove tea stains is right away, as soon as the accident or exposure occurs.
If you've got a tea stain you need to remove from some clothes or a carpet, or you want to know how to remove tea stains from your teeth, you're in the right place. I will show you how to remove tea stains from multiple surfaces
How To Remove Tea Stains From Cups
Washing dishes can seem like a breeze for some people, especially with the advent of dishwashers and ingenious cleaning liquids and sponges. However, when faced with the horrors of stubborn tea stains, even the fanciest of brands tend to succumb to these hard-to-remove stains.
Even hours of scrubbing can seem futile against them. So how do you save the fanciest of your ceramics?
As luck would have it, regular kitchen items such as vinegar and baking soda give fantastic results with a little bit of DIY work.
To effectively remove tea stains from cups, mix a few drops of water into a tablespoon of baking soda. Mix the two items thoroughly until it turns into a thick paste. Let the baking soda react with the water for a few minutes before smearing it onto the tea stains.
Scrub this mixture with a cleaning brush or cloth until the stains start to disappear. Rinse and wash your cups with liquid detergent thoroughly after this. If all goes well, the cups will look good as new.
If you do not have baking soda, then mixing salt and vinegar in a ratio of 1:1 and following a similar scrubbing motion will garner similar results. Make sure you leave this mixture on the stains for a couple of minutes before you commence with the cleaning process. This will result in fresh and squeaky clean looking cups, free from hideous tea stains.
How To Remove Tea Stains From Plastic
Plastics can quickly absorb color, and if said plastic has any scratches on its surface, the tint can seep into these cracks and scratches and make the plastic look grimy and repulsive.
An uncomplicated method that works well is the baking soda and water mixture mentioned in the previous point. Ideally, scrub the plastic surface gently with a mixture of baking soda and water. Rub the mixture into the stain with a fine cloth, to avoid further scratching the plastic.
You may even want to keep the plastics soaked in a baking soda and warm water mixture overnight, if your stains are particularly stubborn. Wash and rinse your plastics with liquid detergent and water, repeating the cycle if necessary. Your plastics should end up in a better-looking condition than before.
How To Remove Tea Stains From Carpet
Rugs, mats, and carpets are items that add elegance to any household. However, they are expensive decorative items and must be treated with care to maintain their lush looks.
When a cup of steaming hot tea accidentally falls and splashes on them, it can give even the bravest of homeowners a slight panic attack. It can quickly suck the fun out of a relaxing and calming evening, replacing happy emotions with regret as you look for the strongest cleaning liquid you have in your household.
Interestingly, tea stains are easy to remove from carpets with a vinegar and liquid detergent mixture. To make the stain disappear as if it was never there in the first place, concoct a mixture of vinegar and liquid detergent in a ratio of 1:1. Add this mixture to plenty of cold water until it is frothy.
Pour this liquid mixture onto the stain on the carpet, letting it soak in for a few minutes. Scrub the stained area vigorously with a clean, dry cloth until the stain becomes loose. Next, take a clean and dry towel and press it onto the loosened stain, letting it absorb into the towel.
Now add cold and plain water to the stain and keep pressing it until dry. You may repeat the rinsing and blotting process until the carpet appears to be spotless. With this trick, it'll be like the stain was never there to begin with!
How To Remove Tea Stains From Clothes
Out of all materials, the clothes we wear are the most susceptible to tea stains. A slight nudge or a little slip can have the contents of your teacup suddenly soaking into your clothes. Luckily, removing tea stains from clothes is easier than you think it would be.
Ideally, you should run the stain under flowing cold water, rinsing it out completely as soon as the accident occurs. This will ensure the stain does not cling to your clothes.
Baking soda is also effective in loosening up the stains, lifting them successfully out of the cloth. Sprinkle a generous amount of baking soda onto the wet stain and let it settle for a few hours or until it has dried completely. Scrub the powder away and douse the stained area in liquid detergent. Rinse and repeat if necessary.
However, if the stain has aged a bit, it'll be quite difficult to remove it entirely. In such circumstances, your best bet is to apply a generous amount of liquid detergent to the stain, let it soak for a few hours (overnight, if possible), and then rinse the item of clothing in hot water.
How To Remove Tea Stains From Teeth
So far, we've discussed removing tea stains from items that can be discarded or roughed up a bit. Your mouth is another story, altogether. Oral hygiene is very important. Simple DIYs just won't cut it when it comes to removing tea stains from teeth.
Baking soda mixed with diluted hydrochloric acid is useful in the removal of stains from your teeth. However, it should be noted that this mixture can be uncomfortable for the mouth and can be really risky when it comes to the health of your gums.
Instead of opting for dangerous DIY tricks, which can put the health of your mouth at risk, it is better to arrange an appointment with your orthodontist. Scaling and tooth polishing from a professional can garner excellent results, which are unattainable at home.
Alkaline-based stain removers that contain hypochlorites can be effective in successfully removing tea stains from dentures. However, it is best to seek a professional opinion from your dentist before you decide to use these stain removers.
Additionally, brush your teeth regularly with a fluoride-rich toothpaste and active stain removing agents. If you do this regularly enough, you won't need to worry about stains ruining your bright, white smile.
How To Prevent Tea Stains On Teeth (And Elsewhere) In The First Place
A wholesome steaming cup of tea can have wonderful effects on you mind and body, releasing you from the stress that comes with daily life. However, regular consumption of tea can also expose your teeth to nasty stains.
Additionally, we humans are prone to accidents, regardless of how careful we may be. Slips, falls, and spills are common at any age, and when a steaming cup of your favorite brew tumbles out of your hands, stains are inevitable.
Regular brushing and flossing will help keep stains from building up on your teeth. Regular cleaning will keep tea stains from ruining your cups and teapots. And taking care when drinking tea will help keep stains from your clothes or a precious carpet. Hold your cup with a firm grip and do not fill it all the way to the brim.
If you do end up with tea stains, the quick and simple cleaning tips above should have your clothing, carpet, cups, pots or teeth looking as good as new in no time.
How To Remove Tea Stains: Final Thoughts
Hopefully you no longer have to sorry about tear stains. Wherever they show up, be it your teapot or your teeth or your clothes, you should be able to get rid of them easily.
Even better than knowing how to remove tea stains is knowing how t prevent them in the first place. Follow our advice above and minimize how much you need to deal with tea stains in the future.