It's only a matter of time.
It's that time of year again, where everyone around you seems to be sniffling. You can hold out for a while, but eventually, the cold or flu will hit you too.
But it doesn't have to.
You can take preventative measures and reduce your risk of getting sick.
And if you're already sick, you can take measures to minimize your symptoms and to recover more quickly.
Those measures usually take the form of medicine or some type of herbal remedy.
In some cases, a single remedy can do both: protect you against the virus and help kill it once you have it. Tea is potentially one of those dual purpose remedies.
Tea For Flu And Cold Season
When you're sick with the flu and feeling under the weather, the first thing any doctor will tell you is to increase your fluid intake. Of course, some fluids are better than others.
Tea is one of the best. Below are a few teas that can help you overcome the flu this season and help reduce the symptoms that come with it. IF your primary symptom is a sore throat, check out our article covering the best tea for sore throat instead.
Keep in mind that there are no hard, scientific facts that tea can cure the flu or any other viruses. Many studies have suggested it might help and many more are being run, but so far, nothing is proven.
But we do know that drinking warm, soothing liquids makes you feel better and affects the human body positively. And despite the lack of proven healing properties, there is no doubt that tea is a healthier option than most drinks out there.
Tea also makes you pee a lot. Flushing your system is always a good thing when you are affected by a virus or bacteria.
Best Teas For Flu Season
Here are some teas you might want to consider this flu season to help reduce the symptoms and keep you from feeling under the weather.
Nettle And Elder Tea
The nettle plant has spines on the leaves and stems. These spines are painful and can make it hard to pick, but they offer protection against animals. It doesn't seem like the kind of plant you generally make tea from and it's not commonly drunk, but it does offer some great benefits.
Benefits
Nettle and elder tea has several health benefits and there is some evidence that it may be a potent remedy for influenza. Making nettle and elder tea requires equal parts nettle leaves and elderberries. You can usually find this product in specialty markets and health food stores.
Nettle tea provides histamine, which can combat those runny noses and congested chests that so often accompany the flu.
Elderberry tea can help alleviate symptoms that come with the flu and help ease them faster. There are certain nutrients inside the berries that rapidly reduce the effects of the influenza virus.
Drawbacks
The leaves, seeds, and bark of elderberries can be toxic to some people. Many people around the world are allergic to elderberries. If you are pregnant, make sure you speak to your doctor before drinking this tea.
Recommendation
The easiest place to buy nettle and elder teas is on Amazon and they have a number of good options. Most are in tea bag form, but loose leaf tea is always better quality. My favorites are this organic nettle leaf from Germany and these dried European elder berries:
Simply brew the nettle leaves according to the instructions on the bag, but add some of the berries into the same infuser so that they brew together with the leaves.
Lemon Balm Tea
The European lemon balm plant is part of the mint family. Lemon balm tea is made from leaves of the plant.
Benefits
Lemon balm tea stops the replication of the flu virus. There has been research on lemon balm tea and its antiviral and antibacterial properties. These properties are said to help combat viruses like the flu.
The outcome showed that drinking lemon balm tea could help prevent the flu or even stop it once it has been contracted. Results were overwhelmingly in favor of drinking lemon balm tea.
Lemon balm extract can also significantly demolish the viral cells found in H1N1. Scientists believe the chemical makeup of lemon balm prohibits the reproduction of the influenza virus cells in the body. Once the reproduction ceases, the lemon balm can kill those same viral cells.
Many consumers enjoy lemon verbena tea and the lemon balm plant because of the boost to the immune system they get. Lemon verbena tea also has vitamin C, which benefits the body.
Drawbacks
Lemon balm can be somewhat addictive. Lemon balm can also slow your reflexes and make you tired, so you should only consume it while you are at home relaxing.
Recommendation
Amazon has good options here too. I recommend this pack of certified organic dried lemon balm leaves.
Green Tea
Green tea has been popular for its health properties for centuries. It originated in China and was used in many Chinese medical practices.
Benefits
Over the past decade, scientists have discovered many possible health benefits of green tea. These include lowering blood pressure, helping with diabetes, and soothing digestive ailments.
Green tea can also help combat the viruses that cause the flu. It contains both theanine and catechins, which are known to drastically reduce the effects of the flu virus.
These elements have great preventative rates against influenza. There have even been studies showing how the catechins inhibit the virus from encountering your body's healthy cells. This is imperative to combating the flu virus.
Drawbacks
Brewing green tea too strong can cause stomach irritation. Green tea has also been known to cause severe headaches in some people. It also contains caffeine, which can disturb sleep. Read our article on the side effects of green tea on periods, for some dangers specifically to women during menstruation.
Recommendation
There are tons of options when it comes to green tea, with great variation in the flavor and the benefits. Try Dragon Well, which is a Chinese green tea.
It is shade grown, which means it has more nutrients than most and it tastes a bit sweeter. You can read about Dragon Well on this page, including some recommendations for good teas to try from Amazon and other stores.
Echinacea Tea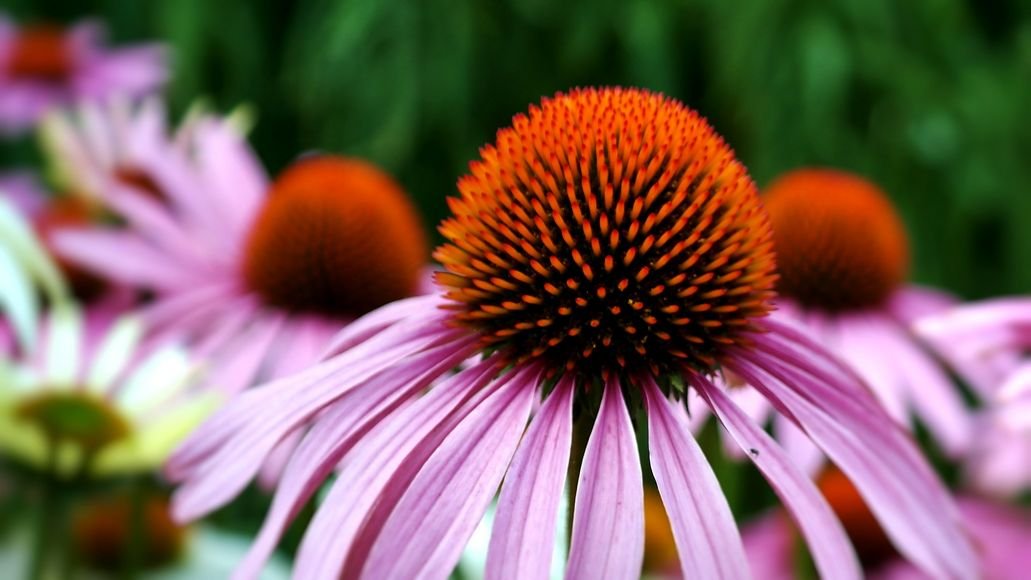 Echinacea tea is usually made directly from the flower of the echinacea plant. Echinacea is found all over the US and Canada and is one of the more popular natural remedy plants around. It was used by medicine men and women of Native American tribes and they still use it today.
Benefits
Echinacea tea has been on the market for years and is known for its health benefits. Echinacea has anti-inflammatory properties that help treat and prevent many respiratory ailments associated with influenza.
Echinacea teas are great for breaking up mucus build-up and stopping common flu symptoms like sore throat or runny nose. Some echinacea plants are linked to not only breaking up the mucus in our bodies but slowing or stopping the production of more mucus altogether.
Drawbacks
There are not a lot of known drawbacks to echinacea, but sometimes it can cause an upset stomach.
Recommendation
This is one of the easier herbal teas to find. I usually just get it from Amazon. Hands on Earth has a good organic loose leaf version.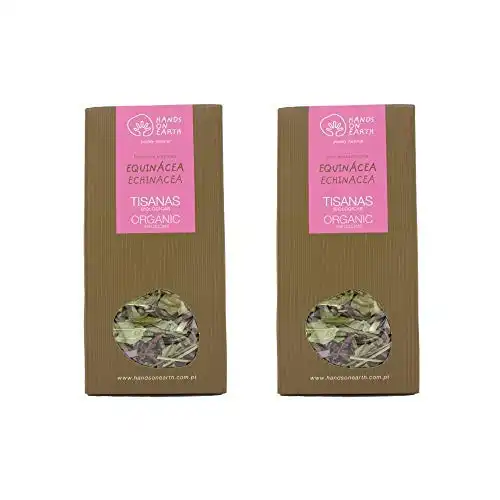 Black Tea
Black tea is another popular tea, both for its flavor and its health properties. Black tea comes from the Camellia sinensis plant leaves. Some people drink it in the morning as a substitute for coffee or soda.
Most drink it hot, just like they would coffee. The dark richness of black tea looks a lot like coffee to many tea drinkers, especially a strong black tea like lapsang souchong.
Benefits
Black tea has flavonoids, which have been shown to work well with good bacteria in the stomach to create blockers against the flu virus. These healthy bacteria send signals to the body to increase immune responses to combat viruses like the cold and flu.
Drawbacks
Due to the caffeine in black tea, drinking too much can have several drawbacks. Some of those include headaches, upset stomach, dizziness, and nausea. Why does black tea make me nauseous? It's the tannins in the tea.
If you are suffering from a headache, read "What Tea Is Good For Headaches?" There are a number of good herbal teas that can help.
Recommendation
Just like green tea, there are also tons of different black tea varieties. My favorites are Golden Monkey tea from China and Ceylon black tea from Sri Lanka. I like Darjeeling too, but it is technically an oolong tea, not a black.
Peppermint Tea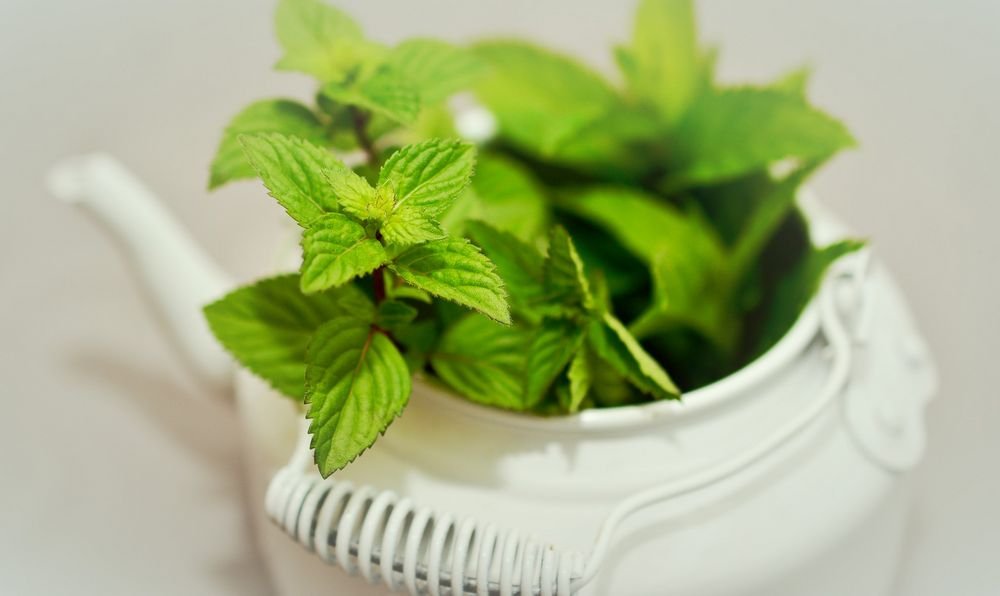 Peppermint tea is made from mint leaves, which are steeped in boiling water. Peppermint has been around for centuries and was used by the ancient Egyptians as a volatile oil. It is referenced in Greek and Roman historic writings.
Benefits
Peppermint tea has a strong but refreshing flavor that cools and soothes sore throats. Peppermint tea also has a strong sweet aroma, which many people love because it clears the airways and fights respiratory infections. This helps with breathing, especially at night, when rest is crucial to healing quicker and fighting the flu.
Some research has been done on peppermint extract and has shown how it stops the flu virus and other viruses like the cold. This suggests that peppermint tea might also slow these viruses and help prevent the virus from replicating.
Drawbacks
Peppermint tea can worsen acid reflux. Large amounts of peppermint during pregnancy has been known to cause miscarriages.
Recommendation
You can find peppermint tea almost anywhere. If you prefer to buy it online, Amazon has these organic peppermint leaves from Davidson's Teas that are really nice.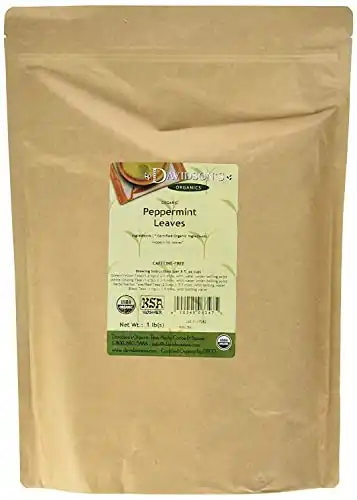 Ginger Tea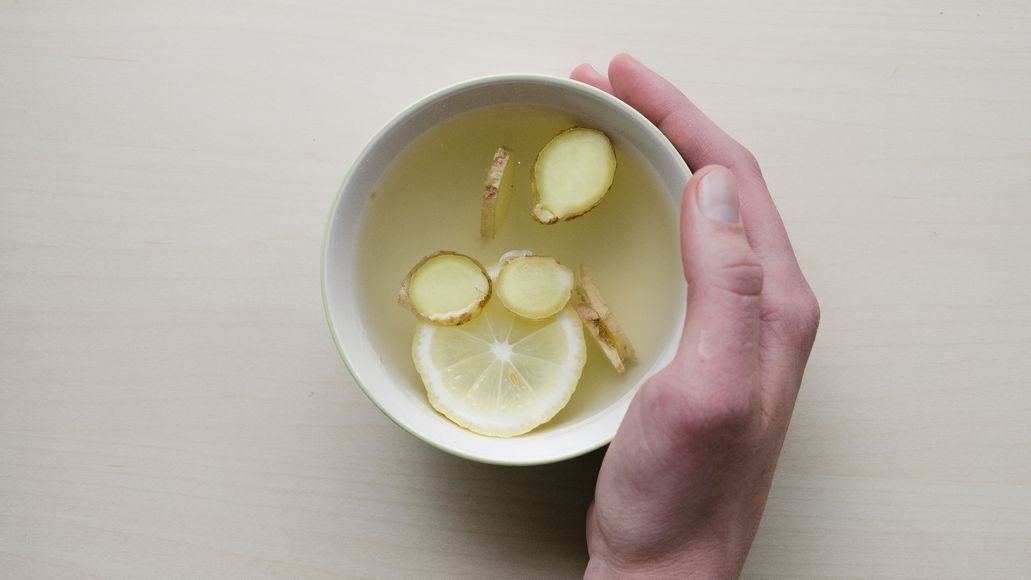 Ginger tea comes directly from the root of the ginger plant. It has a long history in Asia and has been used as a medicine for centuries worldwide. It is one of the most popular flavors for tea.
Benefits
Ginger tea has many known health benefits. It is known to help the digestive system and it has anti-nausea properties. Ginger also has anti-inflammatory properties that reduce inflammation in the respiratory system to slow the effects of coughing and congestion. This can help make breathing while sick a little easier.
These same anti-inflammatory properties are also great for the stomach to keep cramps and vomiting at bay. Ginger's anti-nausea properties are well-known, and many doctors recommend ginger tea to cancer patients while going through chemotherapy treatments.
Ginger and ginger tea have been linked together to impact viruses that cause respiratory illnesses like the flu. Studies show that ginger can help control the formation of plaque in the respiratory system, which greatly helps fight back congestion and coughing.
Drawbacks
Ginger tea increases blood flow, leading to increased bleeding if you are cut. Ginger is a potent herb and consuming too much can make your stomach hurt and cause nausea and vomiting.
Recommendation
To make ginger tea, simply cut a few slices of ginger (I usually cut the slices into this strips, but you can leave them as slices) and put them in a cup. Pour boiling water over them and let it sit until it is cool enough to drink.
I like to add lemon and a bit of honey. Both lemon and honey in tea add health benefits over plain tea.
Ginger Green Tea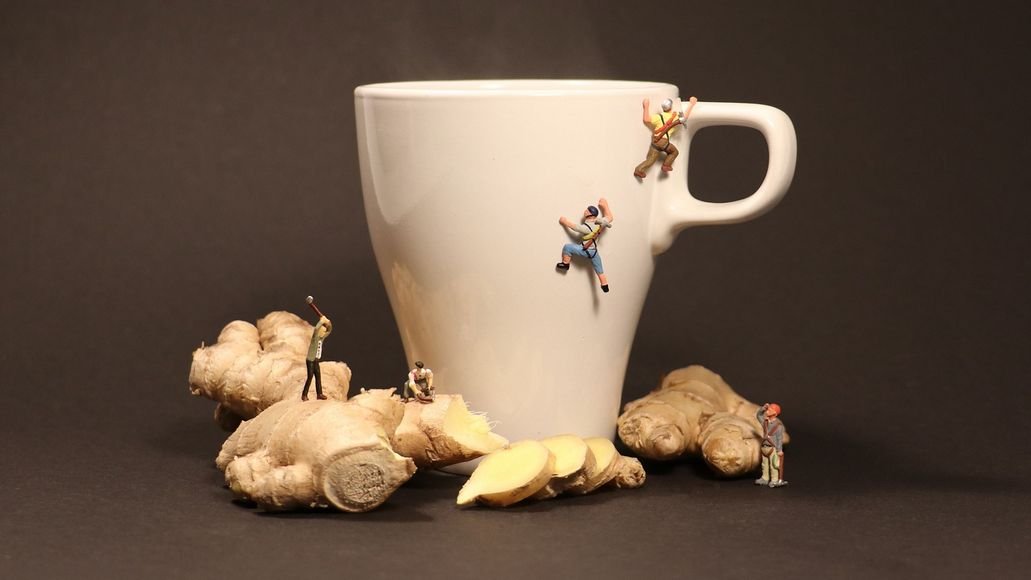 Ginger green tea is made by simply adding slivers of ginger to your green tea while steeping. This combines the great health qualities of both green tea and ginger tea. Ginger also adds sweetness to the naturally bitter flavor of green tea.
Benefits
Adding a little ginger to your green tea results in a super-powerful, anti-flu concoction. This combo can help fight the virus off before it makes you sick, and if you do get sick, it can help you recover faster.
The catechins in green tea help to inhibit the virus from replicating, while the ginger helps to alleviate any symptoms you may already have. In other words: while the tea helps strengthen your immune system, the ginger calms your nausea and soothes your sore throat.
Drawbacks
The drawbacks of ginger green tea are the same as those for ginger tea and green tea. Since ginger is added to the green tea, the side effects could be heightened. Make sure to consume ginger green tea in moderation to avoid any harsh side effects or adverse reactions.
Recommendation
To make this tea, just take a green tea (if you are not sure which one, just go with a Dragon Well, but you can use any variety, really) and add some ginger slices while steeping.
It is actually easier to just use ginger powder if you have some. You can also just buy it on Amazon. This one is really good and inexpensive.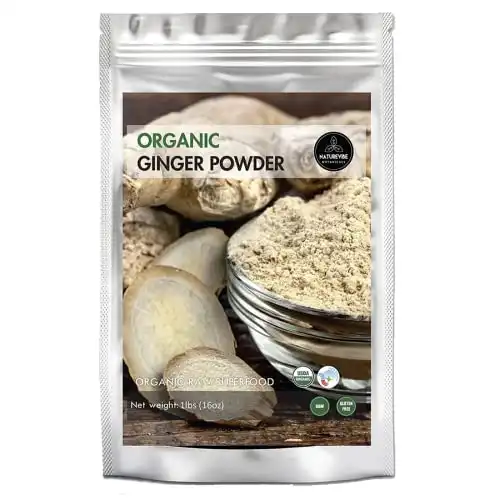 Chamomile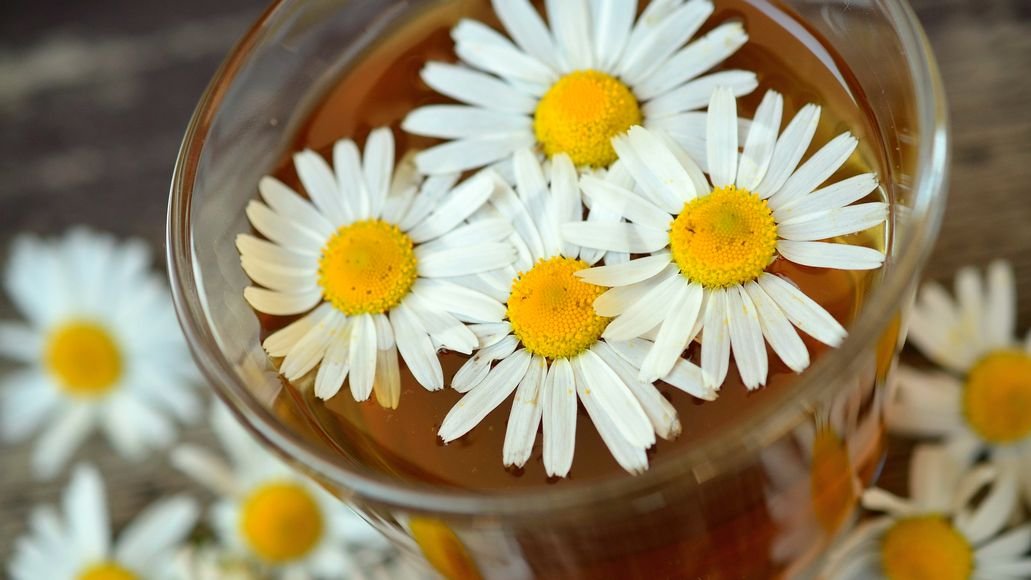 Chamomile tea is made from dried chamomile flowers and has been around for centuries. Ancient Egyptians used chamomile as one of the key ingredients in their embalming fluid. Egyptians also used chamomile to cure fevers.
You might know that this herb is found in several sleep regimens as a great way to provide a calming effect.
Benefits
The most common use for chamomile tea is to calm the body and mind. Chamomile also helps you sleep. This effect comes from the flavonoids on the plant. By getting a good night's sleep, your body can recover much quicker and fight off the virus.
Chamomile has been shown to be an anti-inflammatory which aids in the battle against the flu virus. These properties make chamomile a great choice as one of the teas that can help you recover from, and prevent, the flu.
Drawbacks
One major drawback to chamomile tea is allergic reactions. Many people are allergic to chamomile. It is a natural blood thinner, so you should avoid it if you take blood thinner medications. Chamomile can also make you quite sleepy so don't drink the tea before driving or working. It is best consumed at home before bed.
Recommendation
You can get good chamomile tea on Amazon too. These tea bags from Harney and Sons are great.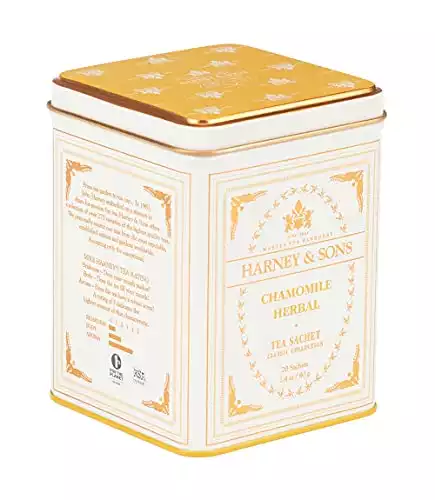 Tea For Flu: Can Tea Really Help Against The Flu?
As with all home remedies, there is not much concrete scientific proof that these different teas can cure the flu. While they have been used for medicinal purposes across many civilizations and eras, there is no definitive proof one way or the other.
Either way, drinking tea is a lot healthier than drinking most other drinks, especially ones loaded with sugar. That said, you do need to be careful with some teas that are purported to be good against colds or the flu.
Eucalyptus tea is a good example. It can have dangerous side effects, potentially even fatal. That's why we did not recommend eucalyptus tea in this article.
Besides, there are plenty of other good teas to drink. In fact, simply drinking a warm liquid can help when you are not feeling well. Tea may not be a scientifically proven cure-all, but it is sure to make you feel better anyway!