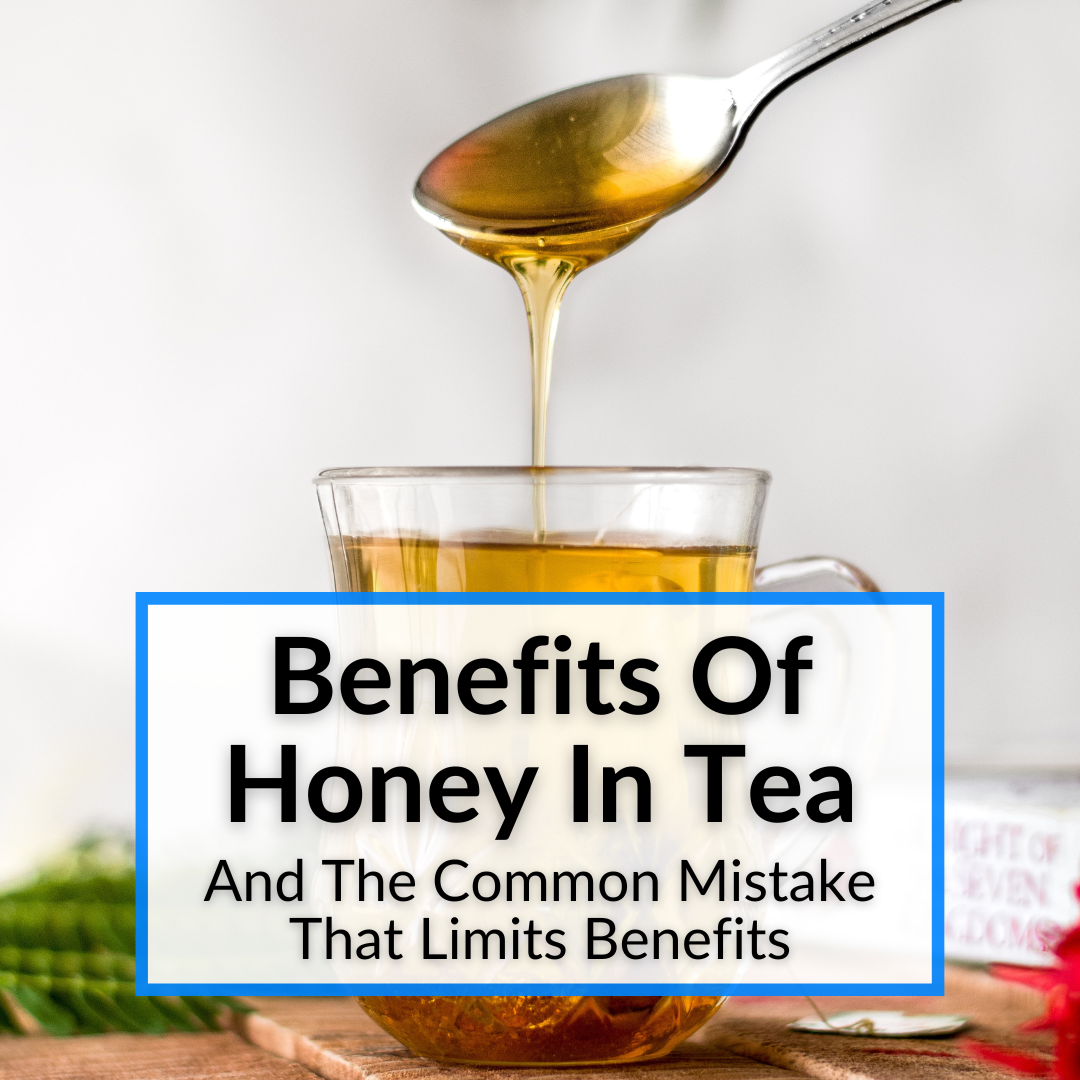 Honey in tea divides people.
Some tea drinkers won't have their tea any other way.
Others refuse to add honey, or anything else, to their tea. Some even consider it sacrilegious to drink tea any way but plain.
Personally, I prefer my tea plain, too.
But I also like the flavor of honey added to tea. And I can't deny the additional health benefits.
Both tea and honey have a ton of health benefits on their own. It stands to reason that combining them results in an even healthier drink.
Keep reading to learn all about the many benefits of honey in tea. We'll also cover everything else you need to know about this classic combination.
Benefits Of Honey In Tea
Many tea lovers cannot imagine sipping a cup of tea without including some honey. If you've ever wondered how to sweeten tea without sugar, honey is on top of the list.
And it's not just to sweeten up the tea. It can boost the benefits of tea, potentially providing several additional health advantages.
And when it comes to herbal teas, honey can go a long way toward improving the flavor profile of many varieties, especially herbal teas that are somewhat bitter when drunk naturally.
But before we proceed, it is important to explain what honey tea is exactly.
What Is Honey Tea?
Honey tea is honey added to tea after it has been brewed. And actually, after it has cooled down a bit. Adding it to tea that is too hot actually reduces the benefits and the flavor profile.
More on that below.
You should never steep your tea in honeyed water. Always add the honey after the tea leaves have been removed.
The only exception are tea blends that already include dried honey granules in them. This is not ideal, but there is nothing you can do about that, except avoid such blends in the future.
There are countless varieties of honey and tea. Given all the different types of teas and all the different types of honey, your possibilities for combining them are nearly limitless.
Before we get into the health benefits of honey and the combination of honey in tea, let's take a look at some of the more popular types of honey.
Varieties Of Honey
Honeybees make honey from the nectar of flowers. Since bees can use various different flowers, they produce various different honeys, each with different colors and textures. Let's take a look at some popular types of honey.
Lavender Honey
Honey made from lavender nectar contains an antioxidant called luteolin, which is good for improving the immune system, maintaining healthy blood glucose levels, and protecting the eyes from UV rays.
This particular honey also has one antioxidant that you can't find in any other honey. That antioxidant is called pinocembrin. It is thought to have antimicrobial, anti-inflammatory, antioxidant, and anticancer properties.
Sage Honey
Sage honey is a monofloral honey made by honey bees that gather and transform the nectar from the flowers of the Salvia genus plants into honey.
Sage honey, like other types, is high in antioxidants, which help the body overcome the negative effects of free radicals. In doing so, they can slow, and even prevent, the development of some serious illnesses like cancer or heart disease.
Pine Honey
Pine honey, like many other types of honey, has a long list of health advantages. Pine tree honey can be used directly on the skin as an antibiotic due to its antibacterial qualities. It works to boost the healing of open wounds, burns, and sunburns.
Chestnut Honey
Chestnut honey is high in B vitamins, vitamin C, minerals, and iron. It helps build muscles and strengthen bones, as well as improve your blood circulation.
It's also used to treat illnesses of the liver and stomach. Chestnut honey helps to keep your heart healthy and lowers cholesterol, which helps prevent heart attacks.
Manuka Honey
This honey is created from the manuka tree that originated in New Zealand and it is one of the most popular types honey globally. It has several potential health advantages but is somewhat expensive.
Manuka honey is thought to have more methylglyoxal than other forms of honey and may have significant antibacterial capabilities. However, this does not mean other types of honey are less good.
In fact, research has shown that increasing methylglyoxal concentrations in manuka honey does not result in greater advantages. Honey with less methylglyoxal may be just as effective.
Honeydew Honey
Bees produce this honey from the secretions of other insects called aphids. These insects eat sap for the protein and secrete the sugars, since they do not need them. The bees collect these sugary secretions.
This type of honey is usually much darker and has a stronger flavor. hey are often quite black and powerful. Pine honey and beechwood honey (i.e. honey made from secretions from insects that feed on the sap of these trees) are two of the most popular kinds of honeydew honey.
Raw Vs Processed Honey
There is a general view that raw honey has a higher nutritional value, which sounds fair. However, scientific studies have revealed that there are few differences between raw and processed honey.
Still, it's good to know what these labels represent, so you can understand how they're manufactured and choose the best option for you.
Raw honey is the honey that people take directly from the hive. Bits of honeycomb and other debris that are caught in the honey is filtered away, but the honey usually remains a little bit cloudy.
Processed honey is pasteurized to kill off yeast cells. This can increase shelf life, but can also sometimes affect the flavor. Processed honey is also strained more thoroughly, which results in a much smoother and more regular appearance and texture.
Honey Tea Flavor Profile
Honey is well-known for its particular sweet taste. But different honeys taste sweet in different ways. Depending on the type of nectar, each has a unique flavor.
But only if honey is really all natural. All-natural honey has a rich taste with various flavor characteristics. But generic commercial honey is usually made up of some honey, combined with water and other sugars. It just tastes sweet and sugary.
That is why it is important to buy real honey. Otherwise you're not getting the health benefits or the unique flavor. This does mean you need to pay more, but not all expensive honey is all-natural.
There are a lot of scams, so do your research. Your best bet is always to bu it straight from the apiary (the honey farm, if you will).
As for the flavor, it varies a lot, as mentioned. For example, meadow honey is one of the most popular traditional kinds of honey. But since it is made from a broad range of meadow flowers, it has a varied flavor, texture, and color, depending on the terroir.
Chestnut honey is another good example, because it is quite unique. It is very dark and has a powerful aroma and a slightly bitter, almost smokey flavor.
Then when you add various types of honey to tea, you also have to add in the flavor profile of tea. And there are many different types of tea, each with its own unique flavor. In short, the possible combinations are practically endless.
You really just have to experiment and try different teas with different honeys yourself. The good news is that they rarely taste bad.
You'll like some more than others, but it is unlikely you'll hate any combination of honey and tea. Even I like it and I strongly prefer my tea without any additives. Honeyed tea is a great choice for someone who does not like the taste of tea.
How Much Honey To Put In Tea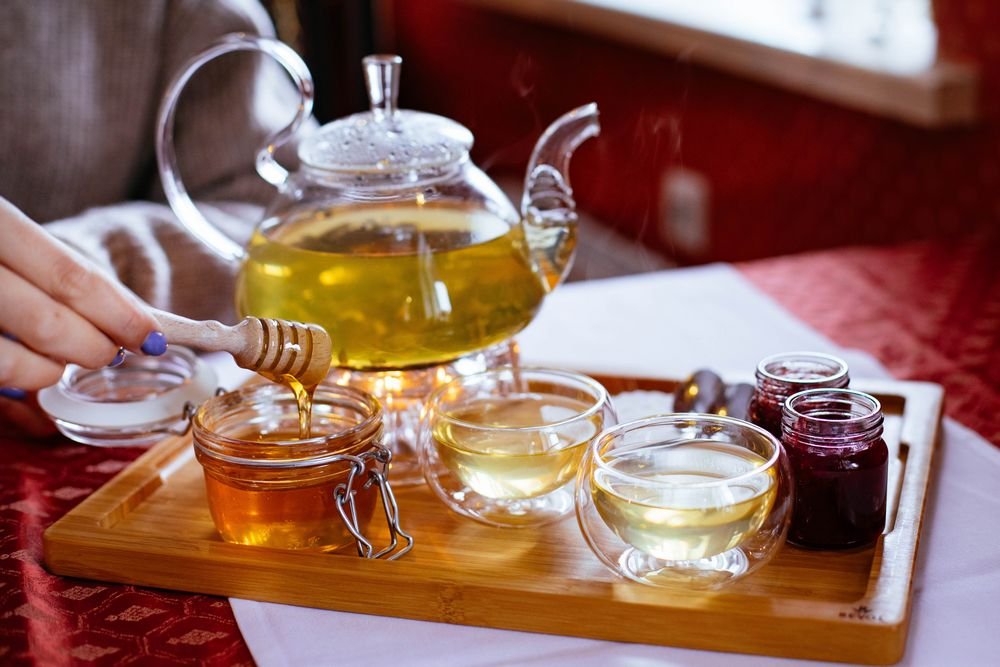 Honey has a sweeter flavor than sugar and a small amount goes a long way. A decent rule of thumb is one teaspoon of honey for a cup of tea. Make sure you add the honey after the leaves are soaked and the water has cooled somewhat.
If the water is too hot, it will destroy the phytochemicals you want. It also changes the flavor of the honey, making it somewhat bitter. You should wait for the water to cool down enough that you could touch it.
Health Benefits Of Honey
As you probably know, honey is commonly referred to as one of the world's healthiest natural foods. People often use it as a first-aid treatment for sore throats, coughs, immune system boosters, and support for better sleep.
Different kinds of honey do include a variety of compounds. But they all include water, sugars, amino acids, minerals and phenolic compounds, along with a number of other substances.
The compounds in honey are what make it so healthy. It is a much better way to sweeten tea than sugar and using it makes sweet tea healthier than soda.
Here are some of the potential health benefits of honey. Of course, when you add it to tea, you add the benefits of honey to the benefits of tea, making the whole drink even better for you.
Immune System Booster
According to research, honey may have high antioxidant activity. It may improve the body's immune system in fighting viruses and germs. Recent research suggests that it may also be useful as an immune booster in the battle against the SARS-CoV-2 virus.
Antibacterial Properties
Although any honey may have antimicrobial effects, manuka honey is the most commonly used to treat bacterial illnesses. According to research, methylglyoxal, an antibacterial component found in manuka honey, can help even with narcotic germs like MRSA. It is also used to treat skin disorders such as atopic dermatitis and open wounds.
Anti-Inflammatory Properties
Honey has been recognized for ages to have anti-inflammatory qualities. When used directly on the skin, it can help heal wounds and burns while also promoting cell repair. Indeed, one of honey's most frequent uses throughout history has been to promote wound healing.
Treatment For A Sore Throat
Two of the most common sore throat and cough treatments are raw honey, freshly squeezed ginger and lemon juice blended with a little water or hot ginger, honey, and lemon tea.
Honey is frequently used as first aid in sore throat home remedies, and it is great for treating the symptoms of a common cold when you combine it with hot tea. Some studies even suggest that honey's antibacterial and anti-inflammatory characteristics may help recover from a cold more quickly.
Best Teas To Pair With Honey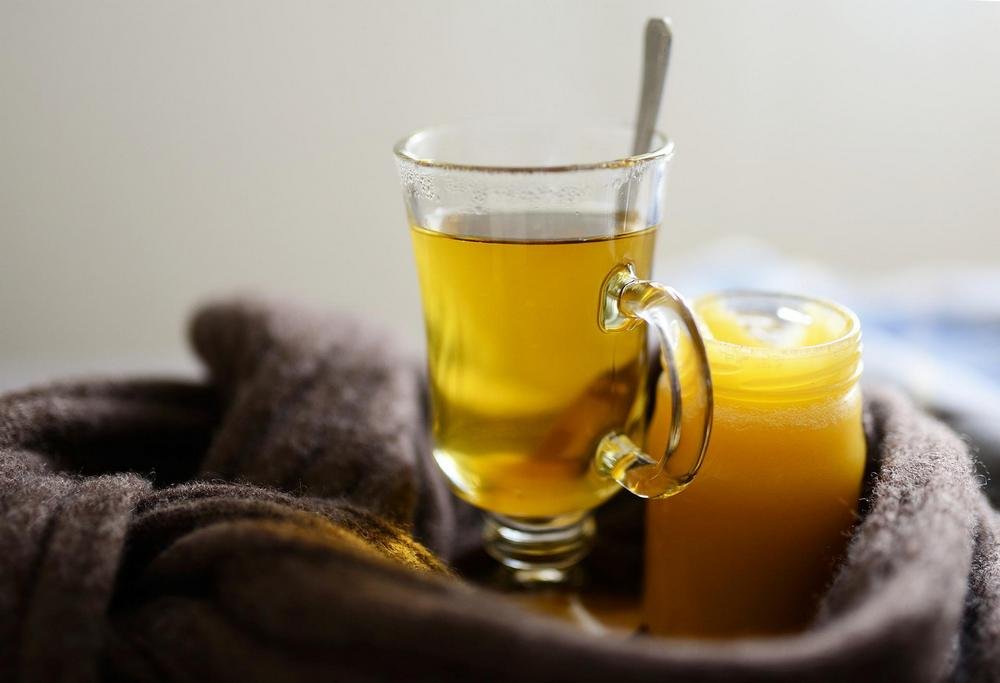 As you probably know, all true teas come from only one plant: Camellia sinensis. However, based on the type of leaves used to make the tea, the way they are grown, the oxidation level, and the processing, tea is classified into a six types: green, black, oolong, white, yellow and pu-erh.
Honey will improve any cup of tea if you love sweet drinks. But not all teas are typically served with honey. Chinese and Japanese teas are usually consumed without any additional ingredients since that is the way they drink them in China and Japan.
They are always loose leaf teas, too. Those already have a rich flavor. And adding honey, sugar, or milk will drastically affect that flavor. That is not necessarily a bad thing. It just depends on personal taste.
If you want to try honey in a good loose leaf tea, prepare a strong cup and pay close attention to the flavor and texture of the honey. Lighter acacia or linden blossom honey, for example, may be a nice addition to lighter teas like dragon well green tea or silver needle white tea.
Chamomile, which is a herbal infusion and not made from the tea plant, goes well with almost any honey, including stronger varieties like sage or lavender honey. Eucalyptus tea has a bitter taste that can benefit from the addition of any type of honey, too.
Darker kinds of honey are great ingredients to put in stronger black teas, such as pine honeydew or chestnut honey. This combination always results in a great pairing.
When it comes to tea in tea bags, most of it does not have an especially distinct flavor. These types of tea are great for honey, since the tea flavor in most bags is pretty generic. Honey can add a lot to that.
Without a doubt the most popular combination of true tea (i.e. tea made from the tea plant and not herbal tea like chamomile) is green tea with honey. For that reason, I want to take a closer look at that combination.
Green Tea And Honey Benefits
When you combine the health benefits of green tea with those of honey, you get a pretty powerful drink. You could even add some ginger and lemon to boost the benefits further.
Cholesterol Control
A high cholesterol level can cause heart disease and stroke, both of which can be deadly. That is why it is so important to maintain a healthy cholesterol level. Cholesterol levels should be less than 200 mg/dL to keep the heart in good working order.
Green tea with honey, combined with a well-balanced diet and regular exercise, helps to lower bad cholesterol.
Improved Mental Performance
Green tea with honey improves and boosts brain function.
Healthier Skin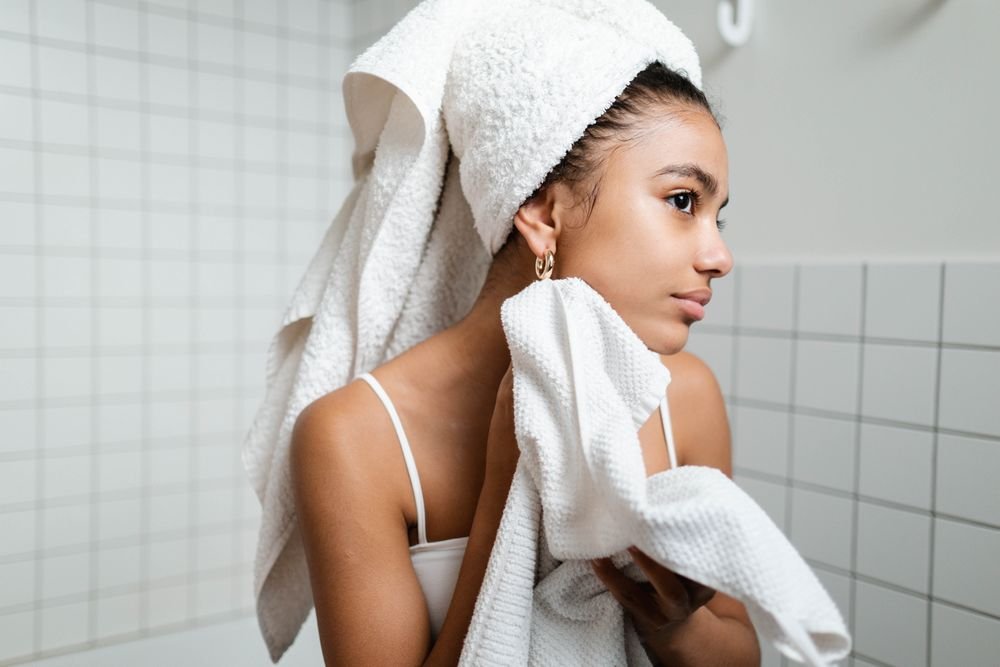 When you consume green tea with honey on a regular basis, it eliminates toxins from your body and replaces them with helpful minerals and vitamins. Both honey and green tea are high in antioxidants, so they help skin cells regenerate and seem younger.
This mix also helps in the treatment of acne outbreaks, by removing harmful free radicals from the body.
Beneficial For Bone Health
Consuming this mix on a regular basis can help women, especially, with maintaining healthy and strong bones. Many women are prone to developing bone problems after they turn 30. The green tea and honey mix can help strengthen the bones as well as the muscles.
Helps With Weight Loss
If you're trying to lose weight, green tea with honey and lemon is an excellent choice. A daily cup of green tea with honey and lemon, in addition to diet and exercise, can boost your metabolism.
Green tea is considered to improve digestion while lemon and honey are known to melt down fat cells. The drink may also be used as a pre-workout or a post-workout recovery drink, without adding too many calories to your diet.
Caffeine Content
Green tea and honey obviously have a lot of significant health advantages, both alone and in combination. However, there is such a thing as having too much of a good thing. Because green tea contains caffeine it's can cause problems for some people, if they drink too much of it.
Most people have decent tolerance of caffeine, but if you're sensitive to caffeine or you are pregnant, you should reduce your consumption to one or two cups per day. Another interesting option you can try is decaffeinated green tea.
Because green tea contains caffeine, it's recommended to avoid drinking it in the late afternoon or evening, unless it's decaf. That said, not everyone is affected by caffeine in the evening. Do what is right for you.
Combining Honey Tea With Muffins
Many people love to have a cup of honeyed tea with a sweet treat, and muffins are one of the favorites. There are a number of muffins that go well with green tea and honey. Here are some great suggestions (I am not a baker at all, so I'll leave it up to you to find good recipes for these; or just buy them, which is what I would do).
Flourless Peanut Butter Blender Muffins
Cinnamon Roll Muffins
English Muffins
Easy Gluten-free Lemon Muffins
Whole Wheat Apple Cinnamon Muffins
Honey Lemon Chia Seed Muffins
Banana Coconut Crunch Muffins
English Muffins With Honey Tea
English muffins are popular in the US, but not common at all in Europe. In fact, I don't think the exist there at all. They are not especially sweet like regular muffins. Instead, they are more like bread, though still quite sweet (all bread in the US is super sweet).
English muffins have a golden coloring and they are round, but flat. You generally cut them in half and then toast the two halves, before adding a topping to each one.
You can add butter, jam, or whatever you want, really. Then enjoy your creation with a cup of tea with honey. And speaking of, honey is actually my personal favorite topping on an English muffin.
Here is a great article if you want to learn more about English muffins, along with some suggestions for toppings. They all go great with a cup of tea with honey.
Benefits Of Tea With Honey: Final Thoughts
Honey is a great addition to tea because it adds a sweeter taste while also providing antioxidants as well as other components that are proven to boost your immune system. That said, honey is best when you use it as a preventive tool, not as a cure-all.
The combination of tea with honey can make you feel better when you are ill, but if you drink it before you get sick, it can help you stay healthier overall, and perhaps even fight off some potential illnesses.
Since there are so many possible combinations of different types of tea and different types of honey, you can have a of fun trying out different ones and discovering your new favorite honey tea flavor!