The best sweetener for tea is no sweetener at all.
But if you don't like plain tea, that's obviously not going to work for you.
Adding sugar is easy, but we all know that sugar is not good for us.
Luckily, there are far better sweeteners available than sugar.
Ones that are all-natural, healthier, lower in calories, and actually taste better, too.
So which sweetener is best?
That depends on your preference. Keep reading to learn how to sweeten tea without sugar using a number of different methods. Choose the one that sounds best to you.
How To Sweeten Tea Without Sugar
When it comes to sweetening tea, or sweetening anything really, you have two main options. You can use natural sweeteners or artificial sweeteners. It goes without saying that natural sweeteners are preferable, so let's begin there.
Natural Ways To Sweeten Tea
Natural sweeteners are healthy substitutes for refined sugar. The best natural sweeteners contain numerous health benefits and can enhance the flavor of certain teas.
Honey
Honey is one of the most versatile natural tea sweeteners. It is produced by bees and is created by the nectar bees extract from plants.
Honey contains naturally occurring sugar as well as several types of amino acids, vitamins, and antioxidants. Those make it healthier than other sweeteners, meaning you get a number of benefits from adding honey to tea.
Honey is used to combat several health conditions including inflammation. Studies have also proven that honey has several antibacterial properties.
You can add honey to hot or cold teas. It best complements strong teas like black tea and green tea. It is a great way to make matcha taste better. You can also add it to rooibos tea, in moderation, to bring out the natural honey flavor of that tea.
There are several flavored that are also enhanced by honey. These include lemon, mint, and ginger.
Maple Syrup
Maple syrup is available in a variety of types and flavors. It is made from the sap of a sugar maple tree.
The tree sap is 2 percent sugar and 98 percent water. It is boiled down to create the sugar concentrate that becomes maple syrup.
The lighter the maple syrup, the milder the sweetness. Dark maple syrups have a caramel-like, robust flavor. Ginger and dark maple syrup are a perfect match.
The color of maple syrup is affected by the time it was harvested. Lighter syrups are usually a result of earlier harvests, while darker syrups are made towards the end of the season, when the concentration of simple sugars is naturally higher in tree sap.
Maple syrup has several health benefits and contains both vitamin B and antioxidants. It has fewer calories than sugar.
You can use maple syrup to sweeten hot or cold tea. However, dark maple syrup works best in hot tea beverages.
Stevia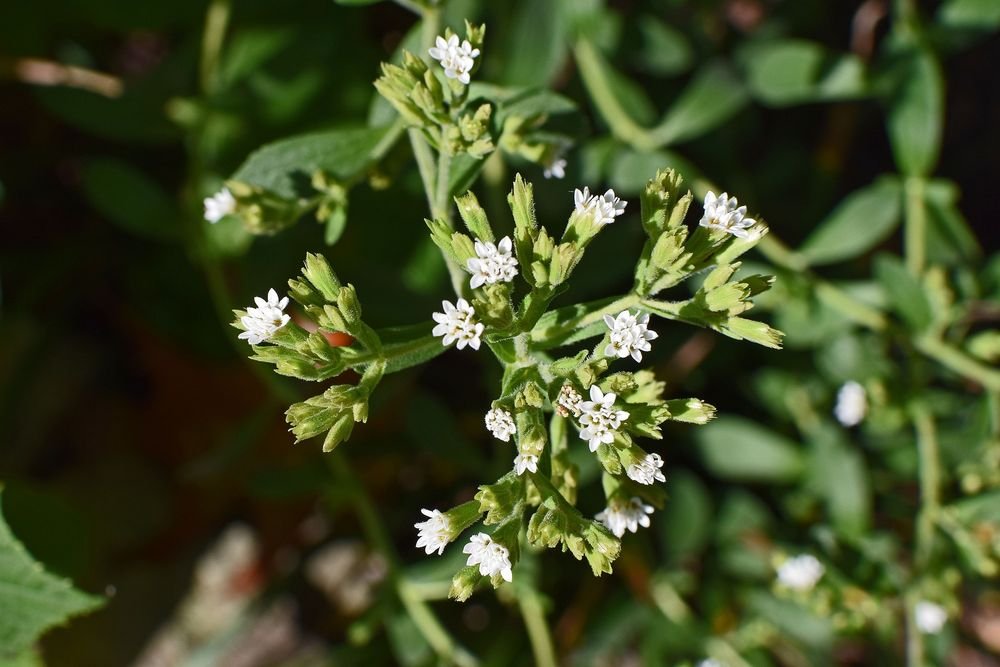 Stevia is a natural sweetener that is derived from plants. It is 100 times sweeter than refined sugar, but has zero calories.
Stevia does not taste like sugar. Its sweetness is a delayed flavor. Stevia has a very particular aftertaste that is quite bitter.
This aftertaste is difficult to like at first, but your tastebuds will easily adapt to the flavor profile over time.
You can mask bitter aftertaste of Stevia fairly easily using fruit. For that reason, stevia is a common sweetener for fruity iced teas.
Licorice
Licorice root has a mild sweetness with a stringy earthy aftertaste. It is commonly grown in the Middle East, Asia, and Europe.
Licorice root is most commonly used to flavor candy. It has also commonly been used to aid with several health concerns. It improves digestion and helps to reduce inflammation.
Licorice root is best used to sweeten herbal teas, like mint and lemon balm. You can boil it down to an extract, or used in its natural form.
A stick of licorice root is a quarter to half-an-inch in diameter. Tea drinkers sometimes use a stick of licorice root as a stirrer to add natural sweetness to their tea.
Molasses
Molasses is made during the sugar-making process. It is a natural byproduct of sugarcane production and is a thick, dark brown syrup that tastes like caramel.
It is commonly used to sweeten hot tea beverages that have strong flavor profiles, like black tea and chai tea. Molasses complements spices like cardamom and clove. It also works well with chocolate flavors like mocha.
Brown sugar is brown, because it contains molasses. That is why some people prefer to put brown sugar in tea. It gives it a much different flavor. Teas that go well with brown sugar are the same ones that go well with molasses.
Molasses is naturally rich in antioxidants and vitamin B. It has been proven to help with constipation and anemia. Molasses also supports healthy bone growth and hair growth.
Date Syrup
Date syrup is made by boiling dates and processing the juice and skin. There are no additives in date syrup. It is strong and very sweet and works best with black tea.
Date syrup has a variety of health benefits and contains several important vitamins and minerals like calcium, iron, and phosphorus. It promotes heart health because it contains high levels of potassium and magnesium. One serving of date syrup contains a quarter of the daily potassium requirement.
Tagatose
Tagatose is a naturally occurring sweetener that is manufactured from lactose in dairy products. It is very low in carbohydrates and has less than a third of the calories of refined sugar.
Tagatose has a neutral taste that is very similar to sugar. You can add it as a sweetener to any type of hot or cold tea. Tagatose does slightly enhance the flavor of mint, lemon, and milk.
There are several health benefits associated with consuming tagatose. Unlike refined sugar, tagatose does not cause tooth decay and is considered a safe sugar by dentists.
Tagatose is a prebiotic that feeds probiotics in the gut, leading to improved colon health. In addition, tagatose stops the absorption of fructose and sucrose. As a result, it lowers blood sugar.
It's ability to lower blood sugar has led to its being studied as a treatment option for diabetes. Finally, tagatose increases the production of good cholesterol in the body.
Dried Fruit
Adding dried fruit to your tea will add flavor and natural sweetness. You can add dried fruits during the steeping process to provide a more immersive flavor.
There isn't a right or wrong way to add dried fruit to your tea. A popular combination is dried dates and black tea.
This has a similar flavor to the addition of date syrup, but a much lower sweetness level. Another tried and true combination is green tea and dried pineapple.
Artificial Sweeteners To Replace Sugar In Tea
The most common artificial sweetener is xylitol. Originally, xylitol was made from birch trees. However, once it gained popularity, manufacturers began making it through the hydrogenation of xylose on hardwood surfaces.
Xylitol is a popular tea sweetener because it has the same look and taste as refined sugar, but with far fewer calories. It also has a much lower glycemic index than sugar.
Its neutral flavor makes it a versatile sweetener that compliments any flavor of hot or iced tea. An important thing to note, however, is that xylitol is not recommended for children to ingest.
How To Sweeten Green Tea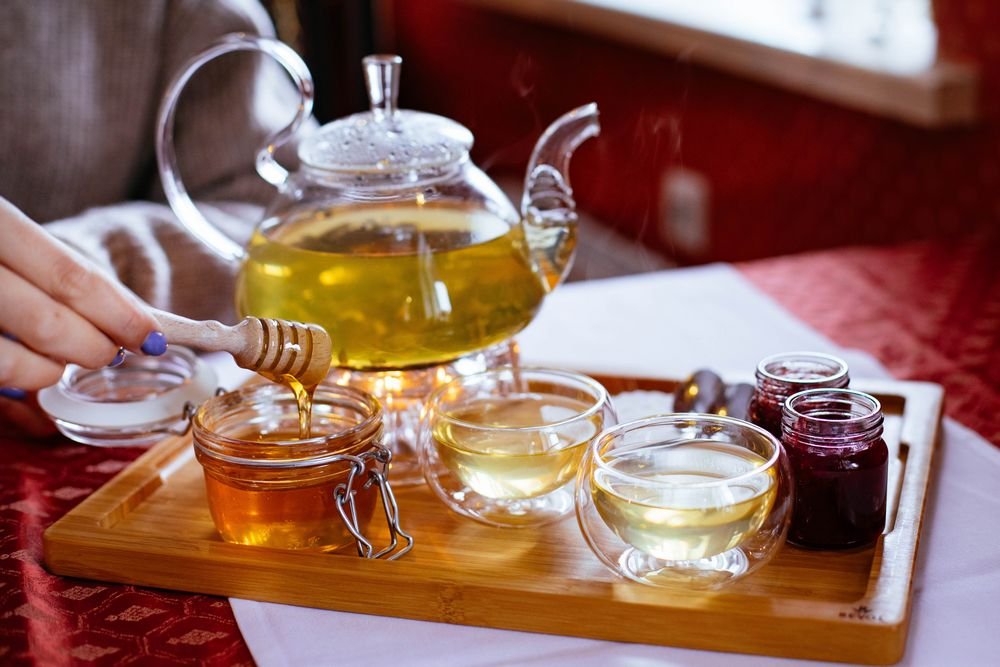 Sweetening green tea is no different from sweetening other types of tea. The only difference is in the flavor profile.
The grassy flavor of green tea goes especially well with honey, in my opinion. that is my favorite sweetener for green tea.
How To Sweeten Iced Tea Without Sugar
Honey is also my favorite sweetener for iced tea, but any of the sweeteners above work well. That's because you can make iced tea with various different types of tea (with black tea being the most common).
You can also add various other flavors to iced tea. Fruit flavors are especially popular. Lemon and peach are often used, for example.
How To Sweeten Tea: Final Thoughts
I prefer my tea unsweetened, but there is nothing wrong with drinking sweetened tea, if that is your preference. And there is nothing wrong with sugar either, to be honest.
But it is not the best way to sweeten tea. There are a number of other natural sweeteners that are healthier than sugar, and taste better, too. Go ahead and give some of them a try and see if you like the way they taste.
And perhaps, you don't even need a sweetener. There are also other options for enhancing the taste of tea. Check out our article on what to add to black tea to make it taste better.