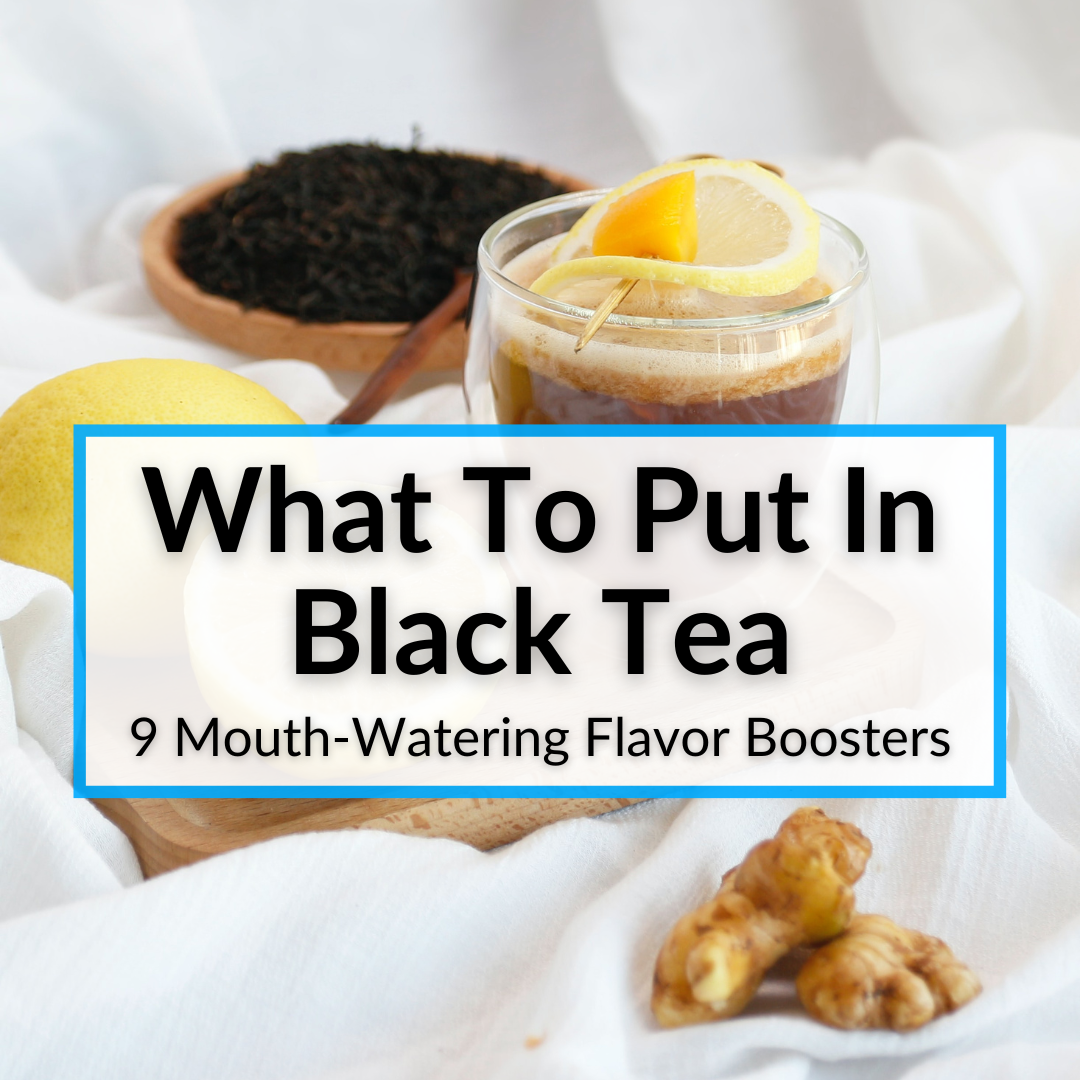 Want to pump up the flavor of your black tea?
There are a ton of great additives that will enhance the black tea flavor.
And some that will change the flavor profile completely.
Many also provide additional health benefits.
Not sure what to put in black tea and still end up with a great-tasting drink?
Not a problem.
Keep reading for a list of 9 great ingredients you can add to black tea to turn it into something extra special.
What To Put In Black Tea
There are a lot of great additives for black tea. We made sure to include a large variety, so there is something for everyone. The one thing they all have in common is that they taste great!
Milk And Sugar
For many people around the world, a teaspoon of sugar and a splash of milk is the best way to enjoy a cup of tea! Milk and sugar tastes especially great with masala chai tea and dessert teas.
You can add different types of milk and sugar to get different flavor profiles. There are many combinations that hail from speciic areas using local ingredients. A good examples is Okinawa milk tea.
What is Okinawa milk tea? It is a milk tea from Japan's southernmost island that uses a special sugar from Okinawa. It differs from Japan's other famous milk tea from Hokkaido, at the opposite end of the country.
Some people add only sugar to their tea. This is called sweet tea in the United States and is extremely popular in the southern states. Of course, with all the sugar in it, sweet tea is no healthier than soda.
How To Make It
Once you have brewed black tea, strain it. While it is still hot, add some warm, frothy milk and sugar as per your liking.
You could use honey, stevia or another low-calorie sweetener instead of sugar.
If you like your tea a little creamier and more decadent, you can add some cream or whipped cream instead of milk.
Sip It
Drinking milk chai tea can offer you tons of antioxidants. These could slow down aging and fight cancer. (Of course, drinking tea without additives does the same.)
It could reduce stress.
Milk chai tea tastes great, can give you a boost of energy and is the perfect wake-up drink in the morning.
Skip It
Sugary chai tea with milk could result in weight gain
It can increase the risk of type-2 diabetes
May increase the risk of anemia
The sugar and milk add no health benefits to the tea.
Lemon
Lemon and other citrus fruits are a refreshing way to enjoy black tea.
How To Make It
There is something magical about a tall cool glass of iced black tea with a dash of lemon juice.
A slice of lemon in black tea also works.
You could even add grated lemon zest or lemon peel to black tea. The limonene in the peel adds a ton of flavor to the tea.
Sweeten with a dash of honey or drink as is.
Sip It
The antioxidants in lemon juice or lemon peel and those in tea can help lower the risk of cancer, diabetes, osteoarthritis, and other chronic issues.
Consuming this brew once or twice a day can also keep nerve-damaging diseases like Alzheimer's at bay.
Skip It
The sharp acid in lemon could be like a little bite on the tongue.
The color of the tea could change.
Lemon increases the acidity of tea by reducing pH. This could cause nausea and vomiting.
Don't drink at bedtime as it could cause sleeplessness.
Some people experience a headache with this combination.
Nervousness, restlessness, anxiety, and ringing in the ears are some other side effects.
Ginger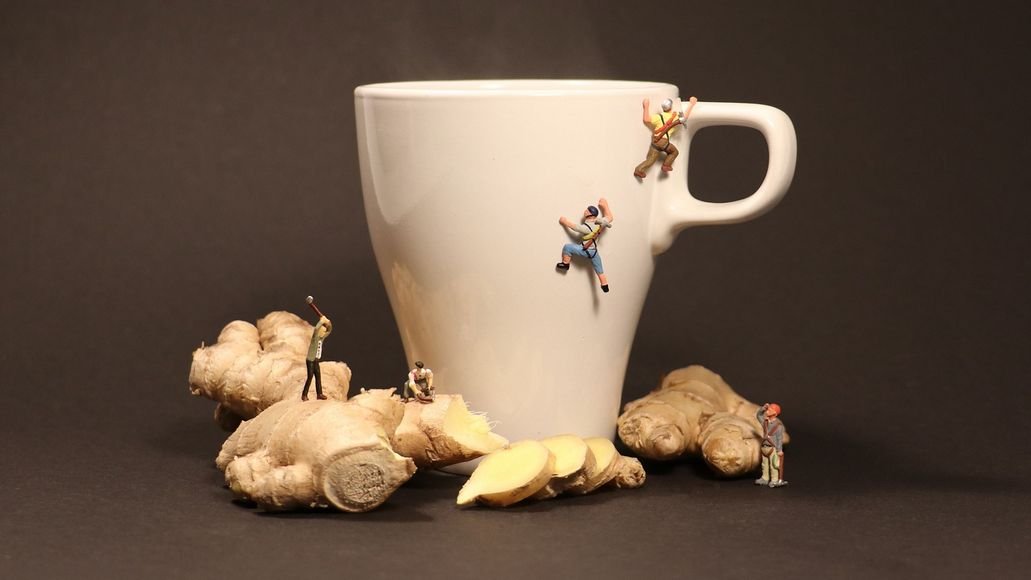 Spicy and invigorating, adding ginger to tea is perfect for the cold winter months!
How To Make It
Brew the tea with a teaspoon of grated ginger. You can also use peeled ginger and make the tea as usual. Dried ginger root powder also works.
Steep the brew for a few minutes and strain.
Drink with a dash of honey and lemon.
You can also make "Yogi" tea or tea latte with ginger, milk, and sugar.
Sip It
Improves blood circulation
Helps in digestion
Soothes sore throats and loosens phlegm.
Has a warming effect
Aids in weight loss
Skip It
Best avoided if you have acid reflux.
May result in gas or bloating.
Cardamom
Green cardamoms are a cooling, sweet spice with a fragrant woodsy aroma. Cardamom tea is ideal for the summer months.
How To Make It
Add a pinch of powdered or crushed green cardamom pods to the tea while brewing.
It is best to have cardamom tea with milk and sugar or honey.
Sip It
Regular consumption of cardamom tea can improve blood circulation and may lower the risk of heart attack and clots.
It could lower high blood pressure.
Cardamom tea could aid digestion and reduce heartburn and upset stomach.
Skip It
Pregnant women should not drink too much cardamom tea, because it could stimulate the uterus and cause a miscarriage.
Sugary cardamom tea can increase the risk of type 2 diabetes.
Cinnamon
Cinnamon chai or cinnamon black tea is a refreshing and spicy winter drink.
How To Make It
Brew black tea as usual with a couple of sticks of cinnamon. You may also use a pinch of cinnamon powder instead of the sticks.
Steep for a few minutes, then strain.
Sweeten with a hint of sugar, stevia, or honey to balance out the cinnamon flavor, if you prefer.
Sip It
Cinnamon tea is loaded with antioxidants.
It has anti-inflammatory properties and may benefit heart health.
Regular consumption can help promote weight loss.
Cinnamon has antibacterial and antifungal properties.
Skip It
Cinnamon contains a chemical called coumarin which, in excess, can cause:
Low blood sugar
Liver damage
Cancer
Mint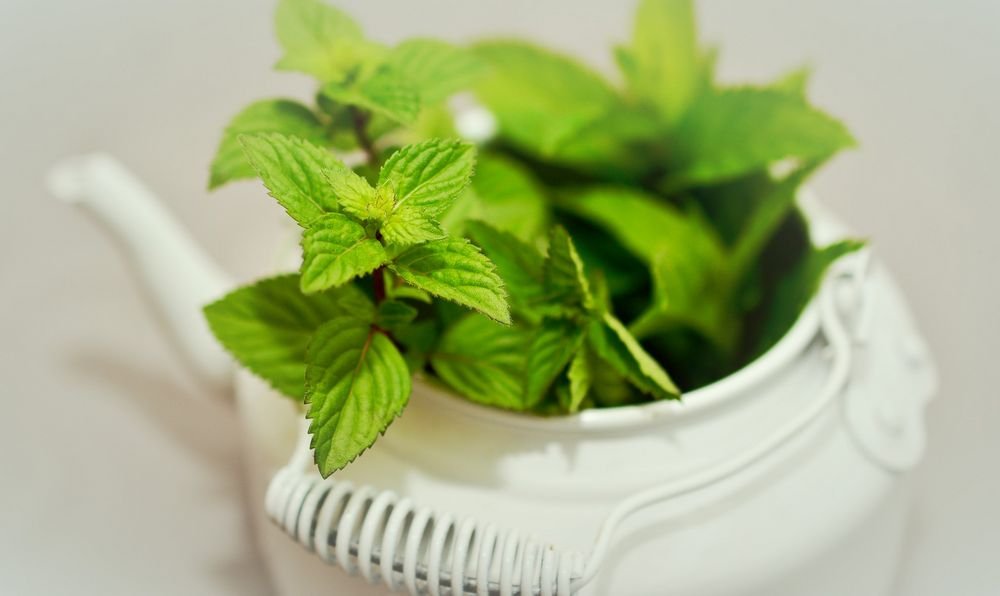 Minty black tea is a refreshing summer drink. It also provides a number of great health benefits.
How To Make It
Add a handful of chopped fresh mint leaves to a cup of water. Boil the mixture. Next, add half a teaspoon of black tea powder.
Turn off the heat and steep the tea.
Strain and enjoy with a dash of lemon and honey or as is.
Alternatively, cool it in the refrigerator and have it as iced tea.
Sip It
Can help with digestion and stomach pain.
Could relieve tension headaches.
Can freshen up your breath.
May relieve clogged sinuses.
Can boost energy.
Skip It
Some people experience heartburn and acid reflux after drinking mint tea.
Vanilla
Vanilla is an excellent addition to black tea for a full-flavored chai latte.
How To Make It
Steep your tea leaves or tea bag in hot water.
Add a few drops of vanilla extract to it.
A milky vanilla chai latte is a great option.
Sweeten with honey ,stevia, sugar, or another sweetener.
Sip It
Can suppress appetite and help in weight loss.
Contains antioxidants.
May reduce cholesterol.
Skip It
Some people are allergic to vanilla
Vanilla chai could induce a headache
Don't sip it at night, because it could interfere with sleep.
Black Pepper
A black pepper tea latte is a great wake-up drink in the morning.
How To Make It
Brew the black tea with a hint of black pepper powder. Don't add too much.
Add milk and sugar or honey to cut down the harshness of black pepper.
Sip It
Loosens phlegm and mucus to fight coughs and colds.
Can improve digestive health.
Could reduce inflammation.
Can benefit heart health
Could boost your immunity.
Skip It
It could result in burning sensations in the stomach and throat.
Bergamot Oil
Adding a few drops of Bergamot essential oil can help you make your own Earl Grey blend.
How To Make It
Brew black tea as usual.
Add a few drops of food-grade, pure bergamot essential oil.
Enjoy it hot!
Sip It
Has tons of antioxidants.
May reduce cholesterol and high blood pressure.
Can promote healthy digestion.
Skip It
Could cause muscle cramps.
Some people get heartburn from bergamot tea.
What To Add To Black Tea: Final Thoughts
Any of the 9 black tea additives above will turn that plain black tea into something special. Some help bring out the natural black tea flavor even more, in addition to enhancing it.
Others change the flavor profile of black tea entirely and give you a completely new flavor sensation. Many of the ingredients also add their own health benefits to those of the tea.
Have you tried any of these drinks yet? Or maybe even all of them? If so which ones? And which is your favorite so far?
Feel free to let us know in the comments below. Similarly, let us know if you have any additional suggestions for ingredients to add to black tea. We'd love to try some more great drinks!