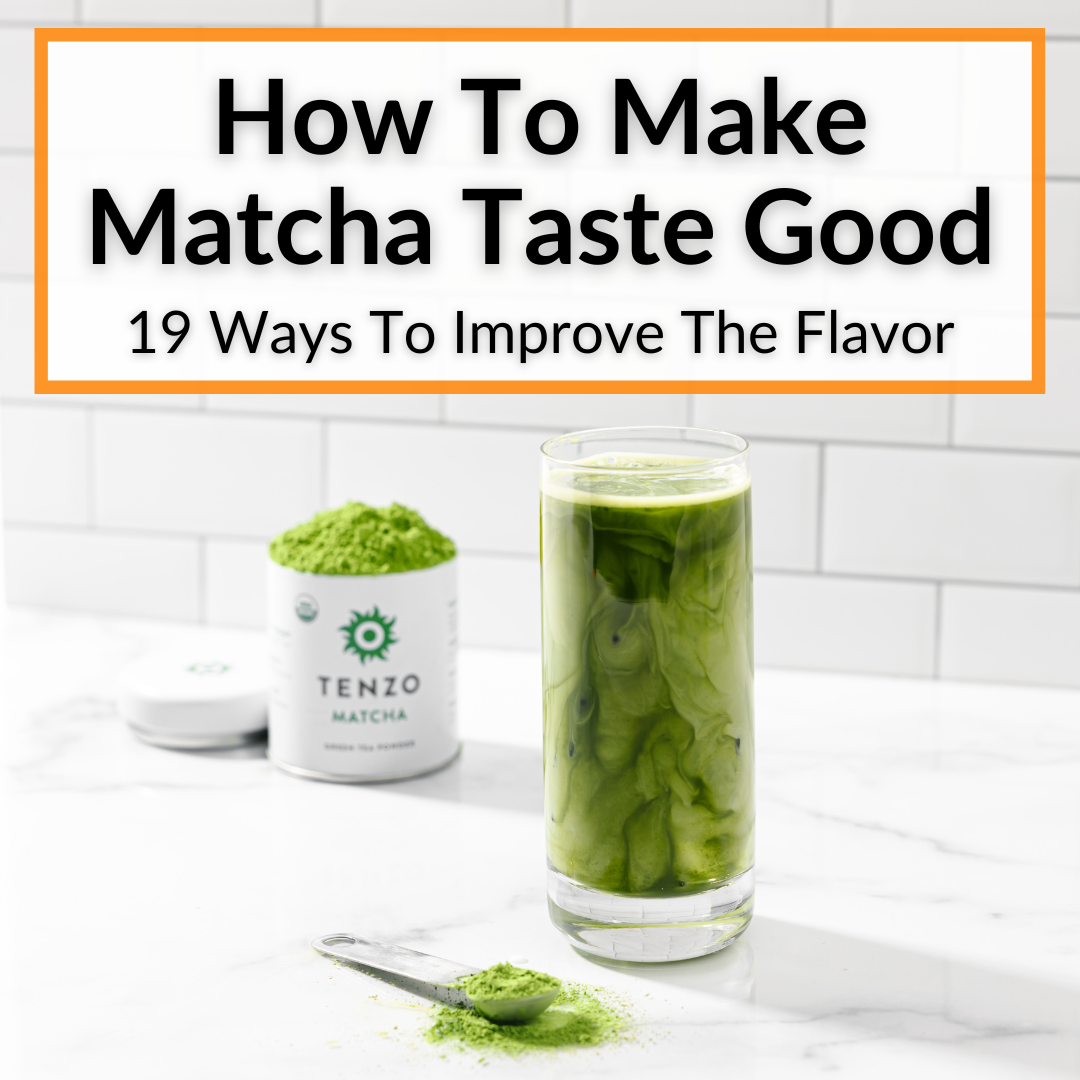 Matcha is divisive.
Some love the flavor. Others hate it.
I love the taste of matcha and drink it for that reason.
Some hate the taste and drink it solely for the health benefits.
If that is you, stop forcing yourself!
Learn how to make matcha taste good to you, and enjoy being healthy!
Keep reading for 19 great, yet simple, ways to improve the flavor of matcha green tea. Not every tip will work for every person, but there should be at least a few that work for you.
How To Make Matcha Taste Good
If you do not enjoy the flavor of matcha, try any of the tips below. As mentioned, it is unlikely they will all work for you, but highly likely at least a few will have you amazed at how much you suddenly love drinking matcha.
Use High-Quality Matcha
The kind of matcha powder you use can greatly impact its taste. The grade of matcha and the quality both play a role.
Use high-quality, ceremonial-grade matcha if you want to drink it plain (as in with water only). It has a smoother taste and is not as bitter or grassy as lower grades of matcha powders. The powder should have a vibrant color.
Premium grade is fine for drinking too, but ceremonial is definitely preferable. If you mix you matcha with something else, like milk or a sweetener, ceremonial grade may not make as much sense.
Use Less Matcha Powder And More Water
This is the easiest way to reduce matcha's bitterness or vegetal taste. Use a lower matcha-to-water ratio so that it dilutes and mellows down the strong taste. Make sure you use hot and not boiling water. Boiling water is too hot and will make matcha bitter.
Good quality water is also an important tool for making matcha. Tap water is rarely good enough. I use filtered tap water (works fine for me), but spring water is the best option.
Try Flavored Matcha
Flavored matcha is a great way to enjoy matcha tea's numerous health benefits, if you don't enjoy the taste of plain matcha. Many brands are creating exotic matcha flavors such as blueberry, lemongrass, lemon, cranberry, lychee, etc.
You can also choose floral, fruity flavors in ceremonial-grade matcha, which has a milder, sweeter taste than plain matcha.
Add A Hint Of Honey
This is an easy way to make matcha taste better. Honey is a natural sweetener that can reduce matcha's bitterness to a great extent. Adding even a small amount of honey could greatly enhance your matcha's taste, especially for beginners to matcha. Always add honey after brewing and whisking the matcha in hot water.
Add A Dash Of Lemon Juice
A dash of lemon juice can also make matcha taste a lot better. Brew the tea as usual and allow it to cool slightly before adding a few drops of lime or lemon juice.
Lemon's sour taste balances out matcha's bitterness. You can also add a bit of lemon juice and honey to matcha. If you enjoy ice-cold matcha, then chill it in the refrigerator and add lemon juice just before serving.
Combine It With Orange Juice
Like lemon juice, orange juice's sweet-sour flavor can help balance out matcha's bitterness. It is a great way to start your morning. In the warmer months, you can chill matcha in the refrigerator and pair it with chilled orange juice for a refreshing beverage.
Try Pairing It With Ginger Or Ginger Ale
Matcha and ginger complement each other. Ginger has a spicy, hot flavor that balances matcha's bitter and grassy taste perfectly. Grate fresh ginger root and steep it in hot water. Filter out the ginger bits and use the ginger-flavored hot water to whisk your matcha tea powder into, as usual.
Alternatively, extract ginger root juice and add a few drops to your brewed matcha tea. You can also mix store-bought ginger ale with brewed matcha.
Add Vanilla Extract
Matcha tea tastes great with vanilla beans or vanilla extract. Add a few drops of vanilla extract to brewed matcha along with some honey, and enjoy it hot or cold!
Flavor It With Cinnamon
A dash of cinnamon powder is all that you need to enhance matcha's taste and make it sweeter. Cinnamon adds depth and complexity to matcha's otherwise bitter flavor. Brew your matcha as usual and add just a small pinch of cinnamon powder to it. Stir and enjoy hot!
Add A Pinch Of Salt
Yes, this is a surprising way to make matcha taste good. A tiny pinch of salt, black pepper, and a dash of lemon juice in hot matcha tea not only enhance the tea's taste, bit is also an excellent remedy for sore throats. The moment you feel the sniffles, have a bit of this hot tea, and you will feel better!
Add Crushed Mint Leaves (Or Mint Juice)
Mint flavor is a refreshing way to enjoy your matcha green tea and reduce its bitter, vegetal taste. Crush or chop some mint leaves finely and add them to your hot water. Let it steep for a few minutes, then filter out the leaves. Use the mint-flavored water to whisk your matcha powder in. You can enjoy the tea as it is, or sweeten it with some honey.
Use Agave Nectar
Agave nectar is a great way to sweeten your matcha. It tastes like molasses, and some darker varieties even have a caramel-like flavor. Add just a hint after making your matcha, and enjoy.
Add A Dash Of Maple Syrup
Maple syrup is a wonderful way to sweeten matcha. It also has numerous health benefits, thanks to its antioxidant content. Add just a hint of maple syrup to brewed matcha and see the difference it makes to your tea's flavor.
Sweeten It With Stevia
Herbaceous Stevia sweetener can add a licorice-like flavor to your matcha. Stevia is also low in calories. You can also go for organic stevia, since it contains vitamins A and C.
Use Other Keto-Friendly Sweeteners
These days, the market is flooded with keto-friendly, low-carb sweeteners. If you are watching your carbohydrate or sugar intake, you can use keto-friendly sweeteners like monk fruit sugar, date sugar, coconut sugar, erythritol, or sucralose to sweeten your matcha guilt-free and reduce its bitterness. Coconut sugar is an especially great choice because its nutty flavor pairs well with matcha's earthy taste. Try it!
Impart A Floral Taste To Your Matcha
Fruits, spices, and herbs aren't the only ways to make matcha taste better. Adding some crushed floral blossoms (rose, jasmine, hibiscus, chamomile, or lavender) can also make your matcha taste sweeter and mellower. First, steep some clean, organic flower petals in hot water. Use the fragrant hot water to whisk your matcha tea as usual.
Make A Matcha Latte
Many beginners to matcha prefer having a matcha latte instead of the traditional beverage. You can make your matcha latte with any milk variety, even non-dairy milk varieties like almond, coconut, soy, or oat milk.
Use a milk frother, steamer or blender to make a foamy, creamy matcha latte that is lower in caffeine than a regular latte, and packed with antioxidants. Sweeten with maple syrup or honey.
Make A Matcha Milkshake
Matcha milkshakes can be a complete breakfast item. They are filling and nutritious. Use any fruit you like (strawberries, bananas, blueberries, etc.) to blend with milk, matcha powder, and honey. You can also add a scoop of protein powder for a great pre-workout matcha drink.
Boozy Matcha Cocktails
Mix matcha powder with vodka, juice of your choice (orange or grapefruit work best), a bit of water, and ice cubes in a shaker. Add a pinch of salt, shake well, and enjoy.
Ways To Make Matcha Taste Better: Final Thoughts
If you have been forcing yourself to drink matcha, despite not liking it, simply to take advantage of its health benefits, stop! There are so many things you can do to improve the flavor of matcha, if you don't like how it tastes plain.
Now that you know how to make matcha taste good, start trying out the suggestions from the list above. And then let me know in a comment below which ones are your favorites. Or if there are some other ways to make matcha taste better that aren't on this list.