Many people are a bit intimidated by matcha.
They see all the matcha accessories and assume it's hard to brew.
But it's not actually hard at all.
And you don't even need any of the matcha accessories.
They are nice to have and definitely worth getting, but you can substitute things we all have in the kitchen already.
We will cover possible substitutes for each accessory below.
But they are not expensive, especially if you get them in a set, so you'll probably want to get them eventually. Either way, keep reading for an explanation of each matcha tool, along with a common utensil you can use instead.
Matcha Accessories
As mentioned, you don't need any of the following accessories, but some are nice to have. Specifically, I'd get the bowl, the scoop and the whisk. You can buy all three in a set (there are a bunch on Amazon and in online tea stores), with many selling for less than $20.
My guide to matcha has some recommendations.
Chawan (Matcha Tea Bowl)
The chawan, or matcha tea bowl, is an important part of the traditional Japanese tea ceremony. Typically, this bowl has a diameter of around 4 to 5 inches (10 to 12 cm) and stands 3 to 4 inches (7 to 10 cm) tall, although this can vary based on personal preference.
It is best to go for a chawan of these dimensions, since they facilitate the vigorous whisking of matcha,which can help create a frothier tea.
Artisans often make chawans from different materials like ceramic, porcelain, and clay. Each material offers distinct aesthetic and functional qualities. The artisans may also apply intricate glazes, patterns, or textures to enhance a chawan's beauty.
The shape and design of a chawan greatly influence the tea's flavor and aroma. Thus, the chawan is not only a cup to drink your matcha from. It forms the essence of the elegant Japanese tea culture.
If you do not have a chawan, you could simply use any bowl. The closer it is to the standard dimensions of a traditional matcha tea bowl, the better.
Chasen (Bamboo Whisk)
The chasen, or bamboo whisk, is an essential matcha-making accessory and a must-have tool in the traditional Japanese tea ceremony.
Chasens are specifically designed for whisking matcha tea into a frothy, creamy beverage. They are typically made using a single piece of bamboo and feature a unique set of dimensions.
Basically, a chasen consists of numerous thin, flexible bristles radiating from a single central handle. These bristles, about 80 to 100 in number, are crafted with precision to ensure a smooth and frothy matcha.
Chasens used in traditional Japanese tea ceremonies are usually handcrafted by skilled artisans. Some varieties are even made using traditional methods that are passed down from generation to generation.
The chasen's intricate craftsmanship and its ability to create frothy and creamy matcha make it a must-have accessory for your matcha drinking experience.
Of course, you could just use a standard whisk, although it does not work nearly as well. But there are some workarounds that work just as well as a chasen. Some even work better, though no traditionalist would ever admit that. This article covers how to make matcha without a whisk.
Chashaku (Bamboo Scoop)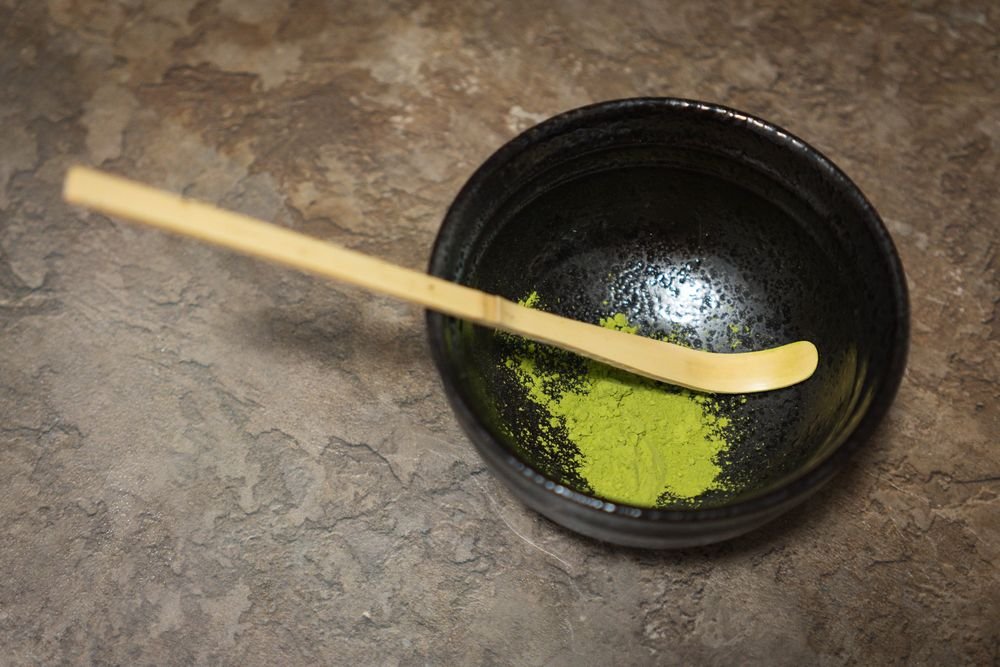 The chashaku is a bamboo tea scoop used for scooping out the matcha into the chawan. You can always use any spoon for the job, but in traditional Japanese tea ceremonies, the chashaku enhances and creates a more graceful presentation of the matcha tea drinking experience.
Typically, a chashaku is carved out of a single piece of bamboo. It resembles a slender and elegantly crafted wooden spoon measuring approximately 18 cm (7 inches) in length.
The chashaku is also a symbol of Japanese culture, art, and heritage. Artisans carefully shape each chashaku to showcase the natural beauty of bamboo.
The bamboo scoop is also culturally significant, and its use denotes respect and mindfulness experienced during the tea ceremony and its preparation process.
As mentioned, in practical terms, you can just use any spoon as a substitute. Or even just pour your matcha straight out of the tin or pouch, though that makes measuring the right amount harder.
Tetsubin (Cast-Iron Kettle)
A tetsubin is a traditional Japanese cast iron kettle used for heating the water for making tea. These kettles have amazing heat retention properties, and it is believed that their iron also steeps into the water to enhance the tea's taste.
Tetsubins come in different sizes and shapes. Some have artistic carvings or patterns on them. This not only makes them functional, but also imparts a decorative and elegant element to the tea-making process.
Traditionally, tetsubins were heated over open flames, but modern ones either come with an electric element or are designed for use with an induction stove.
Of course, you can use any type of kettle to heat the water. I use an electric kettle, because I don't want to wait for a regular kettle to get the water hot enough.
Thermometer
The temperature of the water is crucial for the matcha's taste. You must only use hot water, and never boiling water, because the latter could make the tea bitter.
Ideally, water should be heated between 75° and 80° C, or 167° and 175° F. A thermometer can come in handy in ensuring that your water is heated within this range. You can also use an electric kettle with variable temperature settings. This is the one I use.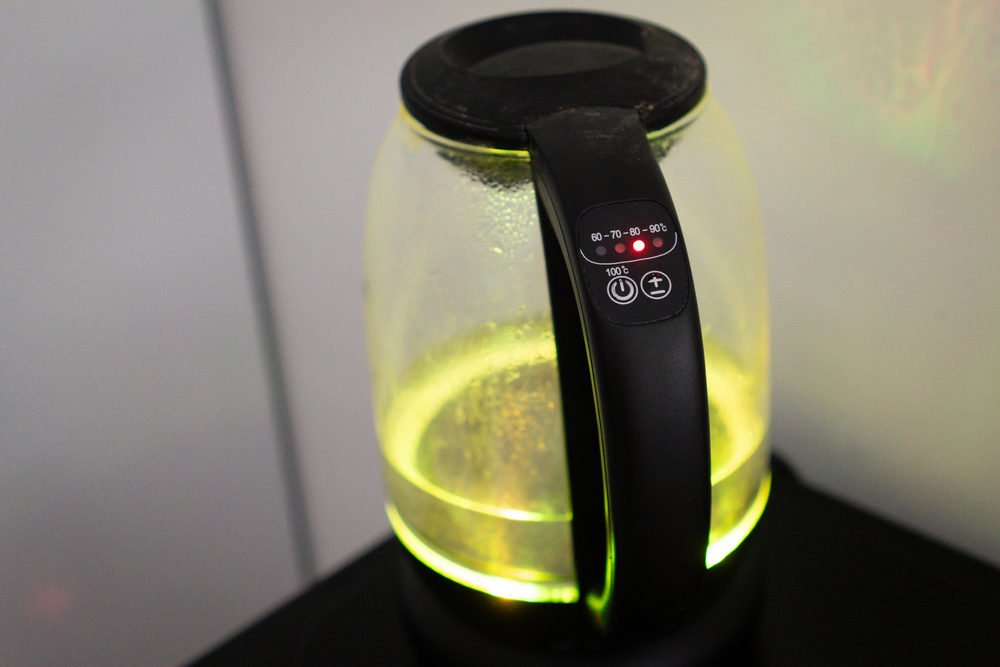 Water
The best water for making matcha tea is spring water. Spring water has a neutral pH, which helps balance the flavors in matcha. It also ensures that the tea neither tastes overly bitter nor too weak.
Spring water is also free from chlorine, unlike tap water, which also has a lot of other contaminants. Never use tap water to make matcha, because that can adversely affect the tea's delicate taste. I generally use filtered tap water, which seems to work fine.
High-Quality Matcha Powder
Selecting the right matcha powder is crucial for making the best matcha. Its quality can greatly impact your tea drinking experience. Look for ceremonial grade or premium grade matcha.
Those are the two grades intended for drinking. The powder should have a vibrant green color, a fresh, grassy aroma, and a smooth, sweet flavor with a slight bitterness.
Avoid culinary grade matcha for drinking. It is better suited for cooking and lacks the refined qualities desired in a tea. When selecting matcha, always check its origin. The best matcha comes from regions like Uji or Kyoto in Japan, and it is highly regarded for its quality and authenticity.
My guide to matcha has some recommendations.
Quiet Place To Enjoy The Tea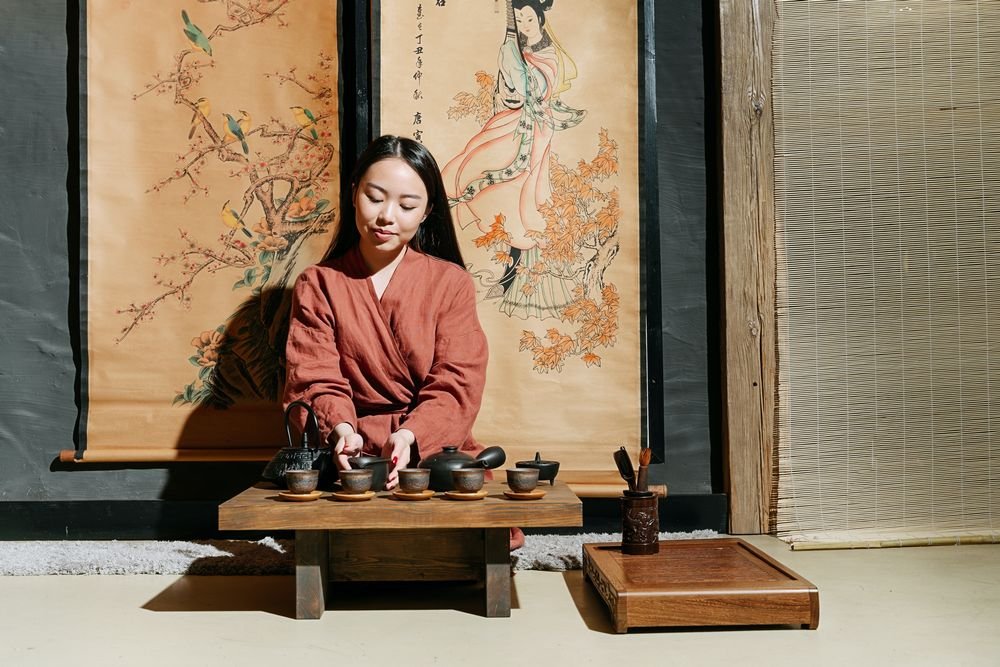 Drinking matcha is a meditative experience. Therefore, it is best to enjoy it in a quiet place–preferably somewhere where you won't be disturbed.
It could be a corner in your serene garden (that is free from sounds of traffic, etc), your bedroom's terrace, or any minimalist space within your home. You can play some soothing music to further enhance your mindfulness while drinking matcha.
Steps To Make Matcha A Serene And Meditative Experience
This is a brief guide on making matcha. You can find a full brewing guide for matcha here.
Gently heat pure spring water to 167° to 175° F in a tetsubin.
Heat your tea bowl (chawan) by pouring some of this hot water into it. Also, put the whisk (chasen) into this hot water. This will help soften its bamboo bristles.
Discard the water from the chawan and dry the bowl completely.
Use the scoop, or chashaku, to measure out 2-3 scoops of matcha into the chawan. You can change this quantity based on your bowl's size and taste preferences. If matcha is too bitter for you or if it is your first time trying this beverage, then try using less matcha and more water.
Pour 70 ml of hot water per 2-3 g of matcha powder into the chawan.
Begin whisking slowly and then slightly increase the speed. Ideally, you should whisk in a 'W' shape to make the tea creamier.
Make sure you get a creamy, frothy top in the chawan.
Add more water to fill the bowl.
Sip your matcha in a quiet place!
Matcha Accessories
As mentioned in the beginning, you can make matcha without any of the matcha accessories. But if you have tried matcha and already know you like it and will be drinking irregularly, it makes sense to get them. Especially considering how cheap a complete set is.
In the end, the accessories are not as important to getting a delicious cup of matcha as several other factors. The keys to good matcha are a quality powder, the right amount of powder, good water, and the right water temperature.