Buying matcha can be a bit confusing.
At least at first.
There are several different grades of matcha powder.
And also varying qualities of each grades.
So what are the different matcha grades and what is the difference between them?
And most importantly, which one should you be buying?
Keep reading for all the answers. We will compare the different grades of matcha and help you figure out which one is right for you.
Matcha Grades
Matcha is a Japanese green tea that is prepared from the specially-prepared leaves of specially-grown Camellia sinensis plants. It costs more than other types of green tea and can leave some with a bit of sticker shock.
But there is a lot of variance in the price of matcha, due to the different grades. You can save a lot going with a cheaper grade, but is it worth it?
You can also go with a lower quality powder overall (usually from China). That is generally not worth it, so we will focus on the grades here. It is better to get a lower grade of a quality matcha from Japan than a higher grade of a cheap Chinese matcha.
So, let's have a look at each of the different grades of matcha tea and see how they differ. We will also discuss how you can tell the different grades apart from one another.
Ceremonial Grade
Ceremonial matcha powder is the highest-quality grade of matcha tea. It is the grade used in traditional tea ceremonies and Buddhist temples.
This higher-quality grade is not used for cooking, but solely for drinking. It must be of a high enough quality that it can be used in the making of koicha, a thick tea with a higher-than-usual proportion of powder to water. Koicha is what they use for traditional tea ceremonies.
As the highest quality matcha tea, ceremonial grade matcha does come with a higher price tag. That is in large due to the special processes involved in the growing, the harvesting, and the preparation of the leaves.
The leaves used for this grade are from the season's first harvest. In addition to being shade-grown for the final few weeks before being harvested by hand, the leaves are painstakingly de-veined and de-stemmed. These labor-intensive steps are the reason for the higher price tags associated with ceremonial grade matcha tea.
Premium Grade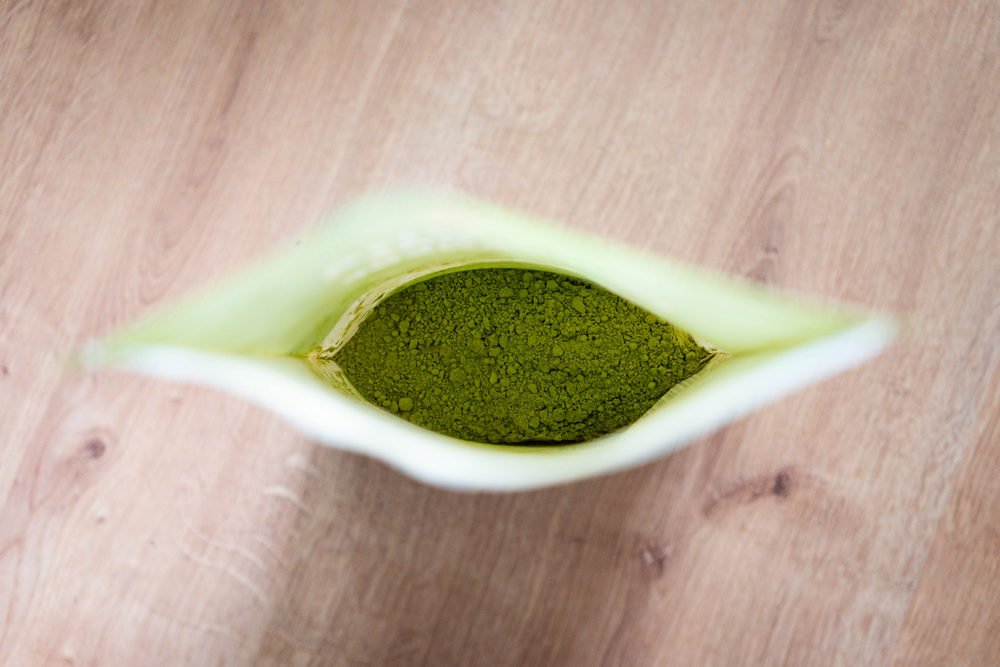 One rung down on the quality ladder from ceremonial matcha tea is what is known as premium grade. Premium-grade matcha is also considered high-quality. It is made from the young tea leaves from the topmost branches of the tea plant.
As a lower grade than ceremonial matcha tea, premium grade is not used to make koicha for tea ceremonies, but is intended for everyday drinking.
Premium-grade matcha tea is made from leaves plucked from the Camellia sinensis tree during the season's first and second harvests and is used to make matcha lattes or for plain matcha made from just the green powder and water.
Because it uses some first-harvest leaves, it is still more expensive than the third grade (culinary grade), but it is quite a bit cheaper than ceremonial grade matcha. Premium-quality matcha powder is usually a paler green than ceremonial grade and it is the type most commonly served in cafes and coffee shops.
Cooking/Culinary Grade
The third grade of commercially available matcha green tea is culinary grade. This grade, as the name suggests, is primarily used in cooking, rather than in preparing everyday drinks.
Culinary-grade matcha tea powder is produced from second-harvest leaves that have had slightly more time to mature. The longer time on the vine allows the leaves to develop more tannins, which gives it a more bitter flavor profile, and more antioxidants.
This stronger flavor makes it less suitable for drinking as a tea and more suitable for use in baking and cooking. Culinary-grade matcha tea's extra astringency means it works well in savory recipes, but mixes especially well with sweeter ingredients to make cakes and cookies.
Its use in cooking gives dishes and creations extra color, taste, and a nutritional boost to boot. Culinary matcha tea may be the lowest of the three grades for matcha tea, but it is still a quality product with the same health benefits as the other two grades. And it is considerably lower priced.
Most people tend to avoid culinary grade, if you plan on brewing matcha for drinking. That said, you could give it a try. If you like it, you can save a lot of money.
And if you do not drink matcha plain, you may not even notice the difference. A lot of people use it in lattes or add it to smoothies, so they can have matcha before a workout. In those cases, culinary grade is probably sufficient.
How To To Assess The Quality Of Matcha Teas
When buying matcha, there is a considerable difference in quality, even among teas of the same grade. In general, matcha from China is poor quality, while matcha from Japan is almost always quite good.
But even among Japanese matchas, there is a big difference, depending upon the region where the tea leaves were grown. Let's find out how you can assess the quality of a matcha powder.
Color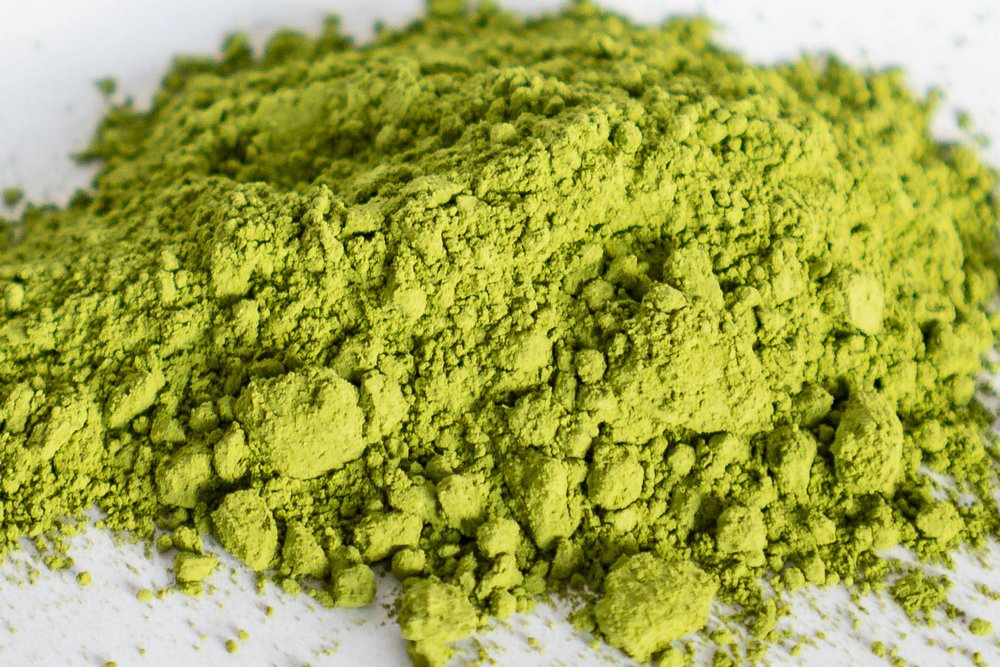 When assessing matcha tea powder for quality, the color is often the first telltale sign of its grade. Powder with a bright and vibrant green color will be of a higher quality than a duller powder whose color has hints of yellows or browns.
To really understand the color differences, it's good to see the different grades next to each other. While the culinary grade is less green, or at least not as vividly green as the higher grades, it is still a reasonably bright green color.
Texture
The texture of the powder is another way to tell the grades apart from one another. The higher the quality, the smoother the powder should be. You can gently rub a little between your fingers to get a feel for its coarseness.
Smearing a little across a sheet of paper is a common test too. For this, place a little matcha powder on a sheet of paper and smear it across the sheet with a finger.
The finer, higher-quality, matcha powder should leave an uninterrupted smudge across the paper. A lower-quality grade will leave a broken smudge, with several lines of paper still poking through.
Taste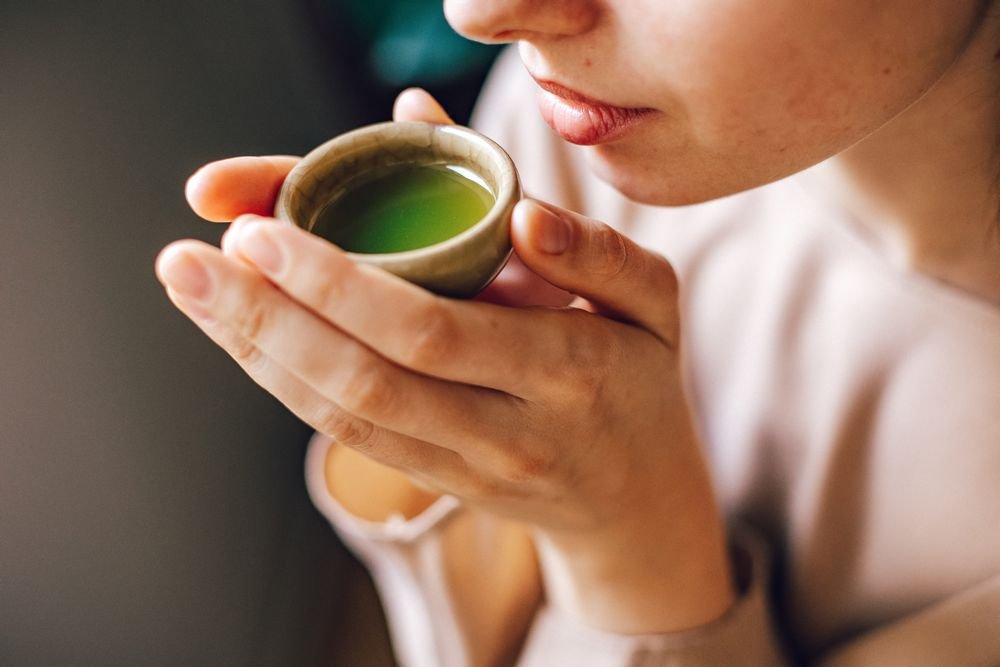 If the proof of the pudding is in the eating, then no matcha tea quality assessment is complete without having a taste. If you are drinking a higher-quality matcha tea, you should notice a delicious, creamy feel in the mouth, with an umami flavor and a slightly sweet aftertaste.
A lower-quality grade will have a more astringent or bitter aftertaste that tastes a little grassy, due to the leaves spending longer attached to the plant before harvest.
Before tasting your matcha, you can also get an idea as to the quality of the powder you are using by seeing how the drink behaves as you make it. A high-quality powder creates a thicker, frothier layer of bubbles when whisked, which should linger. When making matcha tea using a lower-quality powder, there will be fewer bubbles, and they will not last so long.
Different Types Of Matcha: Final Thoughts
If you get a quality Japanese matcha, all three matcha grades are good to drink. But the higher grades definitely taste better than the lower ones. I usually buy ceremonial matcha for myself, but have gotten premium matcha on occasion too.
I prefer to pay more, because I want the best flavor possible. But you should give the lower grades a try to see if you like them. If you do, why not save some money? And if you do not drink matcha plain, ceremonial grade does not make sense at all. Go with premium, or perhaps even culinary.